Yes, I'm 魔法界ドットコム Pancake Man...
Do you all like the 'dark camp'?
Some Harry Potter fans.Lord Voldemort.indicates object of desire, like, hate, etc.worshipbe just about toDark-loving fans.There are those who are Such people often like the Slytherin dormitories and are 'notsign of darknessThey are also the people who love '≥◇≦'.
Death Eaters Dark Mark, Slytherin raw to wear on arms.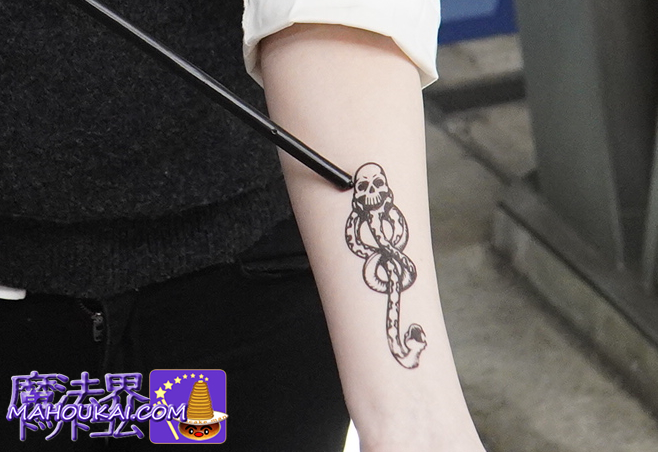 'sign of darknessI met a Slytherin student who was marking 'I'm in Slytherin' on his left arm. Moreover, he was using his wand to mark 'theDark Lord Lord Voldemort.I'm applying the cane to call 'The Sigma'! Gee!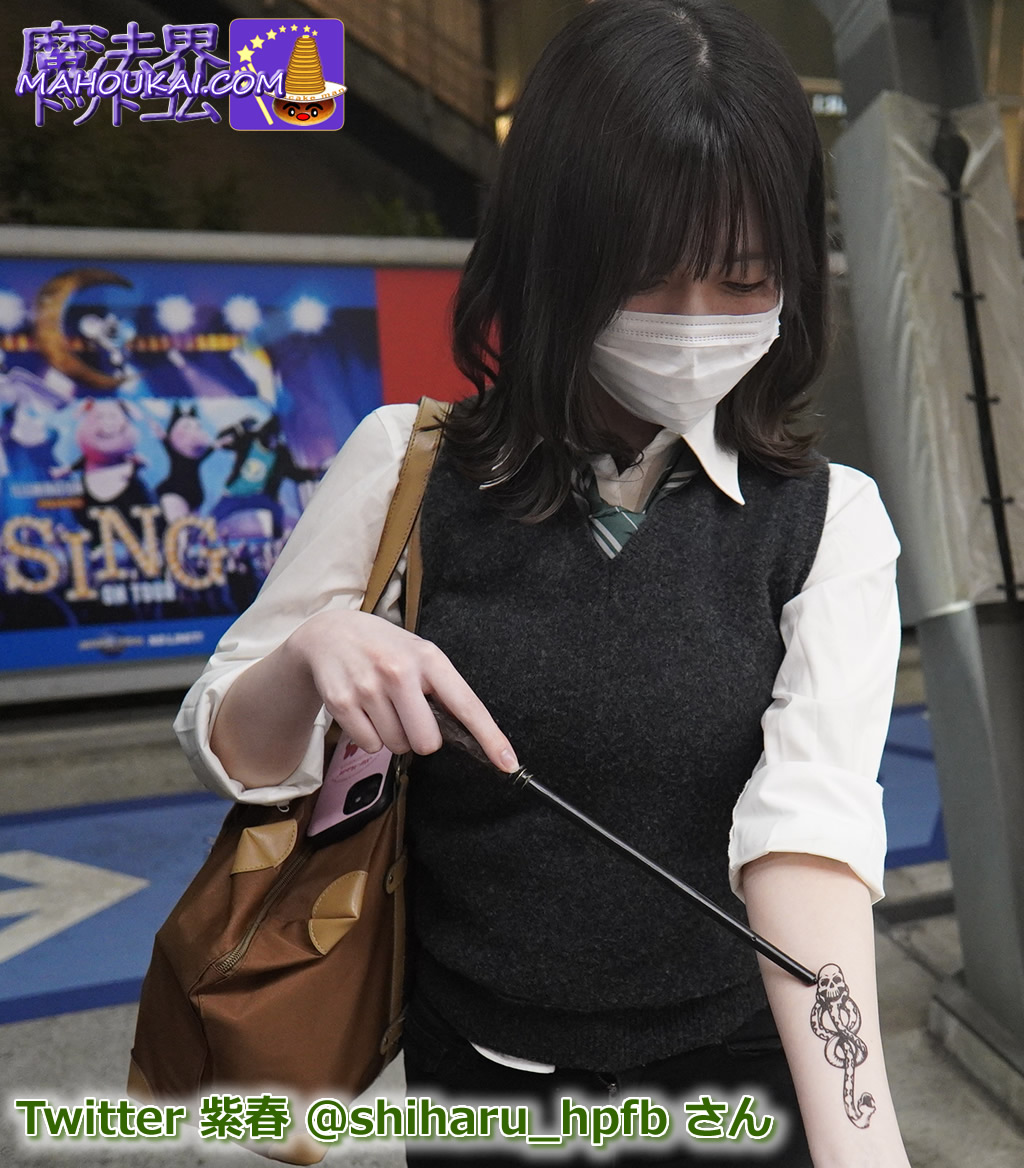 model eighth month of the lunar calendar @shiharu_hpfb Thank you for your cooperation!
In fact, he was a fellow Haripotter who played with me, but when we were playing, he was hidden by his shirt and didn't realise that the 'Dark Mark' was on his left arm.
I don't think so...The more tattoos you get....Voldemort LOVE.I can't believe it was! (≧▽≦)
I was joking, actually, when I said that I was going to write this "sign of darkness'-' (used in place of '-')Official USJ Harry Potter merchandiseDid you know that the
Those in the know have been Univa fans since the Harry Potter Area first opened...
Death Eaters Dark Mark Tattoo Sticker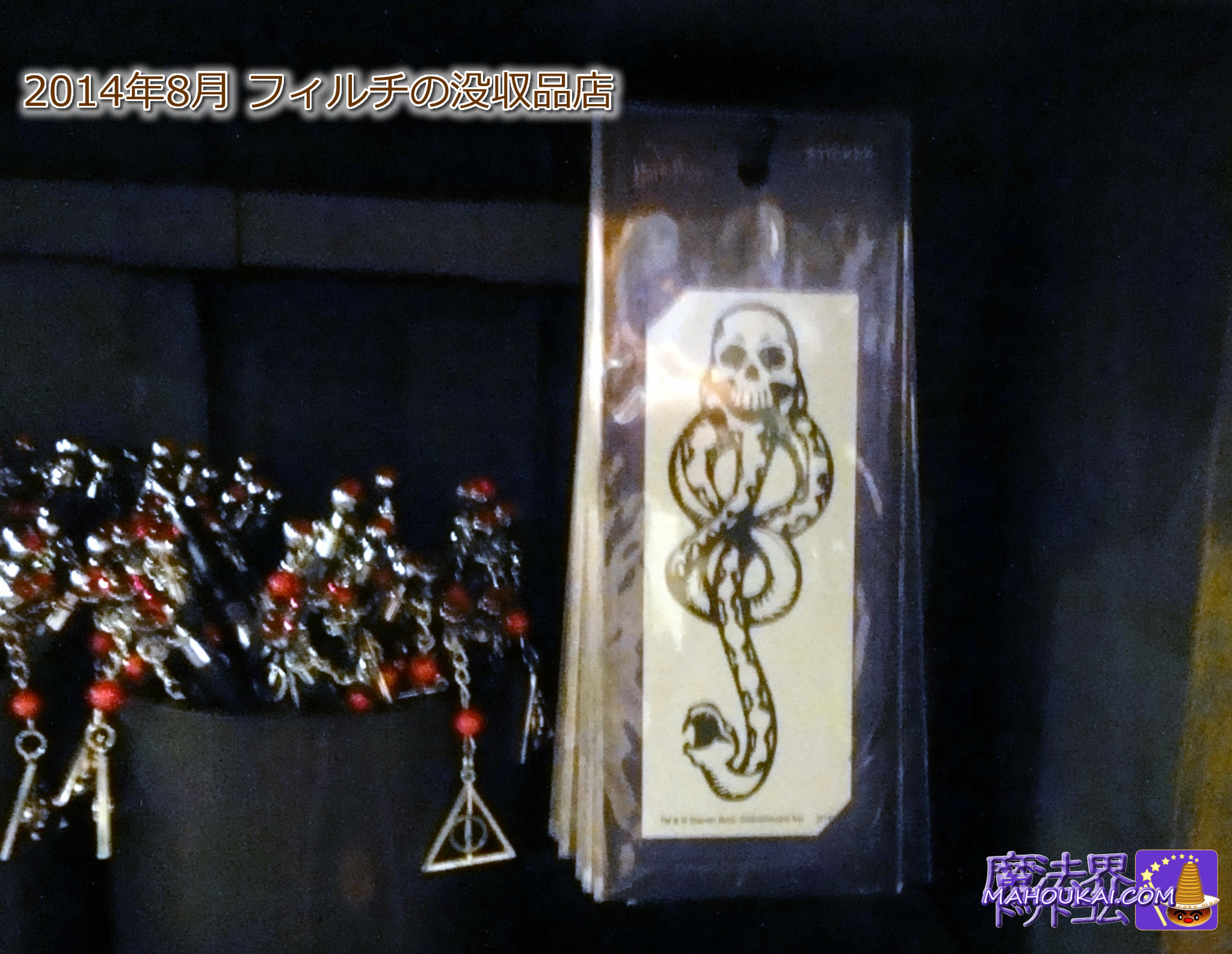 When the USJ 'Harry Potter Area' opened in 2014-2015, it was calledMark of Darkness Tattoo Stickerwas sold as an official product. It is a ready-to-use product, soaked in water and applied to the body. Of course, Harry Potter lovers, Death Eaters & Dark Lord fanatics would stick it on their arms.Â
Distributors:Filch's Confiscated Goods Store (USJ 'Harry Potter Area').
Price: 500 yen, at the time of 2014.
Currently: not for sale; April 2022.
USJ Mark of Darkness Tattoo Sticker Directions for use
Soak the entire sticker base in water and place it on your arm.
Lightly press it against your arm for 30 seconds and then peel off the backing paper.
dry (clothes, etc.)
Unfortunately, it is no longer on sale. I think this would be a long-run hit HARRIPOTA merchandise if it were sold now. Especially for the Potteries in the Dark camp.
Please note that many of the products sold on the internet (e.g. Mercari) these days are unofficial products made by individuals; official USJ products have the words 'Seal of Darkness' and license letters at the bottom, as shown in the product in the photo above.
Harry Potter the movie Death Eaters Dark Mark
The Mark of Darkness reminds many people of the 'skull and serpent' symbol that Death Eaters (Death Eaters) carry on their left arm.Â
English name: Magic Mantra Snake Skull or Death Eaters Dark Mark
Movie Harry Potter Scenes e.g.
Scene where Draco Malfoy shows the 'Dark Mark' on his arm in the observatory tower.
The scene in which Lucius Malfoy lays his arms around Lord Voldemort in the Malfoy Manor to call him.
Scene where Headmaster Igor Karkaroff (Durmstrang) is showing Snape the 'Dark Mark' on his arm.
Death Eaters (Death Eaters) and former Death Eaters often show the 'Dark Mark' on their arms in the Harry Potter films, such as.
'Launching into the sky again'.sign of darknessThere's also the 'â
Although it has never been staged at USJ, Universal Studios in the US has used Hogwarts Castle for projection mapping to create 'The Hogwarts Castle'.sign of darknessThe 'The launch of theDark Arts at Hogwarts Castle.The "The World of the Arts" is being held in Japan. We would like to ask USJ to make it possible to watch it in Japan.
And back to the subject, the tattoo sticker "Mark of Darkness" is quite realistic... ♪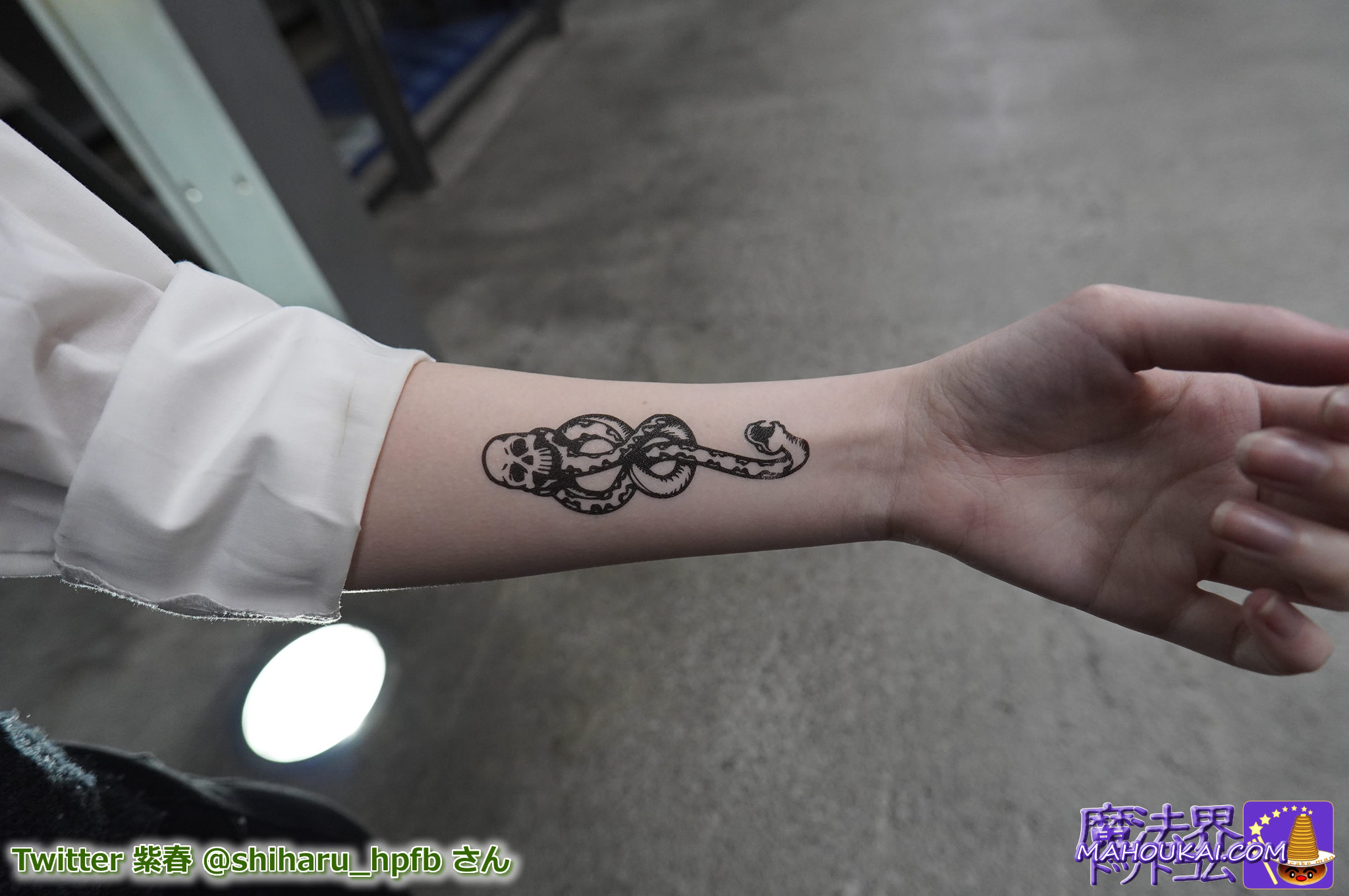 The Slytherin student I introduced bought several of these a long time ago and uses them occasionally when she goes to visit the 'Harry Potter area'. I, the Wizard Pancake Man, haven't seen the official sticker 'Mark of Darkness' in years (laughs), and the fact that I'm a hoarder shows the depth of my level of Slytherin love. Amazing! I was so impressed that, as you can see, I was allowed to take a photo on the Universal City station platform. Thanks!Â
How do you enjoy visiting the Harry Potter Area?
We will introduce more fun tricks, accessories and magic items as we see them.
💀 Signs of darkness 🐍 Tattoo!
Slytherin raw on left arm.
Death Eaters Dark Mark
Introduction Repo☛https://t.co/nEPlAf4FJO

model Purple Spring @shiharu_hpfb three# Harriotta area. #USJ # Univa. pic.twitter.com/HkREPJGFX3

- MAHOUKAI.COM wizardingworld.com Super Commentary Guide to Harry Potter & Fantabi (@mahoukaicom) April 24, 2022
This guide provides basic information for first-time visitors to USJ's Harry Potter Area, as well as information for repeat heavy users, including niche hidden spots and photo opportunities.â