Harry Potter Studio Tour in London, UKA new programme of dinner events at the
The theme is dark magic! Death Eaters.
Dinner events during Halloween are held on the film set 'TheDumbledore, Principal's office.' "Classroom of Potions', etc.United Kingdom Full course dinnerYou can enjoy the following!
Hogwarts School of Witchcraft and Wizardry Dinner Event Overview (Hogwarts After Dark)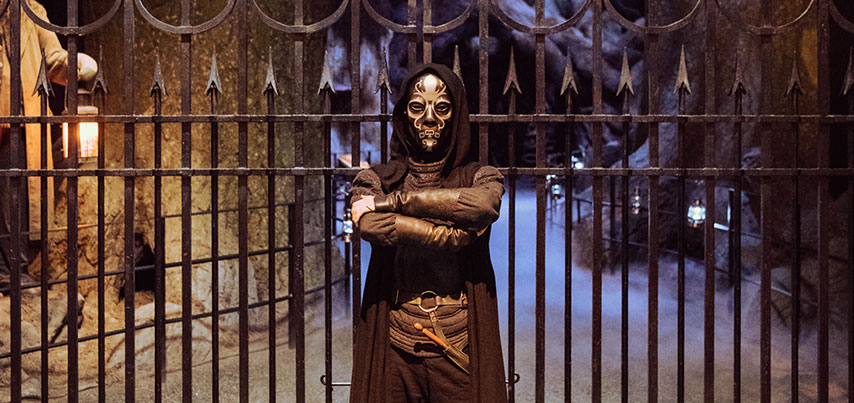 Name of event 'Hogwarts After Dark'.
Event dates Wednesday 6, Thursday 7 and Friday 8 October 2021
Event times: 18:30-24:00.
Venue: Warner Bros Studio Tour London, UK
Participation requirements: 18 years and over (no children).
Ticket price: £260 (GBP)
Ticket sales:Warner Bros Studio Tour UK online website.
Ticket sales start date Fan club members can purchase tickets in advance
Harry Potter Fan Club Gold Member: Tuesday 24 August 2021, 10:00 - * UK time.
General Guests: Thursday, 26 August 2021 * UK time.
Hogwarts of Dark Magic Dinner Event Schedule
18:30

On arrival.

Cocktails and canapés service

(possibly a hub area).

dark magic

In the atmosphere of the

Hogwarts Great Hall

(Hogwarts Great Hall is decorated for Halloween).
On the film set.

United Kingdom Enjoy a full course...

Regular and vegan menus available
The dinner venue is 'TheDumbledore, Principal's office.' "Classroom of Potionsâ
During dinner.

Death Eaters.

There are events that appear on the way to the
Paul Harris makes a guest appearance and is used in a fight scene.

Teaching how to use a walking stick


Prepare for a showdown with Death Eaters,Lecture on how to swing the caneReceived.
After dinner, we'll have a '

Forbidden Forest

In the 'Area.

dessert

Enjoying the
King's Cross Station Platform 9 3/4.In.

additional drink

Enjoying the
Commemorative photographs were taken by

Green screen photo.

(Location of filming unknown).

24:00

To Watford Junction.

Free shuttle service to and from the
Dinner events are usually held in Hogwarts Great Hall, but for the first time they will be held in the exhibition area of the film set. If you like the dark arts, this is the event for you! You can take photos and duel with Death Eaters. For Dark Lord Voldemort fans and Slytherin student Potteries, this is the place to be!
Dinner Menu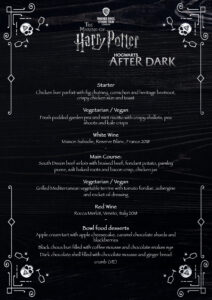 Regular menu: braised South Devon beef sirloin, etc.
Vegan and vegetarian menu: Mediterranean-style vegetable terrine with tomato fondue, etc.


The menu on the left can be enlarged by clicking on it.
Harry Potter Studio Tour London's seasonal dinner events often sell out within days of going on sale. This time.
Harry Potter Fan Club Gold Member priority purchase.
The tickets available to general guests are expected to sell out immediately as there are also
Those who buy tickets should do so immediately on the day they go on sale!
During the dinner event period, the general event 'Halloween Period Dark Arts (Dark Arts)' is being held.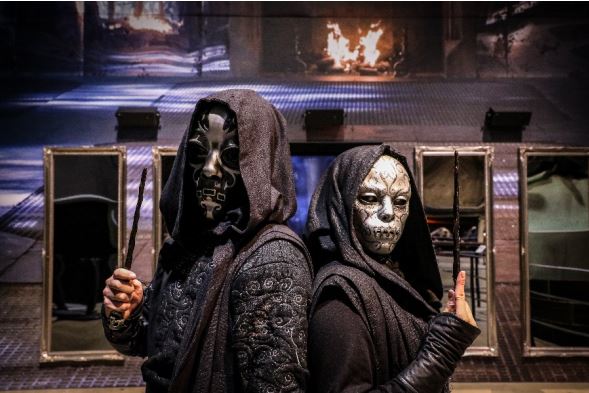 General Harry Potter Studio Tour London also a dark magic event with Halloween decorations and Death Eaters.
Period: 24 Sept (Fri) - 7 Nov (Sun), 2021.
Tickets for the regular Harry Potter Studio Tour for the above operating periods are already on sale.
When you attend a dinner event, you can enjoy a private studio tour, exclusively for dinner guests. It's free and you can take your time to take photos and experience the experience.â
[First appearance] Dinner event.
Themes Dark magic! Death Eaters (Death Eaters)
Harry Potter Studio Tour London
💀 Hogwarts of Dark Magic.
Wednesday 6 - Friday 8 October 2021
Price 260£.
Potions class Dining on the film set! And duel with Death Eaters and their wands Â
Details ↓https://t.co/19jG8VWUE0#WBTourLondon pic.twitter.com/pYmCt3N5l6

- MAHOUKAI.COM wizardingworld.com Super Commentary Guide to Harry Potter & Fantabi (@mahoukaicom) August 19, 2021
Harry Potter Studio Tour London - types of tickets, how to book and buy tickets - official website sales tickets
Harry Potter Studio Tour Tokyo - Super Interpretive Guide Menu & Summary
Summary of Harry Potter Studio Tour Tokyo (former Toshimaen site) admission ticket reservations and purchases.
Summary of Harry Potter (former Toshimaen site) admission ticket reservations and purchases, including opening hours, floor structure and admission fees|Studio Tour Tokyo