USJ, 'Harry Potter Area'.

This section reports on new goods in the the new apparel sector.

Newly designed open-collared shirts.

Is.
Product name: Hogwarts Castle design open shirt
USJ Product category: aloha shirts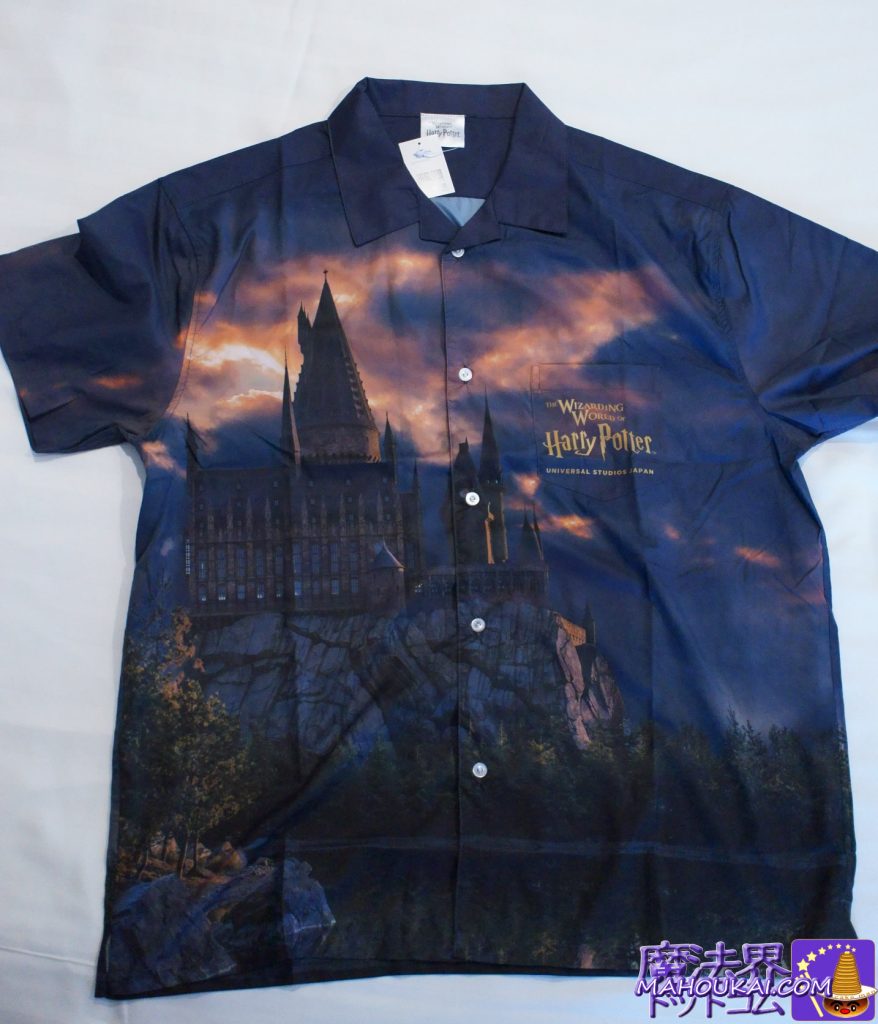 Price: ¥5,900 (tax included)
Annual Pass 20%off Price: ¥ 4720 (incl. tax)
Size: 3 types (S, M, L), unisex.
Colour: 1 type.
Material: 1001 TP5T polyester.
Place of origin: China
Sales outlets >>
(as of September 2022).
Isn't the design too original? (The design is a bowling shirt with the Hogwarts Castle from Universal Studios' Harry Potter area printed on the entire surface. The product genre for USJ is "Aloha Shirt".
WWOHP USJ logo on left chest.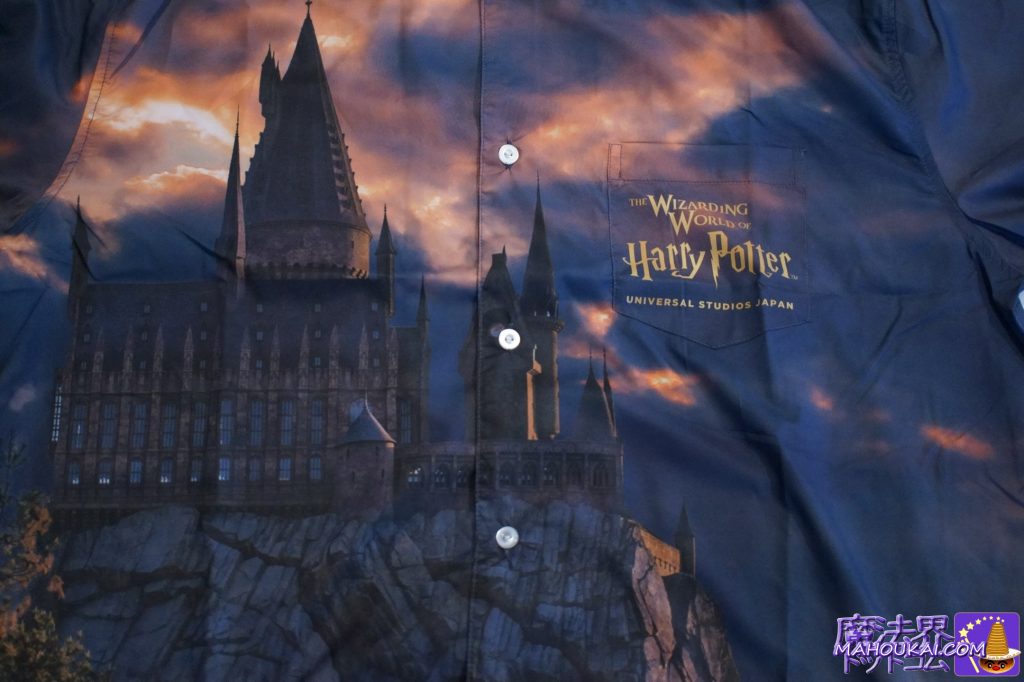 There is a pocket on the left chest, although it is not easily visible, with a small lemon-coloured text logo. It is a little insistent that this is Universal Studios in Japan, as it says "THE WIZARDING WORLD OF Harry Potter UNIVERSAL STUDIOS JAPAN".
The back print also has Hogwarts as Dawn.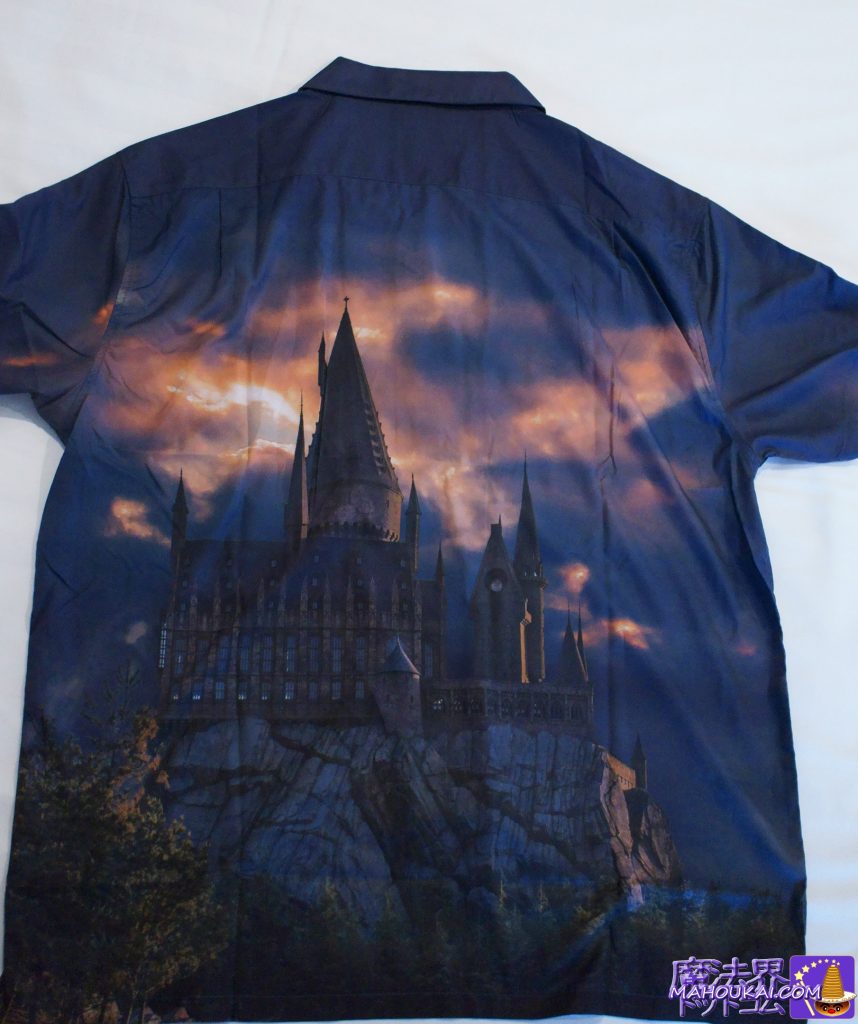 The back side also has Hogwarts School of Witchcraft and Wizardry printed large all over. The overall colour is dark and the base is navy blue, so if you don't look at it consciously, it might look like a navy blue shirt with a pattern, but if you look closely, it's 'Hogwarts'! It's a shirt for Harry Potter fans!
Save as much as $1180 off Annual Pass Reward 20%
20%Off on food and merchandise in USJ for Annual Pass holders.
Period covered: 8 June - 31 August 2020.
Conditions: annual pass presented at time of purchase.
For Harry Potter areas, this applies to all Harry Potter merchandise!
Wizarding World.com Harry Potter & Fantastic Beasts Harry Potter & Fantastic Beasts fan site
Eligible period: 8 Jun 2020 (Mon) - 31 Aug 2020 (Mon) Benefits: annual pass holders can enjoy food and goods in USJ...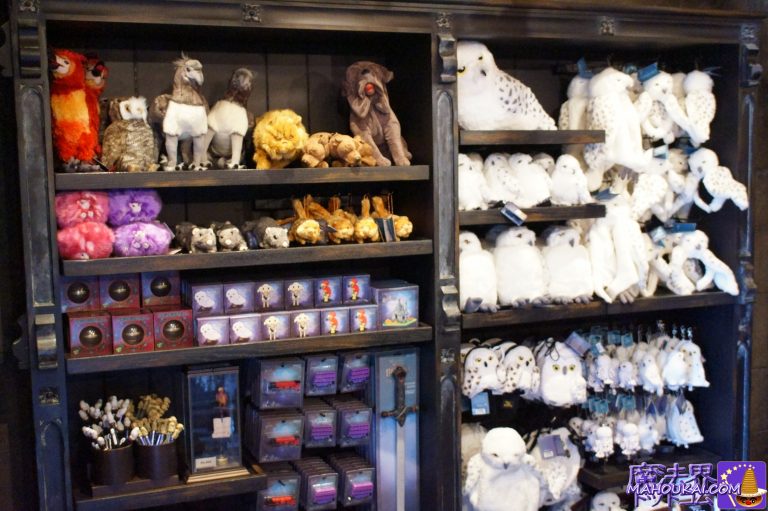 Note unisex sizes!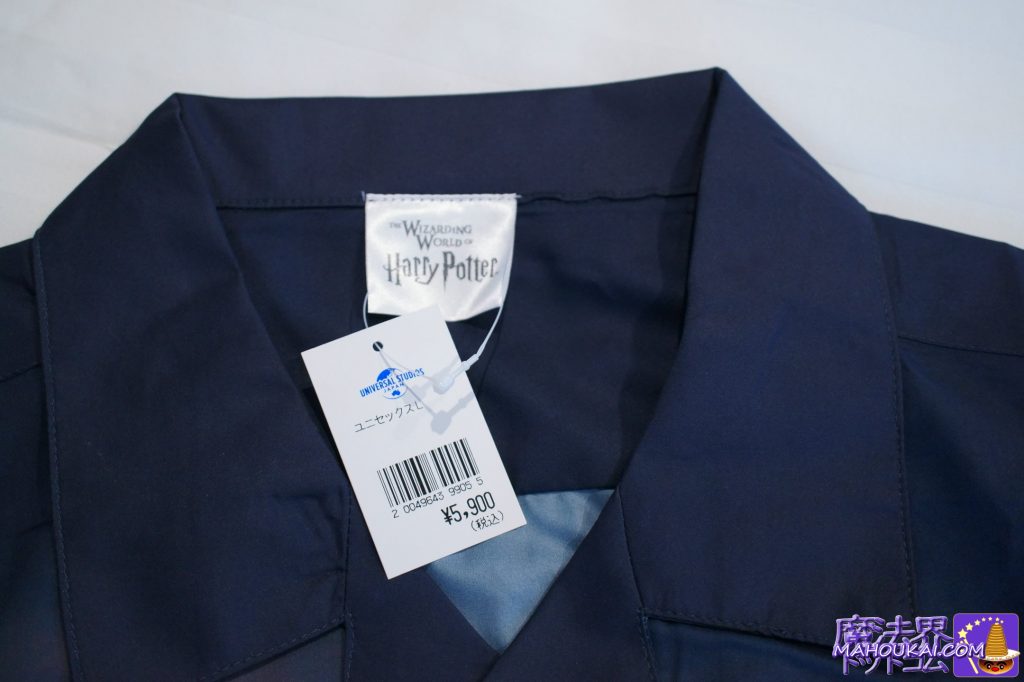 Sizes are unisex S, M and L for both men and women. is larger than the Japanese male L size. My sense is that I wear a man'sI felt like I was between an XL and a L.XL size! (Laughs) Even XL is a big www. By the way, Wizard Pancake Man usually wears XL for domestic manufacturers, L for European manufacturers and L or M for US manufacturers, which is about perfect. This Hogwarts shirt is so roomy that you can put it on and wear it loosely. The hem length is also longer.
(good or bad) feel when wearing something
Wizard Pancake Man gives his opinion on how it feels to wear. The fabric is polyester 100%, thin and flimsy and feels nice and dry to the touch. It does not absorb sweat, but it seems to dry quickly even if it gets wet. Any clothes I wore in the stones were sticky with sweat and humidity. A witch in the Filch confiscation shop asked me, 'Is this shirt cool? I said 'Not really (sweat)', but it is cool and comfortable on hot days when the humidity is not so high.â
It is an item to assert the hot Haripota fever of a POTTARIAN in the coming hot summer season casually (meh?). It's the perfect item to assert your passion for Harry Potter in the hot summer season.tomorrowNext day.wellWearing a Hogwarts Castle shirt to school.I'm going to go do that.I have been (≥▽≦)