'Warner Bros Studio Tour Tokyo - Making of Harry Potter' Japan (former site of Tokyo Toshimaen) 'Harry Potter Studio Tour Tokyo'.This is a comprehensive menu page on how to enjoy the
Harry Potter Studio Tour Tokyo (Toshimaen) General menu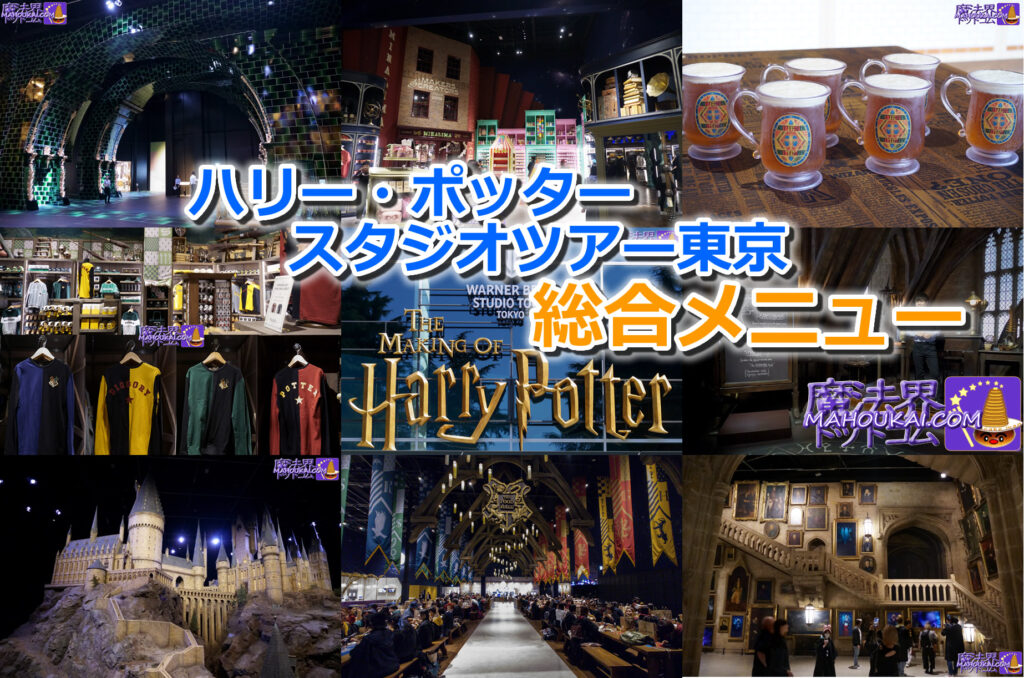 魔法界ドットコム introduces many articles on the 'Harriotta Tour Tokyo', including experience reports, detailed reports, meal reports and how to buy tickets. This menu page is designed to give you quick access to the information about 'Haripota Tour Tokyo' that you want to know. The main menu is displayed at the bottom of each article, so photos are omitted and only text is used to guide you. Due to the large number of articles on the Haripota Tour Tokyo, not all of them can be displayed on the main menu. If you cannot find the information you want in the main menu, you may be able to find it by searching in the search box on the screen. Please make use of it.
Harry Potter Studio Tour Tokyo [Limited time only] Event.
Food Hall, Frog Café, Backlot Café.
Christmas tree & outdoor exterior lighting, Instagram AR effects now available!
Harry Potter Studio Tour Tokyo [What's New] News
15 Nov 2023 Christmas food and sweets announcement
6 Oct 2023 Christmas ornaments Item launched.
Sunday 1 October 2023 Harriotta Tour Tokyo Halloween period starts.
27 Sep 2023 (Wed) 'Hogwarts Study' area 'Forbidden Forest' area Media premiere.
Thursday 13 September 2023 Dr Umbridge's Afternoon Tea - officially launched.
Sep 2023 Butterbeer in bottles Launched in 'Studio Tour Tokyo'.
Friday 1 September 2023 Back to Hogwarts event.
Harry Potter Studio Tour Tokyo [Category list].
Warner Bros Studio Tour Tokyo - Making of Harry Potter (Harry Potter Studio Tour Tokyo | Toshimaen Site)This is a floor plan of the Harry Potter Studio Tour Tokyo building, created independently by 魔法界ドットコム. The entrance to the Harry Potter Studio Tour Tokyo building is at the bottom centre of the map (floor plan). (as of 6 October 2023).
Entrance floor (outside studio tour area)

Lobby floor (outside studio tour area)

Studio tour Entrance.
Rest benches

Goods shop floor (outside studio tour area)
(Goods shop expansion floor map presented below).

Studio Tour Area Giant panel & world-wide Harriotta poster exhibition.
Production design
Gryffindor common room floor (Hogwarts Life).

Gryffindor men's bedroom
Gryffindor Common Room.
Slytherin Common Room
Quidditch cheerleading competition Filming experience

Floor of Principal Dumbledore's office.

Room of Requirement

aisle

Harry Potter & Fantabi props and costumes exhibition.
Death Eater mask design experience

Hogwarts classroom floor (Hogwarts Lessons).

Classroom of Potions
Mirror of the Unknown (Hogwarts Crypt).

Hogwarts Library
Film props Deathly Hallows exhibition
Lord Voldemort and Nagini Costume & figure exhibition.

Forbidden forest Floor

Hogwarts school gates
Hagrid & Bagbeek.
Crashed Ford Anglia.
Expecto Patronum experience (1,2).
Aragog's nest

Backlot Floor (in Studio Tour area)

Hagrid's hut and pumpkin patch.
[Photo spot] Blue Ford Anglia.

Toilet '4'.
Cigarette smoking areas
Hogwarts Bridge
Wizard's chessboard and pieces
Privett Street, Dursley House.
[Photo spot] Hagrid's (Sirius) motorbike.
Knight Bus (Knight Bus) and red public telephone boxes.

King's Cross Station Floor

Hogwarts Express (crimson steam train)
Hogwarts Express (visit to the carriages).
[Photography spot] Wall at lines 9 and ¾.
Great Wizarding Express (Fantabi) magic train.

Exhibition on how to build film sets (props).
Ministry of Magic Atrium

Ministry of Magic Office & Fountain.
Ministry of Magic kiosks (stands).
Harriotta & Fantabi costume exhibition.

Magical animals & magical creatures
Film Sound
Harry Potter film props (PROP) exhibition
Graphic design (Minarima).
Hogwarts Castle Giant model.
Film cast & crew Named cane box room
Although not noted on the map, there are benches throughout the museum where you can sit for a break.
From the backlot (outdoor exhibition) area, the next step is to re-enter the building to the King's Cross Station area. This backlot and King's Cross Station area is one-way, depending on the operating conditions, including crowds. It is also a one-way trip from the backlot to the Forbidden Forest area with no return. Sometimes you can come and go freely, but sometimes you may not be able to return to the backlot or the first half of the area. as of 6 October 2023.
Studio Tour Shop Floor Map HARRY POTTER Goods Shop
The main merchandise shop at Harry Potter Studio Tour Tokyo (the site of Toshimaen) is the world's largest Harry Potter shop, divided into 14 themed floors.ÂThere are over 4,000 different types of HARIPOTA and FANTASVI merchandise on sale. Schematic of the merchandise shop.
Ollivander's shop (replica cane) floor
(Floor admission 11:00-)
Florisch & Blotz Bookshop Floor
(Floor admission 11:00-)
MINALIMA floor|House of MINALIMA Goods
(Floor admission 11:00-)
Quidditch trophy floor
Wiseacre Magical Supplies Store Floor|Noble Collection Accessories
(Floor admission 11:00-)
Quidditch Stadium Floor|Hogwarts Fourth Dormitory Goods
(Floor admission 11:00-)
Ministry of Magic Atrium Floor|Payment checkout counter
Gringotts Magic Bank Floor
Potions & Chamber of Secrets|Ninja maps, dark magic goods.
(Floor admission 11:00-)
Hagrid's Hut & Magical Creature Husbandry Floor|Magical Animals, Magical Plants Plush Toys
(Floor admission 11:00-)
All confirmation as to what the theme is has not been obtained. The floor is tentatively named 魔法界ドットコム.
The shop is a recreation of the wizarding world of Harry Potter and Fantastic Beasts, decorated with over 7,000 specially created props. There are also over 4,000 Harry Potter items for sale. And more will be added in the future.Â
A number of exclusive items will be available only here at the Harry Potter Studio Tour Tokyo.
Please check the opening times of floors such as Minarima and Noble Collection on arrival at Studio Tour Tokyo. (In October 2023, the floor will open at 11am).
How many hours can the Harry Potter Studio Tour Tokyo (Toshimaen) take?
The Harry Potter Studio Tour Tokyo (Toshimaen) takes 4 hours according to the official Studio Tour Tokyo website, but in reality it takes at least 6 hours, and even 10 hours is not enough time to enjoy everything. If you are a fan of Harry Potter, you could stay all day and still not have enough time, so don't overdo it and visit more than once. On the other hand, even if you know nothing about Harry Potter, it is safer to allow 6 hours.
The 'Digital Guides' available for hire on the Harry Potter Studio Tour Tokyo are a smartphone-like device with a screen and headphones.You can enjoy detailed explanations and commentary for each spot in the Studio Tour with photos, video and audio on the digital guide screen. You can also experience portraits from the Harry Potter films and film production content not featured on the Studio Tour. The Digital Guide is recommended for further enjoyment of the Harry Potter Studio Tour Tokyo!
But if it's your first visit to the Harry Potter Studio Tour, it may not be necessary!
?
The Harry Potter Studio Tour Tokyo is aNo digital guideYou can't walk around and visit at all in theTime is running out.. The restaurants & merchandise shops outside the Studio Tour area and the tours, experiences and dining inside the Studio Tour are so extensive that you could spend 8 hours of your stay if you want to take your time and enjoy them. Therefore, we do not recommend the Digital Guide for first-time visitors to the Harriotta Tour Tokyo or those who have a short stay. However, if you can only visit once, you can rent a digital guide and enjoy only the contents you are interested in after consulting with the length of your stay.
The official Harry Potter Studio Tour Tokyo guidebook is a recommended Harry Potter souvenir & memento after your Studio Tour visit. This item is highly recommended for Potter fans! but it depends on whether you want it or not. Many of the photos in the guidebooks are seen from places that are not normally accessible and are of beautiful quality. It is a good souvenir to give as a gift to friends and family who love Harry Potter.
[Facility overview] Warner Bros Studio Tour Tokyo - Making of Harry Potter.
Differences with the Harry Potter exhibition
The Harry Potter Exhibition at Roppongi Hills, Tokyo 2013 is different from the Harry Potter Studio Tour Tokyo. The themes exhibited are the same, but the scale of the exhibitions and interactive areas is by far the greatest at Studio Tour Tokyo. For more information on the contents of the Studio Tour Tokyo, please see the visit report Super Guide below.