Wizarding World of Harry Potter at Universal Studios Japan.(at sentence-end, falling tone) indicates a confident conclusionNew Fantabi and Harry Potter 'wands' new magical wands in Ollivander's Wand Shop!
Other than the wand, here are USJ's new Fantabi merchandise and magical animal Nifflers and Pickett 'plushies'Â
Fantabi's wand, the Magical Wand, goes on sale in USJ's Harry Potter area.Â
Magical Wands (Interactive Wands)
Queenie Goldstein's wand (magical wand)
Chairperson Pickering's wand (magical wand)
Gellert Grindelvald's wand (magical wand)
Fantabi-'s Magical Wand Price|Universal Studios Japan
USJ Fantastic Beasts Magical Wand retailers and prices

shop

Price
4,900 yen (incl. tax)51,500 yen (incl. tax)
Five new Fantastic Beasts and Where to Find Them Magical Wands are now available in Japan! Only five types of wand were available in the US, and now they are finally available from USJ's Ollivander.
Fantaboby's Magical Wand is also imported by Newt and young Dumbledore.I had been to the cane before, so I was aware of the detail, but this was the first time I had seen the Elder Wand of Queenie, Chancellor Piccari and Grindelwald up close. As far as I could see, except for the tip of the cane.Queenie of the Noble Collection, Piccari - identical to the Chancellor's staff.It is. Grindelbald's wand is identical to Harry Potter's version of Headmaster Dumbledore's Magical Wand, but the name plate on the wand box reads 'Gellert GrindelwaldThere is a difference between the two.
Fantabulous Wands (Magical Wands) sales shelves moved to the wand shelves in front of the cash register 2023
Additional display case for Fantabi wand!
An additional 'display case' has been installed on the Fantabi wand shelf in the USJ Ollivander's Wand Store. The bright lighting provides a good view of the wand's beautifully sculpted beauty.â
The picture below shows a magical wand imported from the USA in the past.
ハリポタツアー東京(としまえん)のニュート・スキャマンダーの杖はこちら
Queenie Goldstein's wand (magical wand).
Chairperson Pickery's Wand (Magical Wand).
Gellert Grindelbard's wand (magical wand).
Photo below The cane below has been on the market for some time.Headmaster Dumbledore's Magical Wand (Elder Wand) in Harry Potter.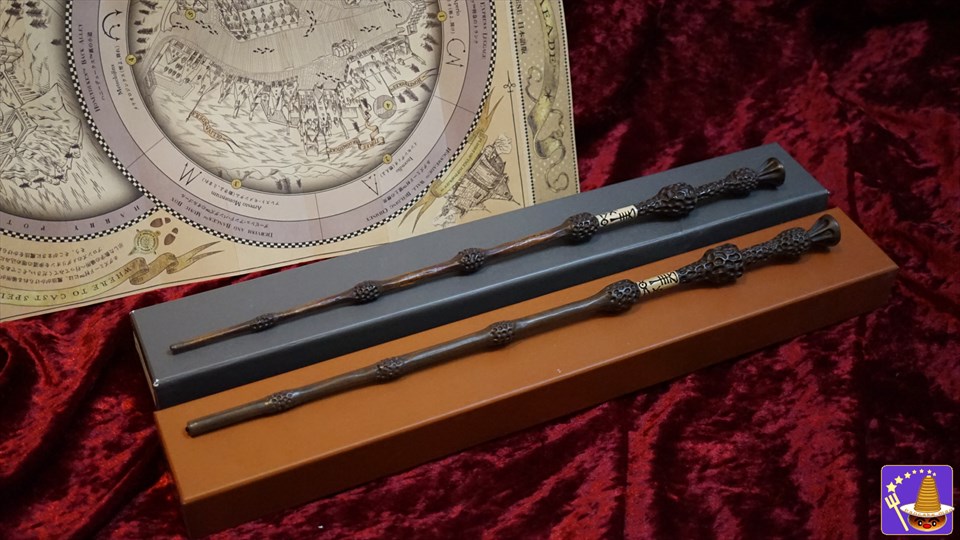 Reference] Five replica wands from the Noble Collection - Newt, Albus, Queenie, Chancellor Pickering and Elder Wand.

This is a photo of the five Fantavi characters' wands replicas that are now on sale. They are made by the Noble Collection, but from the base of the cane (the part you hold) to halfway up the end of the cane, they are almost identically sculpted, so please use them as a reference.â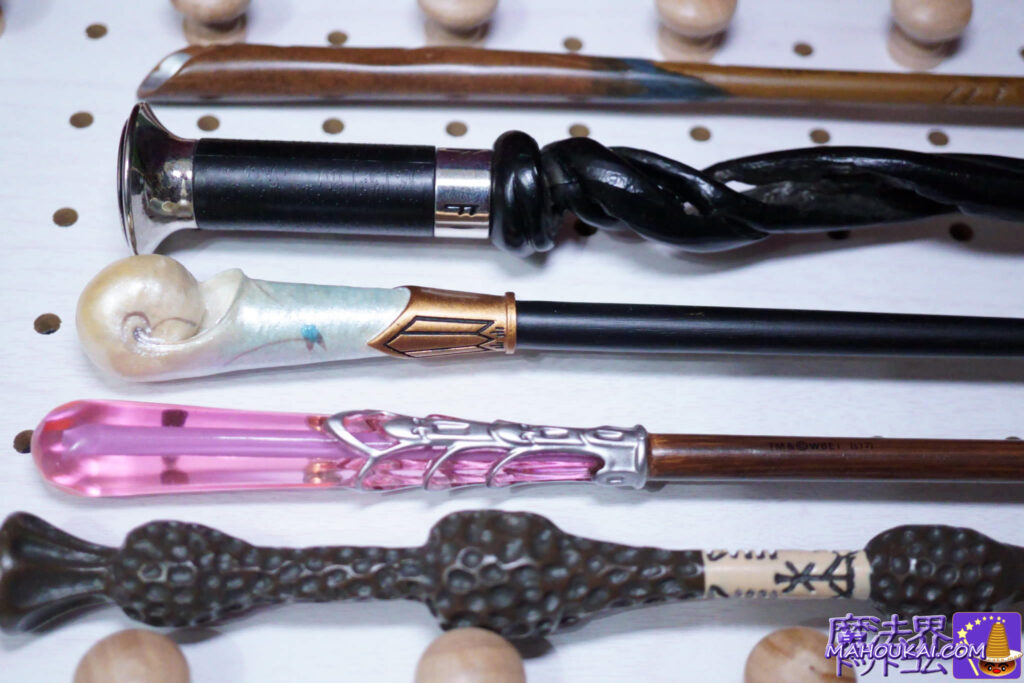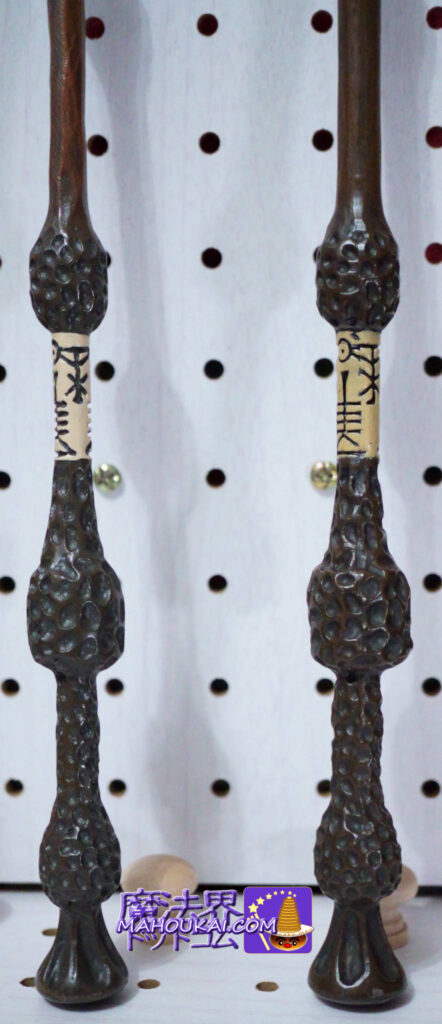 Only the Elder cane has a slightly different design from the root part due to structural problems.
Left: Replica Elder Wand.
Right: Elder Wand of the Magical Wand.
Harry Potter Death Eater wand The Magical Wand is also new!
Price ¥ 5,500 (incl. tax)
Fans of Death Eaters and Lord Voldemort, the Dark Lord! We've been waiting for you. Finally from Univa comes the Magical Wand!
Several Death Eater Wands are available at Universal Orlando Resort, but the newest to appear at USJ Ollivander is theStaff of the Whirlpool Death Eater.'.
Harry Potter Peter Pettigrew's wand Magical Wand is also new!
Price ¥ 5,500 (incl. tax)
And why is Peter Pettigrew's Magical Wand also available? Other Harry Potter characters' Magical Wands (Interactive Wand) have been commercialised in the US, but why! I felt that it was a good idea.
I don't think USJ's merchandise manager said, 'I don't think so.Hidden Pettigrew fansIs it a 'is it'? I couldn't believe my eyes. No, I am convinced that it must be so. w(≥▽≦)w
Therefore,Two types from Harry Potter characters.has been added!
Only the Magical Wand is new to the market. No replica wands (original wands) have been added. If you want a replica wand, look for one made by the Noble Collection.â
The seven new Magical Wands are unfortunately not available in the Universal Studios Japan Online Shop as of 1 July 2022.
Will there ever be a Magical Wand for the other Fantabulous characters on the market?
and one theme of interest. Unfortunately, no other character's Magical Wand (Interactive Wand) has been released at Universal Orlando Resort, which had launched earlier. We will have to wait for the Magical Wands of other popular characters such as Tina, Commissioner Graves and Theseus Scamander to be commercialised. (
Replica canes from the Noble Collection.
(The magical wands of Harry Potter characters are also being sold in Orlando, little by little, but new character wands are being released. If it is not sold in the US, it would be great if USJ develops and sells the product first, so please do it!
# Harriotta area. [Breaking news.
7 types of magical wands New!
Fantabi.
1️⃣Newt Scamander
2️⃣Albus Dumbledore
3️⃣Gerard Grindelvald
4️⃣Queenie Goldstein.
5️⃣Pickery Chair.
Harry Potter.
6️⃣death eater
7️⃣Peter Pettigrew
Preliminary details👉.https://t.co/XWxwXJg0r3 pic.twitter.com/Sknhy5Qe9A

- MAHOUKAI.COM wizardingworld.com Super Commentary Guide to Harry Potter & Fantabi (@mahoukaicom) July 1, 2022
For reference, go to the Magical Wand page sold in the USA.
Click below to go to the [detailed report] page.
New Magical Creatures Encounter experience in USJ's Harry Potter Area with magical creatures Nifflers, Baby Dragons, Pygmy Puffs and Hippogriffs (Show & Atmos) from 17 Mar 2023 [limited time only].
With the Fantastic Beasts Magical Wand in hand, you can play and take photos as Fantastic Beasts and Where to Find Them in the USJ New York area.