沢山のご応募を有難うございました♪締切ました。
Hello! I am the Wizard Pancake Man (*´▽*).
Today we are presenting you with some great Harry Potter merchandise!
One month has already passed in 2021. For all those wizards and witches who can't go abroad or to USJ, Wizarding World.com has a little gift for you♪ (Everyone is welcome♪).Lottery.4 personsIt is a gift to the
Wand of Lucius Malfoy (Papa Foy of Draco) etc. 4 persons in total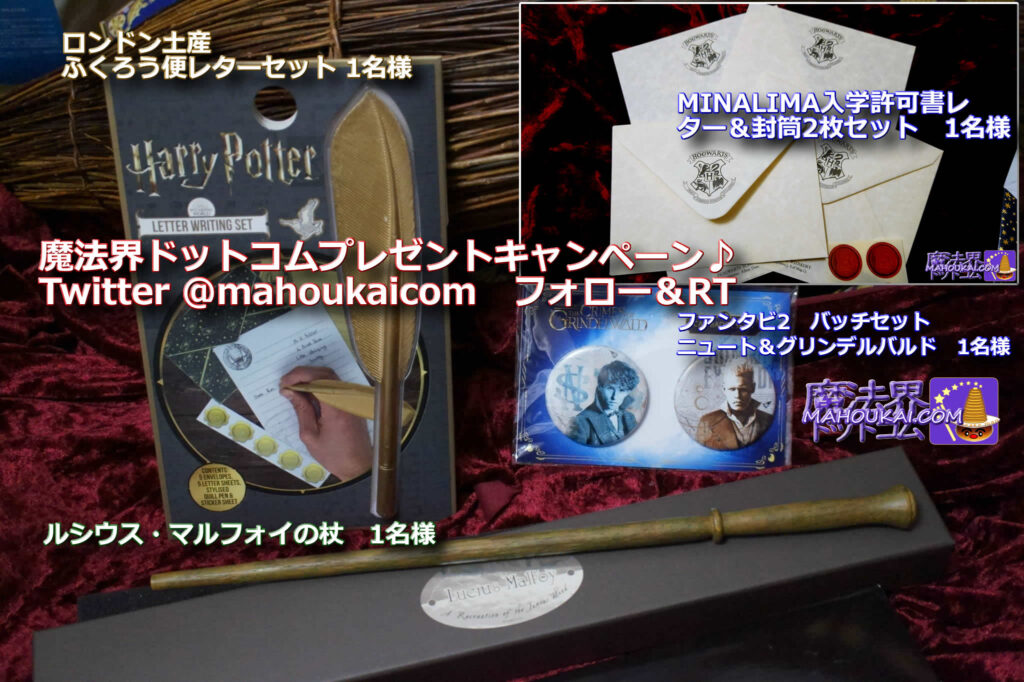 Harry Potter the movie Draco Malfoy's father

Lucius Malfoy's staff.

(in...)Noble Collection)For 1 person
London Harry Potter purchased in Primark.letter-writing set(quill shaped biros and owl letterhead set) To 1 person
Fantastic Beasts and Where to Find Them: The Rise of the Black Wizardbatch set(Newt Scamander and Gellert Grindelbard) Johnny Depp! ← To 1 person.
MINALIMAHogwarts admission letter type letter set.2 pairs for 1 person
How to apply for a present
Wizardingworld.com.Twitter @mahoukaicomindicates object of desire, like, hate, etc.follow
Present announcement Tweet.RT (Retweet).
*'RT with comments' is not allowed this time. It will not be eligible for the lottery.
Application deadline: 29 Jan (Sat) to 20 Feb (Sat), 2021 (23:59).
Follow & RT Giveaway.
Lucius Malfoy's wand for 1 person
3 Haripota & Fantabi goods
*How to apply.
1. follow-up
2. RT (retweet)
Deadline: until 23:59 on Saturday 20 February 2021.
👇Application details👇.https://t.co/fH6bgXgtDQ
👆Magicworld.com Present details 👆.#mahoukaipresents202102 pic.twitter.com/WdvbKUNKKR

- mahoukai.com Wizarding World.com (@mahoukaicom) January 29, 2021
Application notes.
The draw is random. Presents cannot be specified.
The winner's account will be announced on Twitter and on wizardingworld.com â
Key accounts are not eligible to apply.
Winners will be asked for their shipping address via DM; if no reply is received within 24 hours, the prize will be considered invalid.
Shipping destinations are in Japan only.
You are welcome to write your thoughts and other information in the comments! We will not be affected by the conditions of the lottery! However, it will not affect the conditions of the lottery (´▽▽*). If your comments are complimentary to our site, your chances of winning the lottery may increase significantly.
Personal data will not be disclosed.
It may take a few days for delivery.
There is no compensation if the post is not delivered for other reasons.
If you have a love of Harriotta & Fantabi, you are welcome to apply. If you can get along with people of all sizes, you are more than welcome!
However, no claims will be accepted... (except unique claims w)
Accounts that appear to be unrelated to Harry Potter or Fantastic Beasts will be excluded from the draw. (The reason for this is that we want to make sure that the site is in the hands of Harry Potter fans (e.g. accounts dedicated to the sweepstakes).
This present campaign is an original project of this website. It has no relationship with the respective rights holders.
Winners who Tweet the winner on Twitter.
We look forward to receiving your application! (≥▽≦) no.