[This event ends on 25 December 2021.
Hello, I'm Pancake Man the Wizard of 魔法界ドットコム. Sometimes I transform and I am Pancake Man Dumbledore (≥▽≦).
Tokiwabashi Tower TOKYO TORCH Park Harry Potter Illumination
早速ですが常盤橋タワービルの東京トーチ パークにあるハリポタ イルミネーションを紹介していきます♪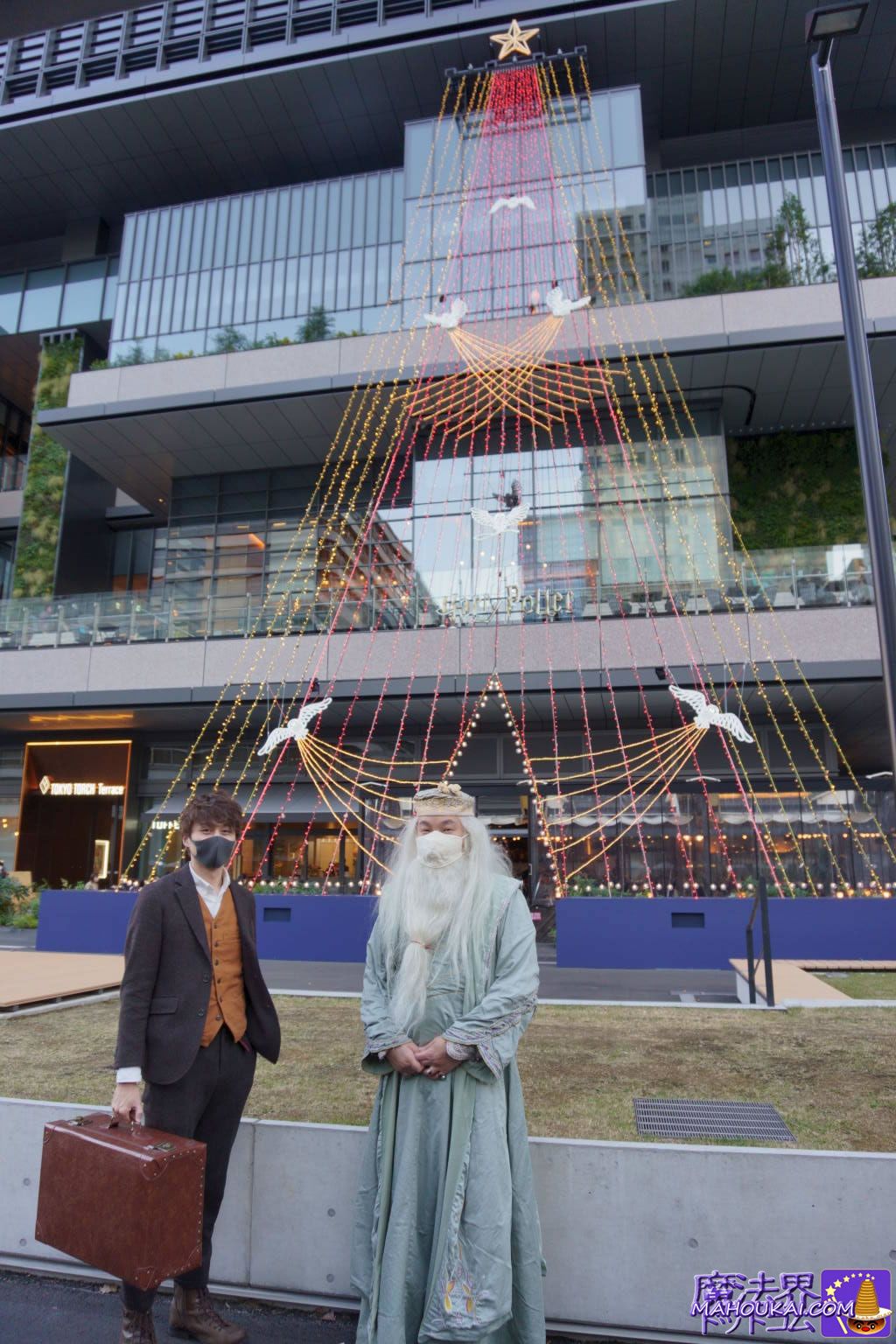 This photo was taken before the lighting ceremony on Thursday 11 November 2021. Photo taken. sleeping girlthreeThanks... I, Pancake Man, as you can see, have dressed up as Pancake Man Dumbledore, and my fellow Harriotta, Newt.Yudai Scamander.殿と一緒に撮影した時の写真ですぞ♪
Note The names and wording are based on MAHOUKAI.COM's own production expressions. They may have nothing to do with the actual Marunouchi Illumination production (≥▽≦).
The sky is still too bright to show the charm of the illumination for the 20th anniversary of the release of the Harry Potter film, so I'm going to darken the surroundings and light the illumination brighter...
It spells lumos!
Tree of Owl Post Tokyo Marunouchi Harry Potter Illumination Spot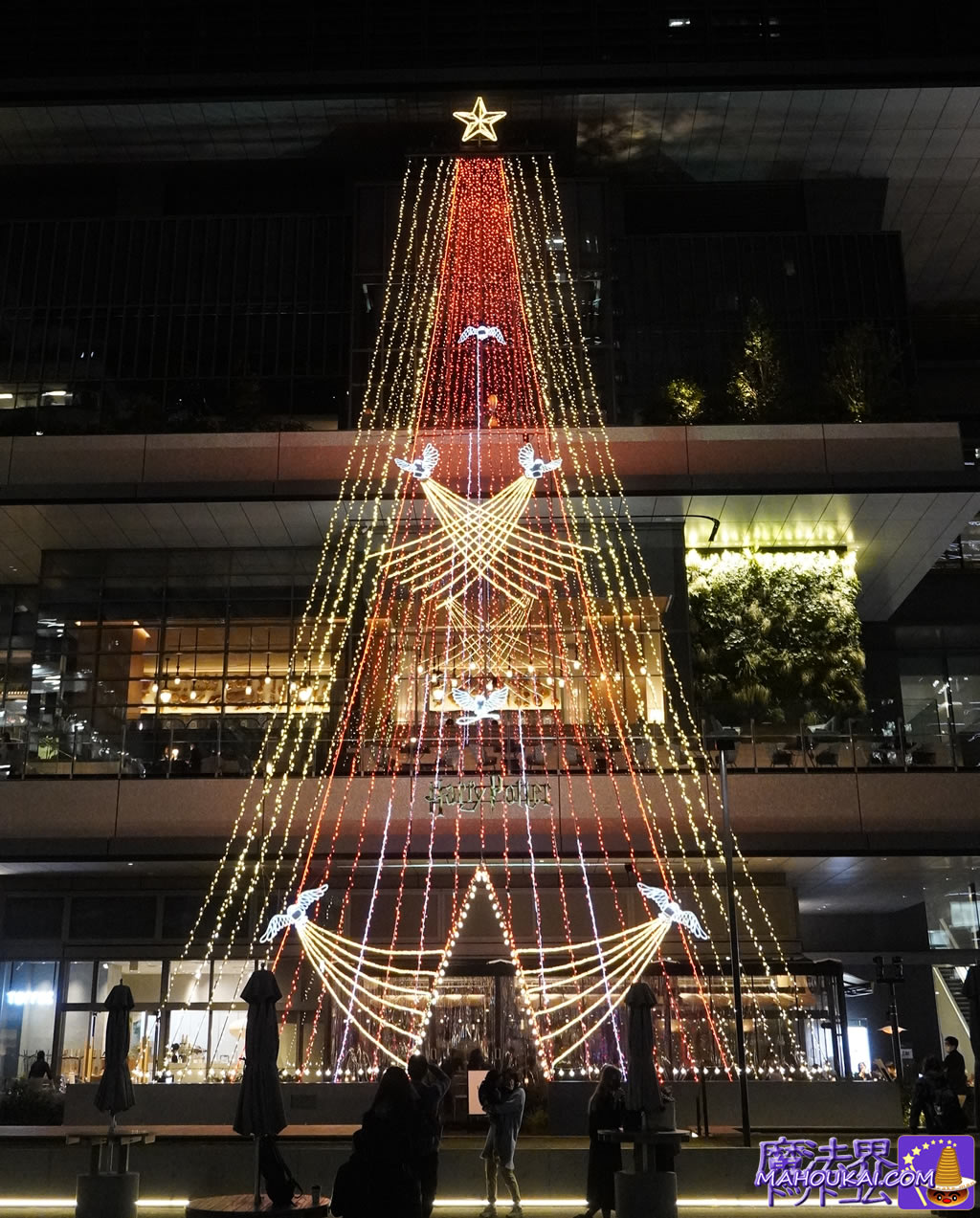 A beautifully designed Christmas tree, 30 metres high, with a beautiful Harry Potter illumination! The soundtrack music from the Harry Potter films plays as background music near the illumination, making you feel like you're in the wizarding world.
The Tokyo Torch Park at the Tokiwa-bashi Tower Building is a plaza between buildings, and you will be delighted when you see this night view♪ Lovely♪ Please go and see it with your potty-mates, lovers, family, or even if you are a bocci. I am sure you will be delighted, including yourself.
Eh? Who did I see with me, my lovely fellow Harripotter? Cummy.Lord,ericaWith you, my Lord. I was a Muggle at the time... and it was a great, great pleasure to share a good time with you... thank you, thank you...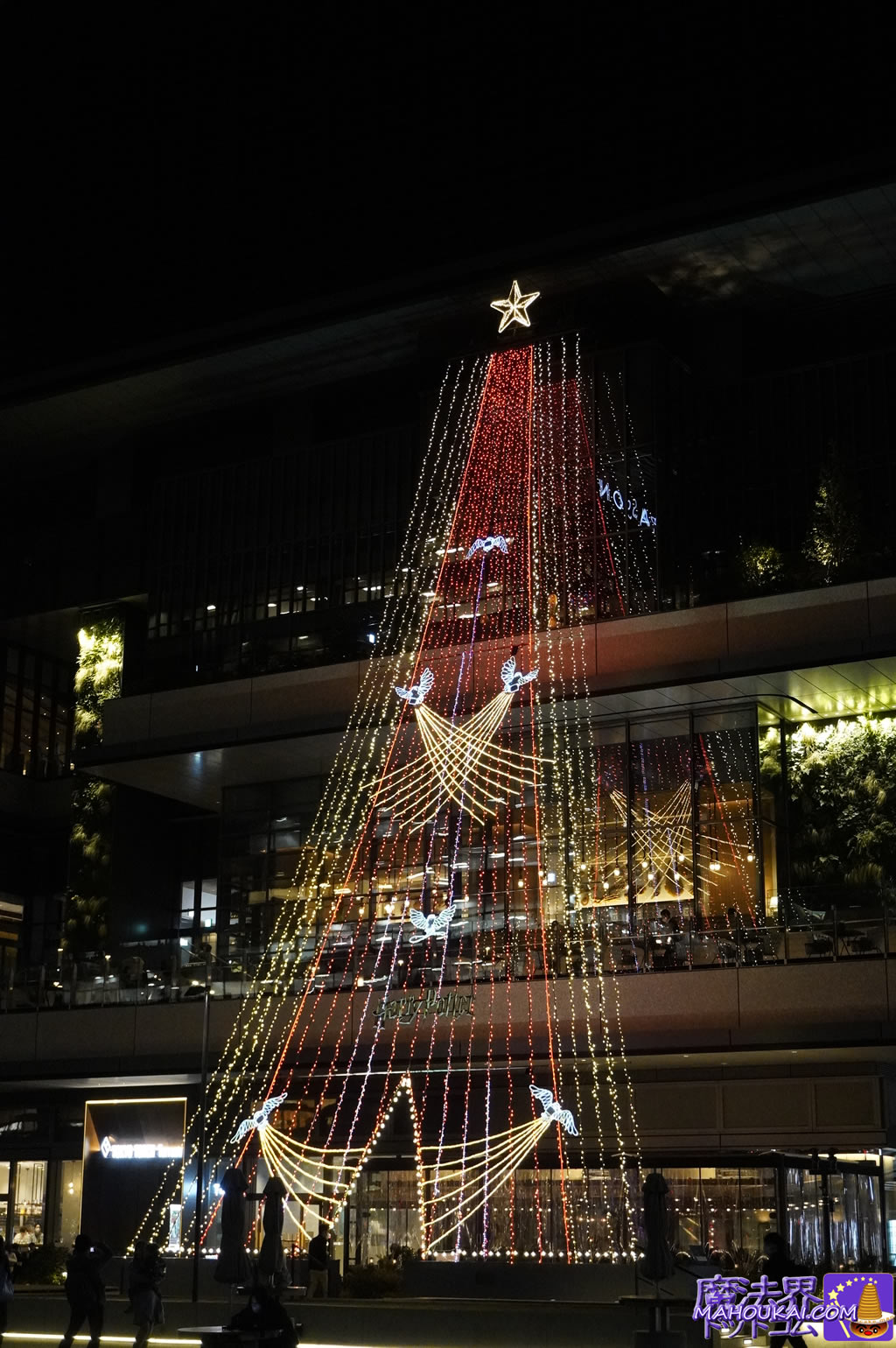 A white owl like Hedwig is carrying a Nimbus 2000 (Nimbus 2000) and also an envelope for your Hogwarts acceptance letter... What? You have to be able to see it... Actually, [Hidden Spot] is easier to see in daylight, so I'm going to spell it again to bring it back to noon.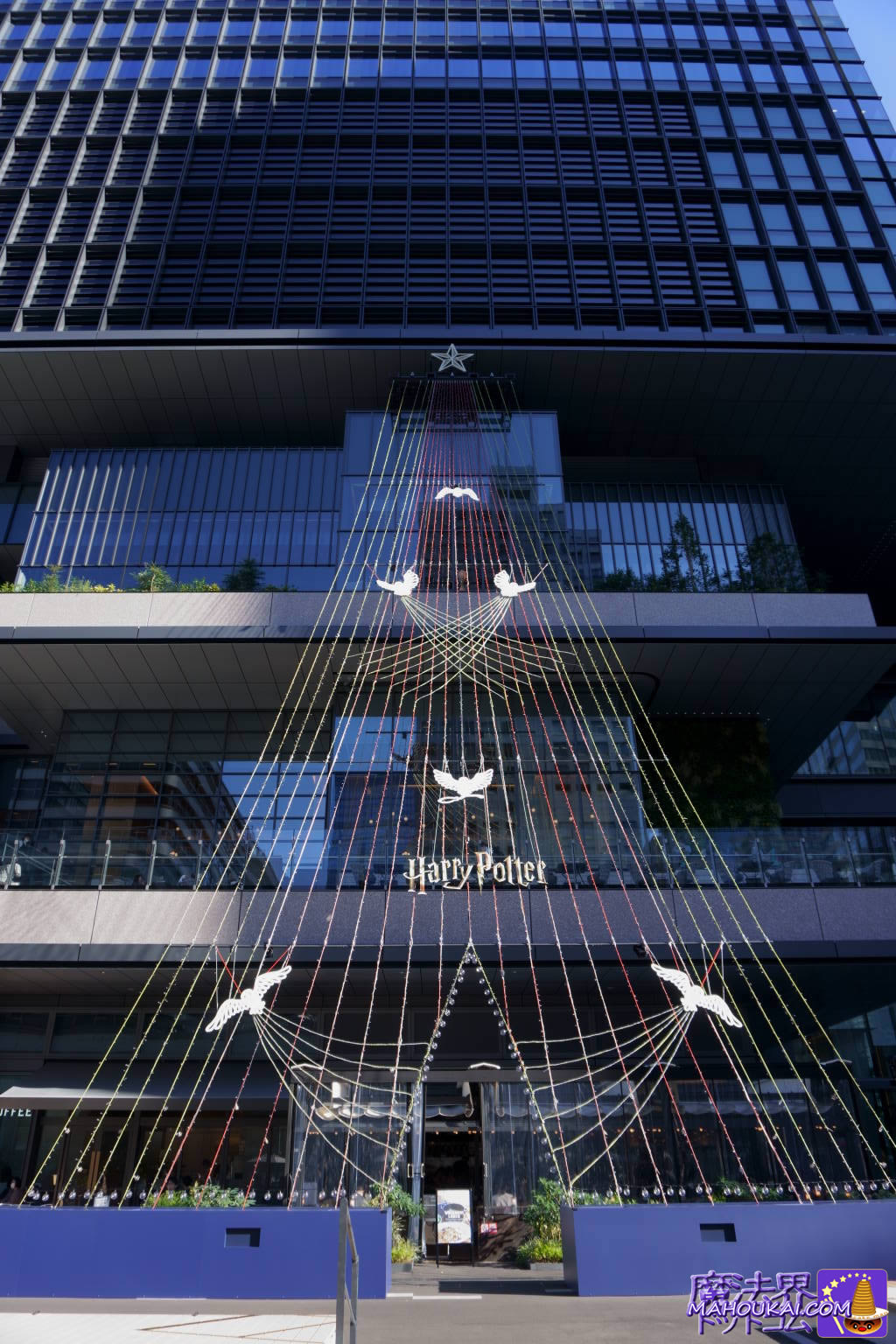 Owl Flight Tree [Hidden Spot] No. 1, Nimbus 2000.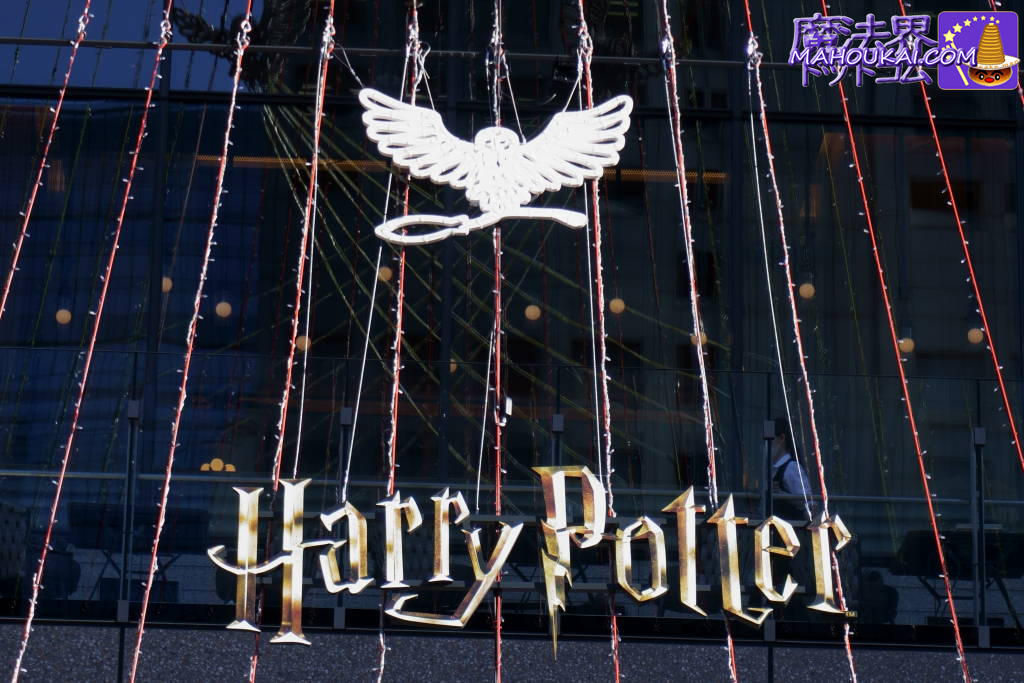 Logo 'The.Harry Potter.Hedwig on TheNimbus 2000.と思われる箒を掴んでおるぞ♪
Owl Flight Tree [Hidden Spot] Part 2: Hogwarts Letters.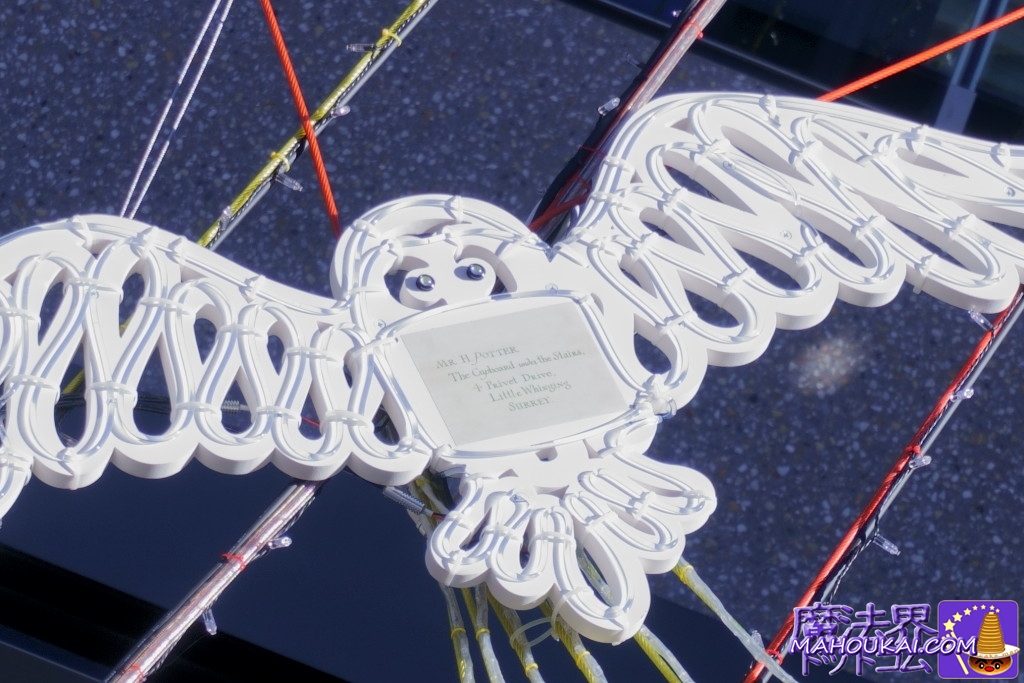 The two owls at the bottom of the tree are holding envelopes addressed to Harry Potter! Get up close and observe.
Owl Flight Tree [Hidden spot] Part 3: Find the ornament!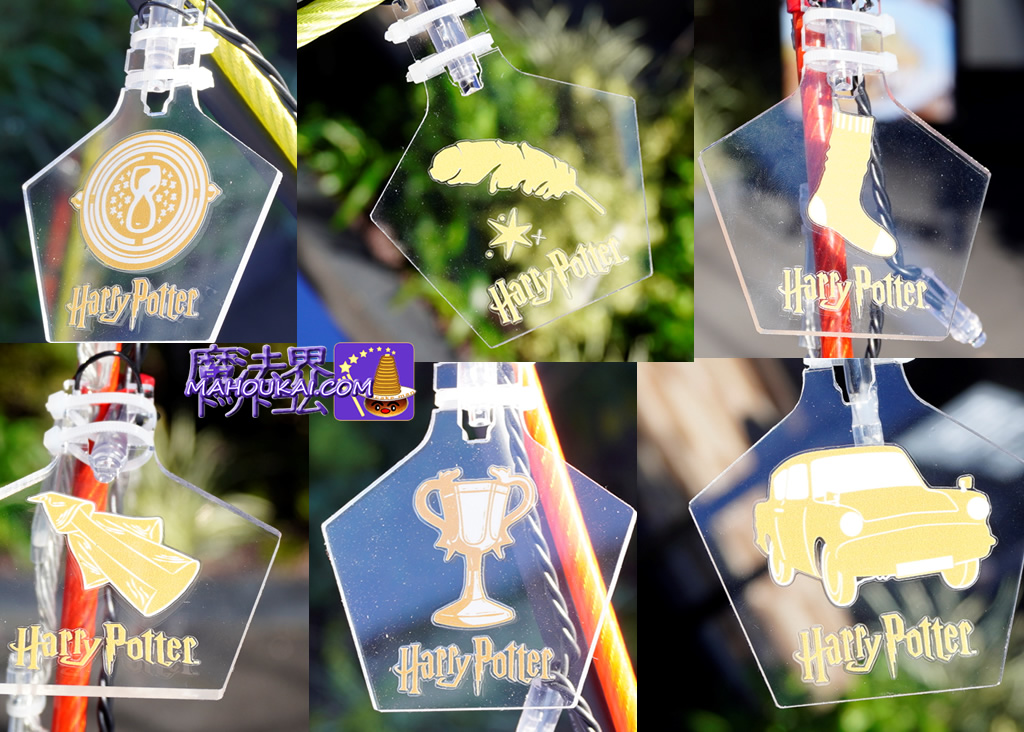 Harry Potter ornaments are hidden throughout the illumination... There are many different types, including a time turner, a quill, a sock, a robe, a Triwizard cup and Ron's dad's car. In fact, these ornaments are hidden in many other places in Marunouchi. You can also enjoy the hunt for the ornaments...
Other Harriotta spots in Tokiwabashi Tower, etc.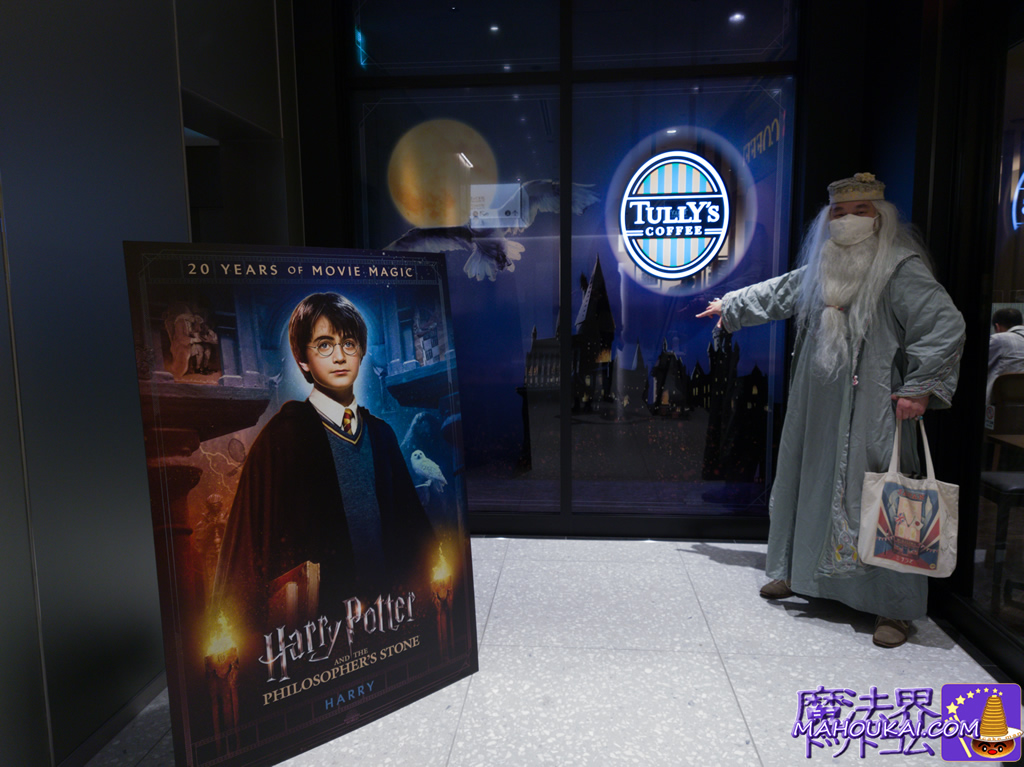 There is a Tully's coffee (photo spot) and a stamp rally point.Click for location and more♪
Map (MAP) HARRIPOTA Christmas Tree & Event Venue Marunouchi area, Tokyo
● Red mark.
Marunouchi area Illuminations & pop-up shops
● Orange mark.
 Marunouchi area Tully's Coffee Shop (11 Nov pre-sale shop) (
★
(Tully's - shops with photo spots)
◆Red mark
 Stamp rally 10 locations
● Green mark
 Collaboration food and drinks (4 restaurants outside Tully's)
● Blue mark
 collaboration goods
●

yellow mark
 Harry Potter exhibition Tokyo Station, cinema Marunouchi Piccadilly
Tree of Owl Post🎄Tree of Owl Post
Visit report ☛https://t.co/OJT5XUmmzt
Location Tokiwabashi Tower TOKYO TORCH Park
Lighting hours 15:00-23:00 From 1 Dec onwards - 24:00
[Hidden spot].
1⃣Carry Hogwarts envelopes🦉.
2⃣Nimbus 2000 also carries🦉.
3⃣Find the ornament!# Harriotta. # Marunouchi #MarunouchiBrightChristmas pic.twitter.com/ywIrR75jLK

- MAHOUKAI.COM wizardingworld.com Super Commentary Guide to Harry Potter & Fantabi (@mahoukaicom) November 16, 2021