Hello! I am the Wizard Pancake Man from Wizarding World.com (≥▽≦).
Are you enjoying the Haripota Festival in the Marunouchi area of Tokyo? For those of you who can't make it due to work or other reasons, I'm very sorry, but I hope you're enjoying the atmosphere on Twitter, YouTube and our website as much as possible. Well, today's report will be about this year's 'Marunouchi Bright Christmas 2021 'Harry Potter' Gift from the Wizarding WorldThis section introduces one of the spots in the 'Shin-Marunouchi Building'.â
Harry Potter Spot in Shin-Marunouchi Building
Building address: 1-5-1 Marunouchi, Chiyoda-ku, Tokyo
Haripota MAP [Map].
NO
spot name
number of stairs or stories (storeys)
Contents
opening hours (of a store, restaurant, etc.)
Holding period
1
Stamp rally 7.
3rd floor.
11:00-23:00.
 11 Nov - 25 Dec.
2
Stage Cursed Child.
Magic Awakening photo location
3rd floor.
Photography spot
11:00-23:00.
 11 Nov - 25 Dec.
3
Magic World Gallery
3rd floor.
Panel displays and photo booths for Harriotta and Fantabi.
11:00-23:00.
11 Nov - 25 Dec.
4
HANWAY (shop).
4th floor.
Collaboration goods Printed long umbrella
1 December - 31 March 2022
5
BARBARA market place 151
1st basement floor
collaborative food
Hogwarts Fourth Dormitory Profit Roll
15:00 -.
15 Nov - 25 Dec.
Wizarding World Gallery Harry Potter and Fantastic Beasts the Movie Photo panel exhibition, 3rd floor.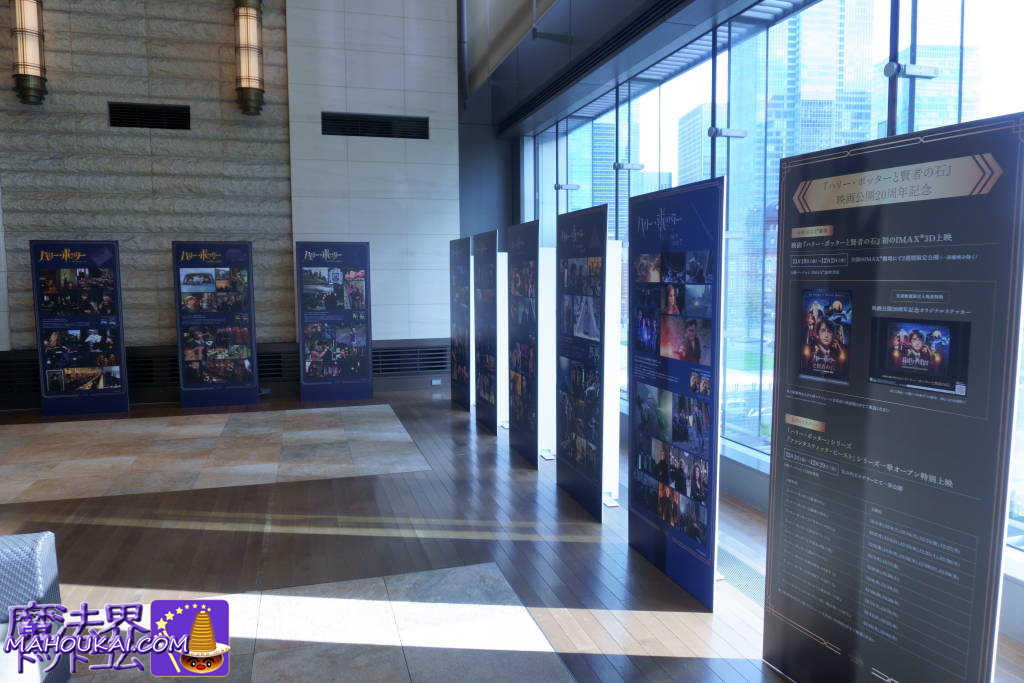 On the third floor of the Shin-Marunouchi Building (the floor from which the Marunouchi Building next door can be seen) is an exhibition of photographic panels of the Wizarding World, entitledMagical World Gallery(1).Harry Potter and the Philosopher's Stone - 20th anniversary of the film's release.It is one of the most popular. The exhibition shows pictures of iconic scenes from the first eight Harry Potter and the Deathly Hallows Part 2 films. The rightmost panel also contains information about the 20th anniversary screenings.
Harry Potter and the Philosopher's Stone IMAX 3D Japanese dubbed version in cinemas nationwide 19 Nov - 2 Dec.
8 Harriotta films, 2 Fantabi films Normal edition Japanese dubbed Marunouchi Piccadilly (Tokyo) 1 Dec - 29 Dec.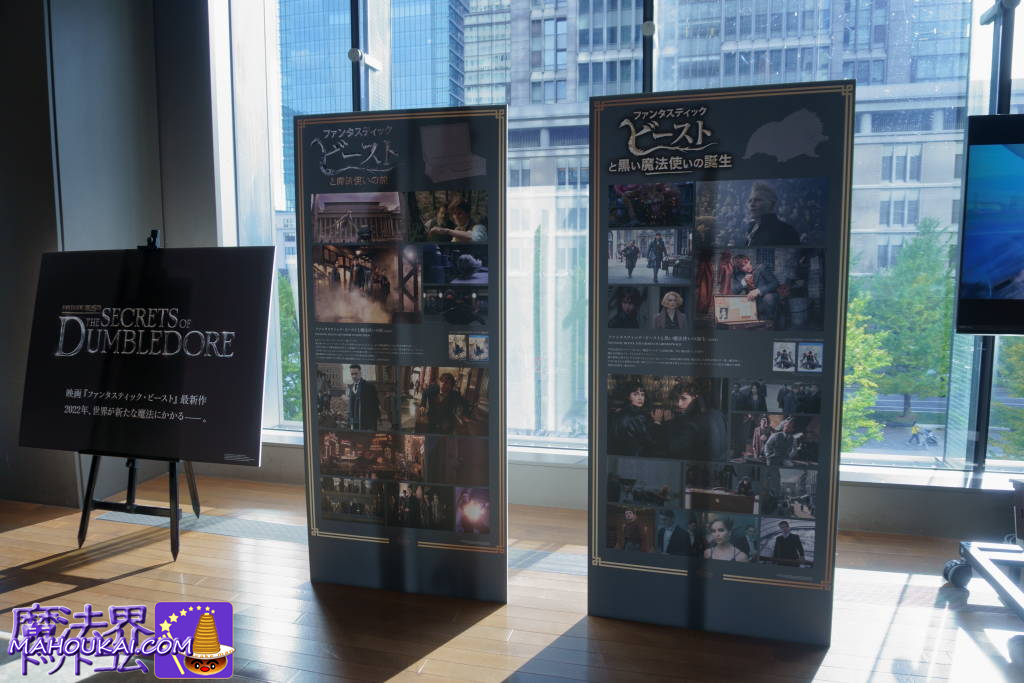 Film Fantastic Beasts and Where to Find Them.
Film Fantastic Beasts and the Birth of the Black Wizard (original title Fantastic Beasts: The Crimes of Grindelwald).
Japanese title not yet announced (original title Fantastic Beasts: The Secrets of Dumbledore).
(Provisional translation Fantastic Beasts and Dumbledore's Family Secrets?) Official announcement (Fantastic Beasts and Dumbledore's Secret)
There is also a panel exhibition of the two Fantabi films.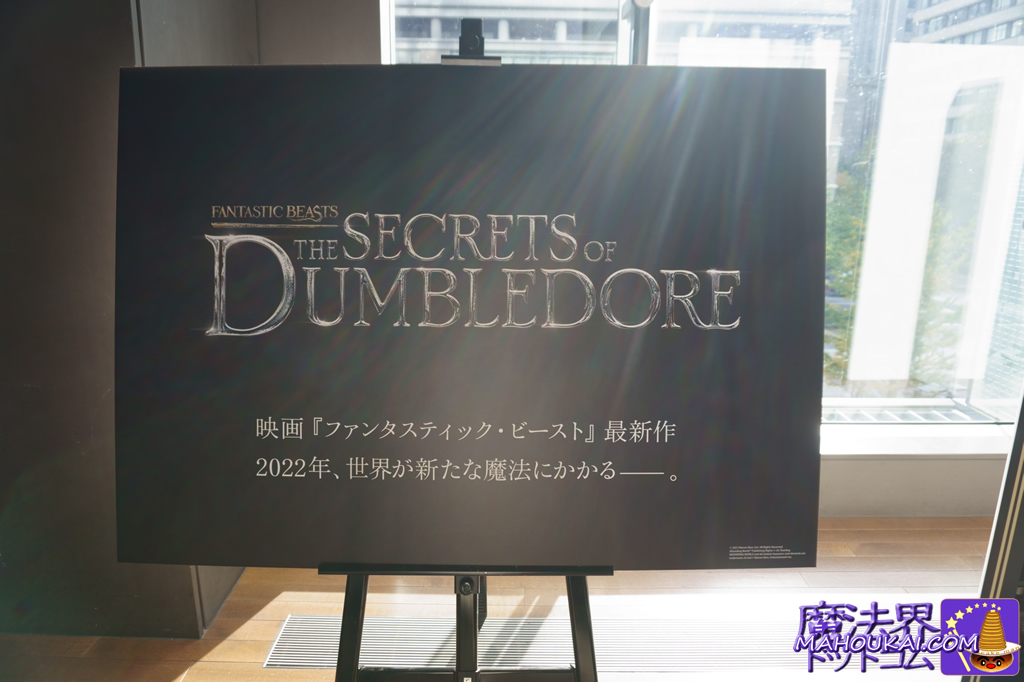 What I'm interested in is the announcement of the Japanese title (Japanese title) of Fantabi 3...''Fantastic Beasts: the Secrets of Dumbledore'.The film is set to be released in 2022, but the Japanese release date Japan Premiere and the Japanese titleunpublishedIs. Perhaps the 1 December event, to be held at a location in Tokyo on 1 December, will be calledFantabi 3 kick-off event.It is expected to be announced in I'm looking forward to it.ÂFantastic Beasts and Dumbledore's Secret was announced at the kick-off event!
[Photo spot] Stage Harry Potter and the Cursed Child, 3rd floor.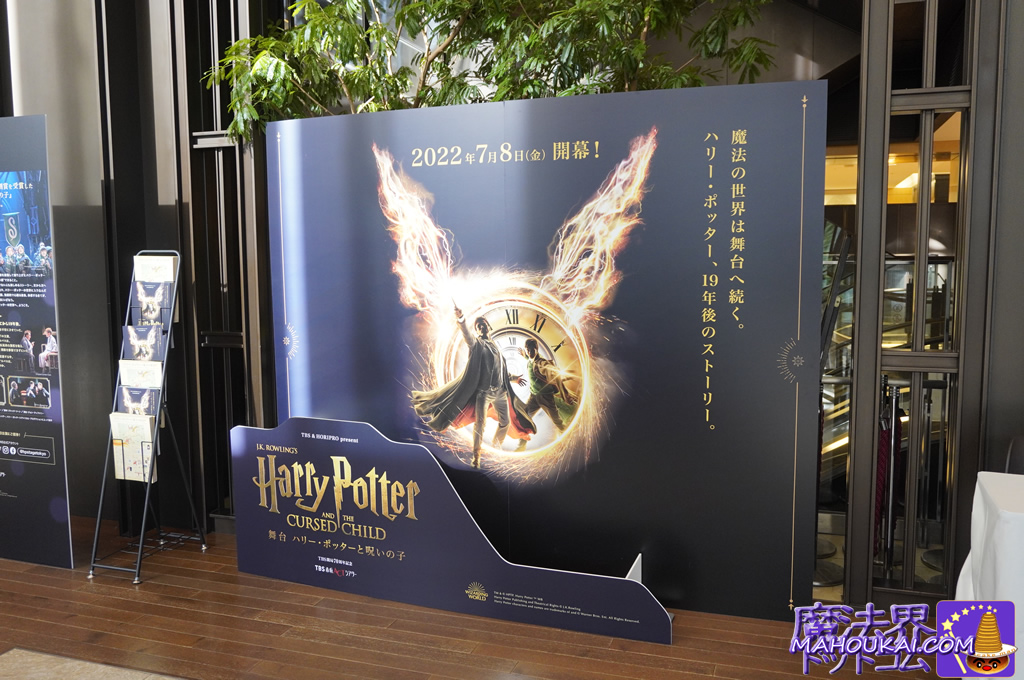 On the same floor as the Magical World Gallery.The event will open on Friday 8 July 2022.Stage production of Harry Potter AND THE CURSED CHILDThere is a photo location in the Of course you can stand inside and take a photo with your camera... We are also looking forward to the announcement of the Japanese cast members. Pamphlets are also available (cabinet on the left), check it out if you are interested!
[Photo spot] Harry Potter: The Wizarding Awakening Game Photolocation, 3rd floor.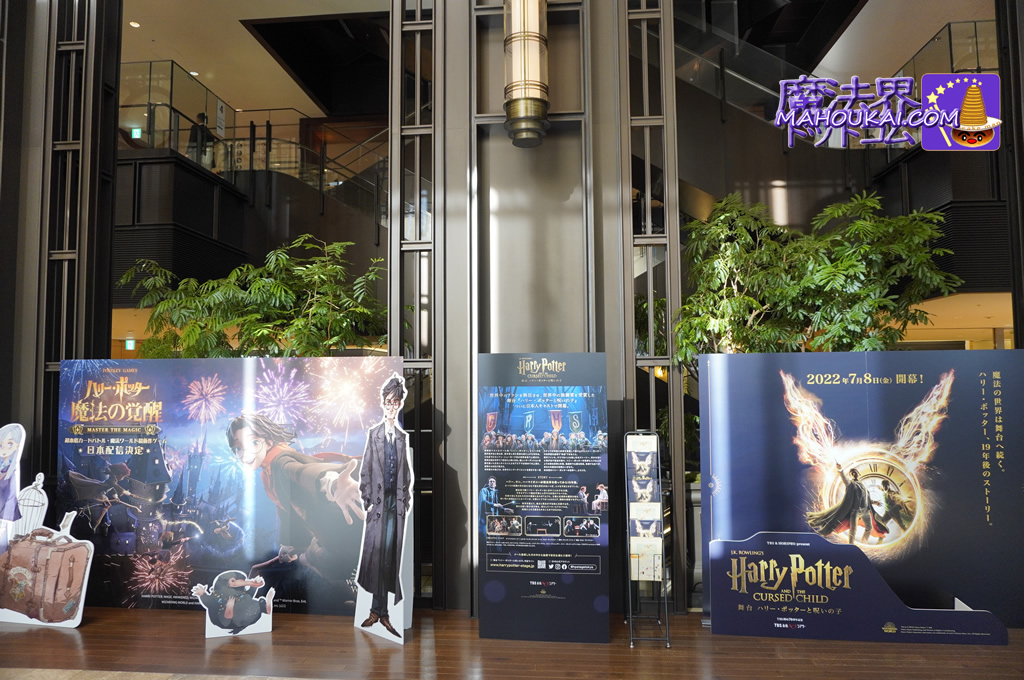 Next to left.Harry Potter The Magical Awakening game.There is also a photo location in Of course, photography is possible!
🎀Magic World Gallery.
3F 📍 Shin-Marunouchi Building

There were panels introducing previous works, as well as photo spots for Magic Awakening and Cursed Child 😊💕.
When something like this comes out, it feels like the countdown to the release of the film has begun, and the fun level goes up and up and up 😆💕. pic.twitter.com/qNFRpPyK0s

- erica♡ (@emagicallife) November 17, 2021
Enjoy taking photos like this...
Harry Potter Stamp Rally 7 Spot, 3rd floor.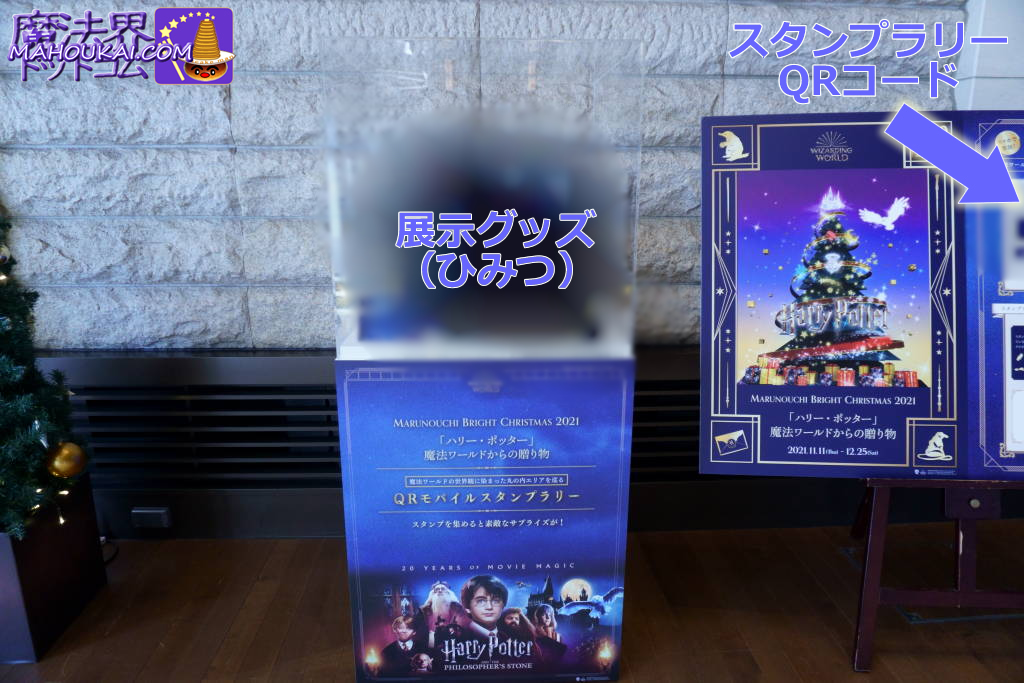 And then, on the same floor, 'TheHarry Potter stamp rally Spot' is also available. Please visit and enjoy the goods on display. The stamp rally QR code & quiz question panel is on the right... ♪
Other shops in the Shin-Marunouchi Building include a limited-edition collaboration goods shop, a limited-edition parasol shop and a collaboration sweet shop.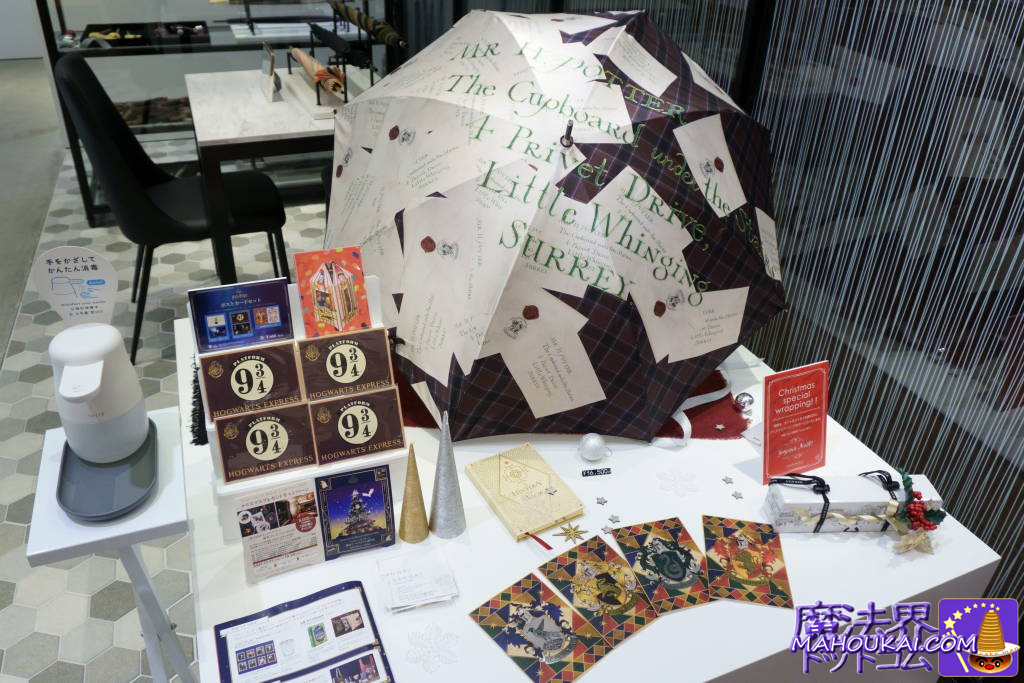 HANWAY Harry Potter collaboration long umbrella!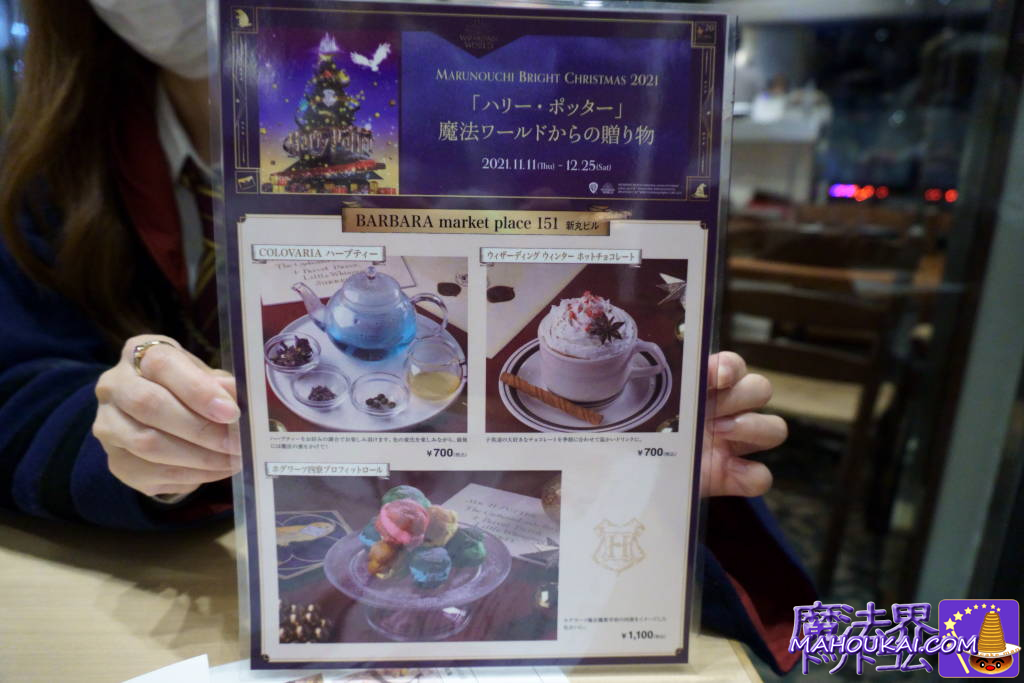 Map (MAP) HARRIPOTA Christmas Tree & Event Venue Marunouchi area, Tokyo
● Red mark.
Marunouchi area Illuminations & pop-up shops
● Orange mark.
 Marunouchi area Tully's Coffee Shop (11 Nov pre-sale shop) (
★
(Tully's - shops with photo spots)
◆Red mark
 Stamp rally 10 locations
● Green mark
 Collaboration food and drinks (4 restaurants outside Tully's)
● Blue mark
 collaboration goods
●

yellow mark
 Harry Potter exhibition Tokyo Station, cinemas Marunouchi Piccadilly, TOHO Cinemas Hibiya.
3rd floor, Shin-Marunouchi Building, full of Harry Potter & Fantabi â
Visit report ☛https://t.co/RnhaOn6i6Q
🪄 Magic World Gallery 🪄.
1⃣Panel exhibition HP,FB🎬
2⃣Cursed Child Photo Spot
3⃣Magical awakening 📷
4⃣Stamp rally
5⃣ 6⃣Collaborative food and merchandise shops also â
Ongoing - until 25 December.# Marunouchi # Harry Potter. pic.twitter.com/YA2NudMcha

- MAHOUKAI.COM wizardingworld.com Super Commentary Guide to Harry Potter & Fantabi (@mahoukaicom) November 20, 2021