Hello! I'm the Wizard Pancake Man... ♪
Harry Potter Area at Universal Studios Japan (USJ).There are also a number of village shops (shops) in the village where you can enjoy the exterior only. Don't be fooled into thinking it's just about the exterior! In fact, the show windows of some of the shops are only on the outside.[Hidden spot].There are a lot of hidden (laughs)
And it's all stuff related to the Harry Potter films, but very detailed www.
The shop introduced here is 'Dogweed and DEATHCAP'.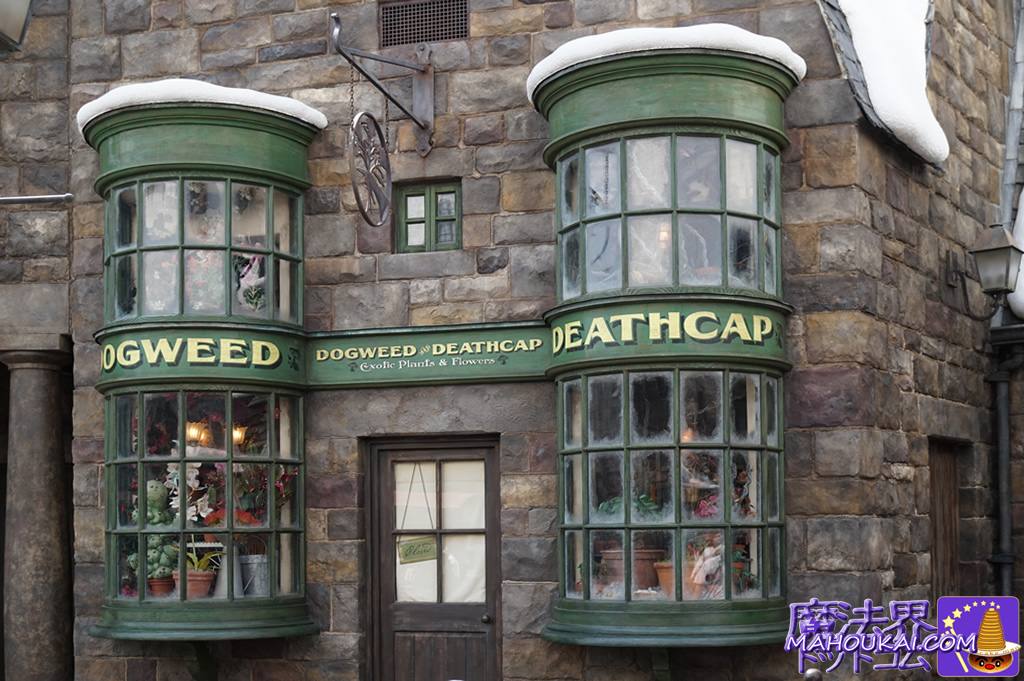 Location:Hogsmeade Village (USJ 'Harry Potter Area').
5th note in the diatonic scale (used in key names, etc.)G's Head Pub.andThree Broomsticks terrace exit.between and opposite thewater pumpThe shop is located in the city centre. The exterior of the shop has two green bay windows, with the name of the shop above the bay window, 'DOGWEED and DEATHCAP.It is written as.
🍄 in the green strip between the first and second floors.Exolic Plants & Flowers.' 🍄. This shop 'DOGWEED and DEATHCAP' is obvious from the products in the bay window, where you can see only unusual magical plants. Incidentally, the name of the shop, "DEATHCAP.The 'I'm not...' is...poisonous mushroomName of the.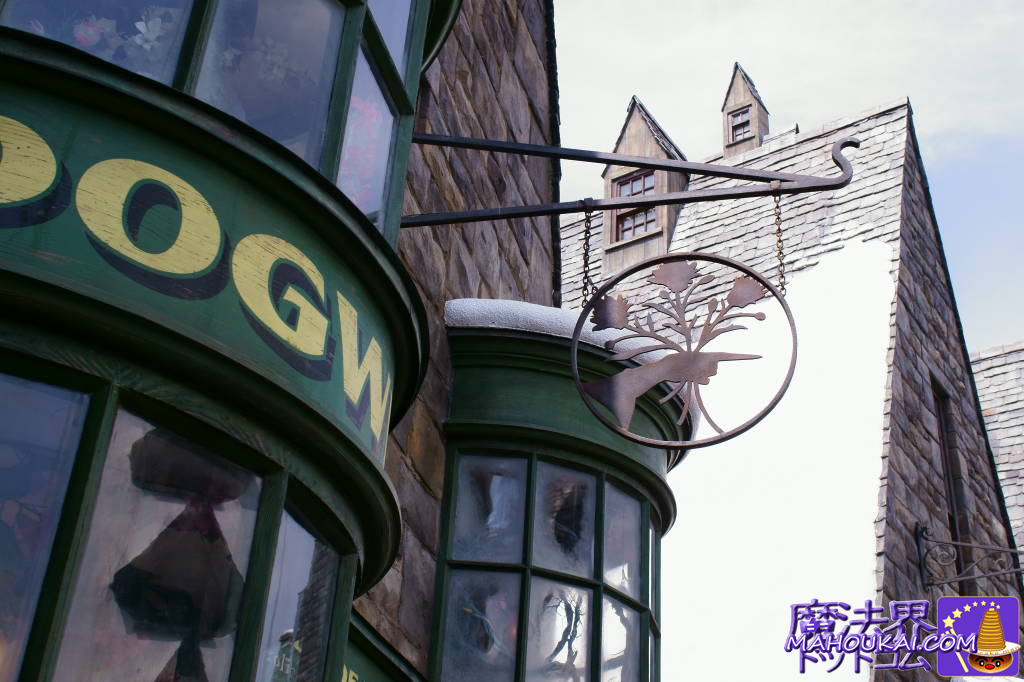 It has not been confirmed whether this shop, Dogweed and DEATHCAP, appeared in the original novel or film.
The sign is a silhouette of a hand clutching a plant that appears to be a medicinal herb.
Click here for other Hogsmeade Village shop and toilet signs.
Magic plant in left bay window (DOGWEED).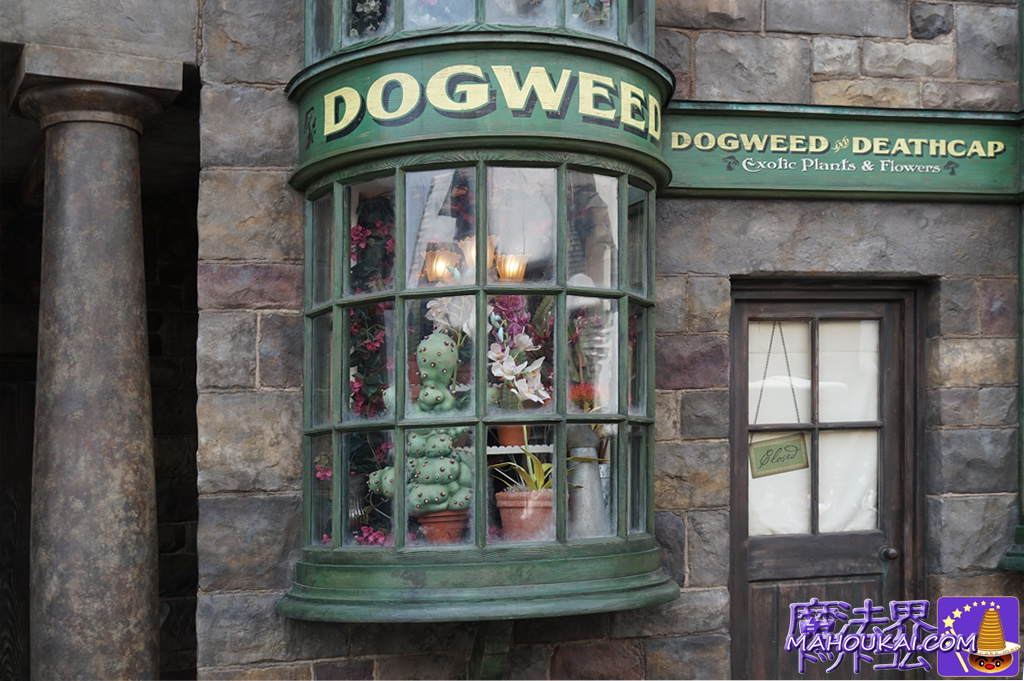 miMimbulus mimbletonia (Mimbulus mimbletonia),Cacti, others Potted plants with red or white flowers are probably not accounted for, but plants other than Mimbulus mimbrutonia are also considered to be strange magical plants in the setting (laughs).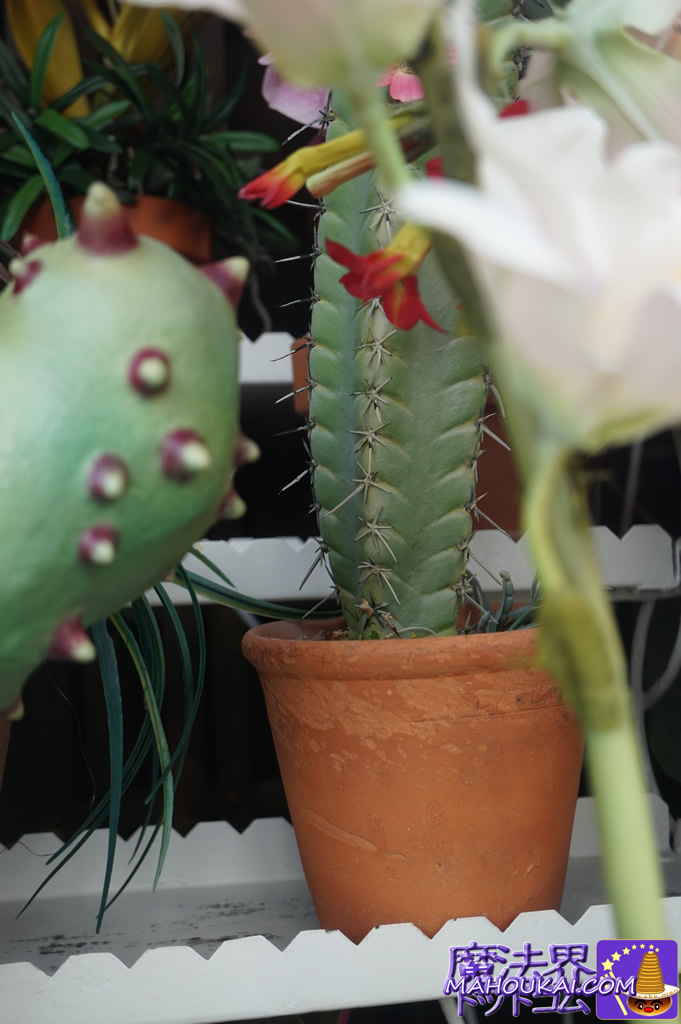 Magic plant in right bay window (DEATHCAP)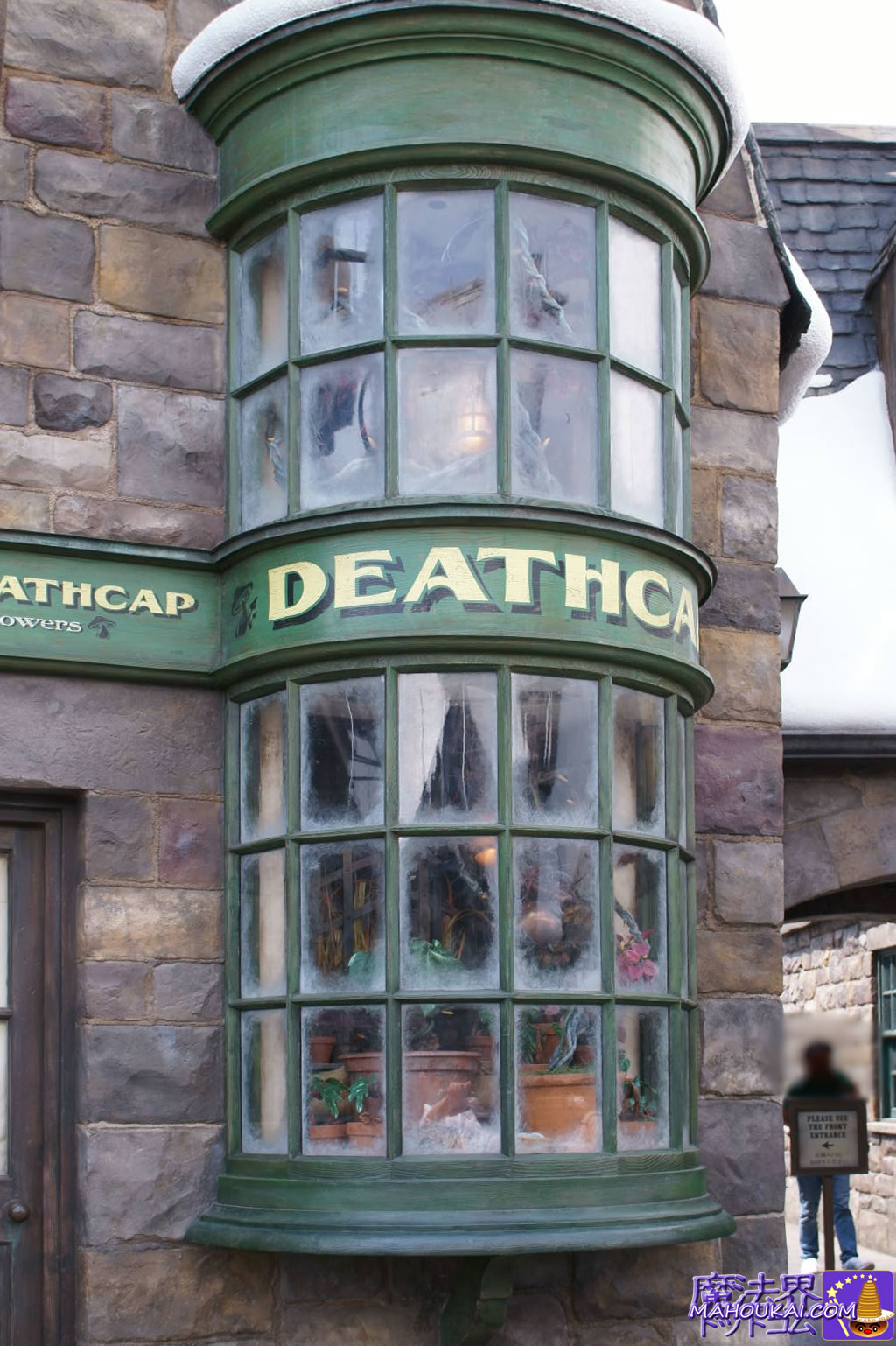 3rd note in the tonic solfa representation of the diatonic scaleMandrake.It contains only From small baby mandrakes to large mandrakes that seem to have grown into large adults.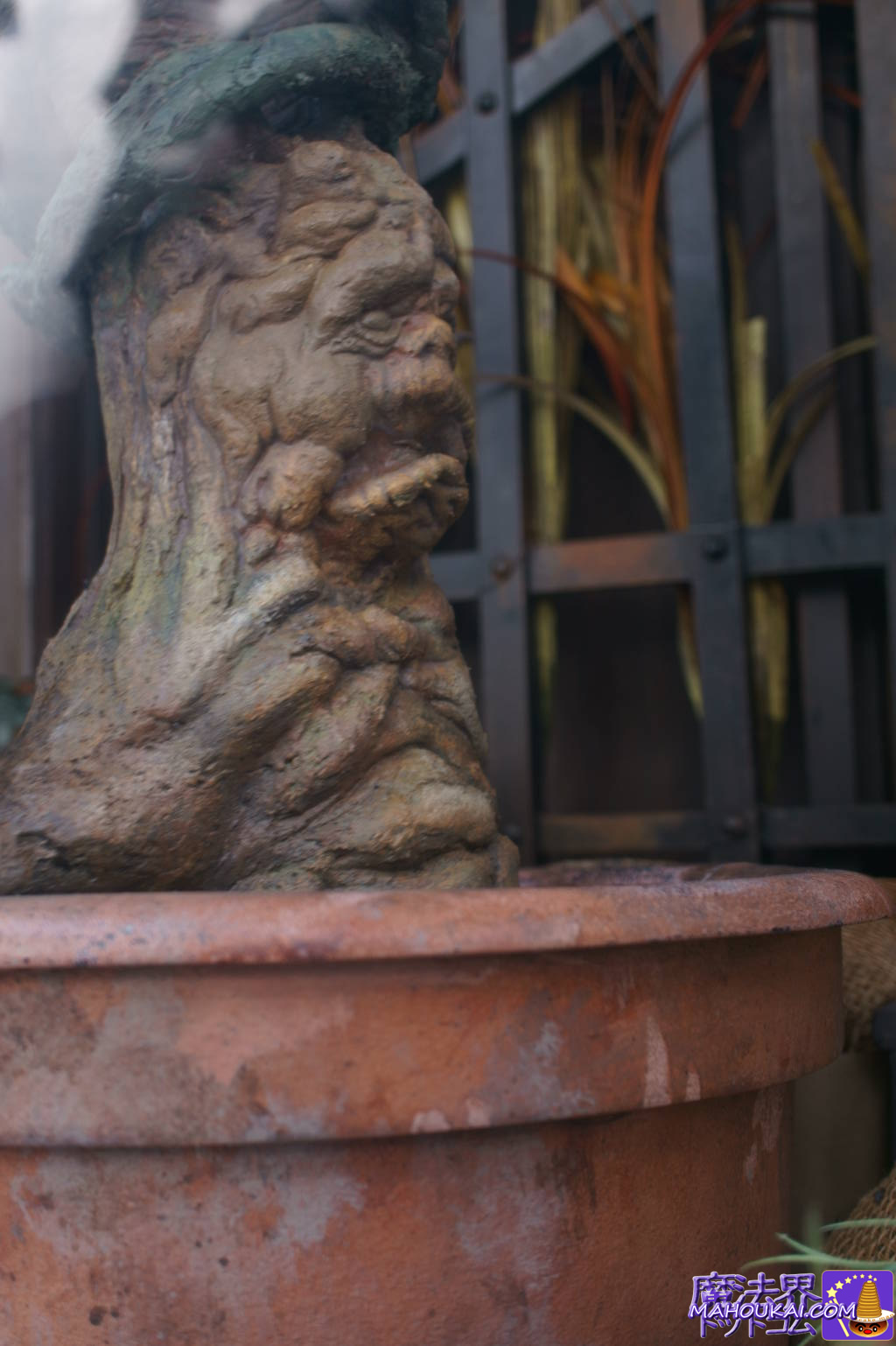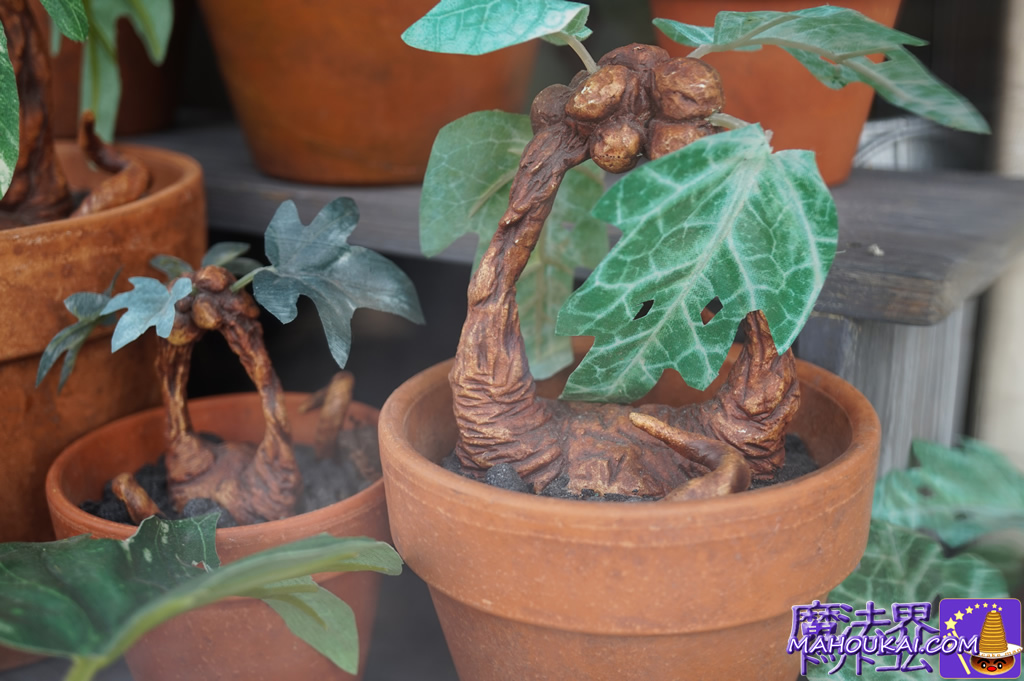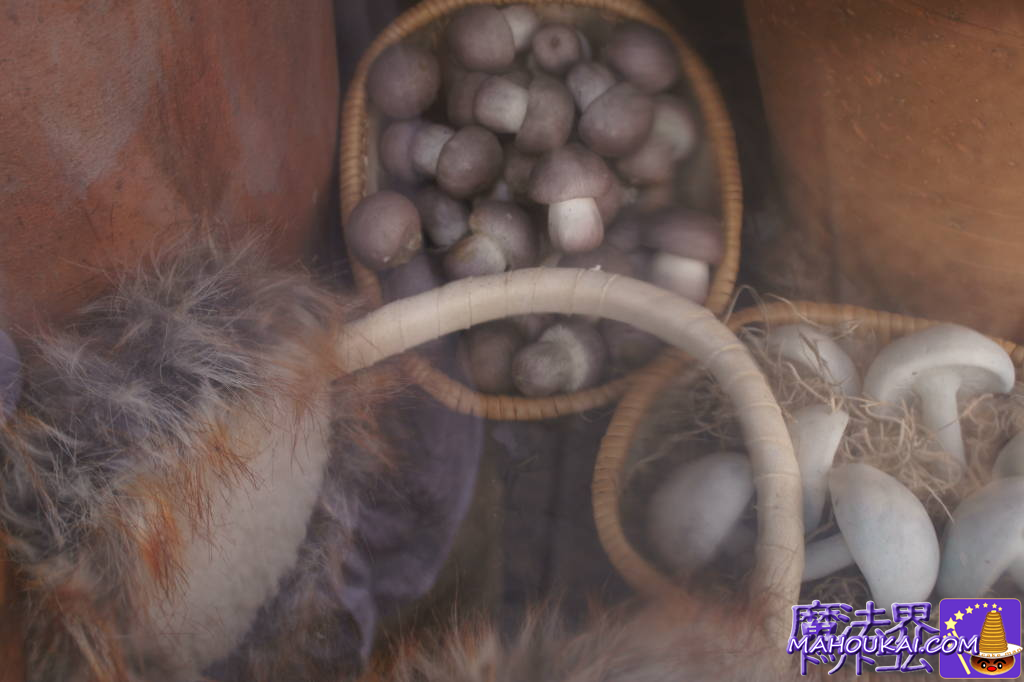 hand (of cards)Previously on '.DEATHCAP.It is thought to be 'theTwo types of poisonous mushroomsare also placed. And 'earmuffs'. There are other plants with twisted stems, but their names are unknown. These poisonous mushrooms may be 'theJumping poisonous mushroomsIt may be that 'the
What is Mimbulus mimbletonia (Mimbulus mimbletonia) in the Harry Potter movie?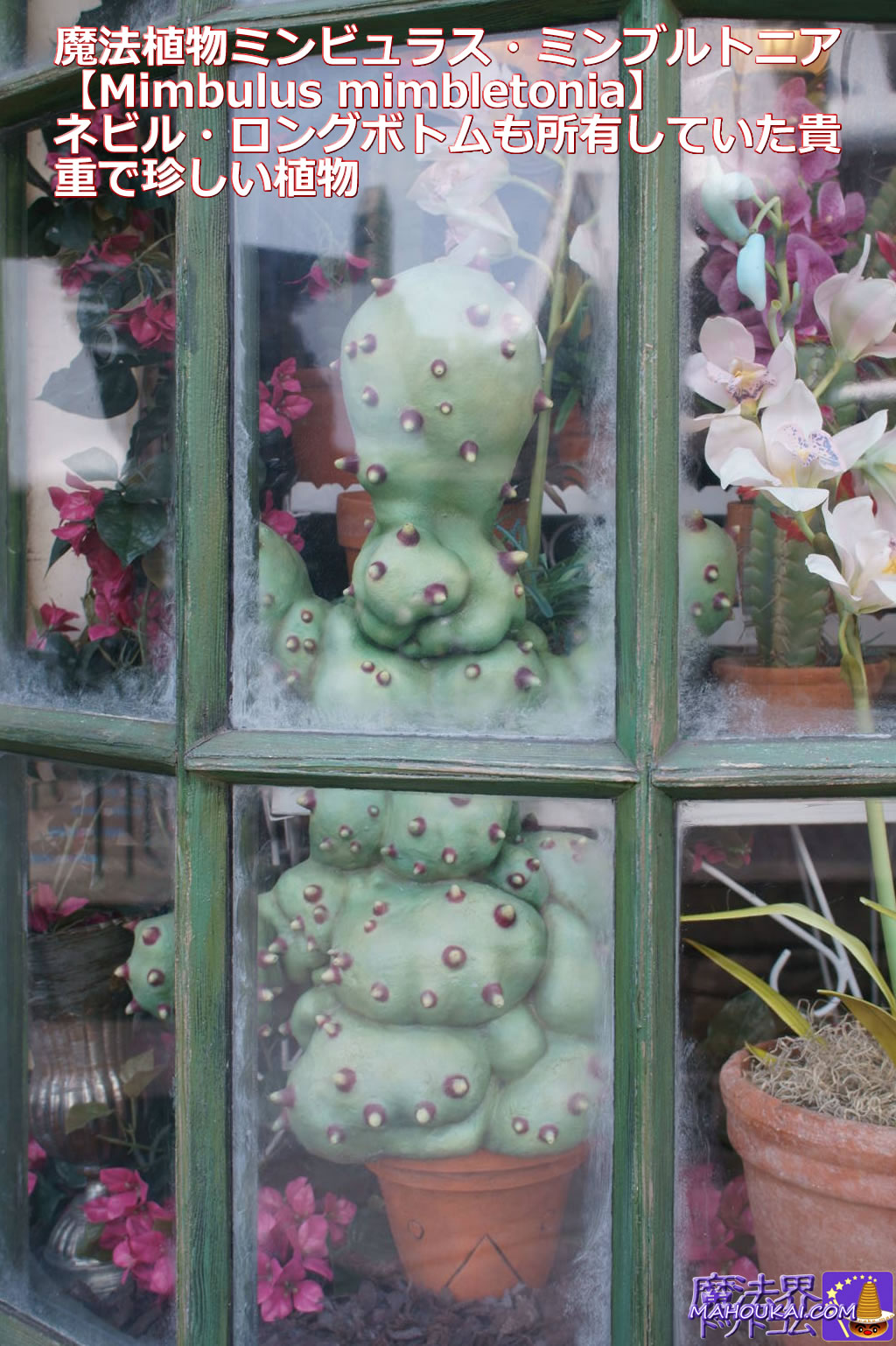 andA rare magical plant with a faintly pulsating, sickly gut-like movement. It was once the password to the Gryffindor dormitory. The only word for which Neville could say the password to the fat lady in the sky. If you poke a Mimbulus Mimbletonia with a quill or other thin object, the Mimbulus Mimbletonia's 'puss' will spurt out a thick, dark-green, smelly liquid, the 'stinky liquid'. The liquid smells like rotten manure. Neville says this is a defence mechanism of 'Mimbulus mimbretonia'. As it grows, it makes a strange sound like a whispering song. Appears in the original novel Harry Potter and the Order of the Phoenix.
[Hidden spot] Mimbulus mimbretonia moves! As if it pulsates... ♪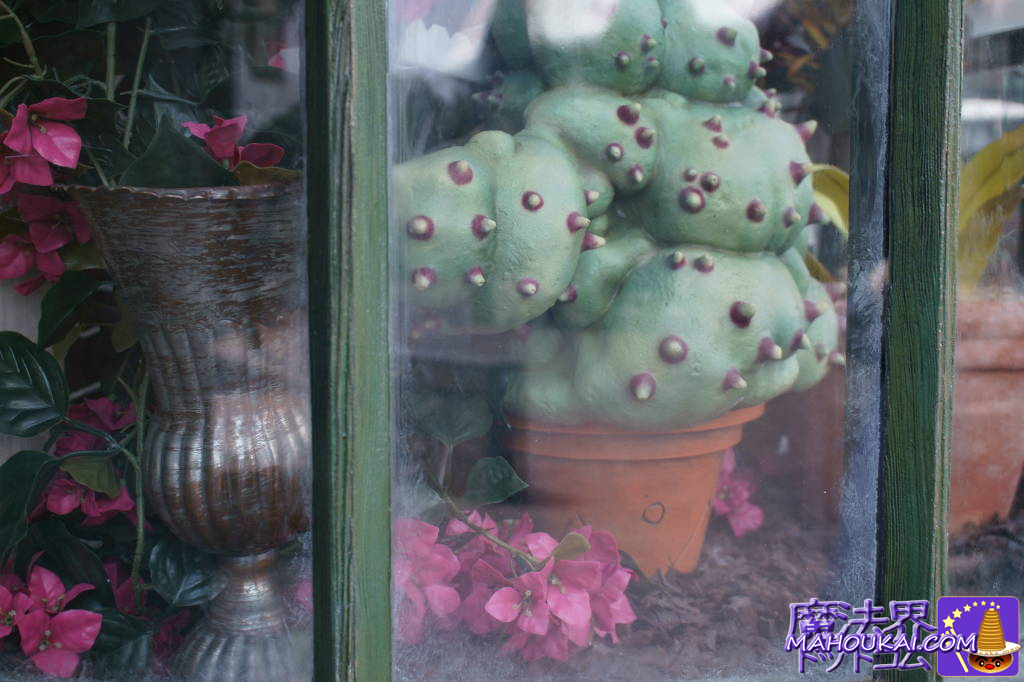 distance between outstretched thumb and middle finger (approx. 18 cm)Mimbulus mimbletonia is a plant that is not explained in the Harry Potter films, so it is very rare. If you read the original novel, Mimbulus mimbletonia appears as a magical plant that Neville keeps, explained in more detail than in the film.
[Hidden spot] Mandrakes Occasionally emerge from potted plants and wail!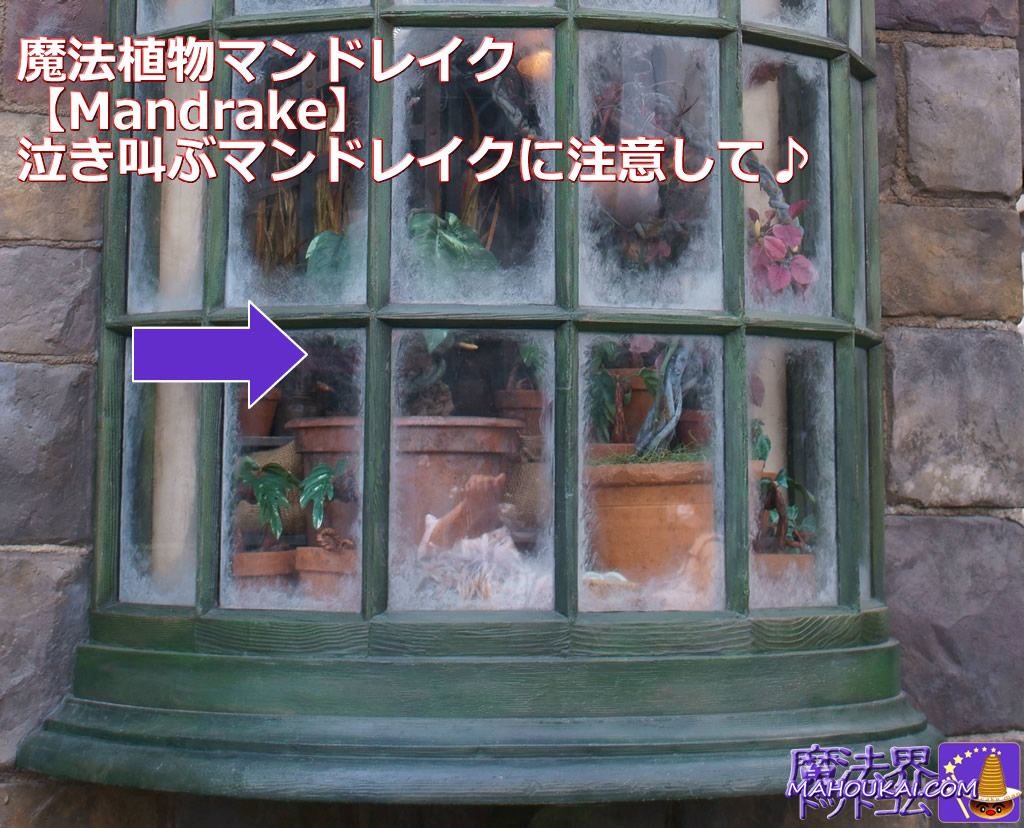 Amongst the many potted mandrake plants, the largest mandrake is the most striking.
[Video] Crying out! Mandrake.
-er (i.e. a man who spends all his time doing...)After a while, a mandrake pops out of its pot plant and says: 'I've got a mandrake.(sharp) creakIt cries out, 'I'm not a pretty plant! It is a magical plant that is not at all pretty, with an odd shape that is not beautiful to look at, and a high-pitched, grating cry. If a mandrake tries to get into the flowerpot of another mandrake next door, it is a sign that it has matured and become an adult mandrake.Separate report on 'Mandrake'.You can also subscribe to our You Tube channel.
[Osaka people's story spot] Wailing mandrakes.
Caution!

This video.

for the exclusive use of Osaka residents

Is! Non-Osaka residents should not see this.

hazard

Is!
large (e.g. serving size)Dear Hanshinese potteries! Now it's time to show your skills!
Yes, if you're an Osakan, you'll say.Struck by a gun - ~~!This is the spot where the same stories are performed as in the 'The
When mandrakes emerge and squeak from their potted plants.
You cover your ears with your hands and say, 'I'm sorry.Oh, I'm going to faint!Please say 'I'm sorry, I'm sorry, I'm sorry' and collapse.â
If you have friends in Osaka, let's do it together...
Make sure you do, especially when you are with friends and acquaintances outside the Kansai region! ←
Before we do that, let's preface by explaining what kind of magical plant a mandrake is... ♪
'If you hear a mandrake cry, you'll faint or, worse, die.Â'I'm not a good person, I'm not a good person.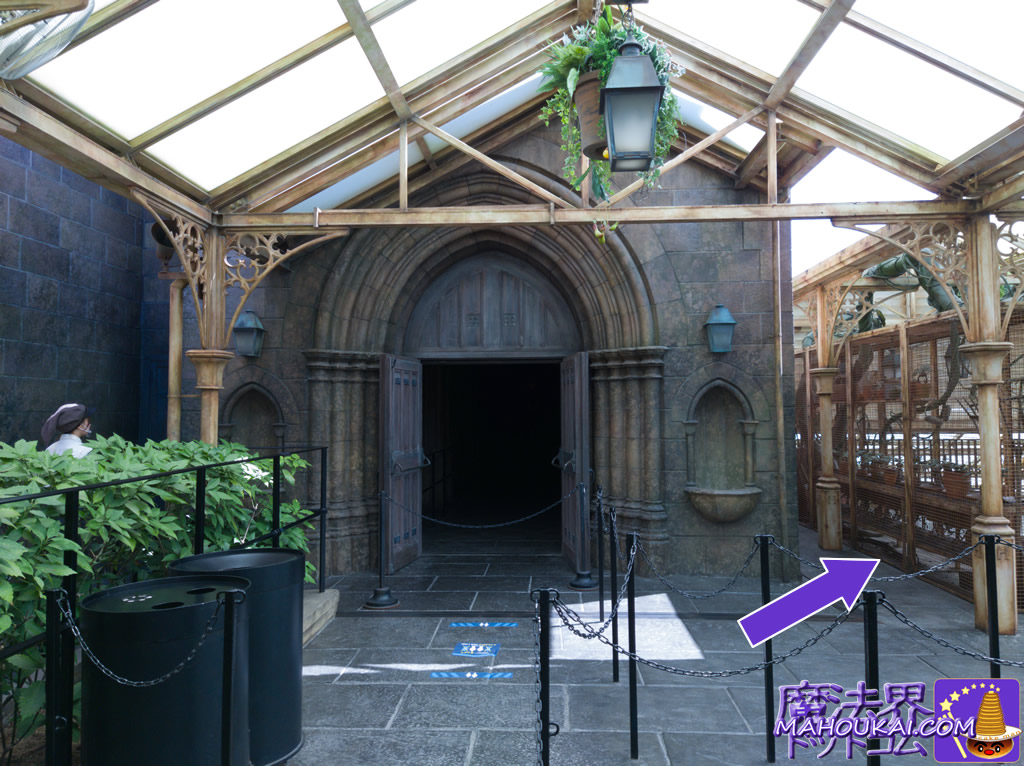 space
After performing this story in Hogsmeade Village, go for a ride on the Harry Potter Journey ride attraction at Hogwarts!
'Mandrake' on the second floor of Dr Sprout's greenhouse.
In the same way, say 'Oh - I'm going to faint' and pretend to collapse in front of the 'Oh - I'm going to faint'! After a while, say, 'I'm going to
Oh, the mandrakes in Coco aren't shouting (laughs).
It would be perfect if you could say 'I'm sorry, I'm sorry' (laughs).
Please note that 魔法界ドットコム will not be held responsible if you slip on this story.
Oh, and this is of course an unofficial story, so don't ever ask the Univa crew about it.
Another place where mandrakes are grown in the Harry Potter Area is at Hogwarts Castle.
Map (MAP) Location of Dogweed and DEATHCAP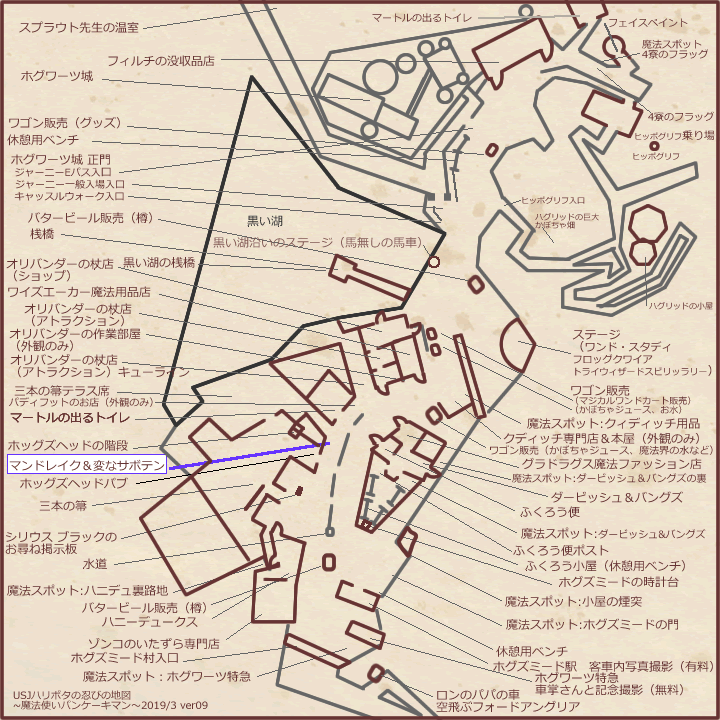 DOGWEED and DEATHCAP is located between the Three Broomsticks terrace exit and the Hog's Head pub.
「ハリー・ポッター エリア」のホグワーツ城のマンドレイクを見たい方はハリポタジャーニーの待ち列へ♪
[Hidden spots].
Wizarding World.com's list of USJ 'Harry Potter Areas' [Hidden Spots].