Introduction to the Japanese wizarding schools that exist in J.K. Rowling's Harry Potter wizarding world â
Japanese school of magic Magical Place (Maho Tokoro).
Japanese Wizarding School:. Mahoutokoro
Previously, the 'TheMagical place (Mahoutokoro).We published the article "The Hedgehog" as an April Fools' Day story, but this time we're presenting it as serious Harriotta information.â
Just like Hogwarts School of Witchcraft and Wizardry in rural Scotland, UK, and the Ilvermorny School of Witchcraft and Wizardry in Mount Greylock, Massachusetts, USA, there is a school of magic in the Japanese wizarding world. It is the Mahoutokoro.
Address: Minami Iwo Jima, Iwo Jima, Ogasawara Village, Tokyo
South Iwo Jima isIsolated island in the Pacific Ocean about 1,300 kilometres from Tokyo Station.Is.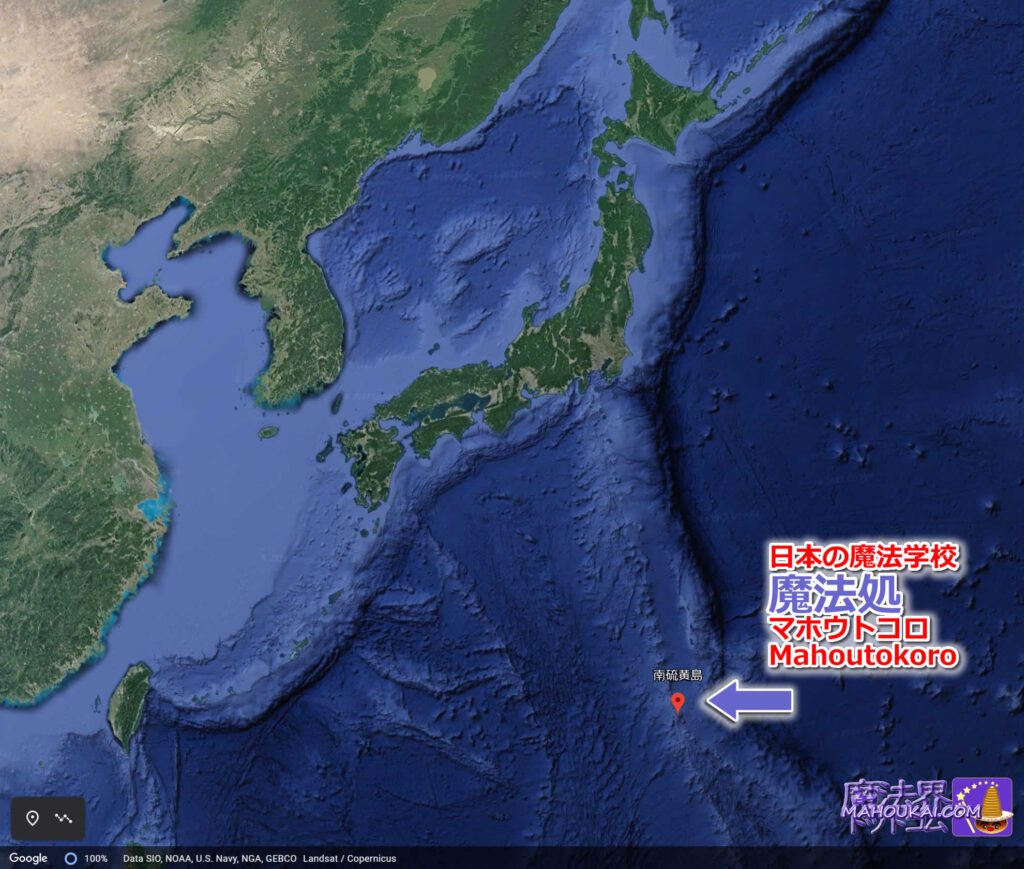 Currently, Muggles' means of transport areNo.There are no scheduled aeroplanes or ships. There is a Self-Defence Force airfield on neighbouring Iwo Jima, although it is not known if it is the only one available. Its distance is approximately 63 km.
Magical place Entry age 7 (commuting), boarding from age 11
Giant storm petrels (Giant storm petrels) ride to school until the age of 11.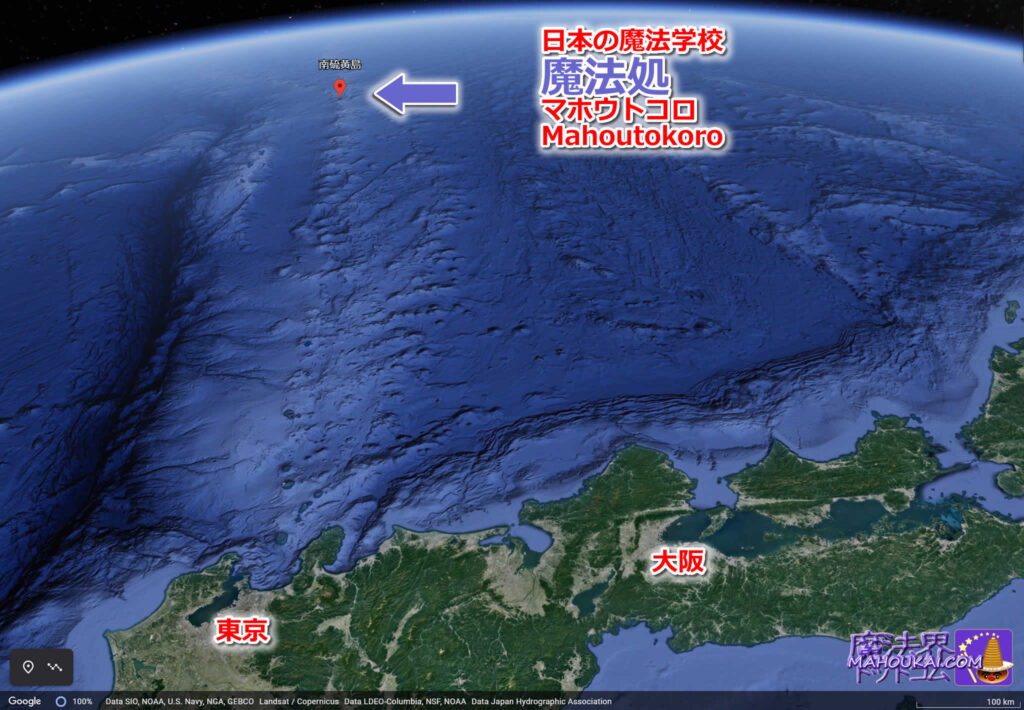 What? !!!!? Before entering dormitory life, students commute to school every day! If they commute to school from Tokyo or Osaka, they would have to ride a bird (a giant petrel) to school on South Iwo Jima, which is far, far away if you look at the map... Even if a giant petrel could fly at 1,300 km/h, it would take an hour to get to the magic school and another hour to get back (lol) (since they are magical animals, it would mean they have a way to fly faster and arrive there more quickly). (I guess that means they have the art of flying faster and arriving at W).
Mahoutokoro, a magical place|Magic school is a castle in Japan!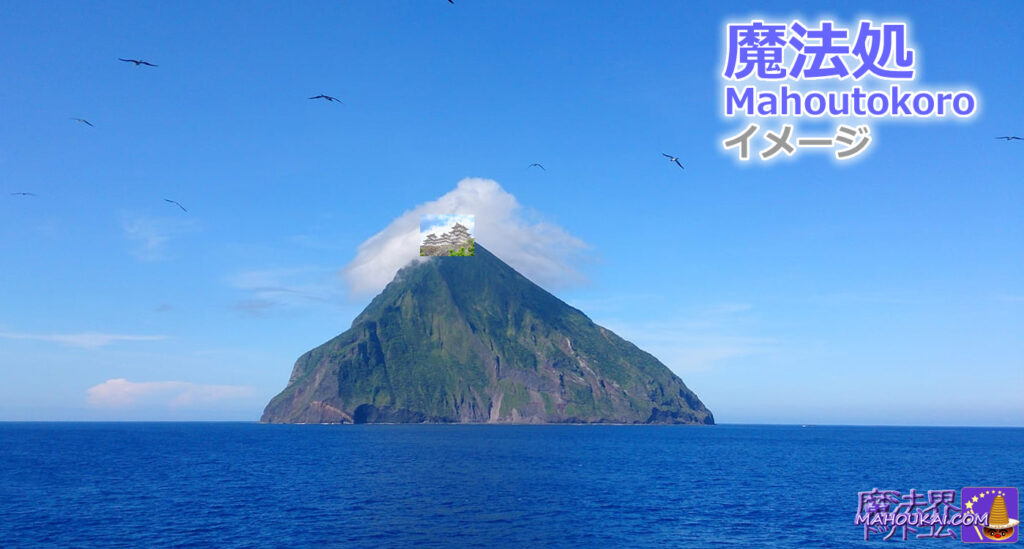 The school building of the magical place looks like the keep of a Japanese castle! Photographs have not been published, so the appearance and size of Mahoutokoro Castle is unknown. J.K. Rowling stated that the magical place was built on the top of a volcanic mountain in Southern Iwo Jima.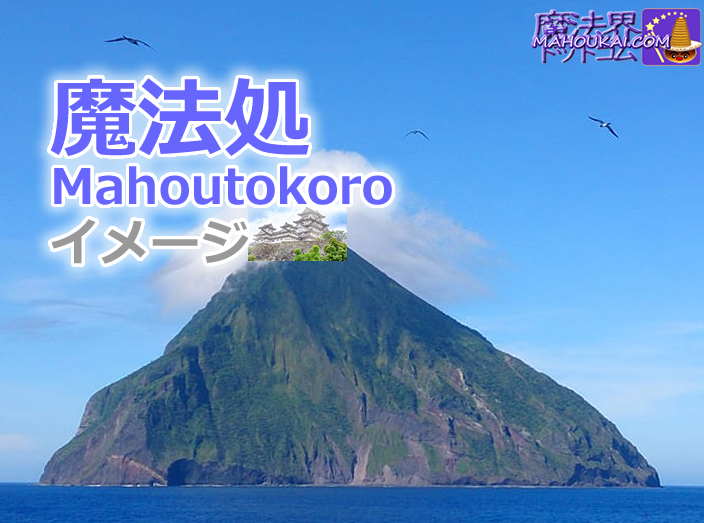 The photograph shows an image of the famous Japanese castle 'Himeji Castle' superimposed on South Iwo Jima. The size is also appropriate, so please note that it is probably not correct.
The magical place (Mahoutokro) must be like this... ♪ The steep mountain face is surrounded by a sea of cliffs, with almost no flat part of the land.
Mahoutokoro student dressing gowns, Quidditch competition
Pupil robes are provided on enrolment.
Automatically stretches and retracts to fit the body size.
The colour of the robe is light pink, and the colour of the dressing gown changes according to academic proficiency
The dressing gowns of the highest achievers in all magic subjects are golden.
Students who break school rules on illegal activities such as dark magic or break the International Confederation of Wizards Confidentiality Act have their dressing gowns whitened and are subject to expulsion and trial by the Ministry of Magic.
It is a harsh environment for Quidditch practice at the Magic Place. It is in the raging waters of the Pacific Ocean. It is also an environment where you need to watch out not only for Bludgers, but also for the Self-Defence Forces aircraft, including Muggle fighters flying in from the neighbouring island of Iwo Jima, which is just around the corner.
Members of the Japanese national Quidditch team and the Champions League winning team 'ToyohashiTengu' attribute their success to the rigorous training at the magic centre.
Magical place (Mahoutokoro)
Apart from the neighbouring island of Iwo Jima, which is only about 60 km from the 'Southern Iwo Jima', there is nothing but the sea. The environment of nothing but school may make Hogwarts students a little envious that they can go to Hogsmeade.
In the original novel Harry Potter.Fantastic Beasts Filmsmagical place in
To date, the Wizarding Presence has not appeared in the Harry Potter or Fantastic Beasts books.J.K. Rowling's website. Pottermore.com.The description and this book, described inQuidditch, then and nowThere are descriptions mentioned in the book in the following section. Also, there are wizards in the game, such as current students of the magic school.
It would be great if it appeared in Fantabi 4 and 5, along with the Japanese city... I'm looking forward to the remaining two Fantabis.
Goods Shop Mahoudokoro named in tribute!
Harry Potter merchandise shops in JapanSagittaria trifolia var. edulis (edible variant of threeleaf arrowhead)preciselyKolo Mahou Dokoro'-' (used in place of '-')Many people are confused with the Harpotta Goods Shop Mahoudokoro is a magical school, theSagittaria trifolia var. edulis (edible variant of threeleaf arrowhead)7th note in the diatonic scale (used in key names, etc.)colo (Phacochoerus aethiopicus)It is thought that the name was taken from the characters from 'magic' and 'place'. This is a guess, but we think it was named after 'magic' and 'place', meaning a place that sells magic goods. It is thought to have been named after the characters 'magic' and 'place'.
The name is a homage to the Japanese magic school 'Mahoutokoro', which I think has a wonderful sense of naming (*´▽*)b
Mahoutokoro Magical Place
Mahoutokoro Japanese School of Magic
Commuting to South Iwo Jima!

Detail ☛https://t.co/pWrDT3vb1u# Harry Potter. # Fantastic Beasts. pic.twitter.com/I91o02xrTg

- MAHOUKAI.COM wizardingworld.com Super Commentary Guide to Harry Potter & Fantabi (@mahoukaicom) May 3, 2022