Hello! I'm the Wizard Pancake Man, and I'm here to tell you about my decision.
Harry Potter magic spells lumos and nox finally implemented in iPhone Siri!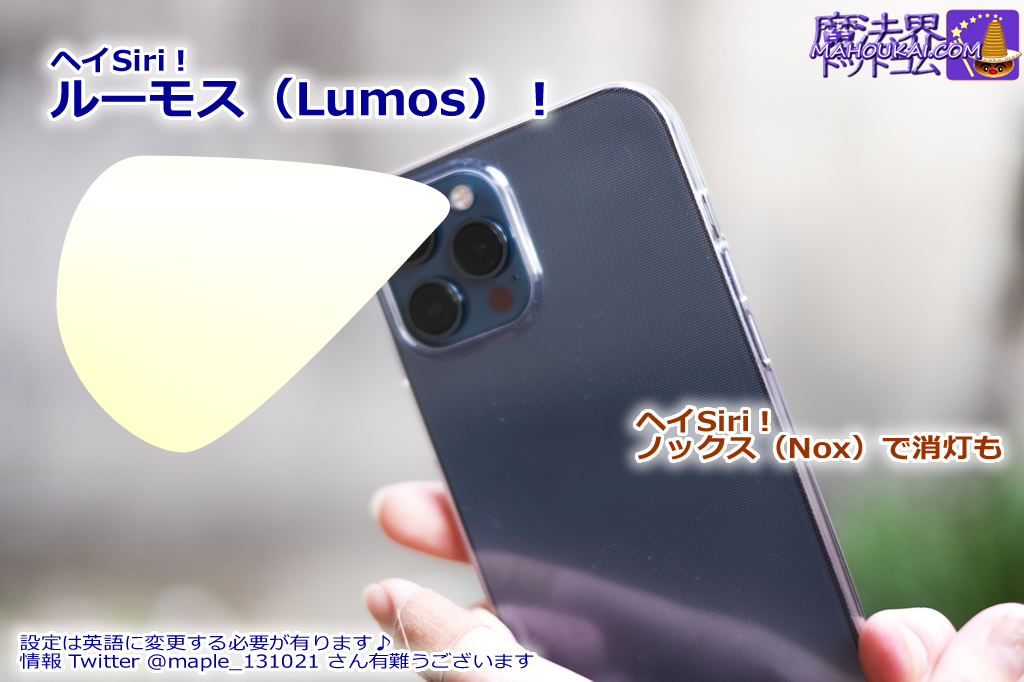 The iPhone finally seems to be able to switch the LED light On/Off with the famous Harry Potter spells 'Lumos' and 'Knox'!
Unfortunately, I, Pancake Man, am an XPERIA (Android) wizard, so if I wasn't familiar with the iPhone, I wouldn't have it on hand to try it out, but it seems that in January 2022 Siri on the iPhone will finally have a magic spell to switch LED lights on and off. You can't try it because you don't have the iPhone to know more about it! Please give it a try.
Phrases of the Harry Potter magic spells to tell Siri: 'Lumos' and 'Knox'.
Hey! Siri Lumos!
LED lights in Lumos.

lighting (a lamp)

Do.
Hey! Siri Nox!
LED lights on in Knox.

switching off the light

Do.
Android phones have been implemented for several years and have been used quite a bit by Harry Potter fans for fun and practical purposes. I'm sure that iPhone users have been frustrated to see such happy Android smartphone users on the side of the Polish people.
Such practical and fun magic functions can now also be enjoyed on the iPhone!
Unfortunately, however, it does not seem to be enjoyed by all.
When we asked on Twitter @mahoukaicom prior to writing the article for Mahouka.com, some iPhone users were successful, while others reported that they were not able to do so and Siri searched for information on shops that were completely unrelated to them. The difference between iPhones that can do this and iPhones that can't is not investigated, but it probably depends on the version of Siri or iOS. When we were thinking about this, we received information on Twitter that it is possible to use Siri when it is set to English.
Information on wizards and how to set up a successful Harriott's 'Lumos' and 'Knox' on iPhone.
Eh, it's true, it's done!
I'll use the flashlight a bit 🔦 so I'll do it with this next time. https://t.co/KtxqewfwmJ

- bell (@bellme07) January 5, 2022
I could have gone with Lumons: !!!! Oh no!!! I'm so excited! (*)⤴︎ ⤴︎ https://t.co/V6qWTrRdLG

- Indicator (@sijiyaku) January 5, 2022
You can do this by setting Siri to English. https://t.co/XB8k95hGsq

- Kato🍁Yuka Kaede (@maple_131021) January 5, 2022
siri

indicates object of desire, like, hate, etc.

Set to English.

Then they can have a Harriotta experience!
Thank you for your valuable information.
Witches & Wizards who can't do it on my iPhone, please change your settings to English and give it a try!
lumos
are all successful, though,
NOx
is pronounced.
Quite difficult.
The success rate seems to be quite low when you tally up your results.
Native English.
In.
Nox.
â™' and chant.
iPhoneでは更に「アクシオ」+「アプリ名」でアプリ読み出しも可能♪
iPhone Siri spells to summon Harry Potter objects.

Accio."

They can also use the
Hey! Siri Accio [APP]!
The application is activated by Accio + app name.
Android smartphone users can use three Harriotta spells: 'Lumos', 'Knox' and 'Silencio'.
OK, Google Lumos (Ok! Google Lumos ♪) LED lights.
lighting (a lamp)
OK, Google Nox (Ok! Google Nox ♪) LED lights.
switching off the light
OK, Google Silencio (Ok! Google Silencio ♪)
The effect of the spell 'shut up' is voluminous.
Mute (silence).
The following is an example.
I use the Pancake Man quite a bit on a daily basis in addition to playing with my Haripotter friends. It's surprisingly convenient, because you can turn the LEDs on and off with just your voice.
That's all for today! Thank you for reading.
Finally, the Harriotta spell 🪄 is now possible on the iPhone 🪄.
1⃣Hey! Siri Lumos →🔦LED lights up
2⃣Hey! Siri Knox → lights out

If you can't, try setting Siri to 'English'.
📝Details☛https://t.co/wtex7GGNsk#LUMOS #NOX
Android phones can also use Silencio (shut up). https://t.co/LYOVpvf1SV pic.twitter.com/Xj4puvfL04

- MAHOUKAI.COM wizardingworld.com Super Commentary Guide to Harry Potter & Fantabi (@mahoukaicom) January 5, 2022