Hello! I'm the Wizard Pancake Man, and I'm here to tell you about my decision.
It's been a week since I returned to the Kansai region from Tokyo, but the excitement of the wizarding world of Marunouchi Haripotta has not abated.
Today we're talking about Harry Potter the movie, which will be shown in cinemas for a limited time...
In 2021, the film Harry Potter and the Philosopher's Stone will be shown in cinemas as one of the events and one of the events of the 20th anniversary year of the film's release.
There are actually two screening events.
Harry Potter and the Philosopher's Stone IMAX 3D Japanese dubbed version in cinemas nationwide 19 Nov - 2 Dec.
This time, (1) IMAX 3D screenings have started, and we bring you a report on the immediate experience.â
IMAXレーザー3D で『映画「ハリー・ポッターと賢者の石」』を体験した感想♪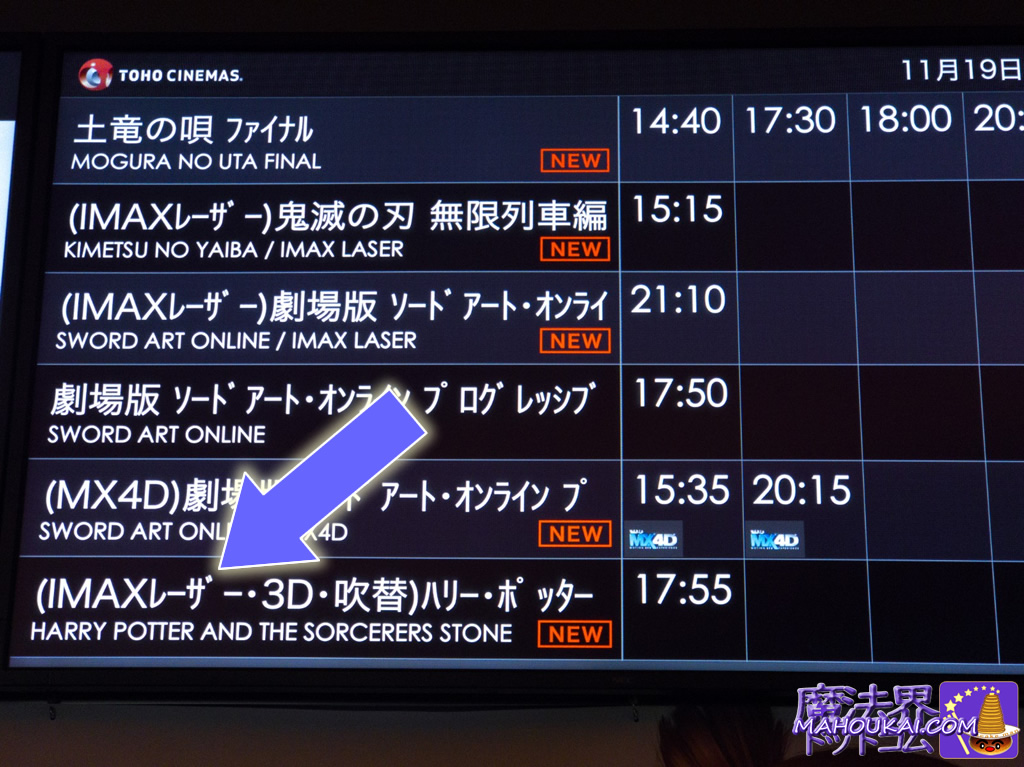 I can't believe that the day will come when Harry Potter (HARRY POTTER) will again appear on the cinema's scheduled screening display!
This is the first time that Harry Potter is shown in IMAX 3D in Japan! I heard! I experiencedEven newer IMAX Laser 3DIt is. The differences are described below (see below) and we will tell you how we feel about them compared to conventional screens.
Advantages IMAX Laser 3D
Scenes with beautiful, deep backgrounds are clearly projected in perspective, making it easy to feel 3D.
Thanks to the laser system, the props (PROPs) are very clear and difficult to recognise, even though the images are in 3D.
The screen area is so large that everything is visible close-up.
Surround sound is very powerful! Sound direction is fine.
Disadvantages IMAX Laser 3D
Some scenes appear faded because the reddish colour is attenuated by the 3D glasses.
It may be due to my personal visual performance, but my eyes and brain were very tired. I got tired of focusing my eyes and had a hard time seeing some times during the film. (This could be due to a difference in vision between left and right eyesight or astigmatism)
My personal feeling. Different people have different preferences and compatibilities, so the above pros and cons are perceived in different ways. Please read for reference only. I would be happy to hear your thoughts on Twitter about how you felt when you watched the film.
Great! The points that I felt were, for exampleProfessor Severus Snape.perform (a play)Alan Rickman.The faces of the people in the film are projected very large and are extremely clear and three-dimensional. Every wrinkle in the face and even the subtle colour changes in the skin can be seen in great detail. The experience is as if you are right in front of them. No, you can meet a face that is bigger on the screen than in person, so it might be tantalising for fans! (Laughter)
This alone is worth the price of a movie ticket and the IMAX fee...
This is also true for other characters.Richard Harris as the first Headmaster DumbledoreThe large face and body are projected on the screen, giving the audience a greater sense of the noble and great wizard.
Maggie Smith as Dr McGonagall.The IMAX laser makes a beautiful woman seem even more beautiful, even though she is also very old,Harry, Hermione and Ron.The smiles, angry faces, sulking faces and crying faces of the cute childhood days of the Iranian people are also nostalgic,So clear it's as if you're looking at a new film.It was.
The IMAX Laser 3D film gives you a new experience, as if you were watching the new Harry Potter film!
It may be a bit overstated (laughs) (≥▽≦), but that's why the disadvantages I felt were a bit disappointing, but my sense is that the advantages are greater on the World Wide Web.
The screening runs until 2 December, so if you want to see it, hurry to the cinema where it's showing.â
There are two types of IMAX: IMAX and IMAX Laser.
I cannot explain the technical differences, so please refer to the cinema or the manufacturer's website.IMAX Laseris undoubtedly the more up-to-date system. To put it simply, the visual and acoustic aspects are more advanced than conventional IMAX. (Laughs) This time, the film, "Harry Potter and the Philosopher's Stone.is which IMAX, depending on the equipment of the cinema showing the film.Varies.If you are interested, please check when choosing a cinema.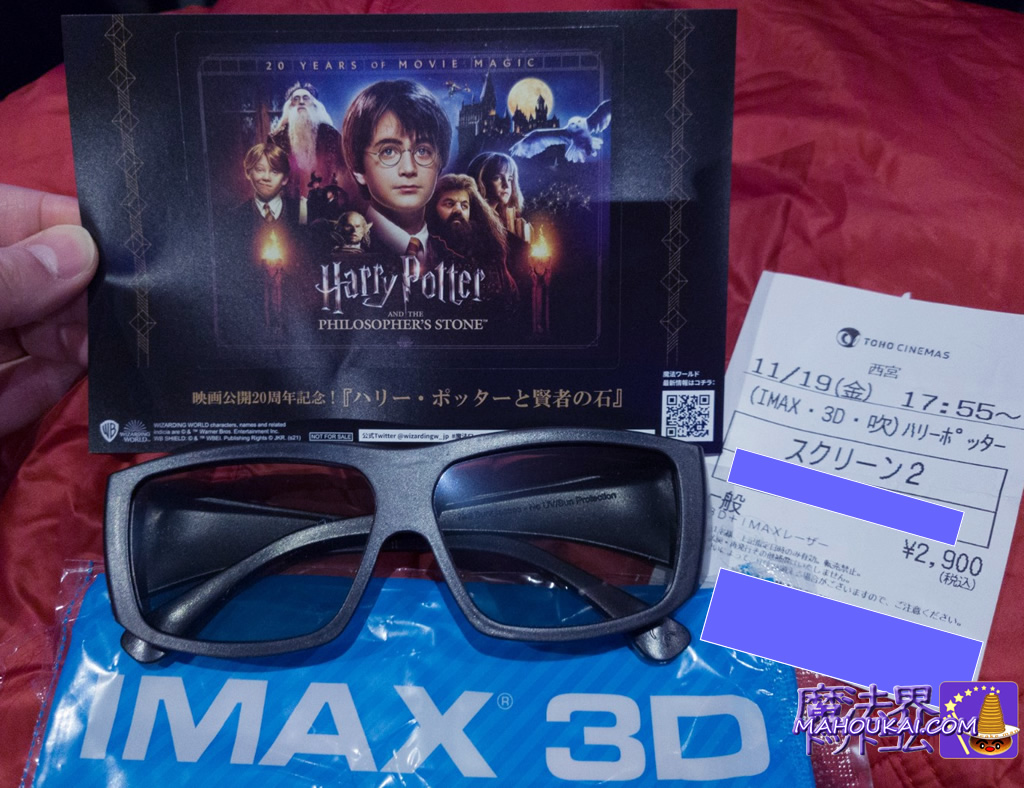 IMAX 3D and IMAX Laser 3D also require their own special glasses. Unfortunately, conventional 3D glasses cannot be used. The cost of the glasses is 100 yen each at TOHO Cinemas for both IMAX 3D and IMAX Laser 3D, so there is not much of a burden.
For IMAX lasers, 'IMAX with Laser' is printed on the side of the glasses. If you buy them once, you can bring them with you next time. In that case, you will receive a 100 yen discount.â
TOHO Cinemas example Adult admission fee 1900 yen + additional charge (see below)
Includes purchase of IMAX laser/laser-specific 3D glasses
1,000 yen (Nishinomiya)
Includes purchase of IMAX/IMAX-specific 3D glasses
900 yen (Namba).
Hankyu Nishinomiya Gardens TOHO Cinemas Nishinomiya OS IMAX laser 19 November 2021 - introduction â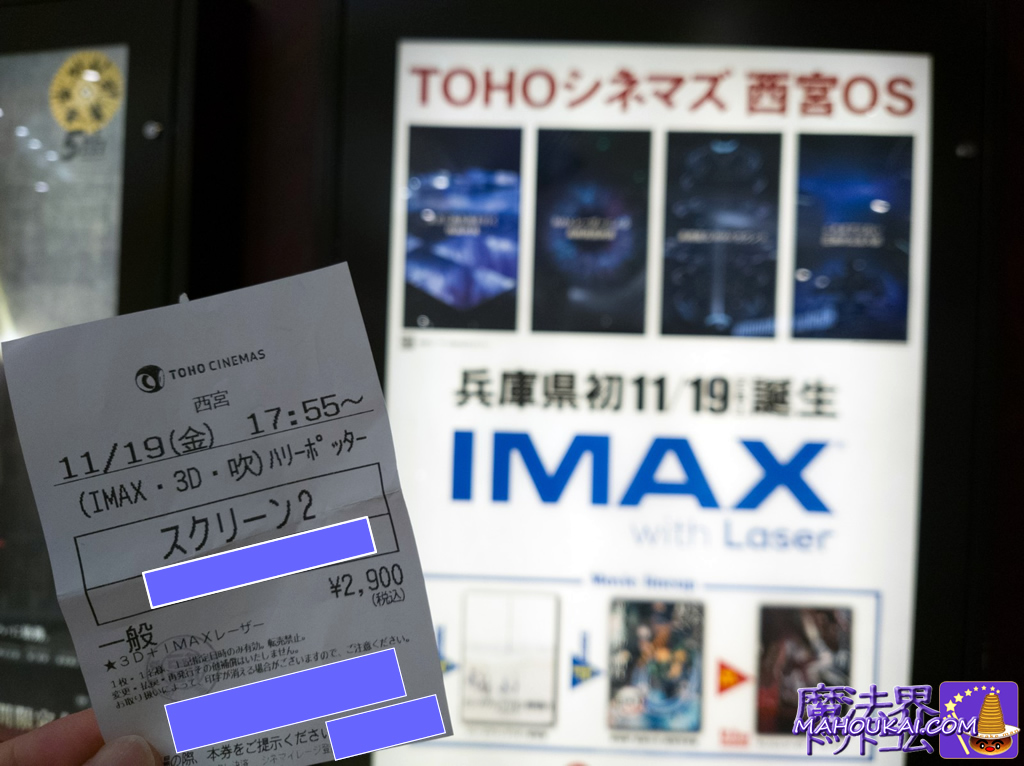 I, the Wizard Pancake Man, amIMAX Laser 3DAppreciated at. Near Nishinomiya-Kitaguchi Station, Hankyu Railway Kobe Line.Hankyu Nishinomiya Gardens' in theTOHO Cinemas Nishinomiya OSWe have visited the 'TOHO Cinemas Nishinomiya OS'. TOHO Cinemas Nishinomiya OS' from today, 19 November 2021 (Friday).Screen 2 is the IMAX laser.The screening was to begin after being refurbished to â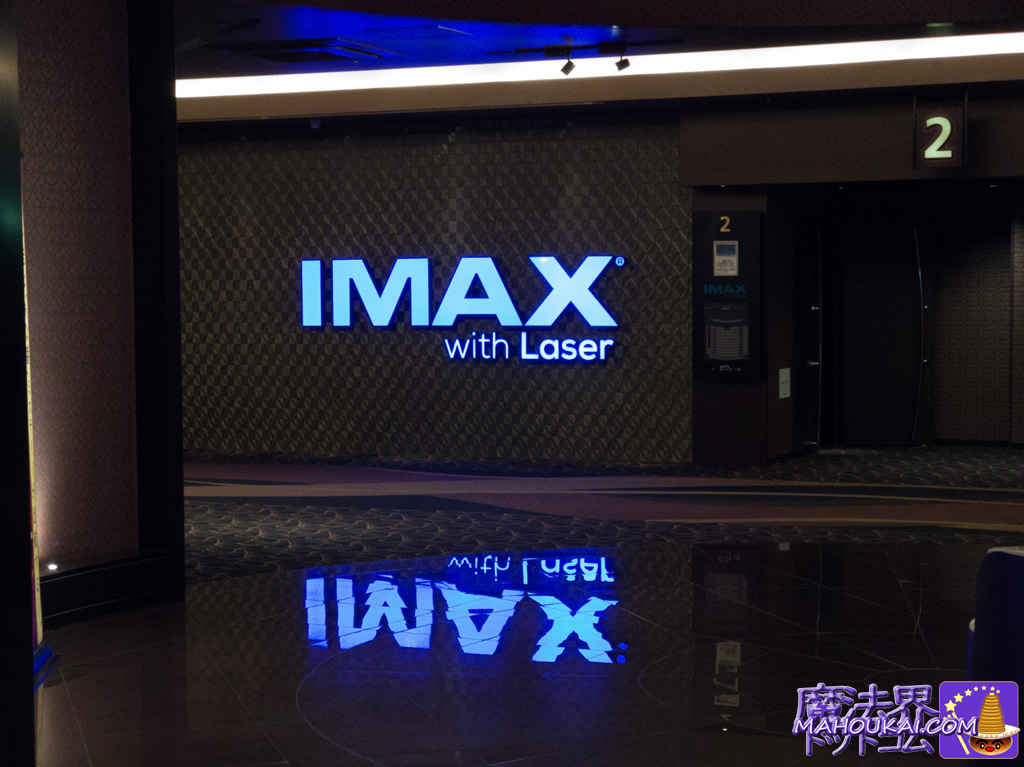 Initially I didn't understand what IMAX was (shame).
Three years ago?MX4DIn.philosopher's stoneI thought that it wouldn't be that different because I had seen I was thinking that I didn't understand IMAX at all.
MX4Dthe seats move considerably,USJ's Harry Potter ride (Journey).Not as bad as in the Quidditch flight scenes, where you're swaying from side to side, getting splashed with water and feeling the wind.Attraction-like interactive screen.It was.
converselyIMAXwellHigh-definition video & many channels of realistic & powerful surround soundis the main attraction. We decided to visit an IMAX theatre after learning that it is a film experience system with a different concept.
Harry Potter The Philosopher's Stone IMAX 3D dubbed version of the film First-come, first-served, get a special offer to see the film.â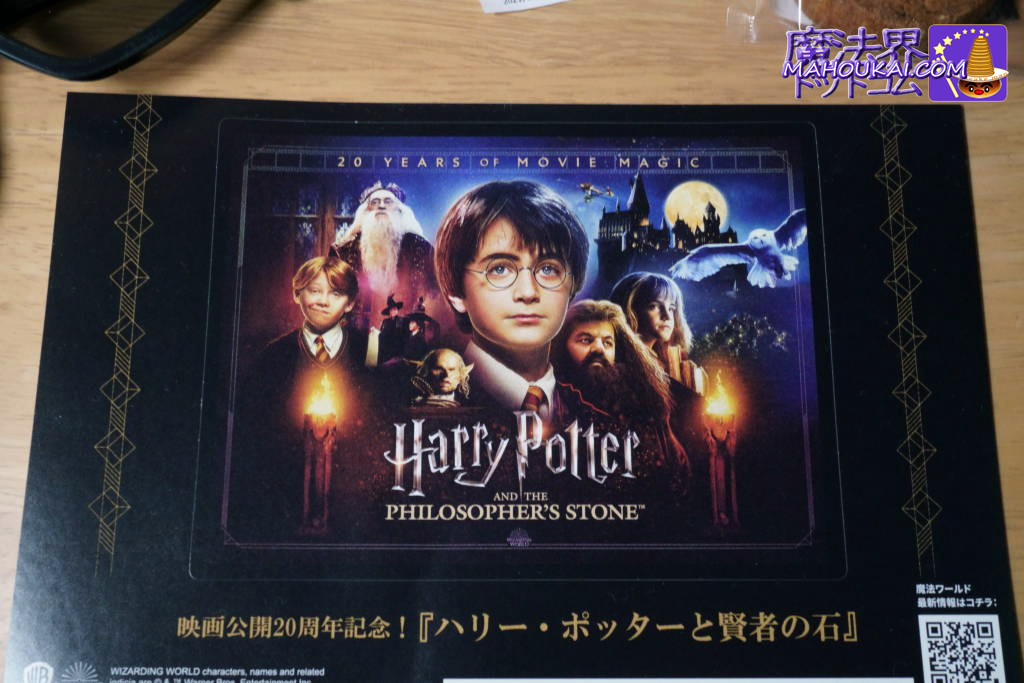 You can get an original Harry Potter Philosopher's Stone sticker to celebrate the 20th anniversary of the film's release on a first-come, first-served basis! The size is about the same as a postcard.
Hankyu Nishinomiya Gardens Various deals with movie tickets! Free gifts at Daikki Suisan and Marufuku Coffee♪
This story is a special offer only for Nishinomiya Gardens... There are quite a few shops where you can get a discount or a free gift if you show your TOHO Cinemas movie ticket of the day! You can save money if you issue a ticket and bring it with you even before you see the film.
Aka dashi' was given to me at the conveyor belt sushi Daiki Suisan on presentation of the film ticket.
I didn't actually know that, but the shop assistant asked me, "Do you have the ticket stub from the movie?" The shop assistant did a Good Job!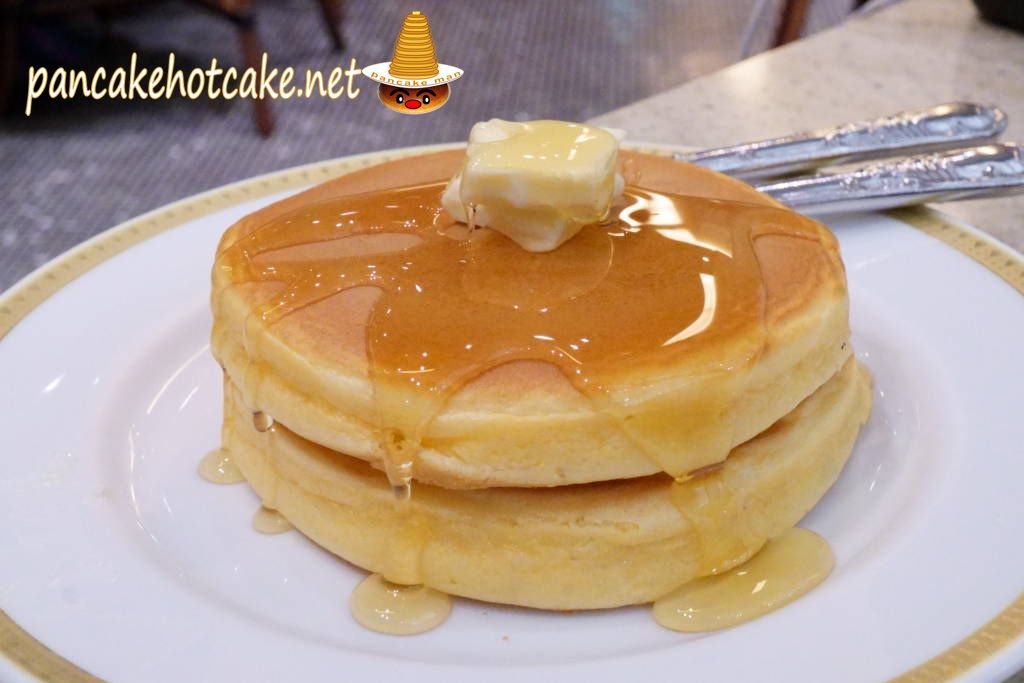 If you eat pancakes at Marufuku Coffee Shop (you don't have to eat or drink pancakes)
I was given 'baked sweets' at Marufuku Coffee on presentation of my film ticket.
On the other hand, the Marufuku Coffee Shop seems to only give it to you if you report it to them.Pancake Man is a Marufuku pancake.I love the â
There are also various special offers at other shops, so if you are interested, check the Hankyu Nishinomiya Gardens website.
Let me take you back to Harriotta.
The cinemas near the Marunouchi area areTOHO Cinemas Hibiya
In cinemas showing IMAX 3D,The 'Marunouchi Area' during the Haribo Festival.The closest thing to a 'TOHO Cinemas HibiyaThe other cinemas that show the film are.Warner Bros. WEB sitePlease check the â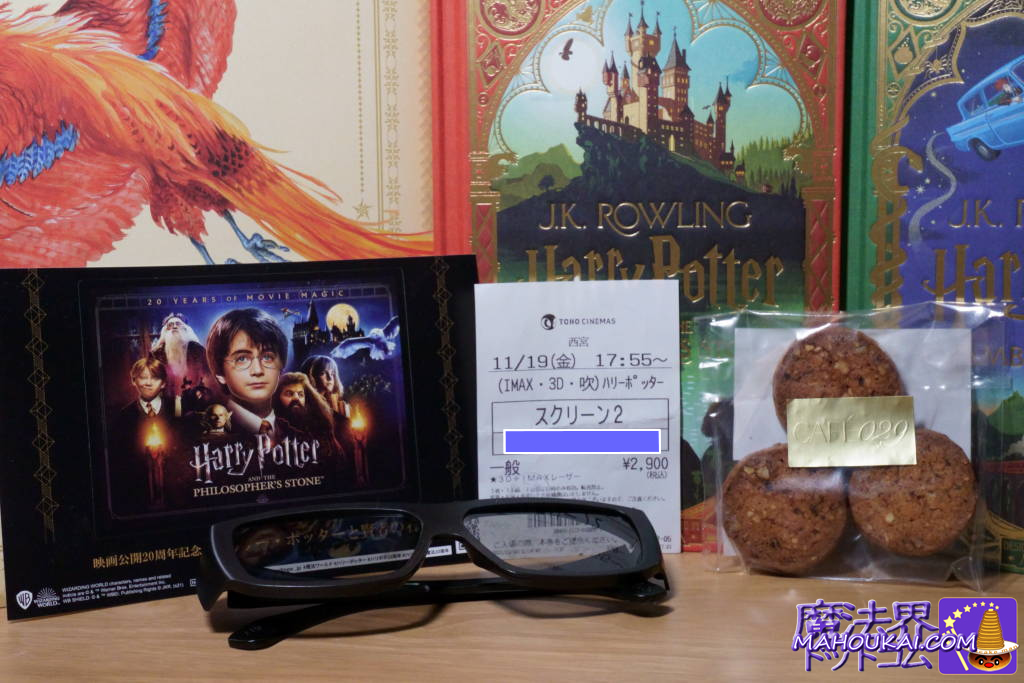 So, all you Potterians in the country, please enjoy "Harry Potter's Philosopher's Stone" in IMAX 3D! (≧◇≦)
Tomorrow, 19 November - 2 December 2021 (Thursday)
'Harry Potter and the Philosopher's Stone'.
Japan's first IMAX® 3D screening!
IMAX® 3D dubbed version
Nationwide cinemas Sapporo - Okinawa
👉https://t.co/Q9Kxb78RJK# 20th anniversary of the magic of Harry Potter.

Harriotta & Fantabi 2021 Scheduled
👉https://t.co/MQQWpbxA9L pic.twitter.com/a86E0azek5

- MAHOUKAI.COM wizardingworld.com Super Commentary Guide to Harry Potter & Fantabi (@mahoukaicom) November 17, 2021
Map (MAP) HARRIPOTA Christmas Tree & Event Venue Marunouchi area, Tokyo
● Red mark.
Marunouchi area Illuminations & pop-up shops
● Orange mark.
 Marunouchi area Tully's Coffee Shop (11 Nov pre-sale shop) (
★
(Tully's - shops with photo spots)
◆Red mark
 Stamp rally 10 locations
● Green mark
 Collaboration food and drinks (4 restaurants outside Tully's)
● Blue mark
 collaboration goods
●

yellow mark
 Harry Potter exhibition Tokyo Station, cinema Marunouchi Piccadilly