Hulu (flat monthly fee) video streaming service|Harry Potter and the Philosopher's Stone live TV chat on Sat 9 Apr at 8pm!
What is Hulu Live TV Chat?
Live TV Chat is an online project that allows fans to chat and watch together from anywhere and on any device they like. This means that while watching The Philosopher's Stone, you can chat and share your thoughts and opinions with other Harriotta fans from all over the country.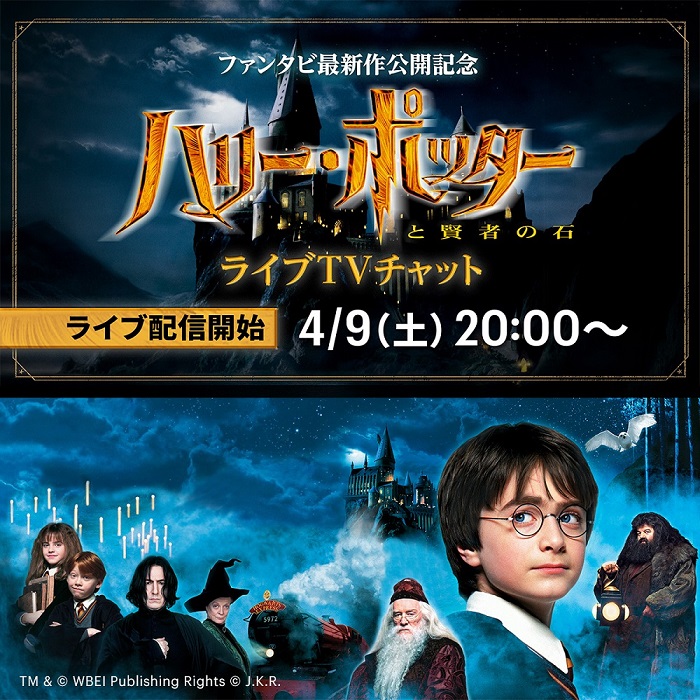 Live TV chat date: Saturday 9 April 2022, 20:00-22:40.
Film for this edition: 'Harry Potter and the Philosopher's Stone' (dubbed version).
Conditions of participation: Hulu members.
Chat available on: PCs, smartphones, tablets, iOS (iPhone, iPad, iPod touch)
Devices on which live viewing is possible: computers, smartphones, TVs, gaming devices, etc.
Click here to participate. https://www.hulu.jp/livetv/551
Hulu has also released his latest film, TheFantastic Beasts and Dumbledore's Secret.To celebrate the release of Harry Potter and the Philosopher's Stone, a live TV chat will be held on Saturday 9 April at 20:00, the day after the release date. This time it will be held with the first film in the Harry Potter series, Harry Potter and the Philosopher's Stone (dubbed version). Please enjoy the film more by sharing your thoughts in real-time with many fans.
Hulu (flat monthly fee) video streaming service
Hulu monthly subscription fee ¥1,026 per month (incl. tax) Tunes Store payment: ¥1,050 (incl. tax)
Watch it now on Hulu, 2-week free trial!
Hulu is an online video subscription service where you can enjoy films, dramas, animations and variety. For a flat monthly fee, you can watch over 100,000 titles anytime, anywhere. Hulu Premier," which distributes foreign dramas for the first time in Japan, and the independently produced "Hulu Originals" are at the forefront of the line-up, along with a wide range of content available only on Hulu, including missed broadcasts of popular programmes on TV and live music streaming. There is also a wide range of live streaming. You can enjoy news, documentaries, sports and more from Japan, the US and the UK. The pay-as-you-go Hulu Store offers the latest movies and foreign drama seasons that have just been released in theatres, as well as live streaming of popular theatre and music events. Both Hulu and the Hulu Store can be viewed on any internet-connected TV, computer, smartphone or tablet.
All eight films in the Harry Potter series.
Two films in the Fantastic Beasts series.
As at 1 April 2022
Harry Potter original goods present campaign.
15 winners drawn by lottery.
Funko POP Harry, Ron and Hermione 2 each
Folding umbrella (Gryffindor | Slytherin) for 2 persons each
Set of 2 masking tapes: 5 persons
Application period:.Friday 1 April 2022 - Friday 8 April 2022 23:59
How to apply Follow the official Hulu Twitter feed below.follow,,RT
/.# Harry Potter. Goods.
15 winners will be drawn ✨.
backspace.# Fantabi. Commemorating the release of the latest film
Harry Potter live TV chat
Live streaming starts at 20:00 on Saturday 9 April: ‼️

Applications should be sent to #Hulu Follow the official Twitter&.
RT this post!!! (Deadline 8 April)

Detail ▷ https://t.co/v8JdwqGRlY@wizardingw_jp

- Hulu Japan (@hulu_japan) April 1, 2022
announcement of election results The winner will be notified by dispatch of the prize. The prizes will be dispatched in late April 2022.
Prize details. Prizes are not selectable. Please note that the prize is not available.
[Notes.
The draw will be made strictly by the Campaign Management Secretariat. The criteria for selection and drawing will not be answered.
The address to which the prize must be sent must be in Japan.
The transfer or sale of prizes is prohibited.
Those under 13 years of age are not eligible to apply.
The draw and notification of the winner is scheduled for mid-April 2022; if the winner cannot be contacted within the specified period after notification of the winner via Twitter DM, the winner will be deemed to have been discarded and the draw will be made again from among the other applicants.
The various sweepstakes campaigns associated with the Hulu service are in no way connected with Apple, Google or any other entity other than the Company.
Watch it now on Hulu, 2-week free trial!
The above is extracted from and added to the Hulu press release; Hulu application links contain affiliate links.
Other Harriotta & Fantabi-related articles in MAHOUKAI.COM