good day (daytime greeting)Universal Studios Japan (USJ), Harry Potter Area.â
Good evening, this is Pancake Man Dumbledore, the Wizard of 魔法界ドットコム.Honeydukes.Information on shops, a list of snacks and goods in the
HONEYDUKES|Harry Potter Area, Universal Studios Japan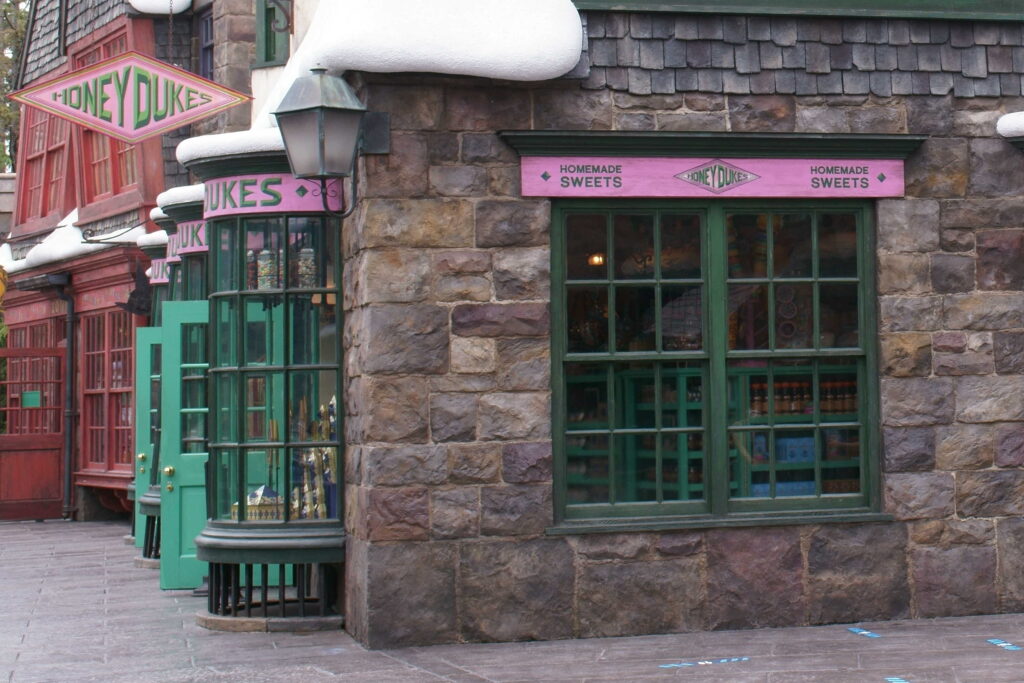 Since the opening of 魔法界ドットコム, we have introduced many Honeydukes sweets, sweets and candies from the USJ 'Harry Potter Area'. But what a surprise! I'm surprised that I haven't introduced any Honeydukes shops.
I'm sure you're all aware by now that Honeydukes is a popular confectionery shop for Hogwarts students, wizards, Muggle children and adults alike.
Shop information Honeydukes|USJ "Harry Potter Area
HOMEMADE SWEETS HONEYDUKES
(Homemade Sweets Honeydukes)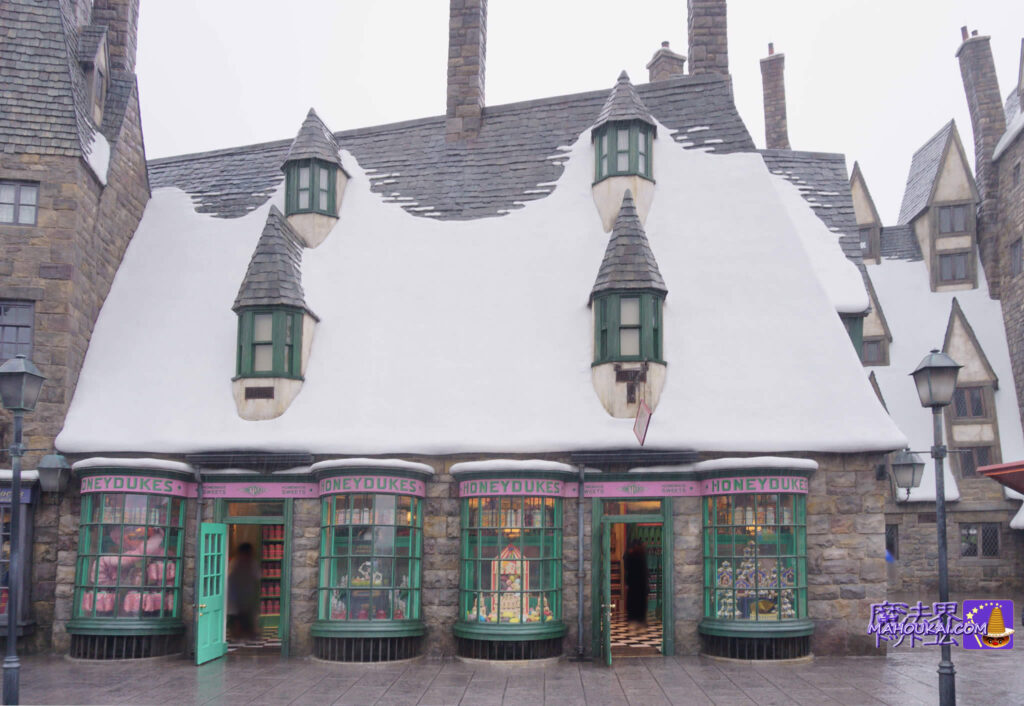 Shop Information Honeydukes| USJ Harry Potter Area

opening hours (of a store, restaurant, etc.)

USJ, "Harry Potter Area."same as


During the Corona Disaster, there are days when opening hours are different from normal.

goods for sale

Cakes, sweets and confectionery from the wizarding world.
(Specialist take-away shops).
three broomsYou can bring it to

latency

0 minutes

Shop location.

USJ 'Harry Potter Area', Hogsmeade Village.Enter, second on the left.

Method of payment

Cash (Japanese yen), various Muggle credit cards, PayPay and other QR code payments, d-payment


(NG Galleon gold coins, Sickle silver coins, Knut copper coins)
(as of October 2023).
How to get to Honeydukes|Universal Studios Japan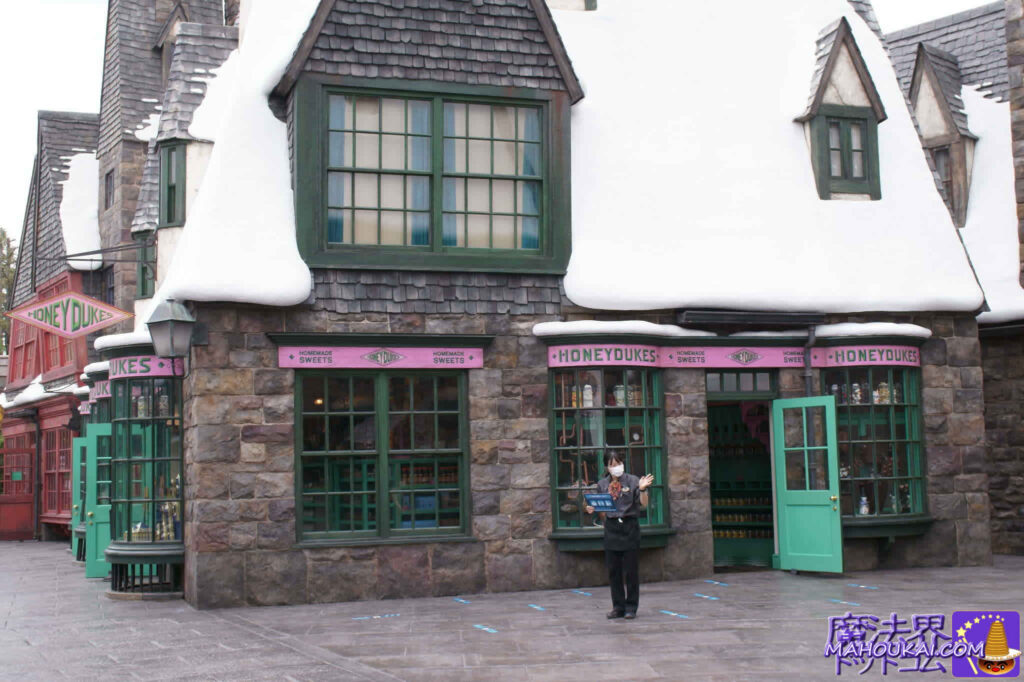 Enter the Hogsmeade Village entrance (arched gate) of the USJ Harry Potter Area on the left. Opposite the Hogwarts Express. The pink shop in the foreground is calledZonko's Mischief Shop (Zonko's Mischief Shop).And the green and pink shop at the back is calledHoneydukes.In 2020 and 2021, the entrance to the shop will be closed to prevent Corona.three broomsThe Zonko door is for exit loss in October 2023. Other doors are free to enter and exit, and the door on the broom side of the Three Broomsticks is often closed.
Map] Location of Honeydukes|USJ "Harry Potter Area".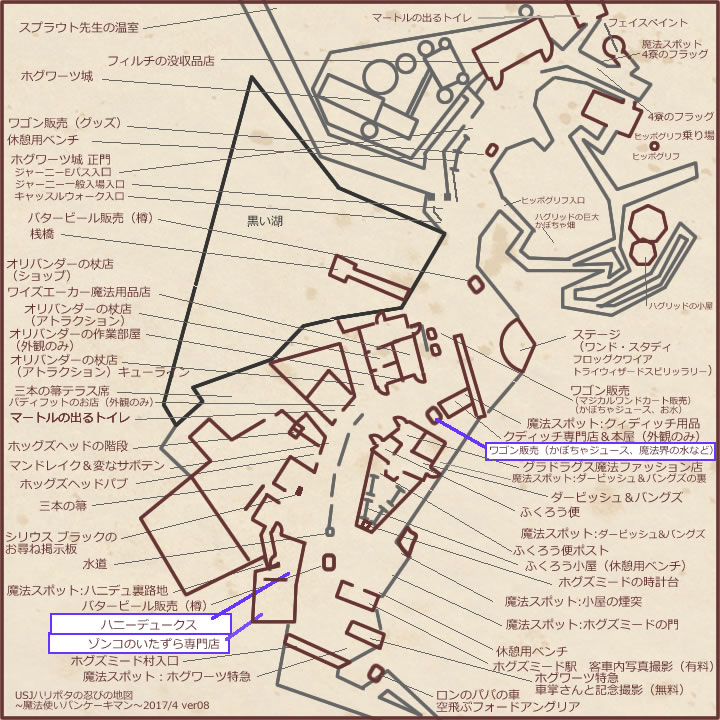 Honeydukes of the film & original novel Harry Potter.
Honeydukes is a Harry Potter wizarding world confectionery and sweet shop that appears when Harry and his friends go to Hogsmeade Village. In the original novel and the film, it is calledHarry Potter and the Prisoner of Azkaban.The film has appeared in the 'The Tale of the Tiger'.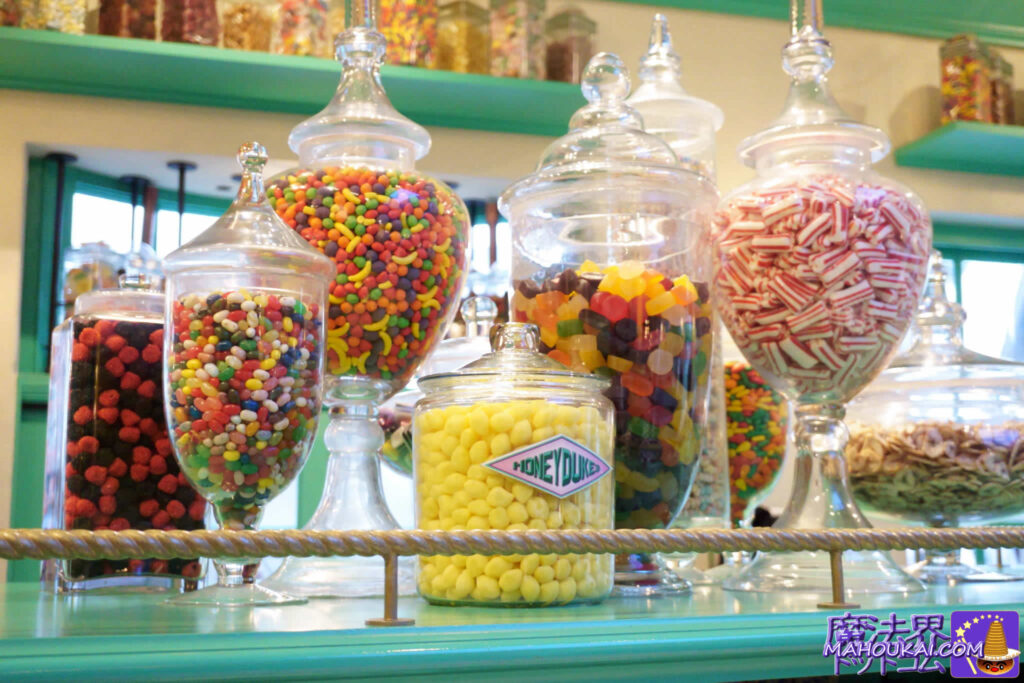 Honeydukes is a famous confectioner in the wizarding world.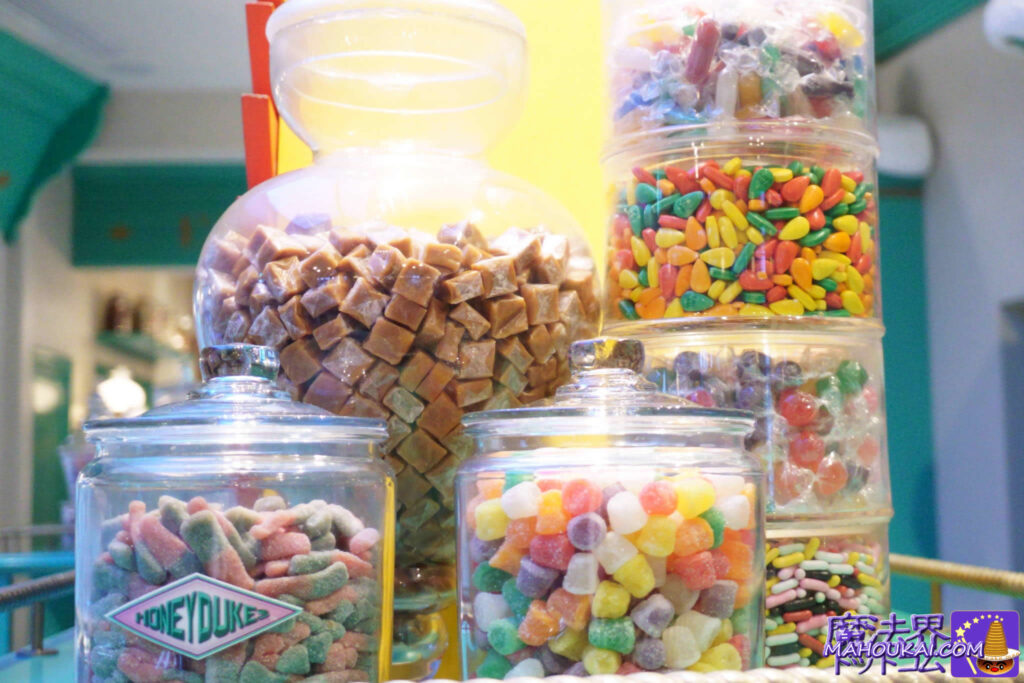 It is located within walking distance of Hogwarts School of Witchcraft and Wizardry. The shop is located in Hogsmeade Village, the only wizard-only village in the UK, and is popular with Hogwarts students.
  Honeydukes has many unique treats from the wizarding world.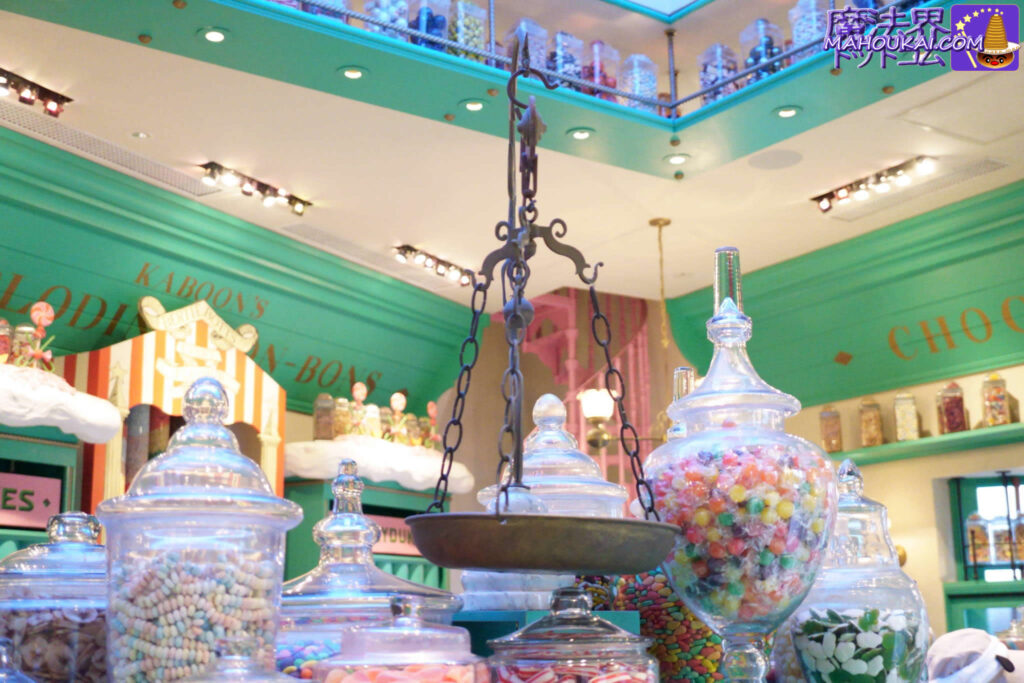 it's a secretStatue of the One-Eyed Witch of Hogwarts.A secret passageway leads to the underground warehouse of Honeydukes.Map of the ninjaThe route Harry took when he sneaked out of Hogwarts and went to Hogsmeade to visit his friends.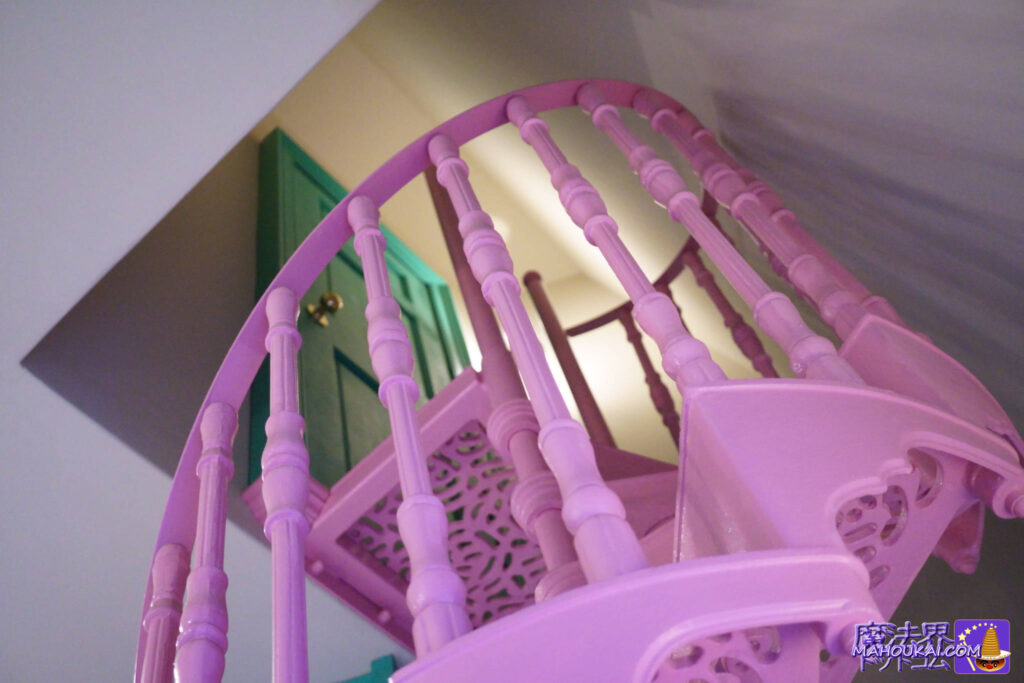 Staircase to the second floor of Honeydukes Â- lovely shocking pink.  The door to the second floor is also green.Â
Honeydukes sweets, cakes and sweets purchased from the Magic Neep Cart are also allowed at the Three Broomsticks. The only condition for bringing your own is that you buy drinks and food from The Three Broomsticks.Â
[Video] YouTube Inside the Honeydukes shop and sweets â
The stock and types of 'sweets' and goods shown in the video change from time to time, so you may not always find the same sweets and goods when you visit.
Harry Potter sweets, drinks & merchandise available at Honeydukes.
私パンケーキマンが食べたハニーデュークスのお菓子を紹介♪
A detailed food report is up on the link.Click (tap) on the title section of the snack.hereuponDetailed reportopens (≥▽≦) in the title section.Yellow markerがあるお菓子はリンク付きです♪
This section also explains the taste and texture of the various Harry Potter sweets sold (or used to sell) at Honeydukes, their volume, and a discussion of which scenes from the films and novels they appeared in. Whether they are tasty or not is subjective, so I would be happy if you could interpret them as a reference.â
The Shock O' Chocolate is a great snack whose packaging is a replica of the film and the box is a collector's item.
Bertie Bott's 'Hundred Flavour Beans' in a case of oversized cans USJ Honeydukes.
SUGAR QUILL LOLLIPOP quill pen candy green apple, orange flavour|USJ Honeydukes
HONEYDUKES LOLLIPOP Honeydukes Lollipop Candy|USJ Honeydukes
ICE MICE LOLLIPOP Bulbul Mouth Candy

Green apple, orange flavour|USJ Honeydukes
ACID POPS Sour Pero Pero Acid Candy|USJ Honeydukes
Assorted gummy balls in glass jars|USJ Honeydukes
Wand Chocolate|WAND CHOCOLATE|USJ Honeydukes
Little frog chocolates|USJ Honeydukes
I have not yet experienced this little frog chocolate. I've been trying to buy this, but I've bought regular frog chocolate and haven't been able to buy it (;-).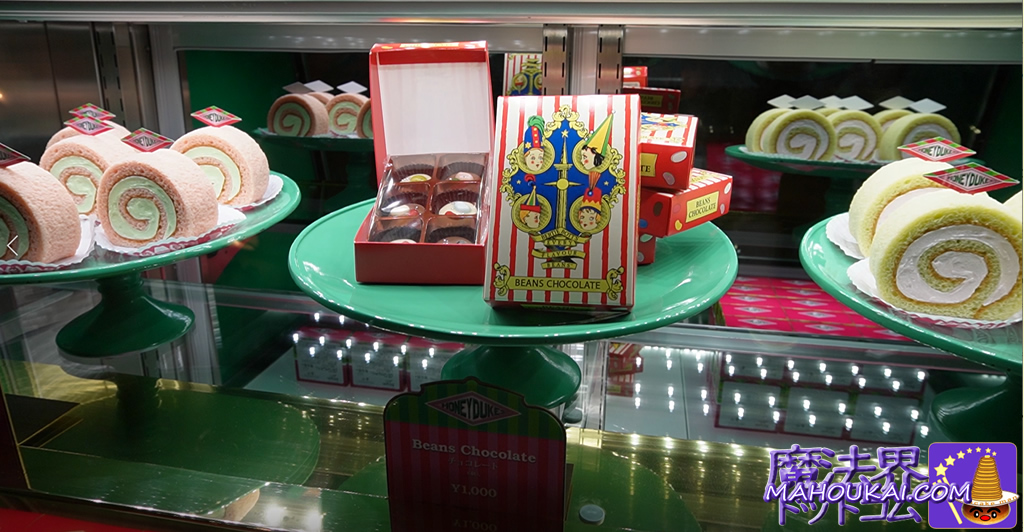 New Honeydukes sweets on sale from 4 November 2021!
Left: Pink Honeydukes roll cake Price: 700 yen
Right: green Honeydukes roll cake Price: 700 yen
Medium: 100-flavoured bean chocolate Price: ¥1,000 [winter-only sweet].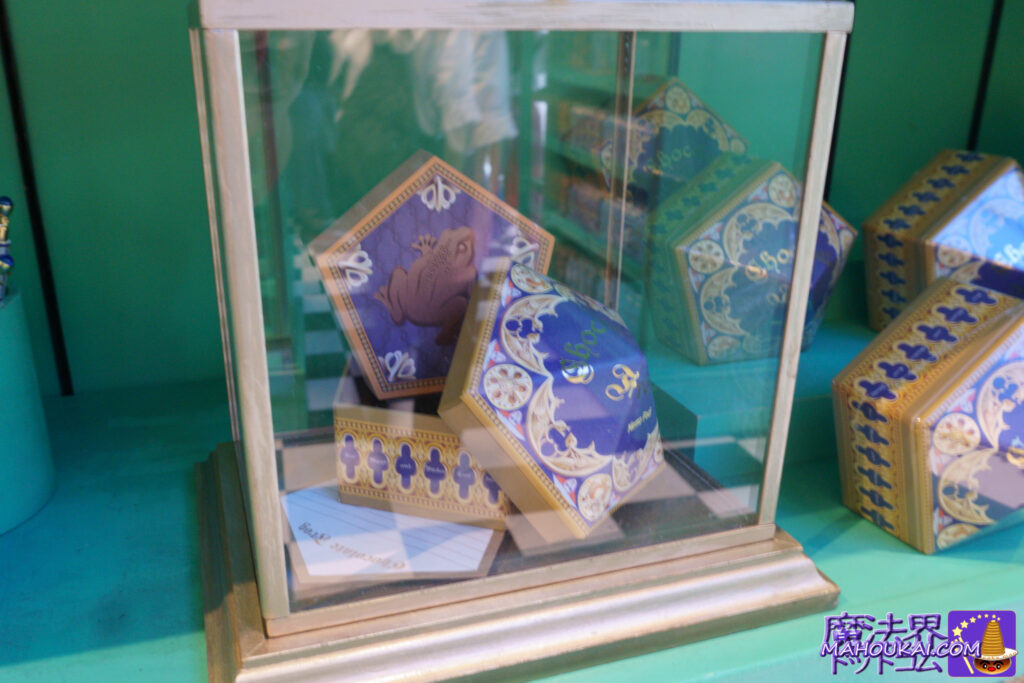 Memo with frog chocolate box Price ¥1,900 (incl. tax)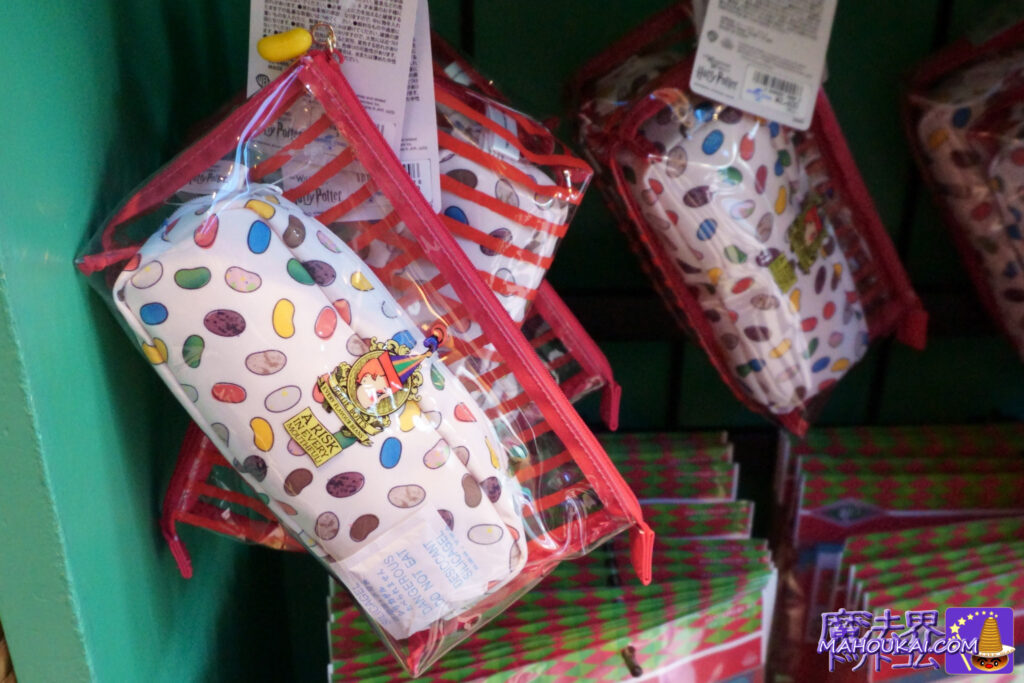 | | |
| --- | --- |
| item | Honeydukes clip set |
| Price | 2,600 yen (incl. tax) |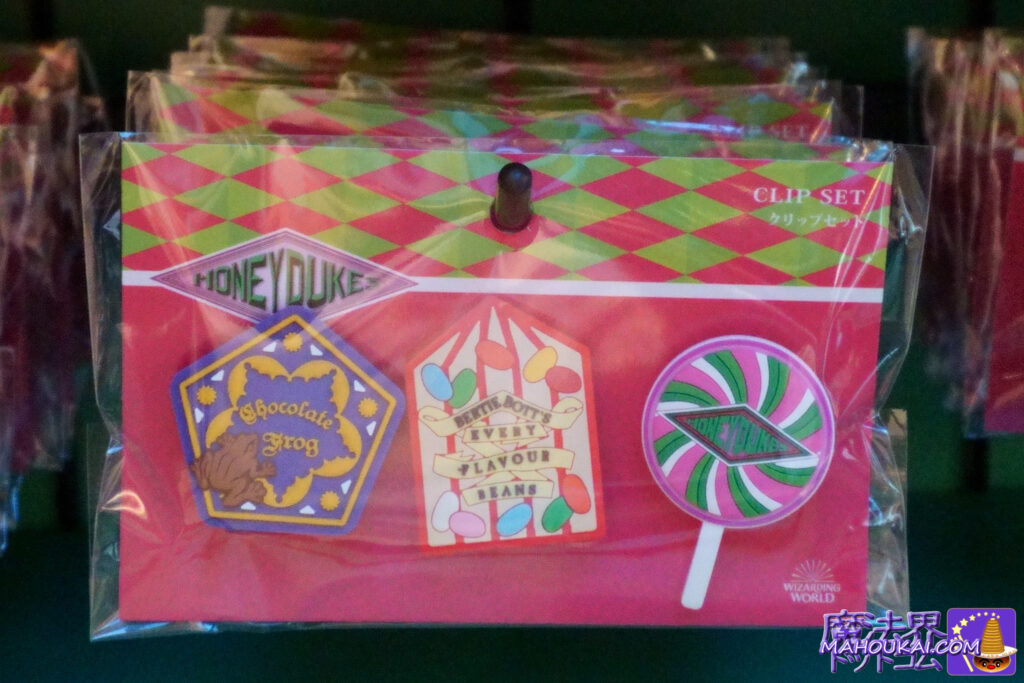 | | |
| --- | --- |
| item | Honeydukes clip set |
| Price | 1,800 yen (incl. tax) |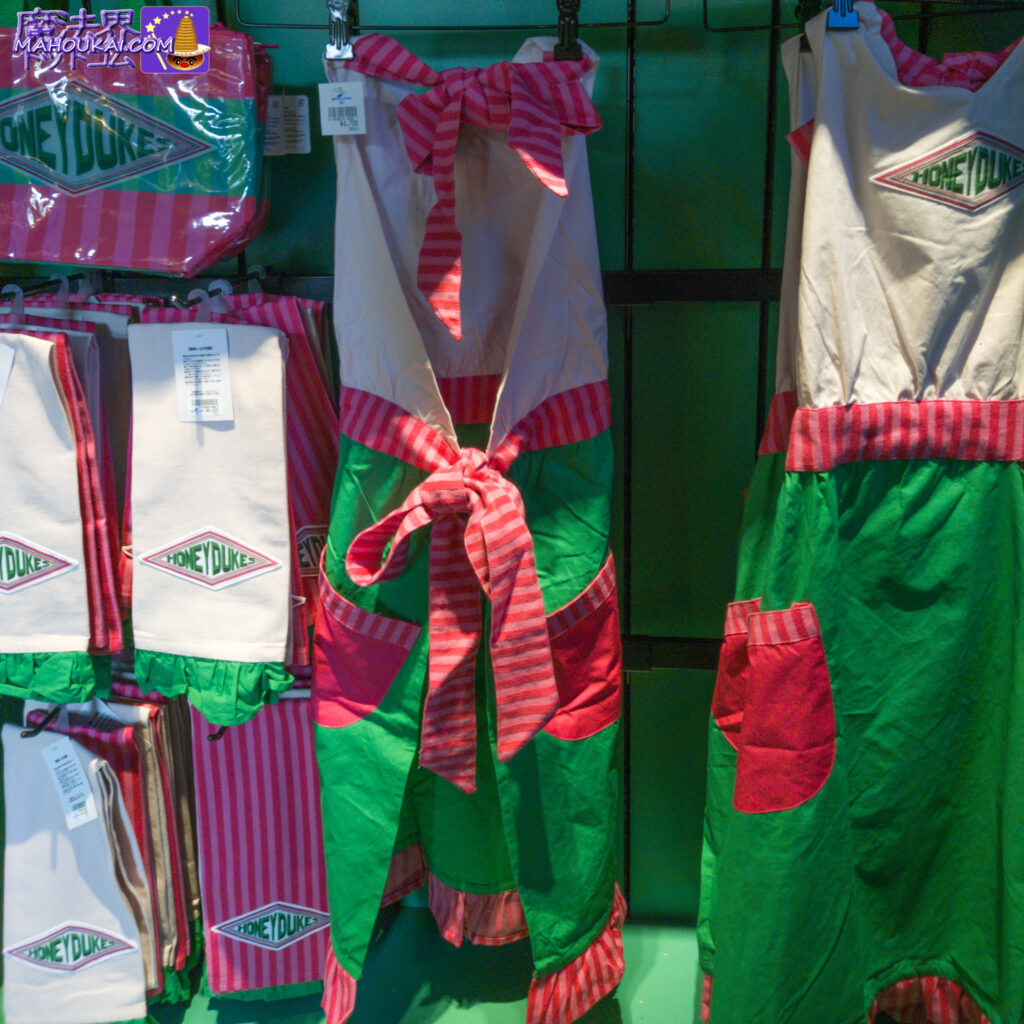 Honeydukes tea towels, set of 2, price ¥ 2,500 (incl. tax)
Honeydukes apron Price ¥ 4,700 (incl. tax)
Inside Honeydukes (after refurbishment)|USJ 'Harry Potter Area'.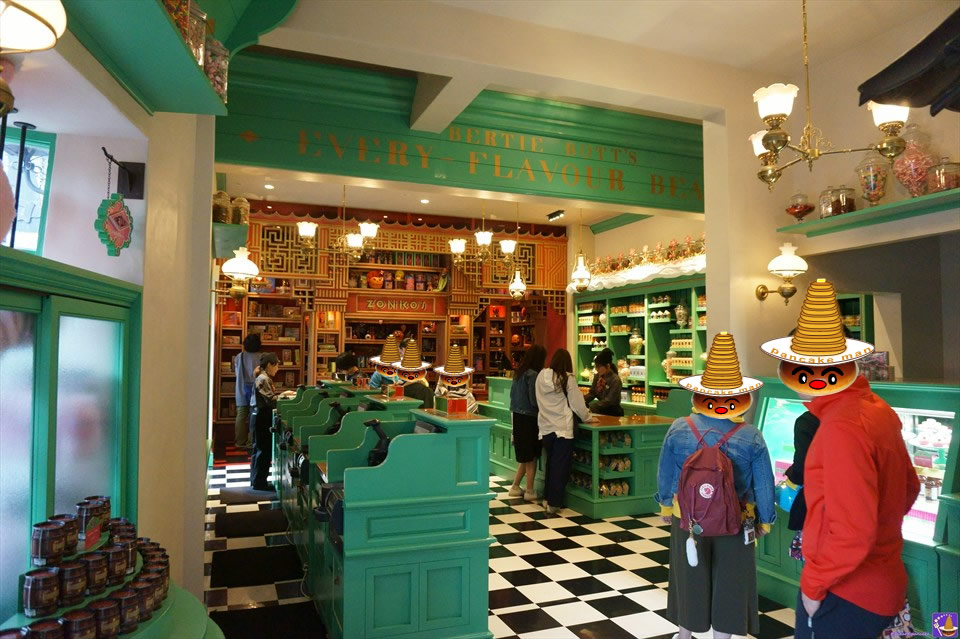 USJ.zonko& Honeydukes shops have changed between when they first opened (2014) and now (2017). This story is called.Zonko's prank shop.Â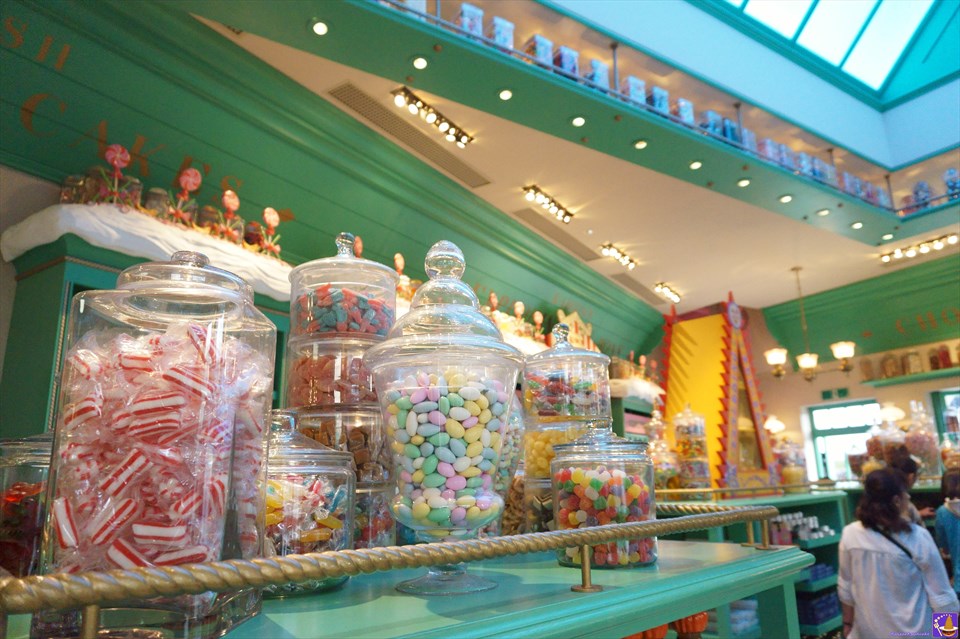 Anyone who wants to try some delicious Harry Potter wizarding world treats should definitely stop by Honeydukes, The Three Broomsticks and The Magic Neep Cart (wagon sales). Especially during special seasons such as Halloween and Christmas, when limited-time-only sweets are available... ♪ There are still some sweets that Pancake Man hasn't eaten yet, so I'll let you all know in my report when I do.
Giant hundred-flavoured beans in the bay window of Honeydukes.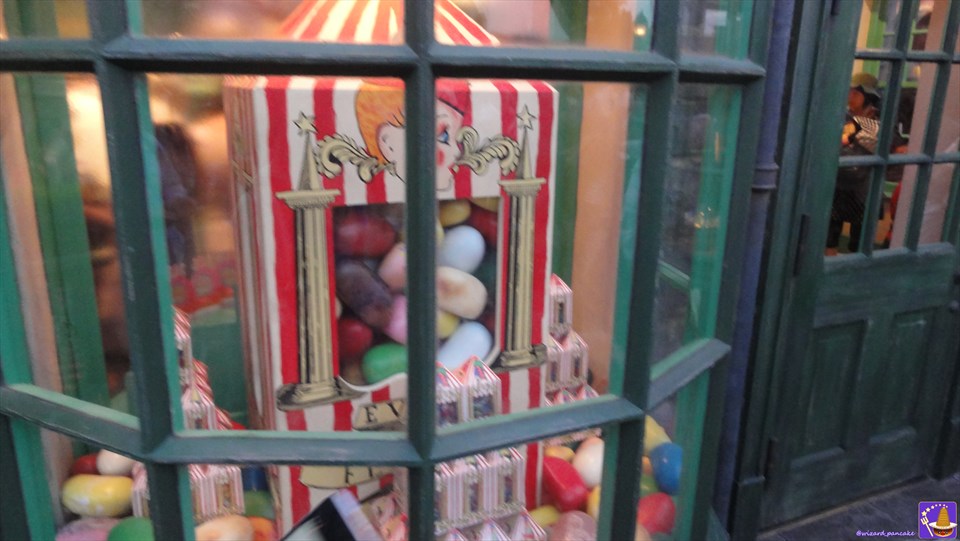 See, if you feel like eating, go shopping at Honeydukes.
If you can show up, you can go right away.
Well, we'll see you again... ♪
[Photo spot] Honeydukes back alley is also a great 'candy bay window'.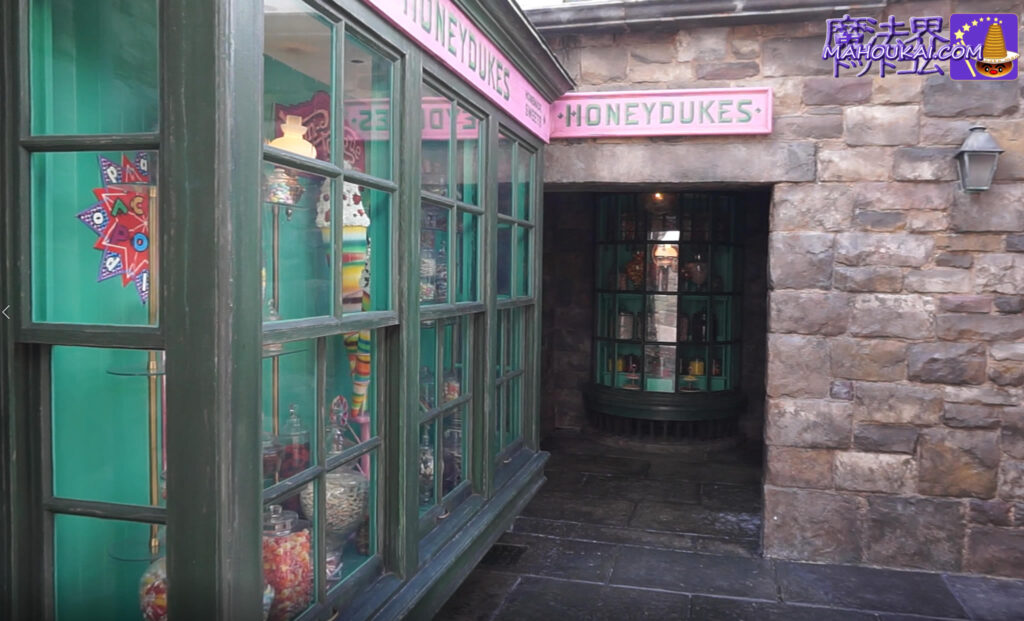 The alleyway behind Honeydukes is also a lovely bay window photography spot. It is a quiet space away from the crowds at the front of Hogsmeade Village. The bay window is full of sweets from the Harry Potter film Honeydukes, as well as sweets displayed only in this bay window. The POP is in English, but if you read it one by one, you'll be surprised by all the sweets.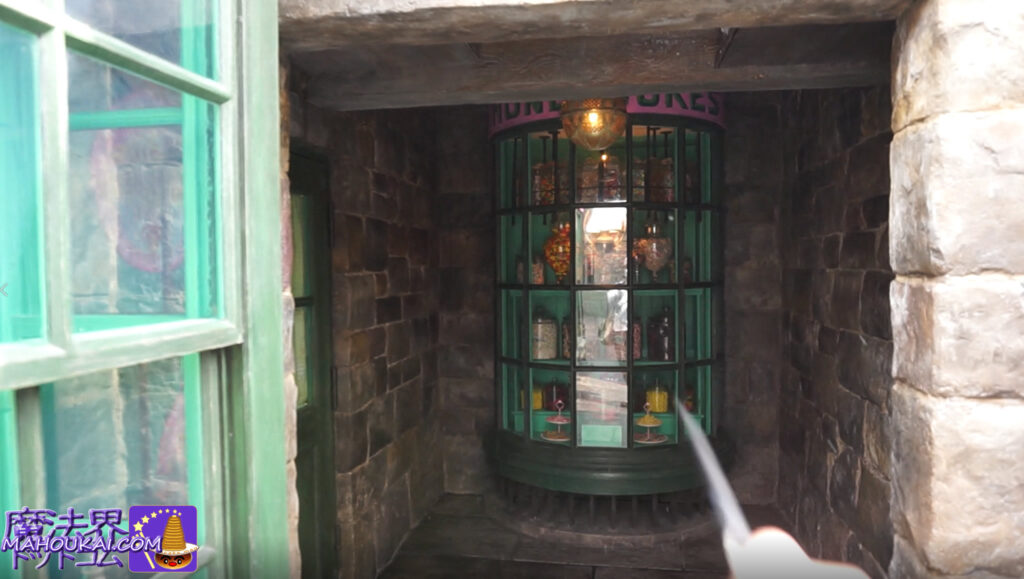 The back alley of Honeydukes is 'theWand magic (magical experience).It is also a spot for 'The Spell to experience: meteorojinx (snow, fall!). Is.
You can bring sweets, cakes, food and drinks purchased in the Harry Potter Area to the Three Broomsticks restaurant. The only condition for bringing them in is that you buy something at the Three Broomsticks.
'THE MAGIC NEEP CART.'The Village of Hogsmeade'.'Gladrags Wizardwear'-' (used in place of '-')and'Toms & Scrolls bespoke wizard bookshop.'-' (used in place of '-')You'll find it between the
The Magic Knee Cart sells sweets and drinks that are not sold at Honeydukes.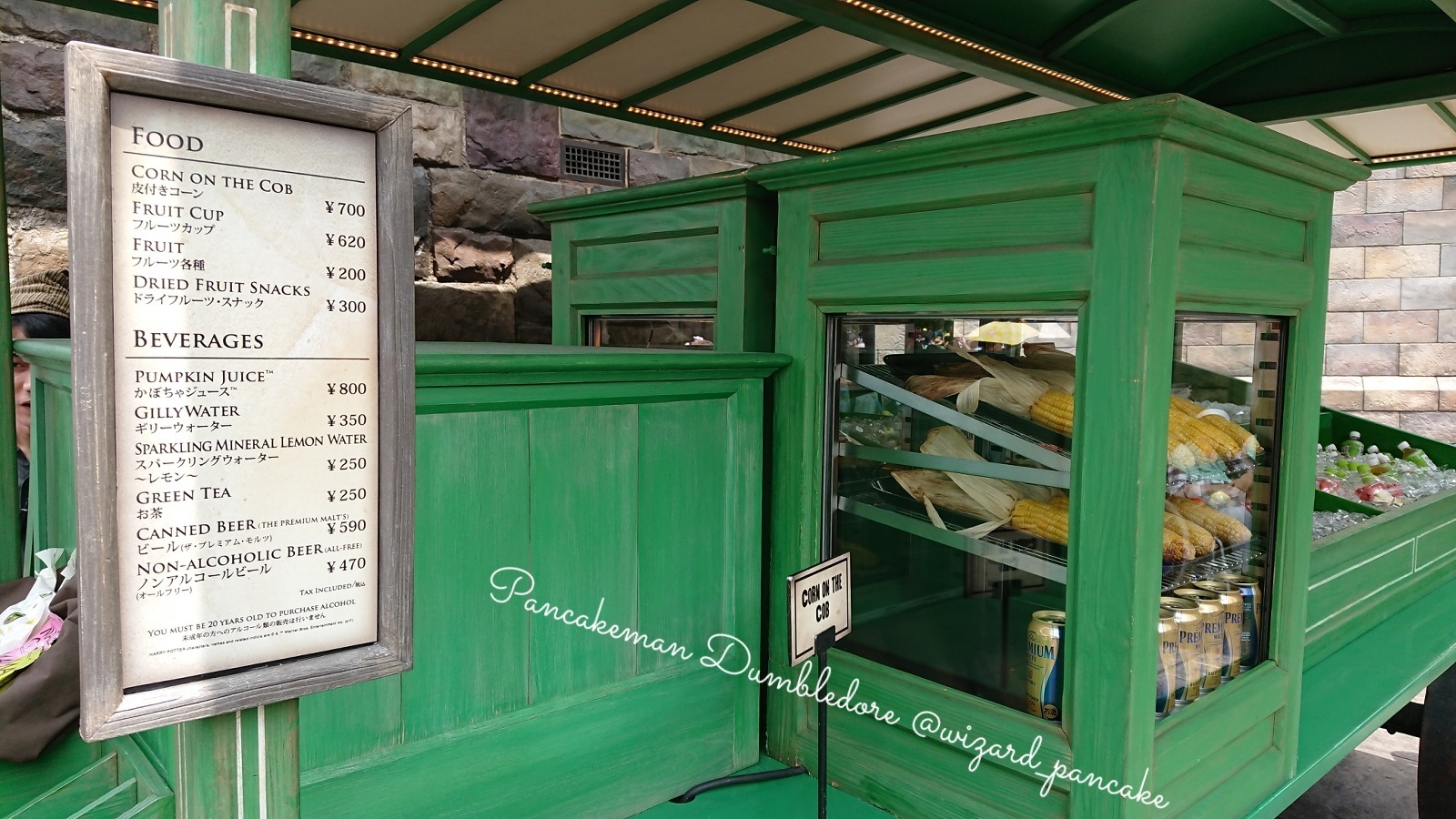 This photo, taken around July this year 2017, shows the food and drinks available at the Magic Neep Cart at the moment, as seen on this menu board...
The 'Magic Neep Cart', a wagon cart that can be described as a Honeydukes stall, sells different sweet shops, drinks, fruit, etc. The items sold on the carts change with the seasons, so the fun changes with each season.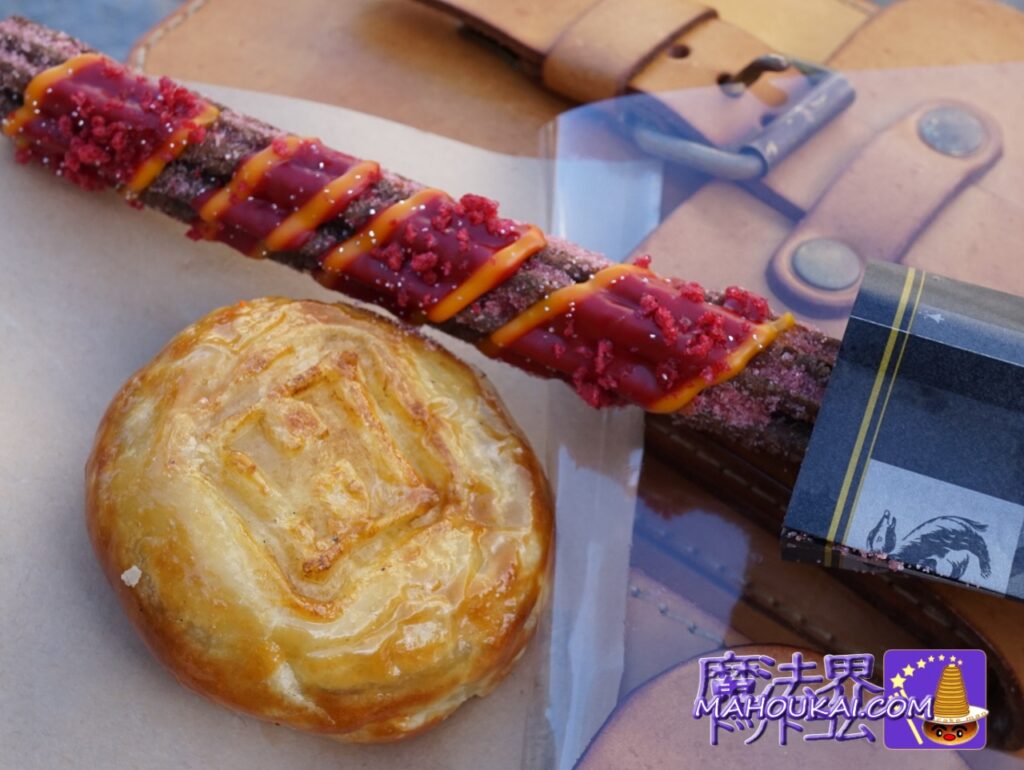 The traditional British meat pie, very popular in the Magic Neep Cart, is accented with cheese in the wizarding world. The meat pie is branded with the Hogwarts 'H' on top.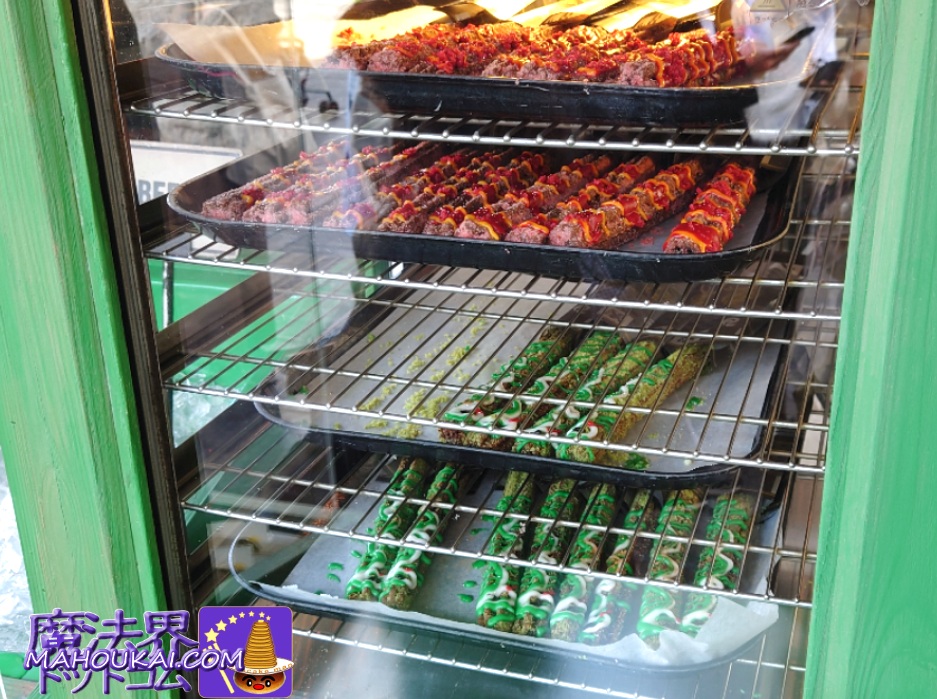 Cute and colourful Harry Potter churritos decorated in the image colours of the four Gryffindor, Slytherin, Hufflepuff and Ravenclaw houses.映画ハリー・ポッターでは登場しませんが、きっと「ハリー・ポッター エリア」の魔女と魔法使いたちの大人気商品です♪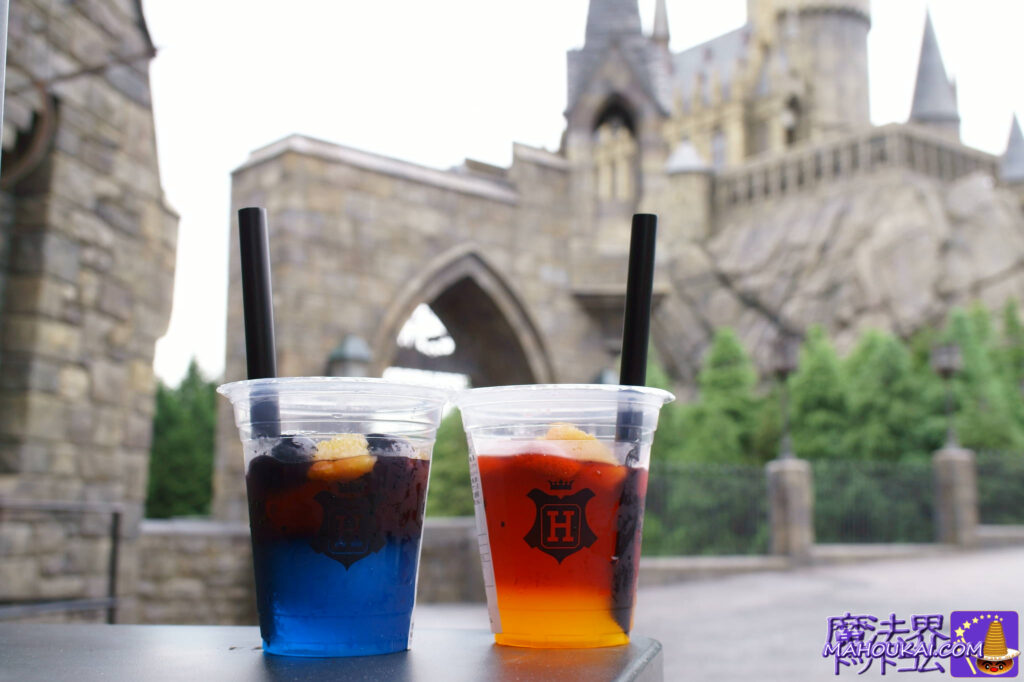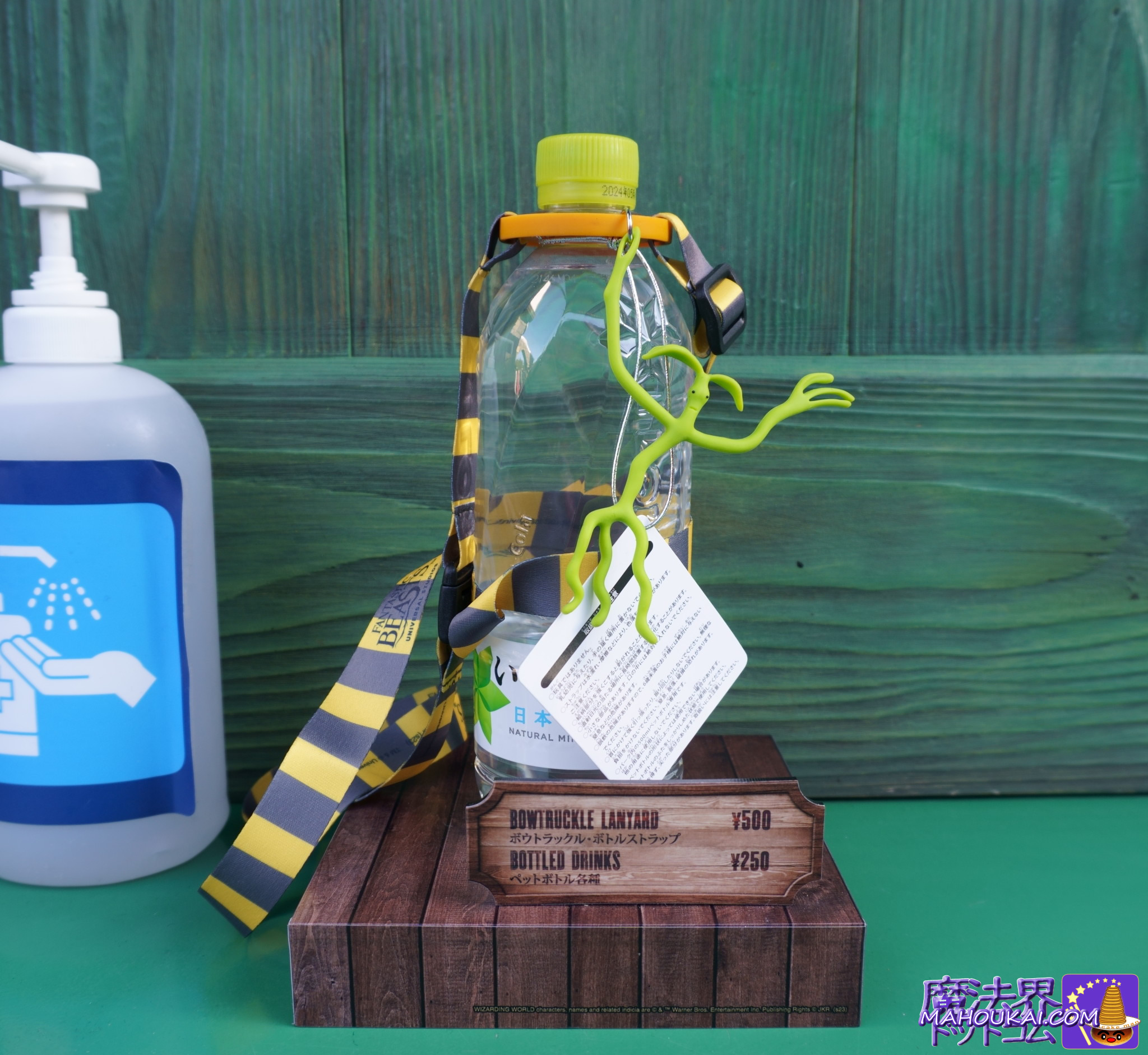 Bowtruckle bottle strap Price ¥ 500 (incl. tax)
USJ HARRY POTTER & FANTASVI Magical Animals (Magical Creatures) Plush Toys & Merchandise Summary|Harry Potter Area
See separate report below for information on the Magic Neep Cart shop.Â
Many Honeydukes sweets and goods are also sold in the UK. Many of the sweets are not available at USJ in Japan. Location.Merchandise shop in Warner Bros. studios outside London, UK.Is.
USJ 'Harry Potter Area' merchandise shop