The world's largest Harry Potter shop (physical shop) opens in New York on 3 June 2021!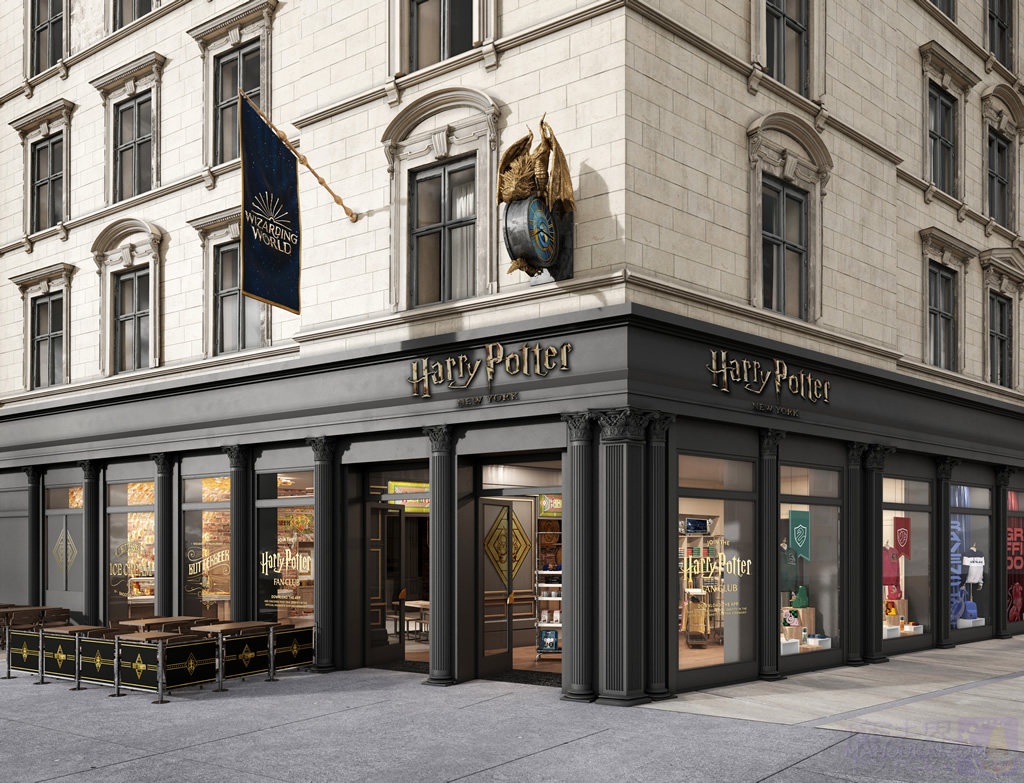 Harry Potter Shop, the world's first flagship Harry Potter merchandise shop, whose opening has been postponed until summer 2021 (New York, USA).'Harry Potter NEW YORKInternet online sites inis already open in advance! The actual store opening date has been set for 3 June 2021. The shop is now available on the official Twitter and official shop website.Â
Address: 935 Broadway, New York, New York, USA
15 themed areas on three floors of the shop
Sales floor: 21 000 sq m.
Goods for sale: Harry Potter, Fantastic Beasts.
Opening hours:
HOW TO ENTER: You can freely enter the restaurant without a reservation. If the restaurant is full, you must use the smartphone app to read the QR code and wait to enter; the QR code will be posted outside the restaurant one hour before opening time. You will be notified when you are ready to enter and must enter the shop within 15 minutes.
Approximate time to enjoy the shop: the store informs that 40-60 minutes is required.
Fawkes model of a giant phoenix (Phoenix) in flight.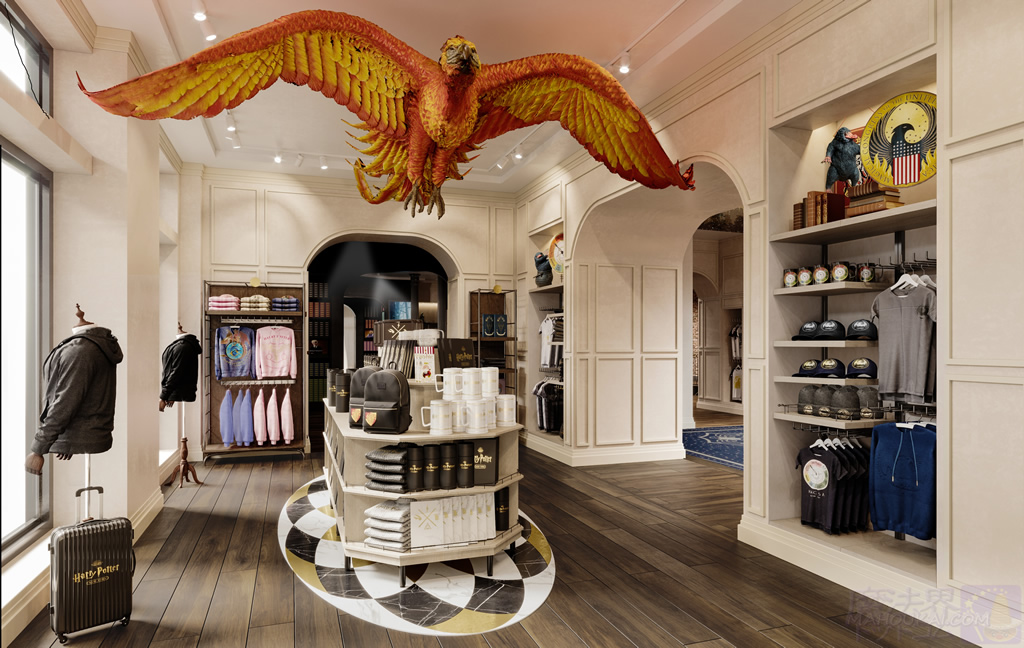 Giant phoenixes (phoenixes) on the ceiling.Fawkes.Models are flying... ♪ Items specially made by the props production team over several months are placed throughout the shop. Other items include the Ministry of Magic's Muggle entrance, "Red telephone boxThe 'I'm not...' is...Photo SpotYou can take a commemorative photo inside the phone booth, which is set up as a You can also enjoy many such photo opportunities. On this phoenix floor, you can see HARRIPOTA & FANTASVI merchandise for sale, such as carrying cases, apparel, backpacks, hats, mugs, etc. Also, on the top of the merchandise shelves you can see Macuza's emblem andnifflerAnd the figure of the figure of the â
Replica Wands Corner Harry Potter & Fantastic Beasts.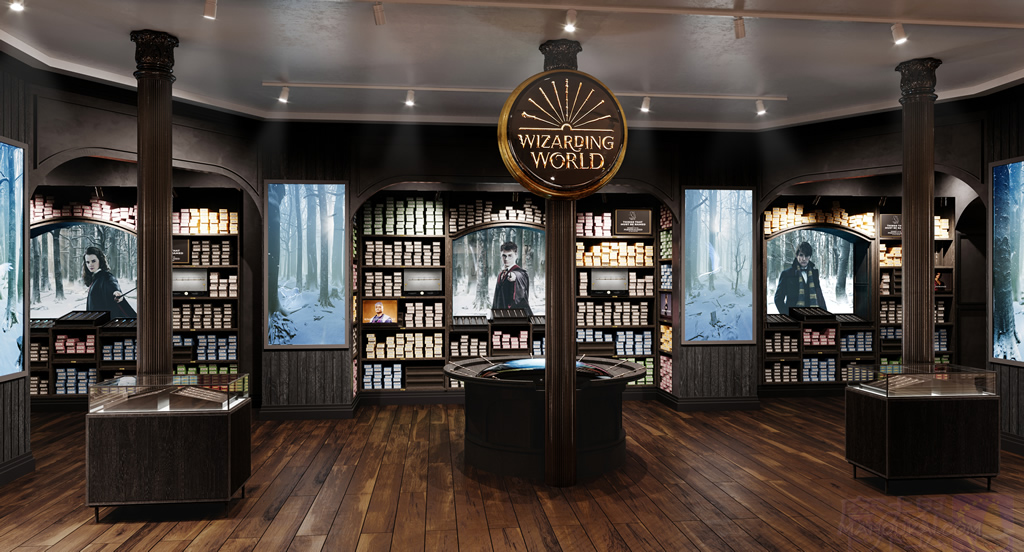 At the magic wand corner, you can pick up a wand andInteractive.(in...)Magical Wand at USJlike?").personal experienceis possible. The circular table in the centre of the photo is thought to be the space for the interactive experience. The wands on sale are branded (expected) Noble Collection and Collectible Wands, with more than 50 wands for sale, including wands with images of Harry Potter and Fantastic Beasts characters and props. Some of the wands are exclusive to Harry Potter Store New York, such as the wand "Golden Snitch cane' also makes an appearance! This is something Harriotta enthusiasts should look out for.
Ollivander Wand List, Harry Potter Studio Tour Tokyo, Studio Tour Shop, former Toshimaen site.
Replica wand 'personalisation' personalisation service Harry Potter Studio Tour Tokyo (former Toshimaen site)
Entrance to Dumbledore's Headmaster's office, Griffin statue, brick wall of King's Cross Station and giant Elder Wand.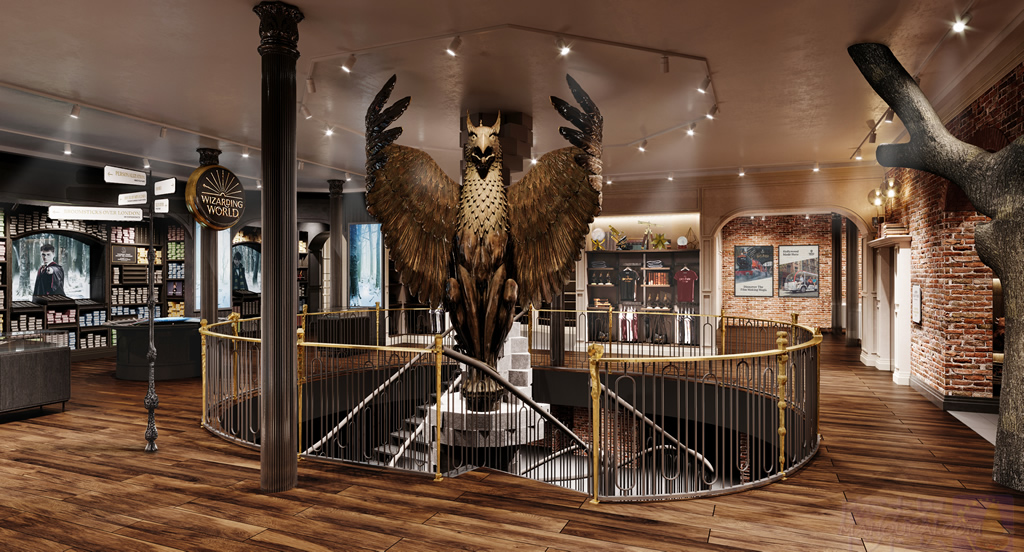 The stairwell connecting the upper and lower floors has aThe entrance to Principal Dumbledore's office.Griffin statuesits and rotates, and some of the walls in the shop areKings Cross StationThe brickwork design is like a On the left side is a huge, floor-to-ceiling, pillar-likeElder WandThe object towers over the city.
The Magical Animals and Magical Creatures section includes a giant plum airship tree and a mandrake.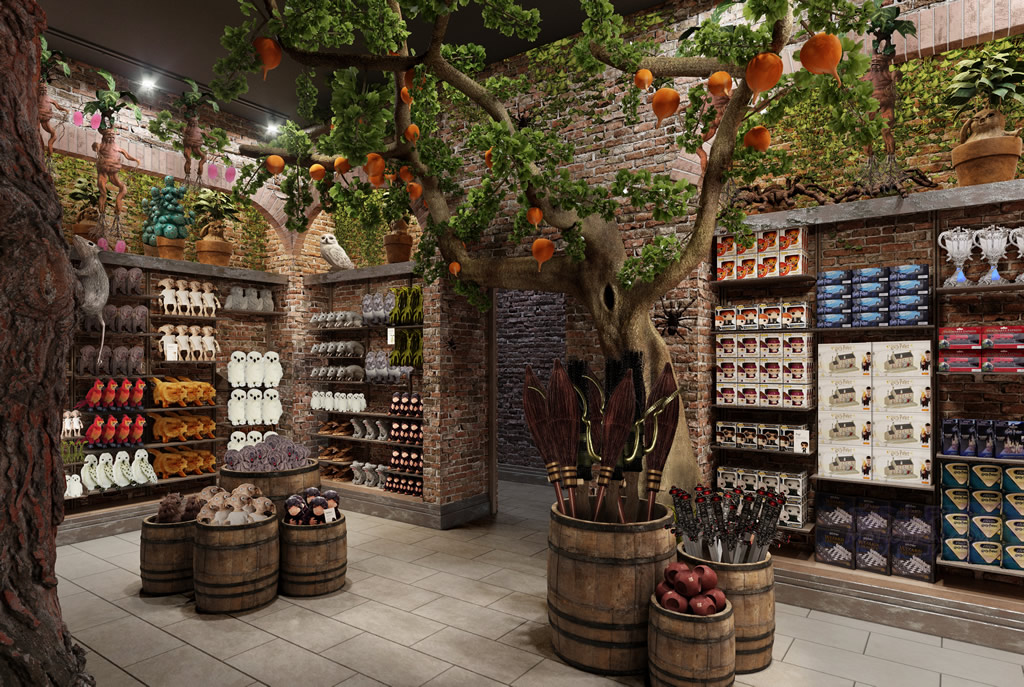 The magical plants and animals section has a largegalaxy in the process of an airship's flight from Japan to the PhilippinesA number of mandrakes and other objects are displayed in the trees on the There are more than 1,000 exhibits, including a rat that looks like Scabbers climbing up the tree on the left, film PROPs, replicas and photographs. A wide range of plush toys are available, including Hedwig, Fawkes, Dobby, Niffler and Pickett, and toy Nimbus 2000s, Gryffindor swords and Triwizard cups are expected to be on sale.
MINALIMA in New York (first time in the US).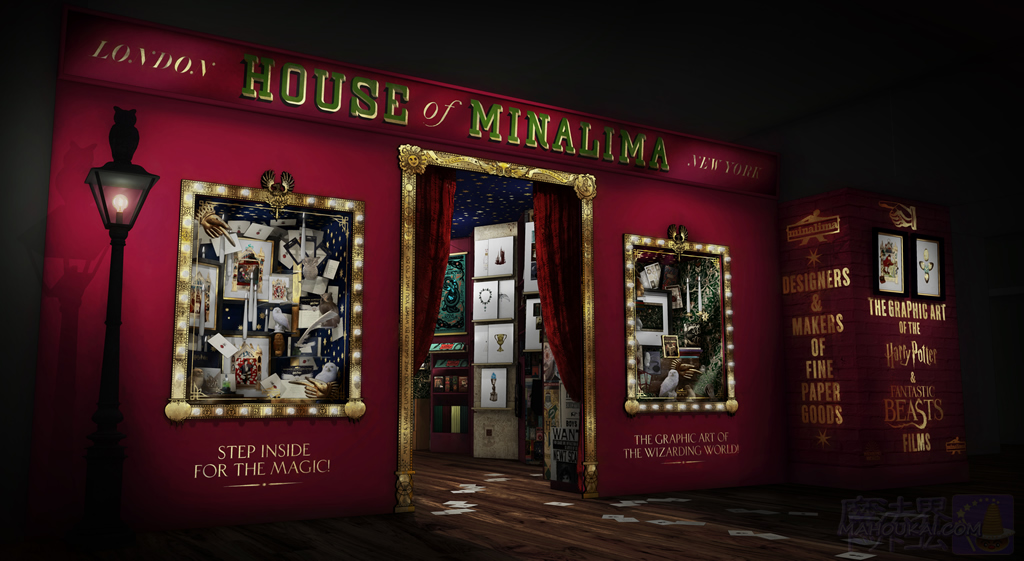 The Harry Potter Store has the only one of its kind in the USA.House of MinaLimawill be installed. It consists of a show window on both sides in red, reminiscent of the exterior of the old London shop. It is then complemented by a 'TheLONDON HOUSE of MINALIMA NEW YORKThe words 'â'¬â'¬â'¬â'¬â'¬â'¬â'¬â'¬â"¢ on the walls of Harry Potter New York, a gallery and store showcasing the graphic art of the Wizarding World by Mina Lima, the graphic designer of all Harry Potter and Fantastic Beasts films! Fans will be able to see prints including the cover of the Daily Prophet newspaper, Harry's Hogwarts acceptance letter and the Quibbler. The third shop worldwide will be in New York.
Harry Potter Fan Club App.You can also enjoy exclusive in-store content with the 'Enchanted Keys' of the â
In the whole shop.Harry Potter Fan Club applicationYou can enjoy tricks linked to the Harry Potter Store throughout the Harry Potter Store, 'Enchanted Keys.' on the app by scanning the smartphone app and watching and enjoying exclusive content, including behind-the-scenes secrets, on the app.
Butterbeer Bar in Harry Potter Store New York.
The Butter Beer Bar (BUTTER BEER BAR) will open inside the shop on opening day, 3 June. This is the first time Butter Beer has appeared in New York!
Butterbeer bar menu
Draft Butterbeer.
Small $5.99$ Large $8.99$ Souvenir cup (mug) $10.00$
Butterbeer ice cream
Cone $6.99 $6.99 Cups $8.00$
Bottled Butterbeer.

Normal design (same as London)
HP NY storefront exclusive design label (brand-new label)

Wizarding world confectionery

HEDWIG CUPCAKE.
TREVOR THE TOAD CUPCAKE, Toad's Traver Cupcake.
CHOCOLATE WANDS.
Sorting Hat Cookie (Sorting Hat Cookie)
Weasley family special jumper cookies (WEASLEY JUMPER COOKIE)

Other snacks, drinks (chocolate bars, muffins, crisps, Danish bread, coffee, tea), etc.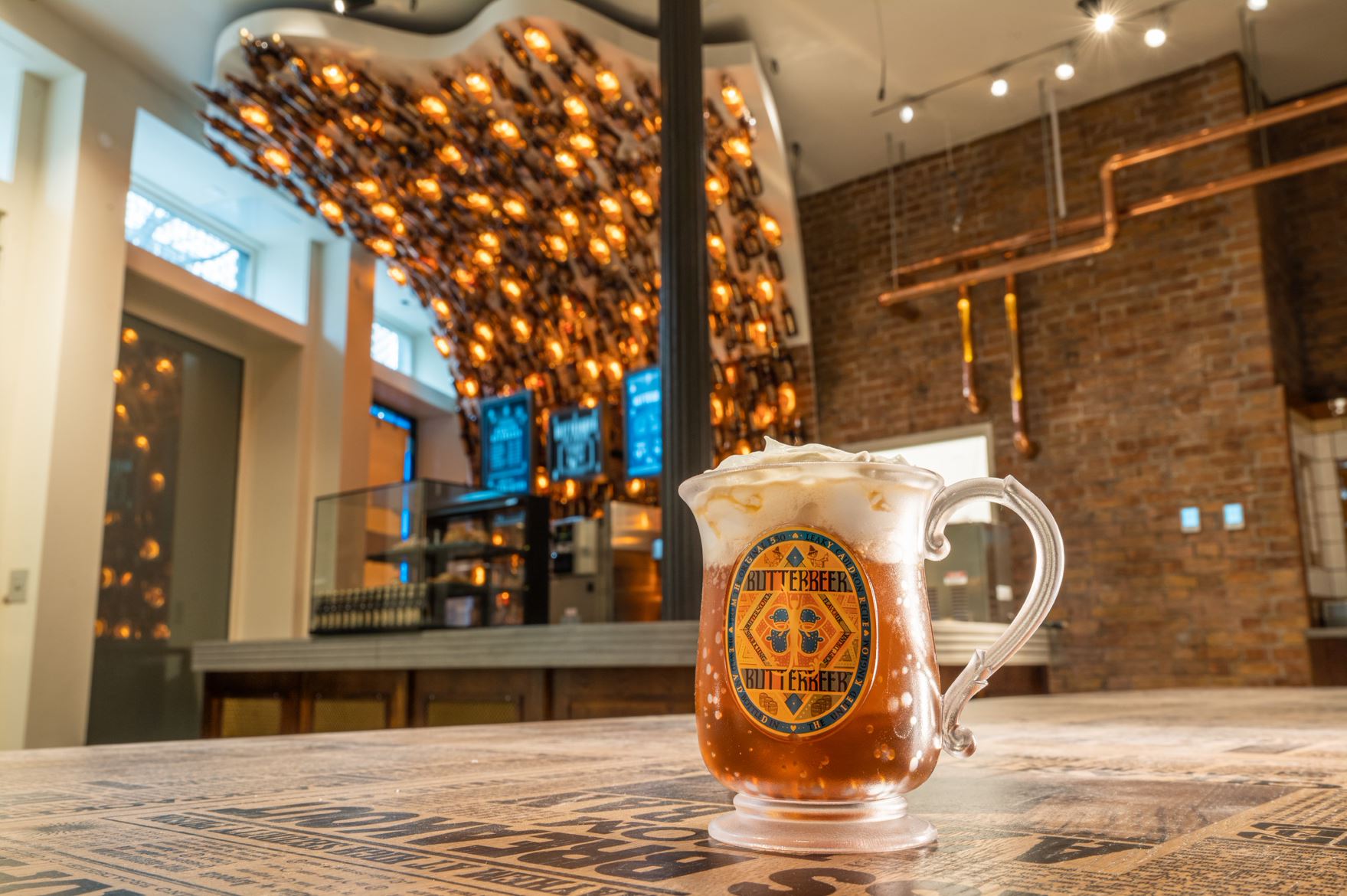 'draught butter beer' also has a new label design. Freshly poured.butterbeerYou can taste the "Butterbeer". Of course, you can take home a tankard (mug) as a souvenir... About 1,000 butterbeer bottles are flying from behind the counter to the ceiling in the shop!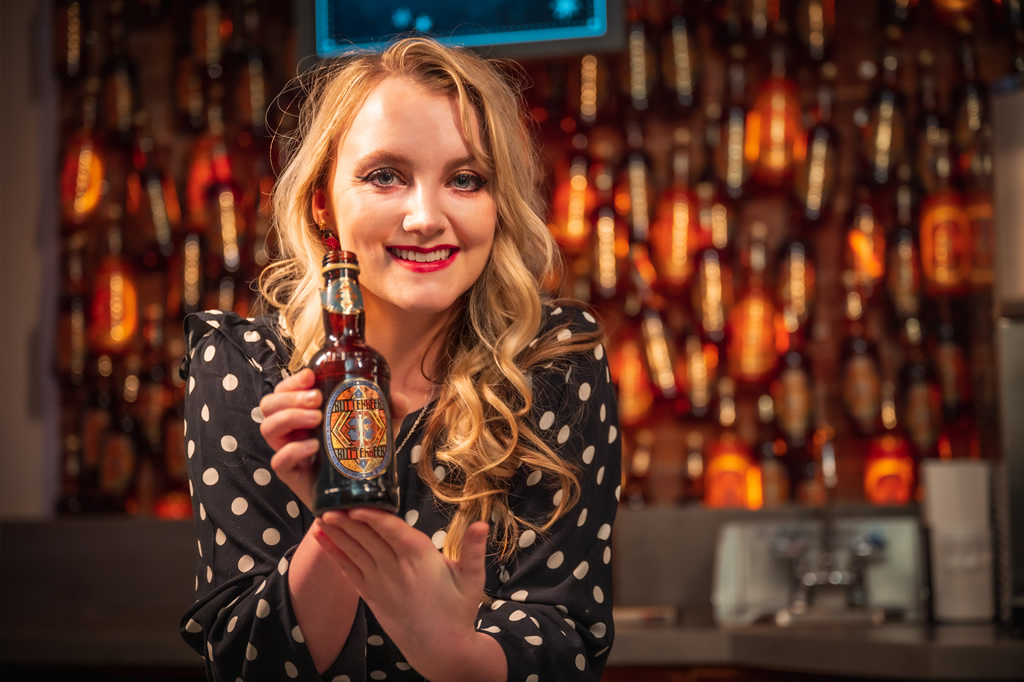 'Bottled (jarred) butterbeeris manufactured & brewed in the UK (it is non-alcoholic) in a beautifully designed glass bottle. The label was designed by MINALIMA and was sold exclusively in the UK, but this is the first time it has been sold outside the UK.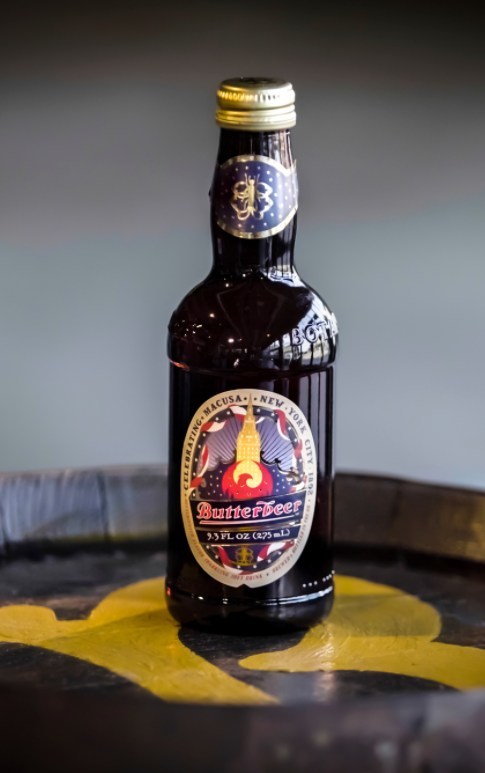 Harry Potter Store New York exclusive.
(at sentence-end, falling tone) indicates a confident conclusion
New Labels
Bottled Butterbeer will also be offered in bottles of only available in shops. The US-only Butterbeer label design was introduced to fans of Fantastic Beasts and Where to Get Them
Magical Congress of the United States of America (MACUSA)
Inspired by. The collectible label, designed in rich red, white and blue reminiscent of the American flag, features the MACUSA and Butterbeer logos. Of course, the design is
MINALIMA.
Â
Neither the normal label nor the MACUSA label is available in bottled Butterbeer in Japan. They are also currently not shipped out of the country and cannot be imported.
Harry Potter Studio Tour Tokyo
Then let's hope they will sell it! But first.
USJ, 'Harry Potter Area'.
But I would like to see it sold.
Two VR adventures, "CHAOS AT HOGWARTS" and "WIZARDS TAKE FLIGHT", two different magical experiences, coming 15 July 2021 (Thursday).
Two types of magical experiences in virtual reality (VR) will be available in the Harry Potter Store on 15 July 2021. Opening!
'CHAOS AT HOGWARTS' Hogwarts mayhem.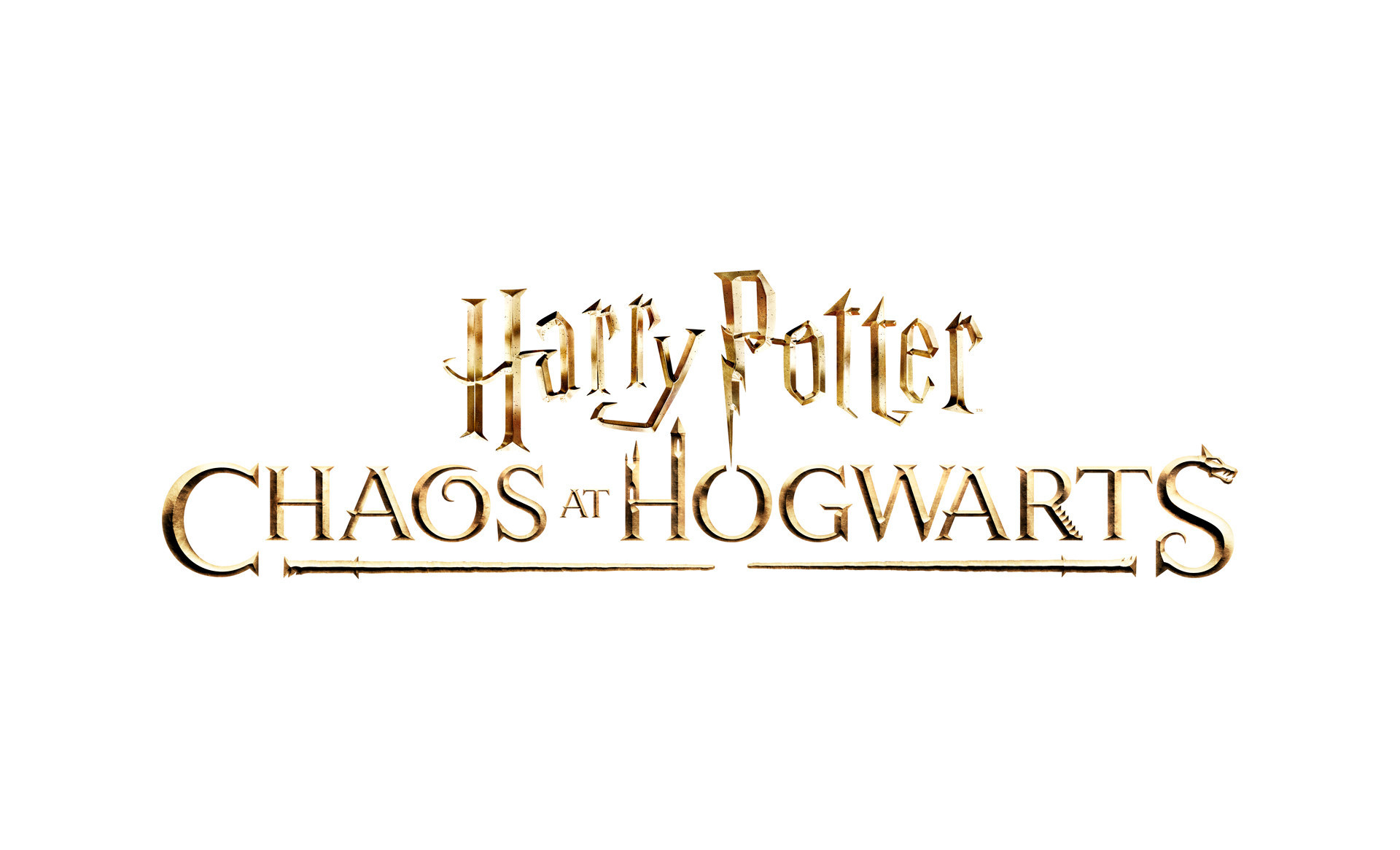 VR experience content: hopeful witches and wizards join a magical journey to Hogwarts Castle, where they can virtually experience the adventures that await them with magical creatures and secrets.
We missed the Hogwarts Express at King's Cross Station, but thanks to an unexpected friend, we made it to Hogwarts School of Witchcraft and Wizardry. Dear students, Dobby has accidentally released a case full of magical creatures and needs your help. Journey through Hogwarts Castle and cast a spell with your wand to get the pixie stuck. Discover hidden secrets and see if you can manage the chaos at Hogwarts. Guests have virtual avatars and can see their fellow adventurers.
'WIZARDS TAKE FLIGHT' Wizardry in the air.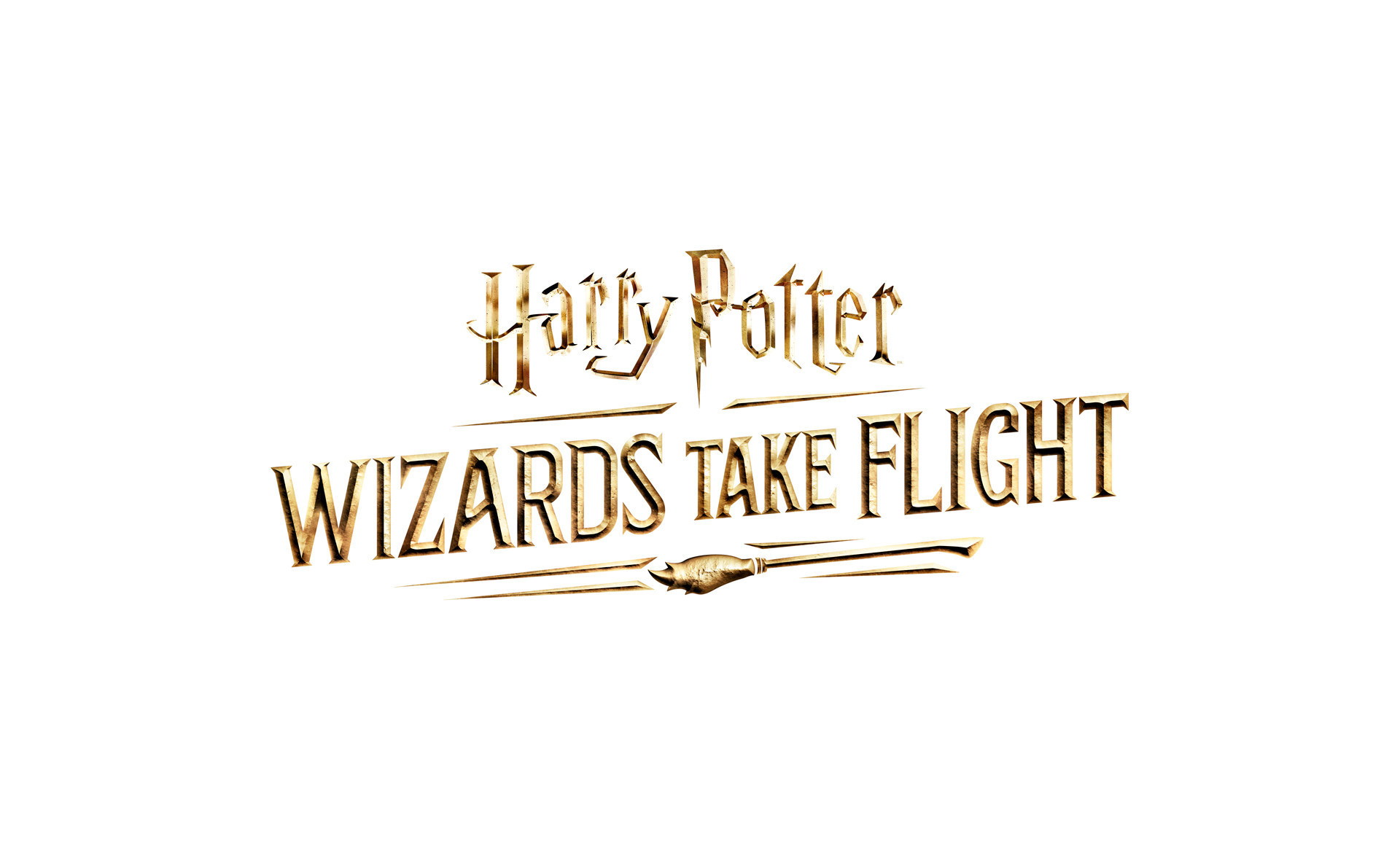 VR experience: the thrill of fighting Death Eaters and their magic wands in the skies of London and around Hogwarts Castle, and fans need to have their wands ready.
Steady your broom and dive into the world of magic. Meet Hagrid in Nocturne Alley and fight your way through the skies of London, dodging Death Eaters as you cast spells with your wand. Fly through the clouds, over the Black Lake and towards Hogwarts Castle, where you can fly freely around the magical grounds. Accio Firebolt!
Two exciting and immersive multiplayer virtual reality experiences. This VR adventure is location-based and offers an unprecedented real-time, interactive exploration of the Wizarding World. The new menu is set to launch the virtual experience of the Harry Potter world, and is expected to be a great little attraction that allows visitors to experience the wizarding world using VR.
Tickets for the VR experience are now available for CHAOS AT HOGWARTS and WIZARDS TAKE FLIGHT on 8 July 2021.
CHAOS AT HOGWARTS, WIZARDS TAKE FLIGHT.to experience the Harry Potter Store New York in-store, with paid tickets now on sale.Â
Virtual Reality Experience Tickets
Ticket price: 34$ / 1 ticket
Same slot: maximum of 6 people experience the same slot at the same time; if one person (1 ticket) participates, he/she may experience the slot together with other guests (in pairs). If you want to rent out the space, purchase 6 tickets for the same slot.
Time slots 21 slots per day Start times 10:30 -, 11:00 -, 11:30 - ... 20:30 - every hour in 30-minute increments.
Date of experience: on sale for July and August 2021 experiences (8 July 2021).
Duration of VR experience: approx. 30 min.
To experience the two types of CHAOS AT HOGWARTS and WIZARDS TAKE FLIGHT, you need a VR experience ticket for each.
The VR experience includesHeight restrictions apply, minimum 122 cm.,,Age 10 years and over
(Up to 13 years old must be accompanied by an adult. Adults also need a separate ticket).
Device worn on the body during the experience:Backpacks, hand trackers, foot trackers, VR headsets
Taking photos with your own camera or video during the experience is prohibited. You can snap content in the waiting area and in the equipment take-off and dismount area.
Holders of a VR experience ticket do not need to book a virtual queue waiting to enter. The ticket allows priority entry.
Official website:harrypotterstore.com.
Ticket purchase page:harrypotterstore.com/tickets/
The contents and images presented are official information as of April 2021 and partly based on our projections and introduction. There is a possibility that this may have changed when the shop opens. New information will be added or changed as soon as it becomes available.
HARRY POTTER NEW YORK
Opening of the world's largest Harry Potter shop!
Scheduled to open on 3 June 2021.
15 themed areas on three floors.
The mechanisms are wonderful, with phoenixes flying, plumed airships bearing fruit and griffin statues spinning.
Third MINALIMA shop in the world (MINALIMA)
Details ↓https://t.co/l78wBLlX9t@HarryPotterNY pic.twitter.com/NQljkpjEYm

- mahoukai.com Wizarding World.com (@mahoukaicom) April 20, 2021
Harry Potter Store New York
Overview of the VR experience and trailer presentation.
1⃣CHAOS AT HOGWARTS
Travel to Hogwarts Castle, discover its secrets...
2⃣WIZARDS TAKE FLIGHT
Fight Death Eaters and fly around the Hogwarts grounds on a broomstick!
public pagehttps://t.co/YXLnE4ev6O
Video: RT'd Tweet.
summaryhttps://t.co/l78wBLlX9t https://t.co/sqhI5R7Uuq pic.twitter.com/Z8MpgVOovG

- mahoukai.com Wizarding World.com (@mahoukaicom) June 4, 2021
Harry Potter Studio Tour London - types of tickets, how to book and buy tickets - official website sales tickets