New services related to the Harry Potter wand announced on the official international wizardingworld accounts and on the official Warner Twitter accounts are coming soon. 1 September will see the launch of 'Harry Potter's Wand'.Harry Potter Magic Caster Wand'I'll add & change it as further information is announced.
Harry Potter Magic Caster Wand.
wizardingworld.com.The following phrase is used on the website of the
Ultimate wand experience
Incorporate magic and spells into your everyday life.
Details are not available, but it appears that a service, content, device or game will be announced that will allow users to experience wizardry using a wand.
The only hints are a few lines of an article and a published teaser video. (as of 17 Aug 2022).
[Teaser video] Harry Potter Magic Caster Wand
Harry Potter Magic Caster Wand
From abroad 📢 A new Harry Potter 🪄 wand experience service is expected to start soon 📢 Sign up for emails to receive new information at a later date, but unfortunately Japan 🇯🇵 is not a target area. We look forward to seeing it rolled out in Japan.
👉https://t.co/np6Kdceqpo# Harriotta. https://t.co/Dj9ETwzrqm

- MAHOUKAI.COM wizardingworld.com Super Commentary Guide to Harry Potter & Fantabi (@mahoukaicom) August 16, 2022
A dedicated official website is also available.
What is the Harry Potter Magic Caster Wand?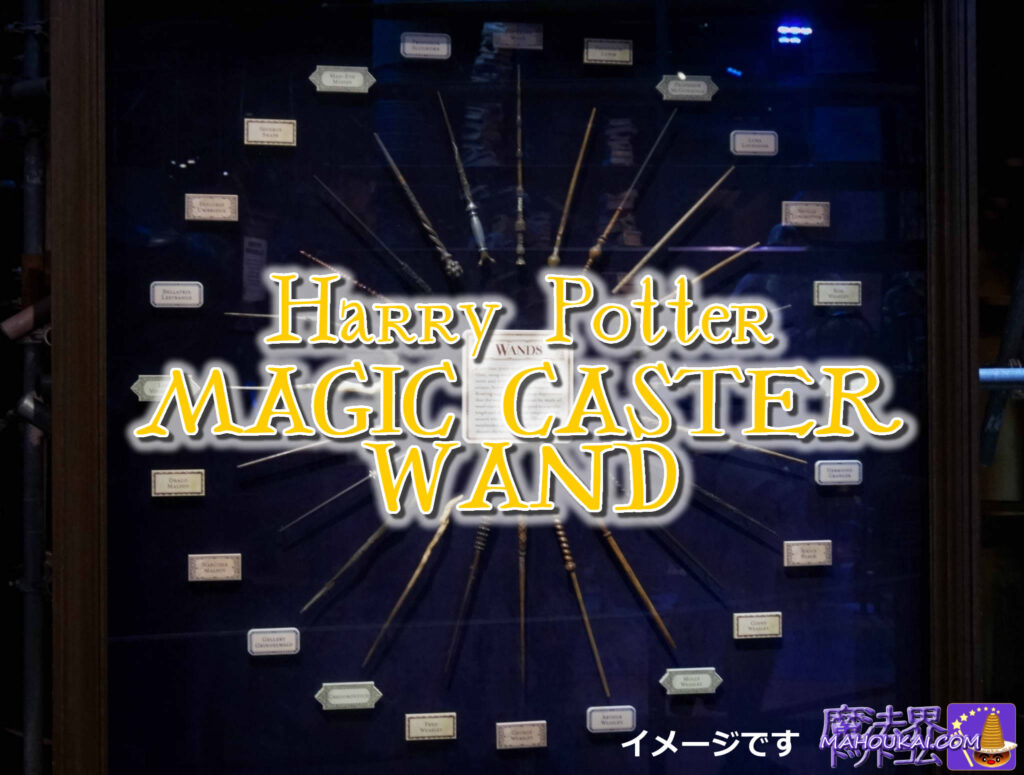 Official WEB site:
harrypottermagiccasterwand.com
Content: unknown Something about using Harry Potter's wand.
Service date: Coming soon.
Areas served: USA, UK, Europe (expected).
Expansion in Japan: unknown.
(as at 17 August 2022).
The official website can be accessed from within Japan, but on the screen it says: 'This content is not available in the countries and regions you are visiting' and content is hidden.
' from a computer or smartphone device abroad (e.g. in the US or UK).harrypottermagiccasterwand.com' Access the screen to register for the new information distribution by e-mail.
Based on the teaser video and the article,
Will there be services such as the ability to operate household appliances with a 'wand'?
Harry Potter games or experience content on a smartphone or computer that can be manipulated with a 'wand'?
I have a lot of delusions of what to expect (≥▽≦).
For example.Lumos and Knox to turn LEDs on/off with iPhone and Android smartphones.It's a development of a function like that, for example.
We will add new information as soon as it becomes available.â
Magical Wand at Universal Studios Japan.In.'Wand Magic', a magical experience of casting spells.This is likely to differ from the
[Video] What is the Harry Potter Magic Caster Wand?
Sign up more info at https://t.co/e1TqBIk3hJ & stay tuned for next week... pic.twitter.com/ZcGGFHs8JP

- Warner Bros. (@WBHomeEnt) September 13, 2022
The Harry Potter Magic Caster Wand, an exclusive replica of the Harry Potter Magic Caster Wand, is now available.
Three types of wands. There will also be a wand designed exclusively for Harry Potter Fan Club members.
A service that connects to smartphones via Bluetooth to enable new magic spell experiences.
Bluetooth-connectable appliances, e.g. lights, can be switched on with Lumos and off with Knox using a wand.
Smart TV (TV with internet connection) required to display magical effects on screen.
Connect and control Bluetooth speakers, smartphones, smart lighting and smart TVs with the Companion app.
There are more than 50 different spells to experience magic. Different spells require different wand waving and spell words (movements similar to experiencing wand magic with USJ's Magical Wand).
Two 'Harry Potter Magic Caster Wands' can be used to duel with a friend using a wand.
The wands in the video appear to be original wands, not the wands of any of the Harry Potter or Fantabi characters. It appears to be a newly designed wand, unlike the appearance of wands sold in the past.
More details will be available soon in the '

harrypottermagiccasterwand.com

Presented in.
Back To Hogwarts New video released on 1 September and the Harry Potter Magic Caster Wand is above.