Good evening! I am the Wizard Pancake Man Dumbledore.
Wizarding World of USJ 'Harry Potter Area'.is very detailed and hides a lot of different stories.
There is still so much more to be introduced here on the Wizarding World Blog.
No matter how many times you go, there is always something new to discover (laughs).
This time.Dervish & Bangs.Interesting stories from the shops in[Hidden spot].The following are some examples!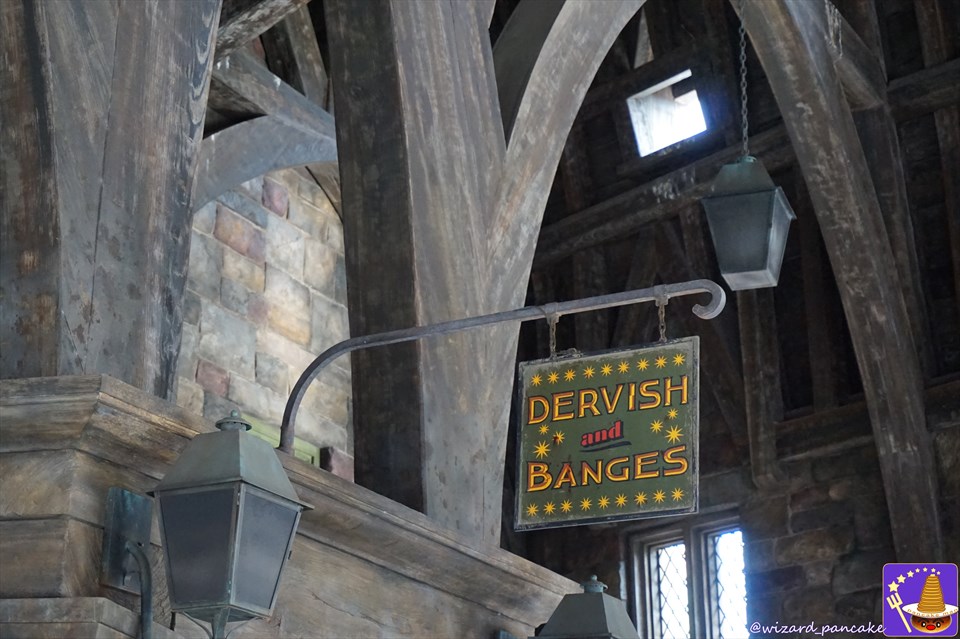 What you see in this shop are 'monstrous monster books'!
Yes, that's the textbook Hagrid used for his classes.
On display in a strict cage, www.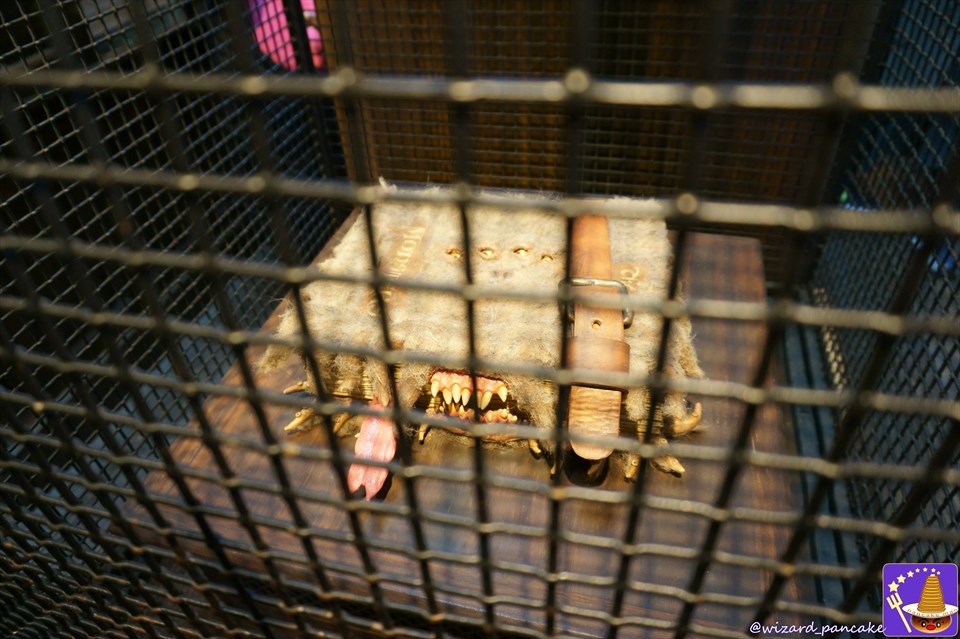 As many of you know, this is a book about a rather ferocious creature.
After all, it has a mouth and a number of fang-like teeth that would be painful to bite.
See! As you can see, he has a horrible mouth.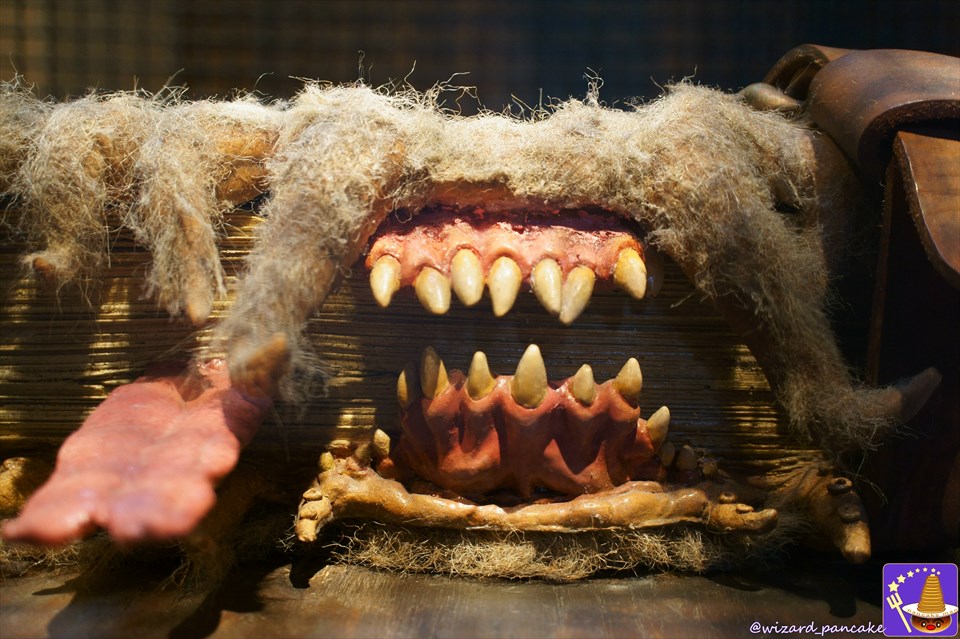 Now, most guests, and perhaps even wizards, may not be aware of this, but there is a notice on the wall about closing the shop when the shop is closed. It is located to the left of the counter, on the wall bordering the neighbouring shop, Gladrags Magical Fashion Store, on the right side!
Oops, those of you who want to see it for yourself in the shops, please don't look from here on out... ♪
Notes on closing the door when closing the shop.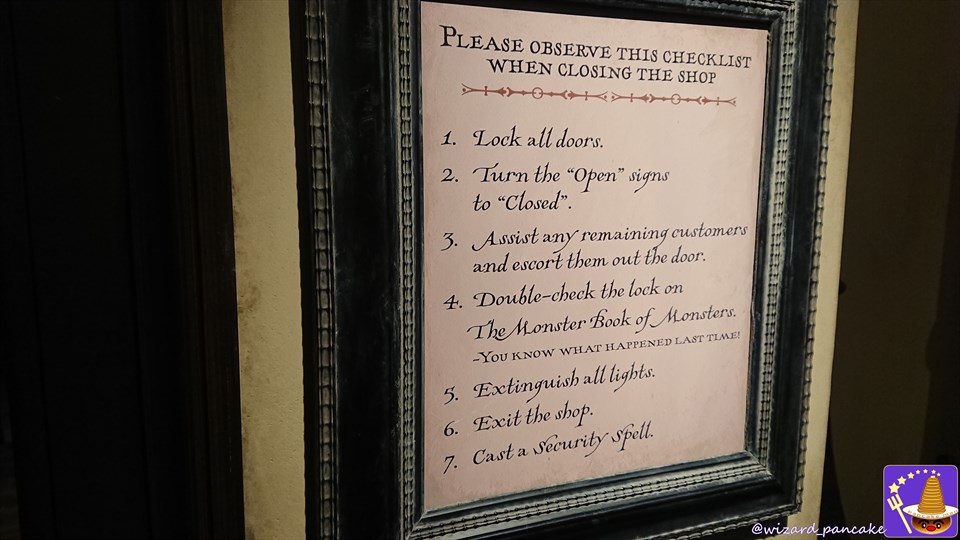 PLEAS OBSERVE THIS CHECKLSIT WHEN CLOSING THE SHOP
(Look carefully at the checklist when closing)
1.Lock all doors.
(All doors must be locked).
2.Tun the "Open" signs to "Closed".
(Flipping the sign from 'open for business' to 'closed').
3.Assist any remaining customers and escort them out the door.
(Assist remaining customers and direct them out the door)
4.Double-check the lock on The Monster Book of Monsters.-YOU KNOW WHAT HAPPENED LAST TIME!
(Double-check that you've fixed that monstrous monstrosity of a book!)
(You all know what happened last time!)
5.Extinguish all lights.
(All lights must be switched off).
6.Exit the shop.
(Leaving the shop).
7.Casts a Security Spell.
(Casting a door-closing spell!)
When translated into Japanese, it means roughly this.
The fourth checklist item is hilarious... Oops, I don't think it's rude to laugh at the shopkeeper.
I can't help but laugh with sympathy when I imagine what the situation was like when the monstrous monster book went on the rampage and how difficult it must have been to clean up the mess!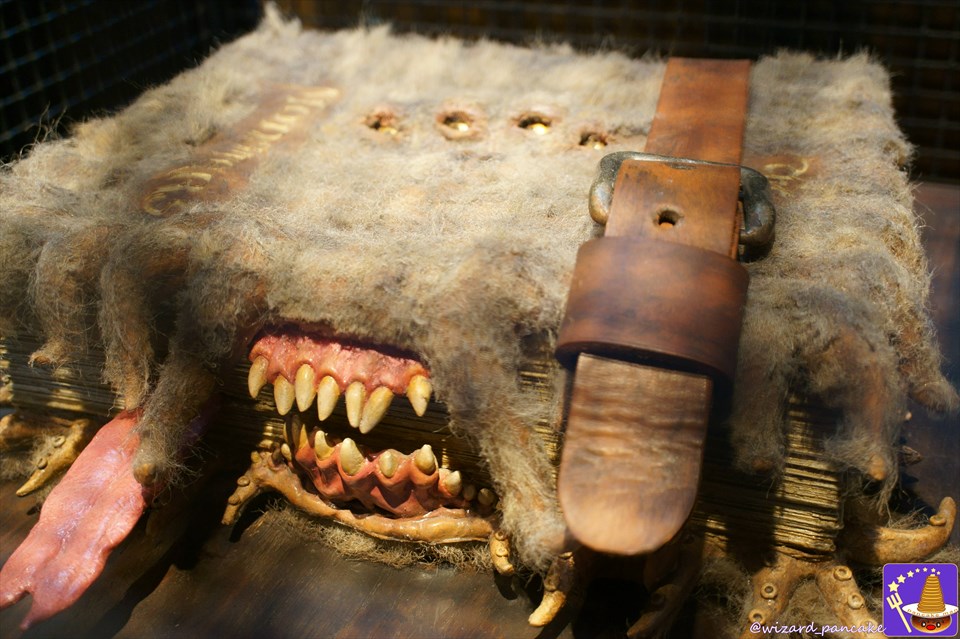 Those with no imagination should watch the film Harry Potter and the Prisoner of Azkaban.
And the seventh spell was a quintessential wizarding shop.â
Now, students, you should also take care to make sure that your monstrous monster books at home, if you have them, are tied up with a neat belt or something before you go to bed!
Otherwise, you might wake up in the morning to find your room in a terrible mess.
That's it for today's hidden spots.
Plus: In the profile of the monstrous Monstrous Monster book, W.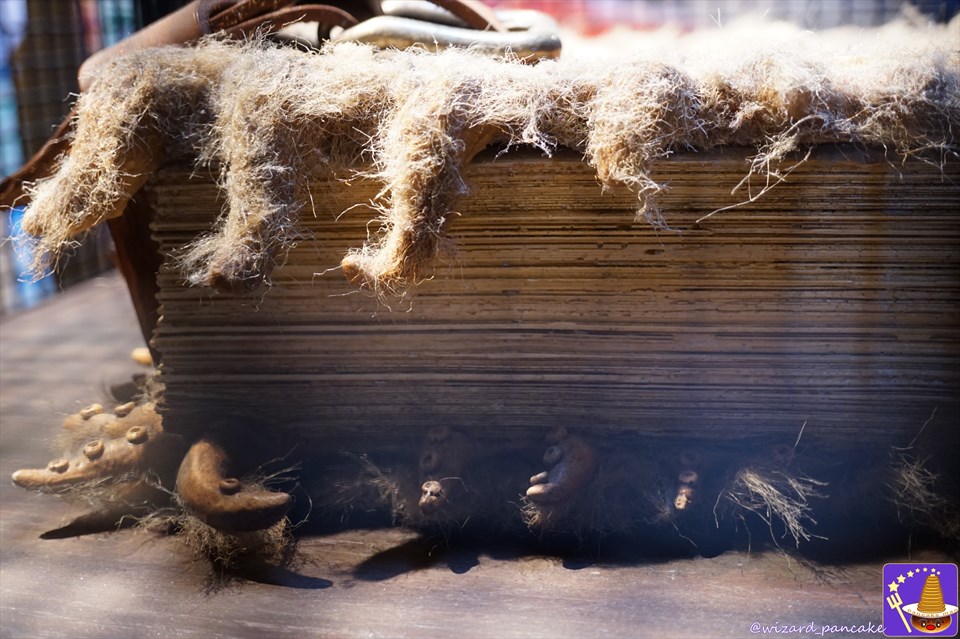 [Hidden spots].
Wizarding World.com's list of USJ 'Harry Potter Areas' [Hidden Spots].