Hello! I am the Wizard Pancake Man (*´▽*).
good day (daytime greeting)In front of Kings Cross StationHotelsALHAMBRA HOTEL.        Introduction.
Day 5 of the London trip.~7th day.The hotel is located in front of Kings Cross Station, where we stayed until
Hotel name: ALHAMBRA HOTEL.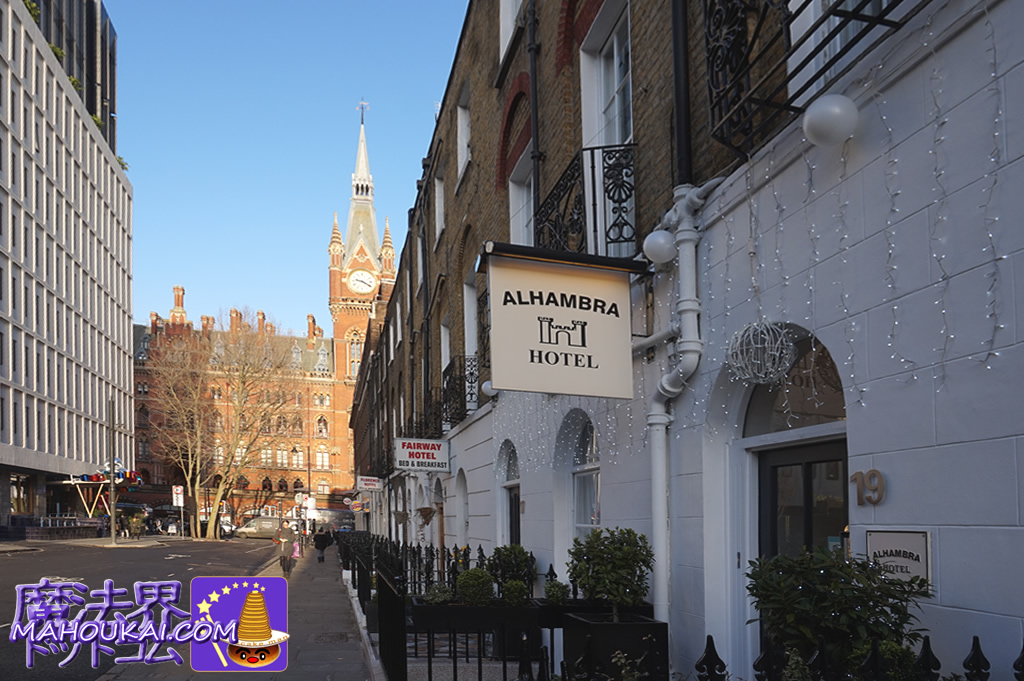 Address: 17 - 19 Argyle Street, London, WC1H 8EJ
Hotel description: small private rooms, shared toilet and shower, clean, neat, clean, courteous staff, breakfast included.
About ALHAMBRA HOTEL
Kings Cross and St Pancras stations.It is located in the station area, within a 5-minute walking distance from Both stations are a 2-minute walk from the hotel if the traffic lights at the intersection are timed correctly. It's already right in front of you (laughs). I can highly recommend this hotel to Harry Potter fans. This area has been converted from a communal student dormitory-like apartment building into a hotel, so there are no lifts, the stairs are steep and the corridors are narrow. My room is on the fourth floor, so I have to climb the stairs, turning left and right. It's a bit like a maze and a lot of fun.
The building is old, but the interior has been renovated and is new, well cleaned and clean. When I opened the door to my room, I found a space of about 4 tatami mats with a single bed, a small desk, a very small washbasin and an oil heater set up by the window. The room is small but clean, and even though the room is small, it doesn't feel cramped in terms of traffic flow. I stayed at the ALHAMBRA HOTEL and was unexpectedly pleased with the breakfast. I stayed in a simple hotel with shared toilets and showers, so I did not expect breakfast at all. In the morning I went for breakfast and in a good way Σ! (LOL)
Buffet breakfast ALHAMBRA HOTEL
Buffet-style, with a free choice of hot and cold food.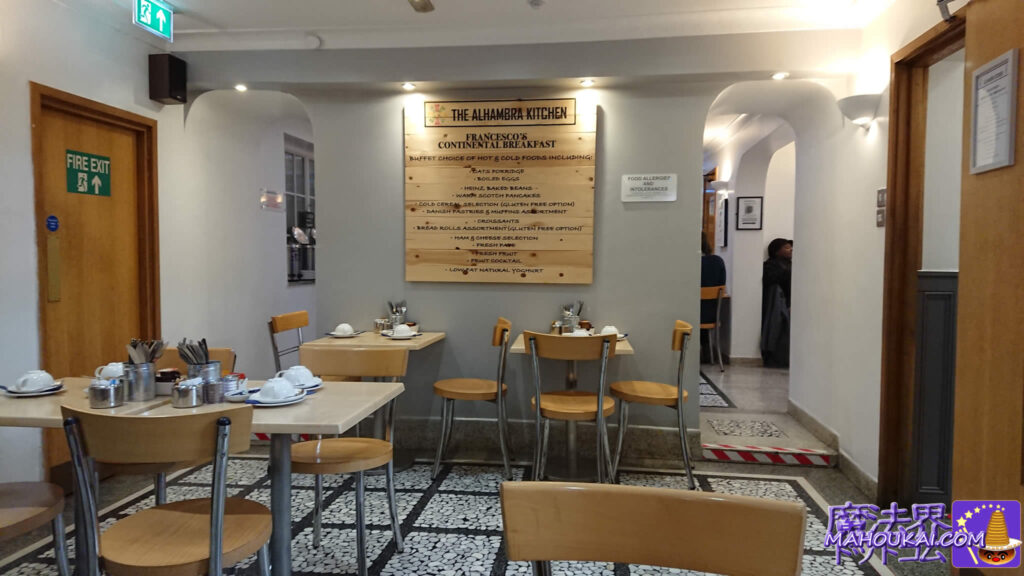 Menu 'Continental Breakfast'.
OATS PORRIDGE.(Oats porridge).
BOILED EGGS(Boiled egg)
HEINZ BAKED BEANS(Heinz baked beans).
WARM SCOTCH PANCAKES.(Warm Scotland Pancakes).
COLD CEREAL SELECTION (Cold cereals)
DANISH PASTRIES & MUFFINS ASSORTMENT(Danish dough bread, kneaded muffins)
CROISSANTS.(Croissant).
BREAD ROLLS ASSORTMENT.(Bread rolls with kneading)
HAM & CHEESE SELECTION(Harm, cheese).
FRESH PATE(Fresh Pate).
FRESH FRUIT(Fresh fruit).
FRUIT COCKTAIL(Fruit cocktail).
LOW FAT NATURAL YOGHURT(Low-fat natural yoghurt).
Furthermore, there is a breakfast menu that is not listed on the menu: 'Do you eat bread, coffee and tea separately from the buffet?' and staff will check and prepare it for you.
What? This is a 'What is this?continental breakfastThe menu is so varied that it's almost like a 'full breakfast'. It's true that the menu doesn't have all the ingredients of a full breakfast, but it's a very rich breakfast, which is a bonus considering the cost of accommodation in London! (Translated.)
The focus is on 'TheScottish pancakes.The fact that there are 'pancakes'! (Laughs) I didn't choose this hotel because of the pancakes. It just happened to be on the menu.Private eyes rejoice!
I immediately went to the buffet area to get a variety of food to share.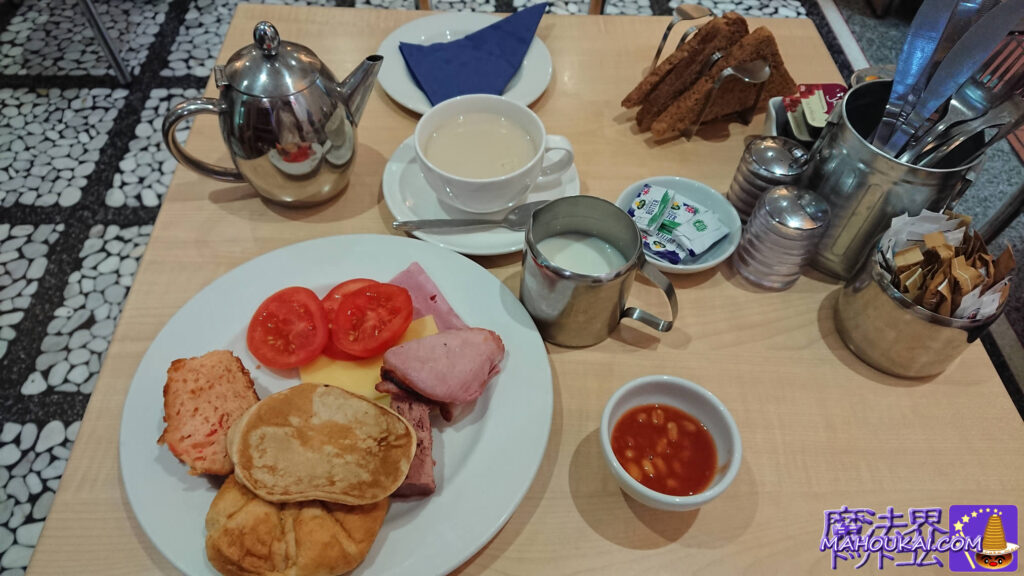 Clockwise from ingredients at plate 9 o'clock.Muffins, fresh tomatoes, sliced cheese, three types of ham, Danish dough bread and, in the centre, Scottish pancakes. The pancakes weren't freshly cooked, but they were in an insulated container, so they were warm.
Heinz baked beans on the small plate on the right. I actually had a big bowl, but I wasn't sure if it was to my liking, so I just had a little bit to taste (laughs).
For drinks, I ordered a milk tea, as it is in London. A pot full of tea and a separate container full of milk (lol) The bread in the top right hand corner is a bit of a surprise as the staff ask you if you want some before you even look at the menu! (Laughs) The bread on the top right is the portion that the staff asked me if I wanted to eat before looking at the menu! I said yes. I later thought that if there were so many breads, I shouldn't have ordered the bread. Because although it doesn't look like much volume in the picture, the staple food is mostly bread-type dough that absorbs water (laughs).
Eating and drinking milk tea, the sensation of eatingTwice as fast and twice as hungry.I'm full, leaving the last two slices (laughs), but they served it to me, so I ate it all up, and I was hungry.
I was actually planning to have a small breakfast at the hotel and eat English pancakes outside, but it seemed impossible or not! (Laughter) I was in a happy but sad state. w The tomatoes were fresh, sweet and delicious. The juicy difference between the ham and the fat and saltiness of the ham was irresistible. w
The Scottish pancakes I was looking for were also normal pancakes, but with a type of batter that I don't eat in Japan. It's orthodox and simple, but it's delicious when drizzled with maple syrup! Scottish pancakes! I have not yet landed in Scotland,At the British Fair at the Hankyu Department Store in Osaka.Scottish pancakes, Elephant House Café.but it was also very different.â
The price of the accommodation is reasonable for London, but you can enjoy breakfast at such a reasonable price. The clientele was a variety of young people and married couples, and the atmosphere was that of many tourists, so you can rest assured that you are in good hands.
Single room Rooms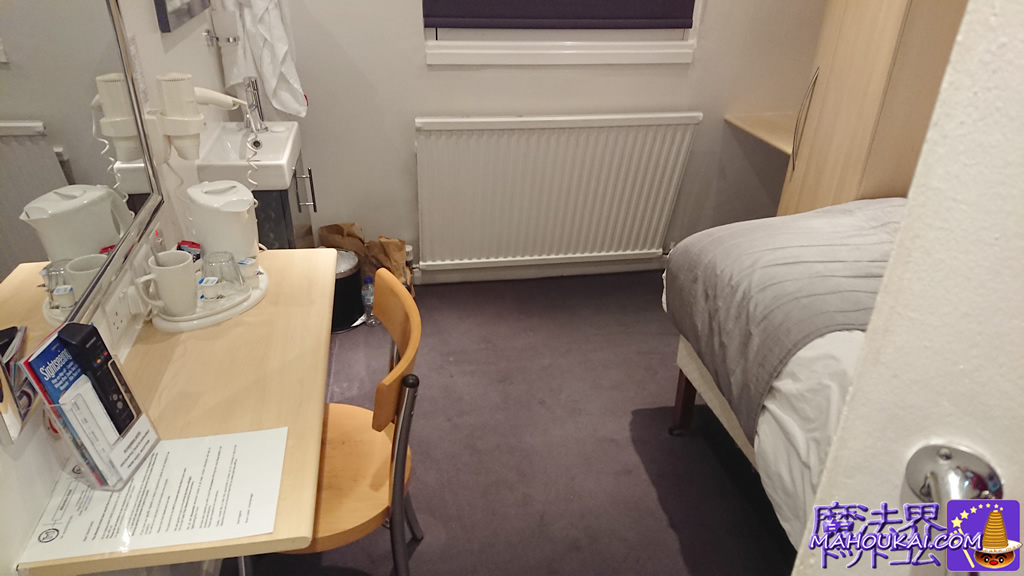 Room size; about 4 tatami mats.
Desk and chair, very mini washbasin and mirror, hairdryer, pot, cups, glasses, etc.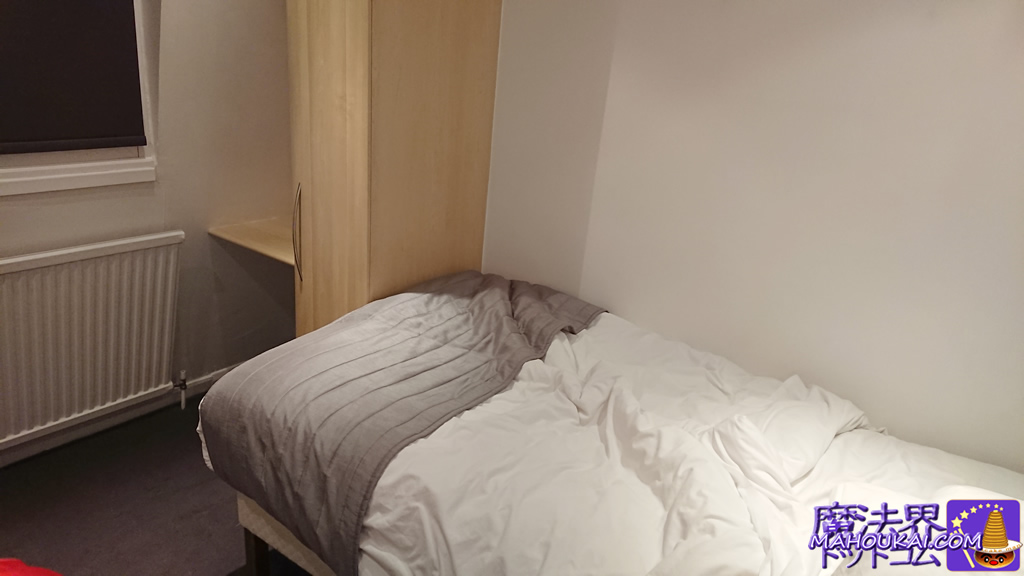 Single beds, closets, loading shelves, windows and heaters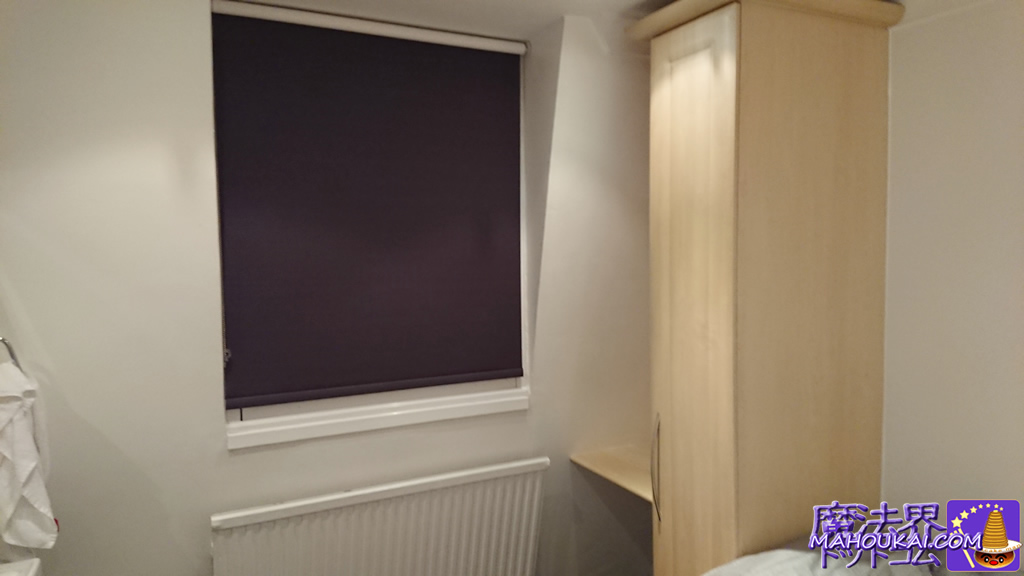 Closets and shelves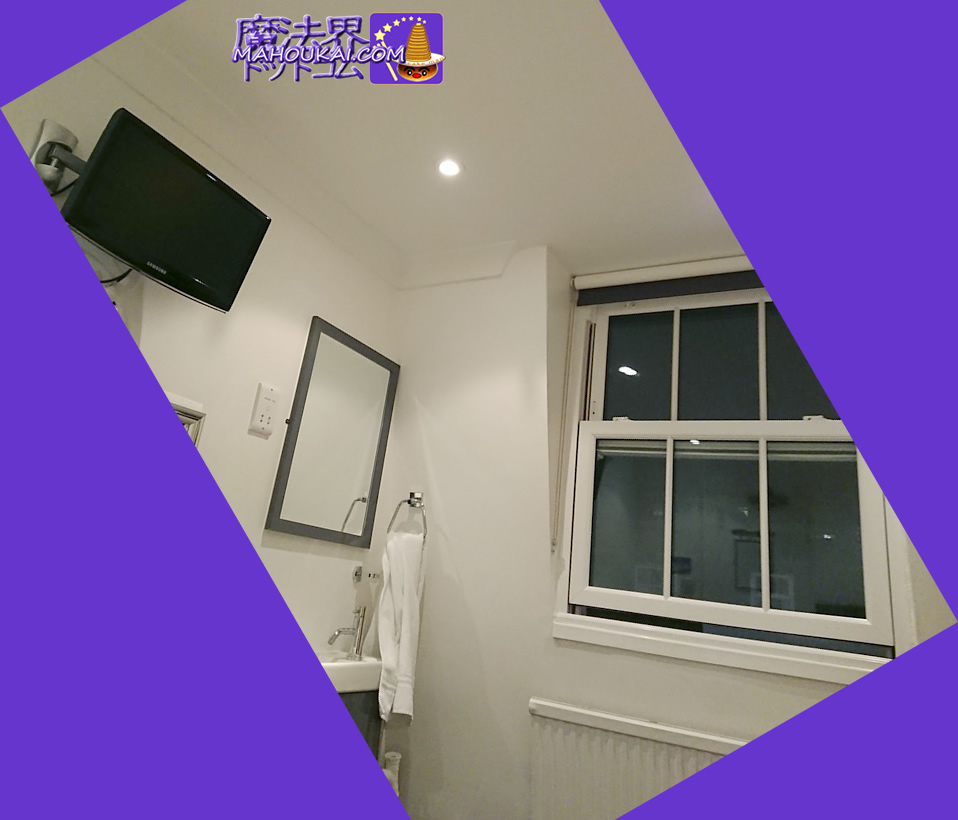 A small TV, a mirror in the bathroom, towels and a stylish window. You don't find many windows in Japan! I kind of longed to lift it up and open the window... Europe... ♪ Europe, yeah ♪ The room is compact, but it's perfect with almost all the necessary equipment and so on! (Laughs) Bring your own toothbrush and toothpaste... London hotels basically don't have them in the room.
Shared shower rooms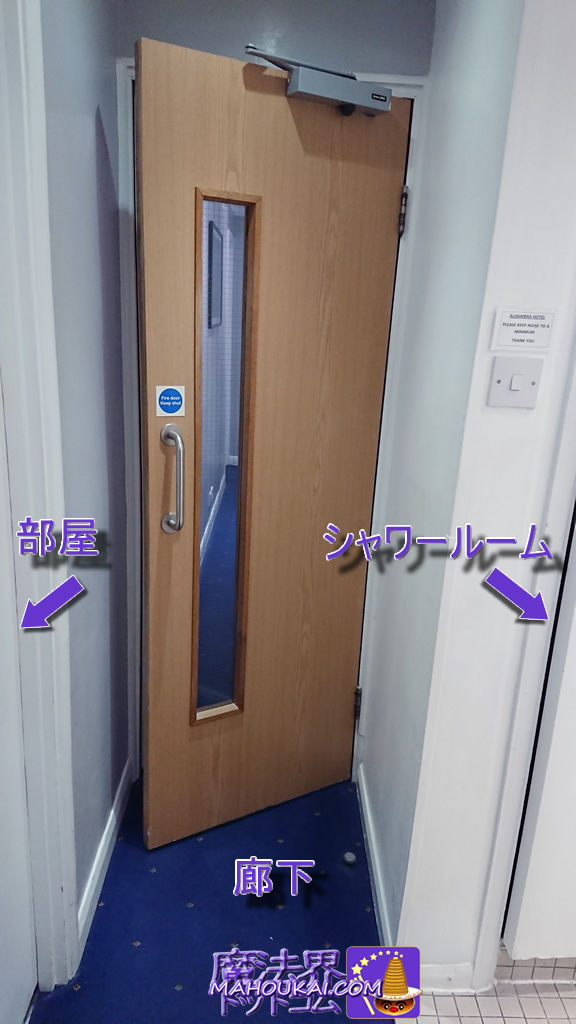 There was one room per accommodation floor.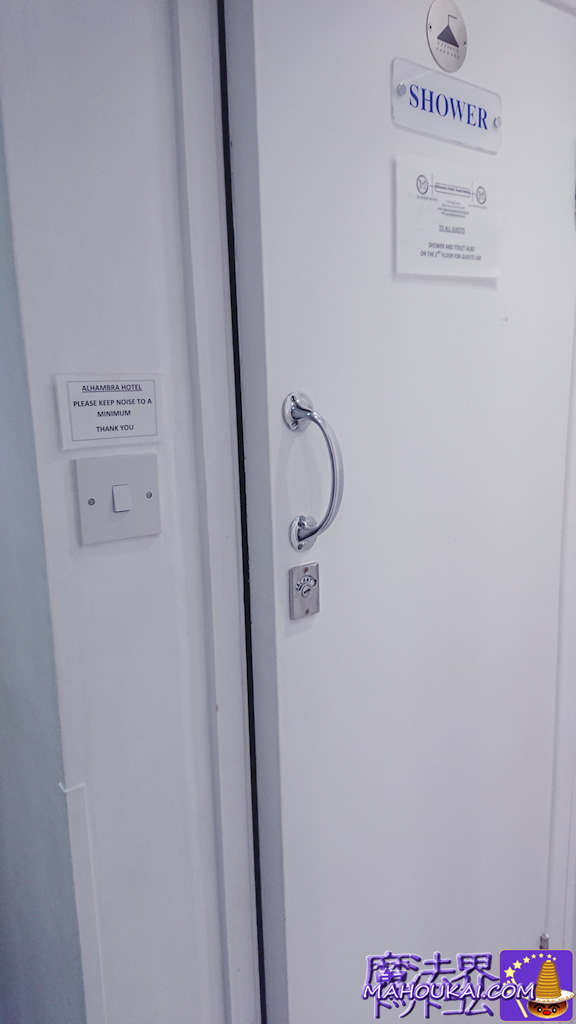 A door leads to a shower room.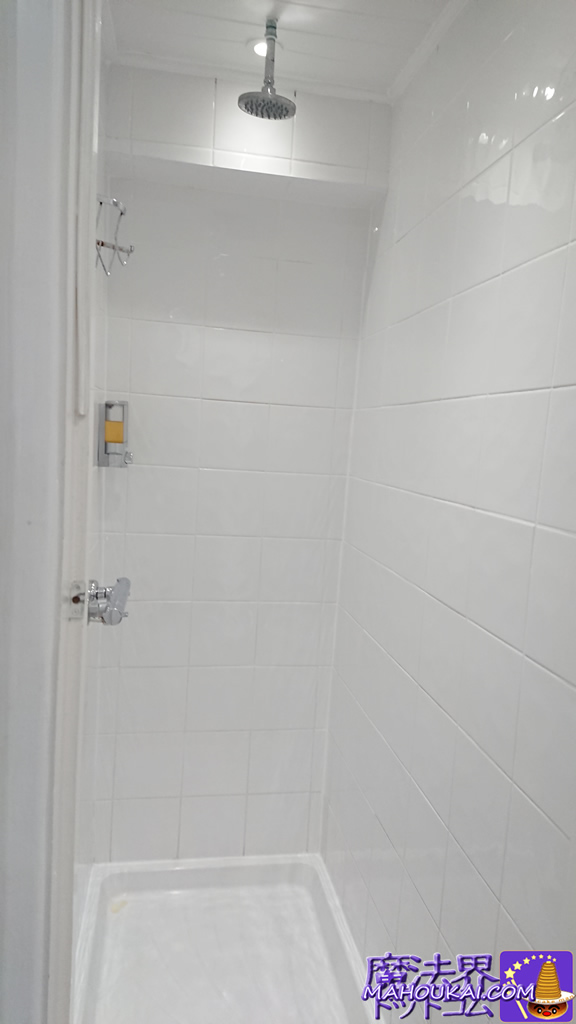 As you enter, there is a small shelf near the ceiling where you can place bath towels and other items.
The shower is fixed to the ceiling [laughs]... I feel like I'm taking a shower with water from a sprinkler [laughs].
The travel agency's website photo shows a photo of a shower room that is not fixed, so there may be a normal type of shower room on a different floor! I have not looked at other floors, so this is unconfirmed.
Body soap is available on the wall. However, there was no shampoo or conditioner. I washed my hair with the shampoo I brought with me. w
Communal toilets
There was one room per floor.
Of course, it's not a washlet (laughs).
There is plenty of spare toilet paper on hand ←.
Clean and neat.
Hotel corridors & stairs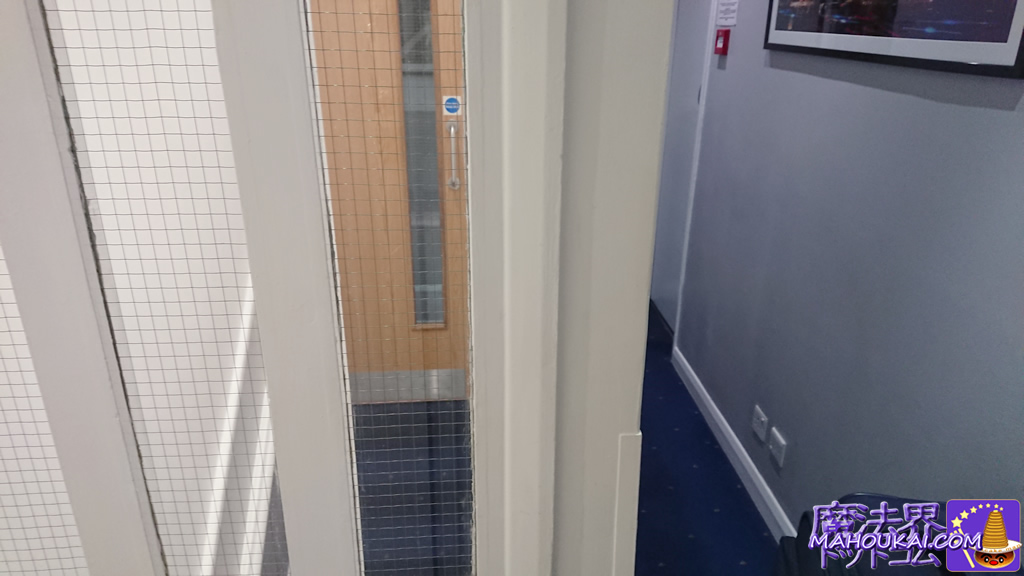 It is narrow enough that it is difficult to pass each other, but one person can pass with room to spare. The width is such that I imagine a large 'sumo wrestler' might not be able to pass through (laughs).
Hotel exterior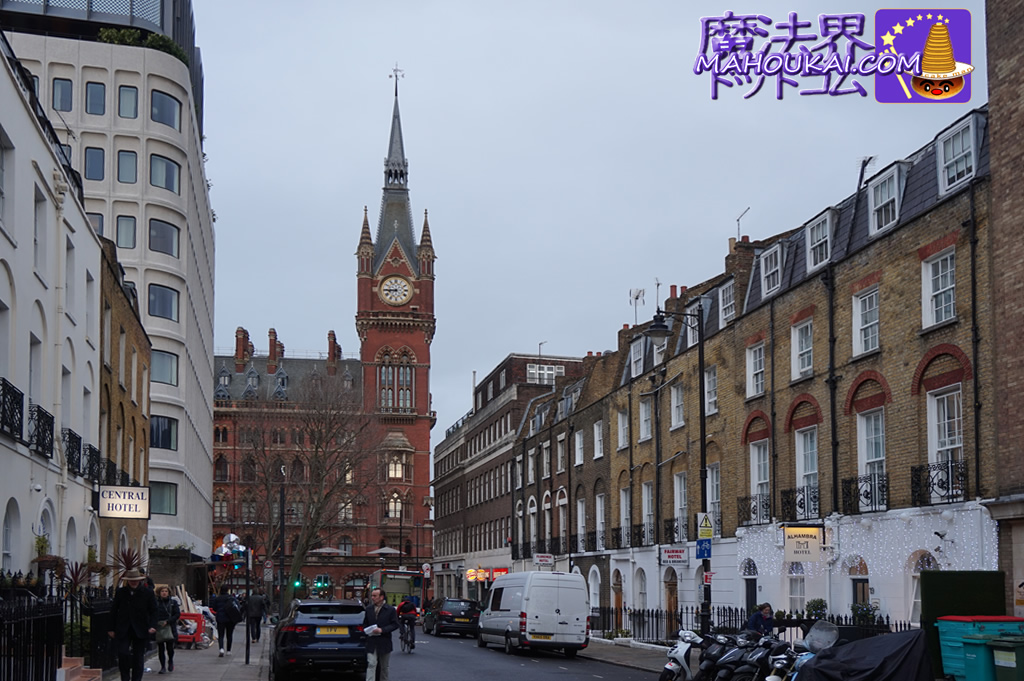 The four windows on the far right of the picture are ALHAMBRA HOTEL. The hotel was renovated from an old student dormitory and communal apartment building. The exterior is dressed in typical London style, with four floors above ground and one below, and both sides are adjacent to each other.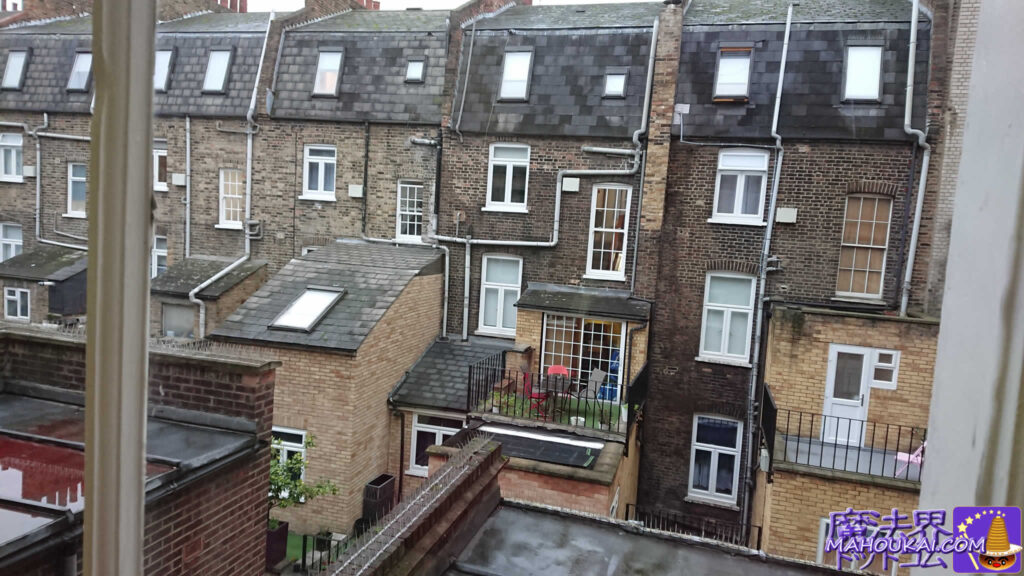 The back of the hotel is a backyard-like space surrounded by buildings in the same block. There is a small veranda with a table for afternoon tea time? The room has a small balcony with a table for afternoon tea, artificial grass and a small, stylish London atmosphere.
Keys for going out and coming home
When you check in at the Alhambra Hotel, you will be given two keys - one for the hotel entrance door and one for the room you are staying in. These are physical analogue keys, so carry them with you in a place where they cannot be lost or stolen.
Hotel location (map).
Kings Cross and St Pancras stations, Harry Potter film locations.The hotel is located in the southern block of the hotel and is a two-minute walk from the very station. Platforms 9 and 3/4 andHarry Potter Shop.It is a very convenient place to visit and go shopping to. Also.Harry Potter Studio Tour LondonIt is also a convenient 10-minute walk to Euston train station, which takes you to(Claremont Square), location of the Order of the Phoenix headquarters (House of Black).It is a 15-minute walk to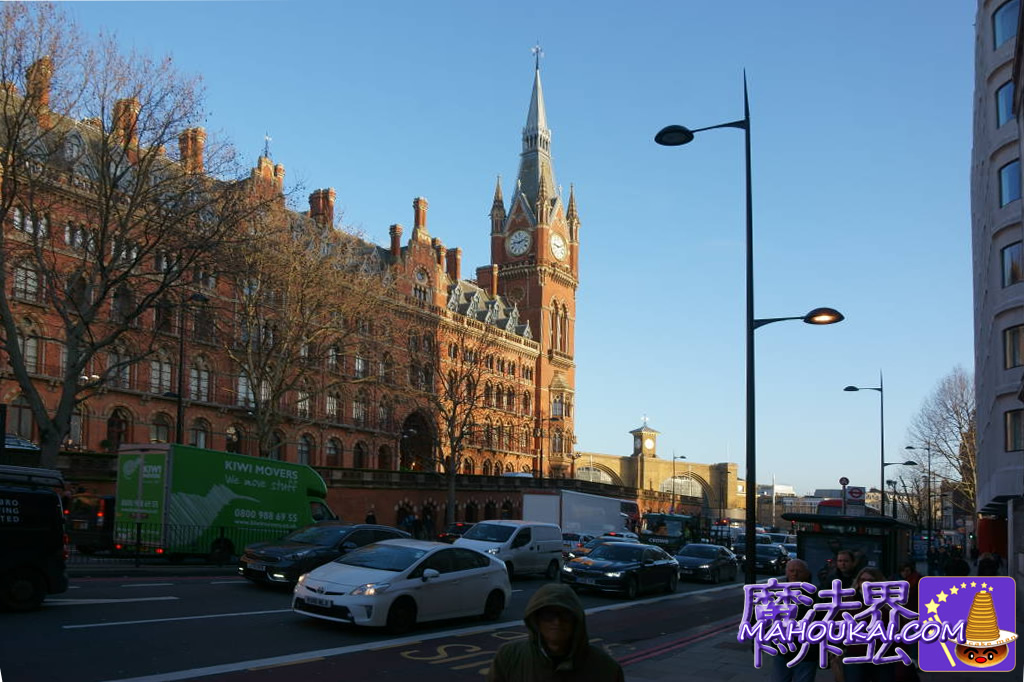 Kings Cross station (approx. 2 minutes' walk)
St Pancras station (approx. 2 mins walk)
Under Ground (Underground) King's Cross St. Pancras station (approx. 2-minute walk)
Euston railway station (approx. 10-minute walk)
Bus stops (London Buses) available for all routes from in front of the station.
If Harry Potter is your goal,
ALHAMBRA HOTEL.
is a highly recommended hotel. From the sail hotel
Kings Cross and St Pancras on the doorstep
So any time of the day, breakfast, lunch or dinner.
Kings Cross Station
You can walk around the city. I stayed here for 3 days and I didn't feel any dangerous atmosphere at all. I didn't go out in the backstreets late at night, so I don't know what's going on.
Travel websites where you can book
HOTELS.COMALHAMBRA HOTEL, in front of Kings Cross Station, London, UK.
EXPEDIA.ALHAMBRA HOTEL, in front of Kings Cross Station, London, UK.
Japanese travel agencies HIS and JTB do not handle hotels in front of Kings Cross Station and cannot make reservations.
HOTELS.COM provides booking input and information emails in Japanese, so even those who are not good at English can feel relatively comfortable.
We hope this helps you to enjoy your trip to London, UK!