The Wizard Pancake Man, who found fun in his first fancy dress at USJ (Univa in Kansai) in 2014, had his heart set on dressing up again in 2015 (lol).
 Naturally, the theme is Harriotta.
Snape's army will be there again this year, so we'll have to go with the potato-stuff.â
I mean, I myself can't think of anything else on the World Wide Web other than Harriotta.
 Here's how I transformed myself after struggling with the
It is somewhat of a godly and fearful object to dress up as, but w
Headmaster Dumbledore â
'Albus Percival Wulfric Brian Dumbledore' not 'Albus Percival Wulfric Brian Dumbledore'.
'I'm now 'Albus Pancake Pancake Pancake Pancake Dice Man Dumbledore' (laughs).
From here on, in Dumbledore style, w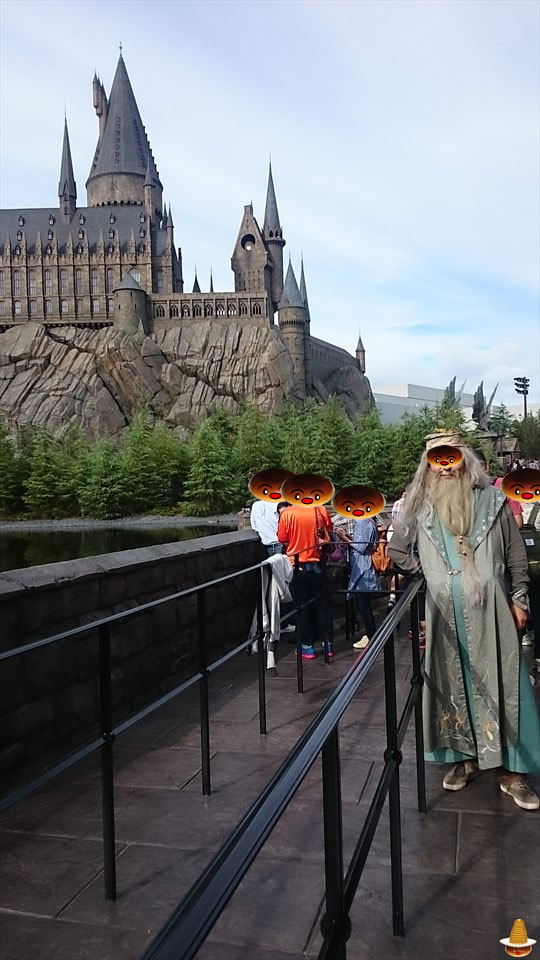 'I was out for a walk on the Black Lake and had a muggle take a picture of me with a nice view of Hogwarts Castle.'
@wizard_pancake Thank you for your patience! Are you okay with the decision to fill up on white faces? pic.twitter.com/9cnbdhT1Ht

- nagi@9/26 potato & mad glasses (@nagi_usj) September 19, 2015

With the girls from the foreign wizarding world who came to Hogsmeade to visit.
Speaking of which, I got my photo taken with Professor Dumbledore yesterday 😎💖 If you hide your face, the quality is really high! LOL! pic.twitter.com/BZC4GslZ15

- SaKi (@saki6263) September 19, 2015

'Muggle children, wow, Hogsmeade seems to be getting more Muggle tourists too.'
There were about eight little kids, about five or six years old, who were entering Hogwarts, and they were wearing dressing gowns.
We had a lot of fun filming together.
You took photos with many other tourists and students.
Thanks to all of you, it was a lot of fun.
I lost my own wand, so I asked Ollivander to go and choose one for me.
Let's talk about this interesting story another time, shall we?
And many thanks to the Hogwarts staff and the wizard shopkeepers in Hogsmeade Village.
I'll be back soon, so I'll look forward to seeing you then.
In October, he is scheduled to appear with Severus and his team. w
And Minerva might be coming in November. w
Oh, yes, and a favour to all the many Hogwarts students who filmed us.
I didn't take any photos of myself.
Preferably by owl mail.
フクロウ便を使えない者はマグルのTwitter等でも受け付けておるでのう♪
If it's not a problem, I'd like to add it to my collection on my blog.
Good day to you, then.
From Albus Pancake Pancake Pancake Dice Man Dumbledore.
When the next participation date is decided, I will tweet about it on Twitter and announce my next visit to USJ.
'All Hogwarts students and Hogwarts School staff are to be at the castle on ...'
Yurubo★Harry Potter costume I'm going to do it again this year! So, I'm looking for friends to dress up for USJ Halloween.
No, I feel sorry for my Japanese face.
I transformed myself with the feeling that if I enjoyed it, I would be happy if they enjoyed it. w
It's a fancy dress, but if anyone was offended, I apologise.
(since he's not too far from Gambon's Dumbledore).