When to wear a Harry Potter costume (cosplay) at Universal Studios Japan (USJ).changing roomis in the park.Stage 18.It is located at. The changing rooms are open every year during Halloween. Sometimes they are also open during the summer period.
Harry Potter Area.There are no places to change costumes (cosplay) or make up inside or elsewhere in USJ, so changing isStage 18 changing rooms in USJorChanging rooms (making rooms) at Universal CityWalk Osaka outside USJUse the â
2022 USJ Halloween also opens Stage 18 changing rooms!
For those who want to dress up for Halloween at USJ (Univa), please change in the designated changing rooms in the Universal Studios Japan parks.
nevertoiletand benches, and do not make up or change clothes for fancy dress!
If you want to do a light make-up, you can do it on a bench outdoors while having a cup of tea, but w (this is a personal opinion).
USJ Fancy dress costume changing area: changing rooms 'Stage 18 (near the gate)' is the building to the left under the canopy as you enter the park.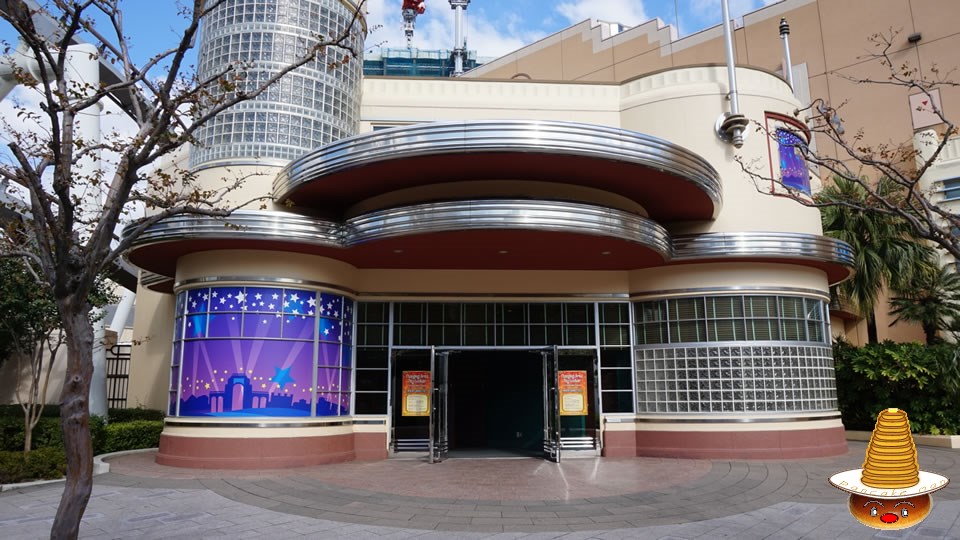 The location of the "Stage 18" changing rooms in USJ is immediately under the domed ceiling (canopy) when you enter USJ after showing your ticket, and immediately after entering under the canopy, turn left and go down the passageway. (Photo shows the exterior of the USJ changing rooms in 2015)
USJ Stage 18 Changing rooms with women's area
Men's fitting rooms.You can change in the (simple changing boxes with curtains).
Women are located at the back of the area.Change clothes in the women-only area.is possible.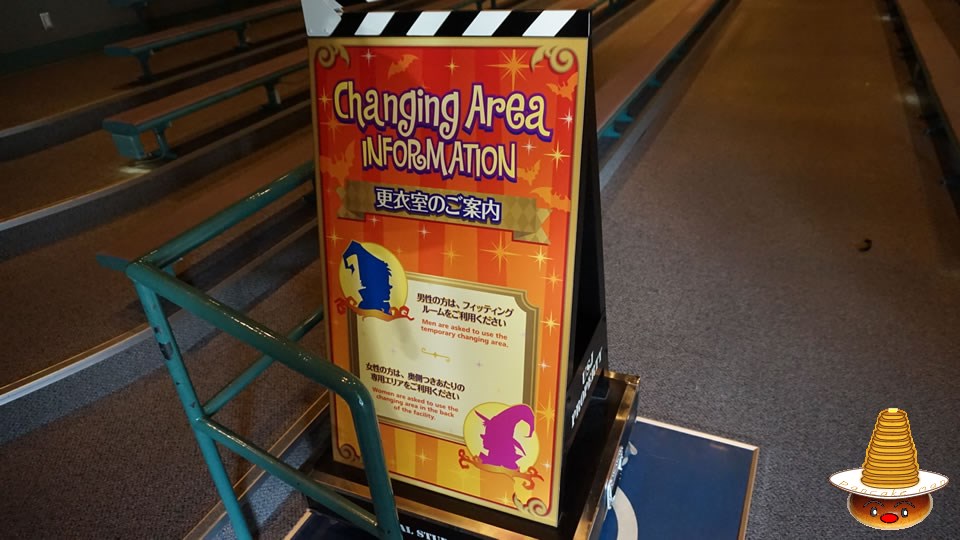 Lockers andLong bench seatThere are plenty of bench seats to make up and get ready for your make-up and fancy dress once you've finished changing, from 2018 the bench seats (pictured in green bench seats) have been removed and you sit directly on the carpet on the stairs.
USJ Changing Rooms Stage 18 operating period Mainly during Halloween
Changing Room Stage 18 in USJ is not open all year round. The periods when it is open are as follows.
USJ Halloween season (autumn) - open every year.
USJ Summer Season (summer) - may be open during wet events. For example, the water spray event in One Piece.
USJ Stage 18 changing rooms are free of charge|Facilities
Changing room stage 18 in USJ, including fancy dress (cosplay).The use of changing clothes is

free

Is.
Coin-operated lockers are.

charge

Is.
Mirrors are available in simple fitting rooms.
Stage 18 has no mirrors.
Make-up wearers are advised to bring their own mirror.
Also, the lighting is dark, so if you want a brightly lit face to apply your make-up, it is useful to bring a mirror with LED lighting.
with a dustbin
Money-changing machine available
No place to put umbrellas (many people put umbrellas at the end of coin lockers if they are prepared to have them stolen).
In 2021 and 2022, the Stage 18 changing rooms are generally empty - there are no crowds that prevent entry to the Stage 18 changing area because it is full.
(In the past, until 2019, there were huge crowds inside and coin lockers were unoccupied in the early hours of the morning).
A limited number of lockers are available! If they are full, change in the Stage 18 changing rooms and put your belongings in a locker elsewhere.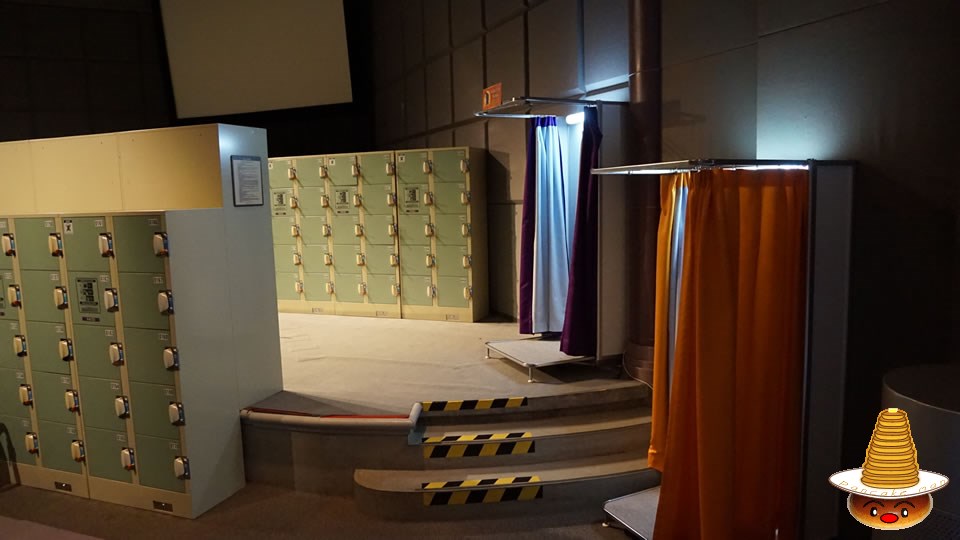 Photo taken in 2015. A total of four coin lockers and simple fitting rooms (for men and women) are available.
Another coin-operated locker closest to the Stage 18 changing rooms is located straight under the canopy after exiting Stage 18. Toilets are located to the left behind the Beverly Hills Gifts merchandise shop, with coin lockers and mobile battery hire on the right.
USJ coin locker sizes & charges (Stage 18 changing rooms)
USJ Stage 18 Changing room lockers

Coin-operated lockers Usage fees

400 yen (incl. tax)

Coin-operated lockers Size

35.7 cm (width) x 45,3 cm (depth) x 31.8 cm (height)

accountable time

USJ During the day's opening hours (park open to park close)
Notes When using the changing rooms, please cooperate with the following.
Please refrain from eating and drinking on the premises.
When using colour spray, make-up, etc., please ensure that there is no staining.
In the event of defacement or damage, you may be asked to bear the cost of repairs.
We are not responsible for any theft on the premises.
The above information is taken from the official USJ website guide.
There is also a currency exchange machine at the entrance! Lockers require four 100 yen coins.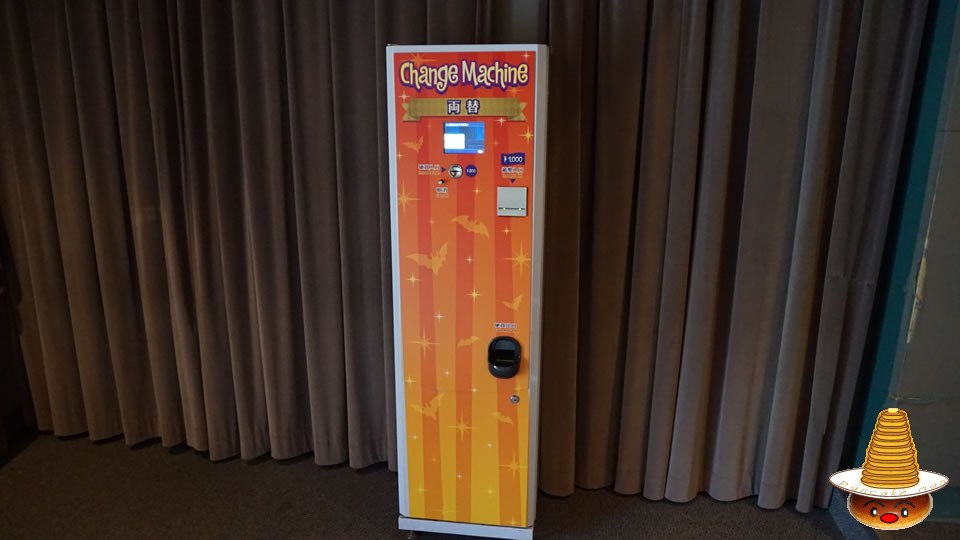 Once you put your luggage in a locker and take it out, you need to pay 400 yen again.
If you are coming by car, you can change at home and only do your make-up in the park. (If your costume looks too bad, please be careful in the car. ) So, enjoy Halloween in fancy dress!
As of 2022/10, USJ does not allow wheeled carry-on cases or carry-on bags into the parks. Hand-held boots and suitcases are allowed. Rolling bags with wheels are not allowed.Coin lockers outside USJThe deposit must be made to
If you have a lot of fancy dress cosplay luggage to carry, use the changing rooms at Universal City Walk Osaka â
Map [MAP] USJ Changing Rooms Stage 18 Location
Use the Universal City changing rooms during the period when the changing rooms inside Universal Studios are not open... and the changing rooms are open outside the Halloween period...