Thank you for the many applications!
Hello! I am the Wizard Pancake Man from Wizarding World.com.
1 September this year is a Wednesday! Hogwarts Commencement & Commencement Day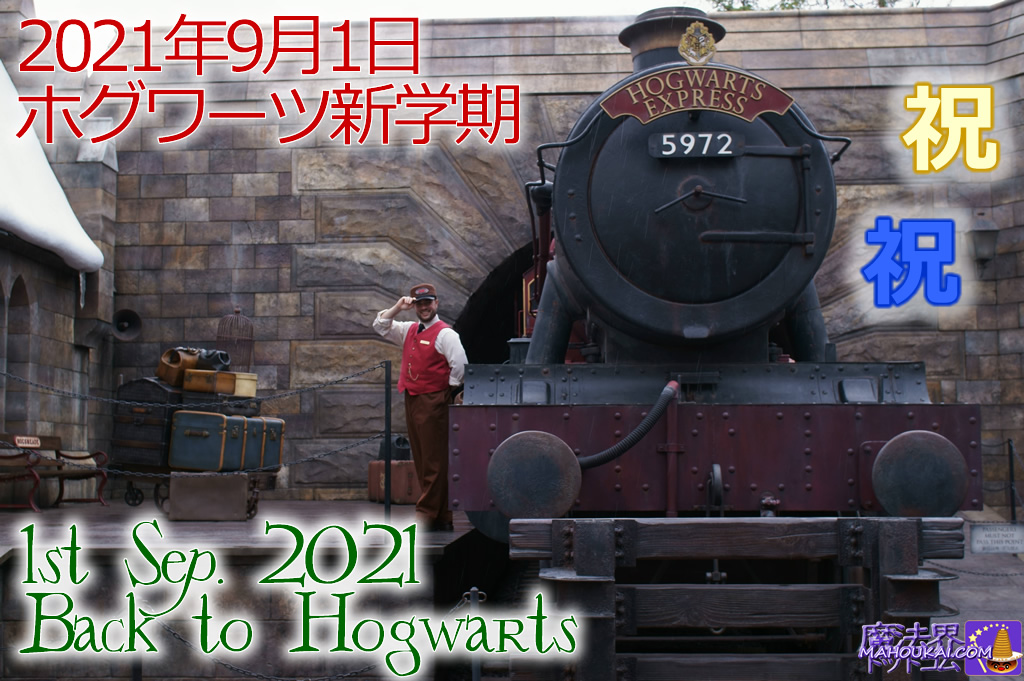 Corona Virus.The sad days continue, with the onslaught of the But time is passing and 1 September 2021 will soon arrive.Then witches and wizards can get together in the Harry Potter Area at USJ!I'd like to say "I'm sorry", but that's not going to happen this year either.(ToT) last year over 2020.severeSituation.
Except for those who can safely attend Hogwarts this year.At home.Enjoy the Harriotta feeling together.Celebrate the Hogwarts Entrance & Commencement Ceremony âWe want you to have a bit of fun with us, so we've put together a very specialpresentThe first time we did this, it was a great success.
Then!
Present! Your Hogwarts acceptance letter delivered to you by 'Owl Mail'! Part 2♪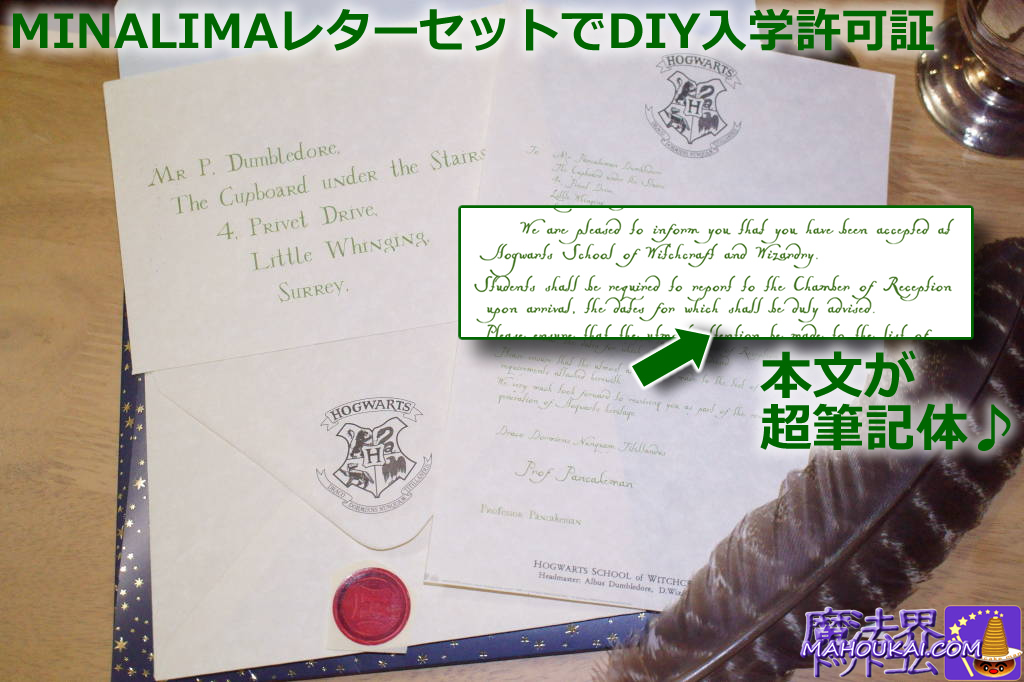 Minarima Hogwarts Entrance Permit Set for DIY Entrance Permit!
It arrives from Hogwarts School of Witchcraft and Wizardry, which is everyone's dream (including mine).'Letter of Admission'-' (used in place of '-')by lottery.6 personsI give it to the
1 set of authentic MINALIMA (PROP) on the left, approx. 240 000 yen.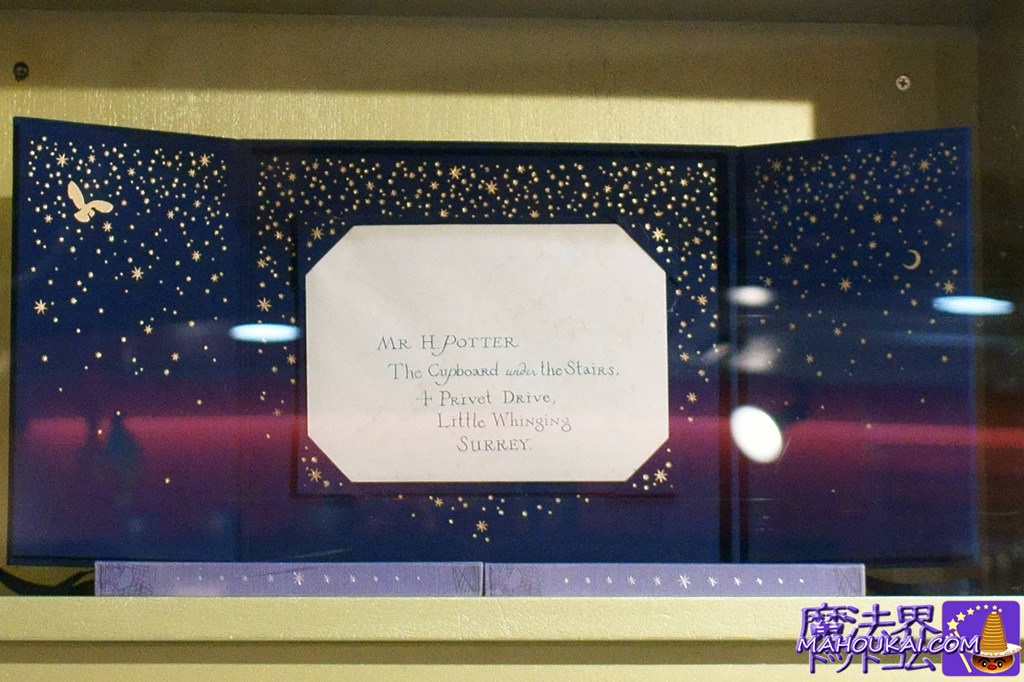 I am not a fan of the "real thing", so don't worry about it! I can't do that, but one day I'd like to give you a real one.
Present Contents.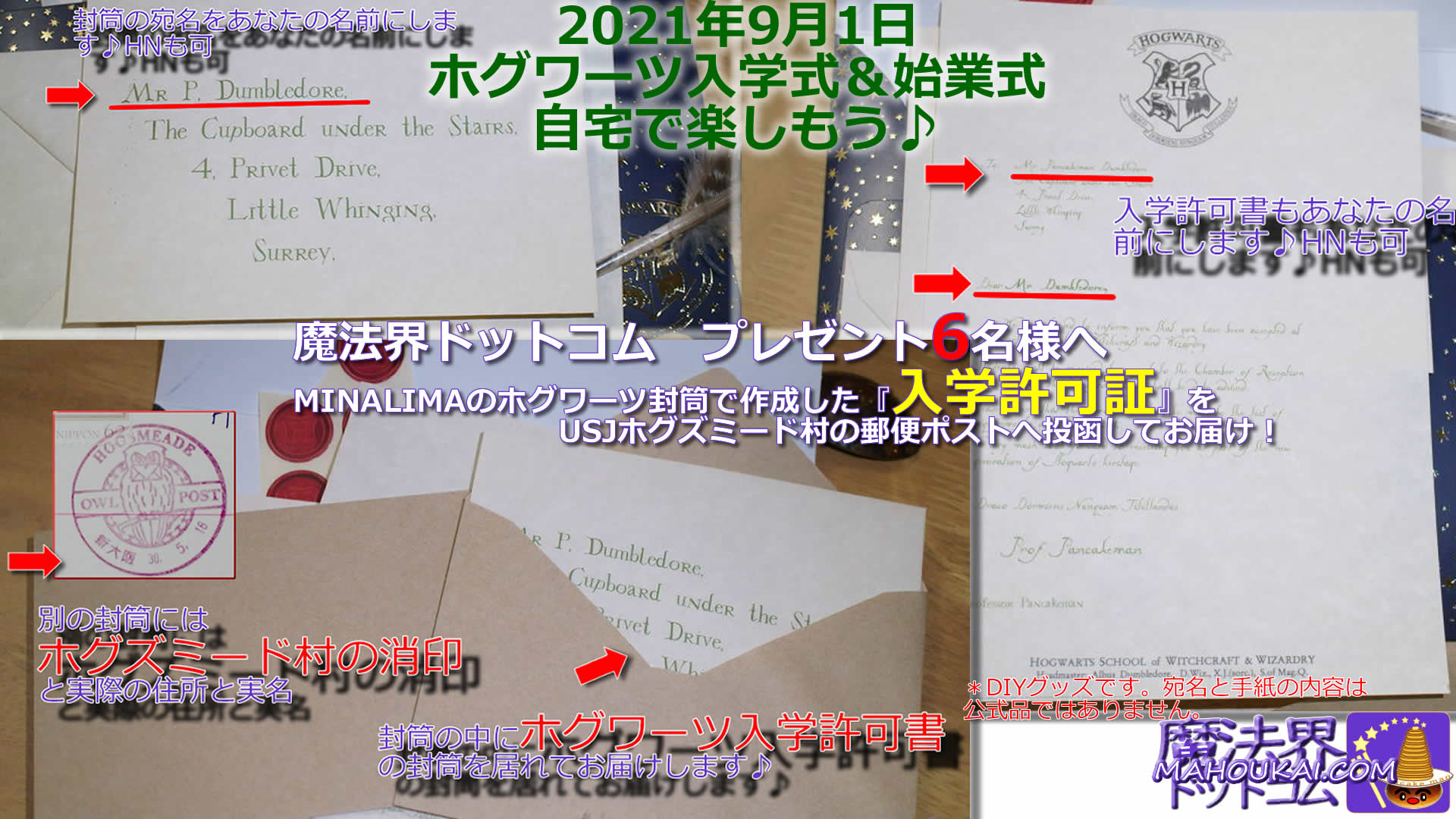 Using the 'Hogwarts Admission Letter Set' sold by Minarima.
DIY envelope and paper (printed and created on our website) with the name of the winner
In a separately sealed cylinder,Hogsmeade Village Post.Posting from
The winner receives the "Owl Mail" with the "HOGSMEADE" postmark.
Open it and you'll find a handmade 'Hogwarts acceptance letter' addressed to the winner.
These are the presents♪
How to apply for a present
Wizardingworld.com.Twitter @mahoukaicomindicates object of desire, like, hate, etc.follow
Tweet the following gift announcementRT (Retweet).
*'RT with comments' is not allowed this time. It will not be eligible for the lottery.
Application deadline: until 23:59 on Saturday 28 August 2021.
Follow & RT Present.
Homemade Hogwarts acceptance letters for six people
1⃣Follow @mahoukaicom
2⃣RT Retweet this tweet
Enter your name
Envelopes & letterheads made by MINALIMA
Mailed by owl mail (HOGSMEADE) postmarked â
Deadline Saturday 28 August 2021, 23:59

Application details↓.https://t.co/uVG7tCshQ8 #mahoukaiPR20210901 pic.twitter.com/qMA8vvRsE3

- MAHOUKAI.COM wizardingworld.com Super Commentary Guide to Harry Potter & Fantabi (@mahoukaicom) August 15, 2021
Attention! This is not an official PROP or replica address or admission letter. The envelopes & letterheads & sealed stickers are 'Official Minarima Goods'. 魔法界ドットコム will make its own printer-printed Hogwarts envelope addresses and letterhead text on Minarima envelopes and letterheads. This project has nothing to do with official relations. Please do not make any enquiries to other parties.
You can read about our DIY Hogwarts Admission Card in a separate report. If you are interested in what kind of thing it is, please go to the following...
Application notes.
Those not attending Hogwarts on 1 September.
The winner's account will be announced on Twitter and on wizardingworld.com â
Key accounts are not eligible to apply.
Winners will be asked for their shipping address via DM; if no reply is received within 24 hours, the prize will be considered invalid.
Shipping destinations are in Japan only.
You are welcome to write your thoughts and other information in the comments! We will not be affected by the conditions of the lottery! However, it will not affect the conditions of the lottery (´▽▽*). If your comments are complimentary to our site, your chances of winning the lottery may increase significantly.
Personal data will not be disclosed.
It may take a few days for delivery.
There is no compensation if the post is not delivered for other reasons.
If you have a love of Harriotta & Fantabi, you are welcome to apply. If you can get along with people of all sizes, you are more than welcome!
However, no claims will be accepted... (except unique claims w)
Accounts that appear to be unrelated to Harry Potter or Fantastic Beasts will be excluded from the draw. (The reason for this is that we want to make sure that the site is in the hands of Harry Potter fans (e.g. accounts dedicated to the sweepstakes).
This present campaign is an original project of this website. It has no relationship with the respective rights holders.
If you win a prize, you must Tweet the winner on Twitter.
We look forward to receiving your application! (≥▽≦) no.
Tweet of previous winners â
[The [ibid.@mahoukaicom I received this from [Mr] Owl! ✨Thank you for a wonderful project! 😊https://t.co/PI4yC5zbXK#mahoukaiPR20210422 pic.twitter.com/XfYhlY3s6e

- Puchi🐍🦐🐊 (@ss19dd65) 24 June, 2021
This is a report on how to make an enrolment certificate! Please read this one too!Â
If you are going to Hogwarts (USJ "Harry Potter Area") on 1 September 2021 this year

attention (heed)

Please. Corona COVID-19.

delta stock

has been more infectious than coronaviruses until now,

Airborne transmission, even for short periods of time.

It is said that.

Reduce the probability of infecting or infecting others.

for the sake of

non-woven (non-woven) fabric mask

Wearing of,

point-blank range

Avoid conversations in,

Can't get more than one person together.

Please ensure that you enjoy yourself and take care to protect yourself, such as
Note: No official events have taken place at USJ in the past.