Hello! I'm the Wizard Pancake Man from Wizarding World.com... ♪
A short walk from Tokyo Station.Harriotta's sanctuary.One of the "Maruzen Marunouchi Main Store, 4th floor, foreign book cornerÂ
Maruzen Marunouchi Main Store, 4th floor, Western Book Corner, 'Haripota, Fantavi & Minarima Area', with more items and expanded operations â'¬ 2023 Sep.
Maruzen Marunouchi main shop, 4th floor, Western book corner, expands into the 'Haripota, Fantabi and Minarima merchandise sales area'.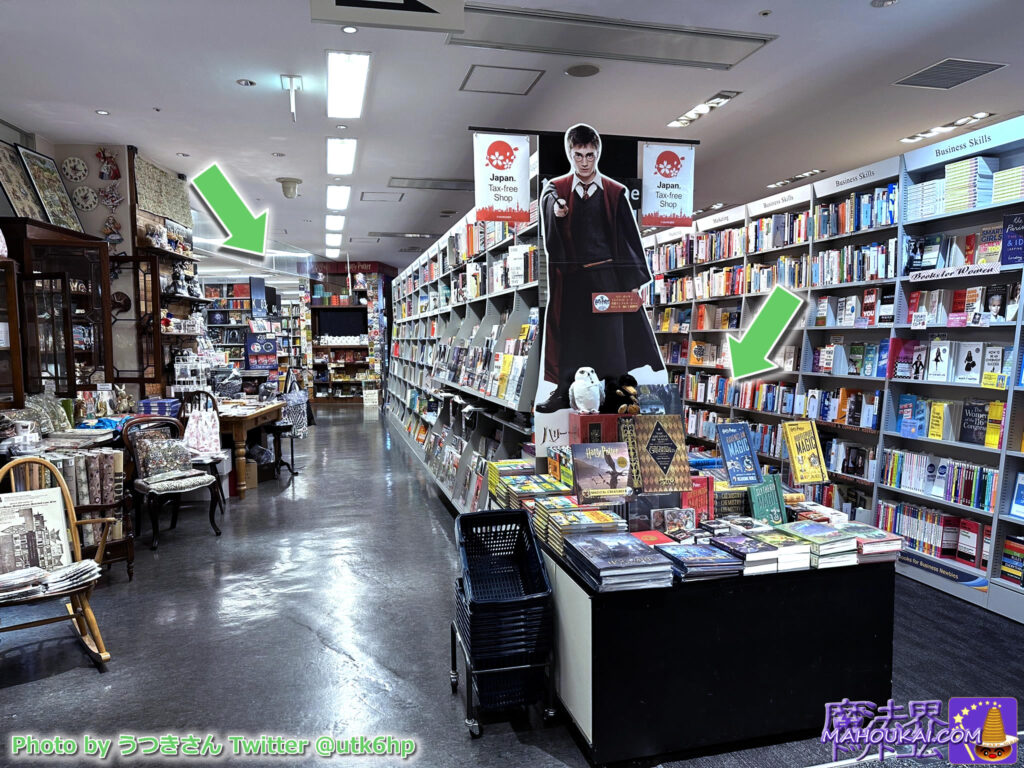 Photo credits. Utsuki, fellow Haripotter.Thanks Â
Large bookshops in the Tokyo Station area.Foreign book corner on the 4th floor of the Maruzen Marunouchi Main Store.is known to those in the know as 'theHarry Potter.' and '.Fantastic Beasts.â
in the pastMinalima opens a pop-up shop.Also,Harry Potter in Marunouchi During the event, a Harry Potter corner is set up on the 1st to 4th floors of Maruzen.The first time the event was held, the space was also used for other events. And even after each event, the Haripota & Minarima Corner continued to operate in the 4th floor Western Book Corner, and to our surprise, the space is gradually expanding...
The photo above shows the escalator going up to the fourth floor. Here you will find large Harry Potter and Fantastic Beasts books andHarry Potter's Mina Lima illustrated book.and others are displayed & sold flat.
And at the back left of the photo is a bookshelf of imported Harry Potter-related books, with the Minarimag merchandise section at the back.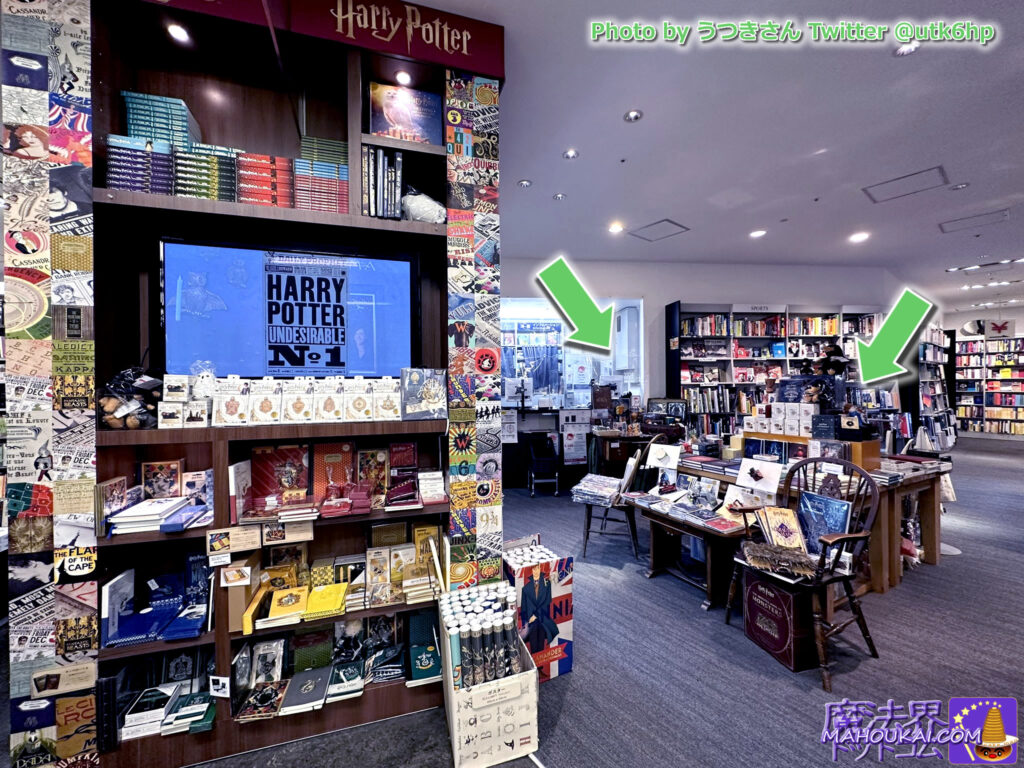 Minalima Goods Corner.There is a monitor showing a PR video on the If you haven't seen it before, you shouldn't miss it.â
Black family tree poster.and other posters are available in a floor-mounted box. On the shelves.Minarima's Harriotta and Fantabi merchandise.and other manufacturers' goods are also on display... If you look closely, you can also see Hedwig and Niffler 'plush' toys and other small items. The exhibition is already as exciting as a treasure hunt.
And then, to the far right, the Haripota merchandise floor goes doo~doo! It's expanding... ヾ(≧▽≦)ヾ.
Hogwarts, etc.Collection of drawings from the Harry Potter films.Seen are ninja map items, monstrous monster books, playing nifflers (plush toys), ceramic Harry Potter design mugs and Newt 'plush' toys.
Fantastic Beasts and Where to Find Them film corner includes a magic boot!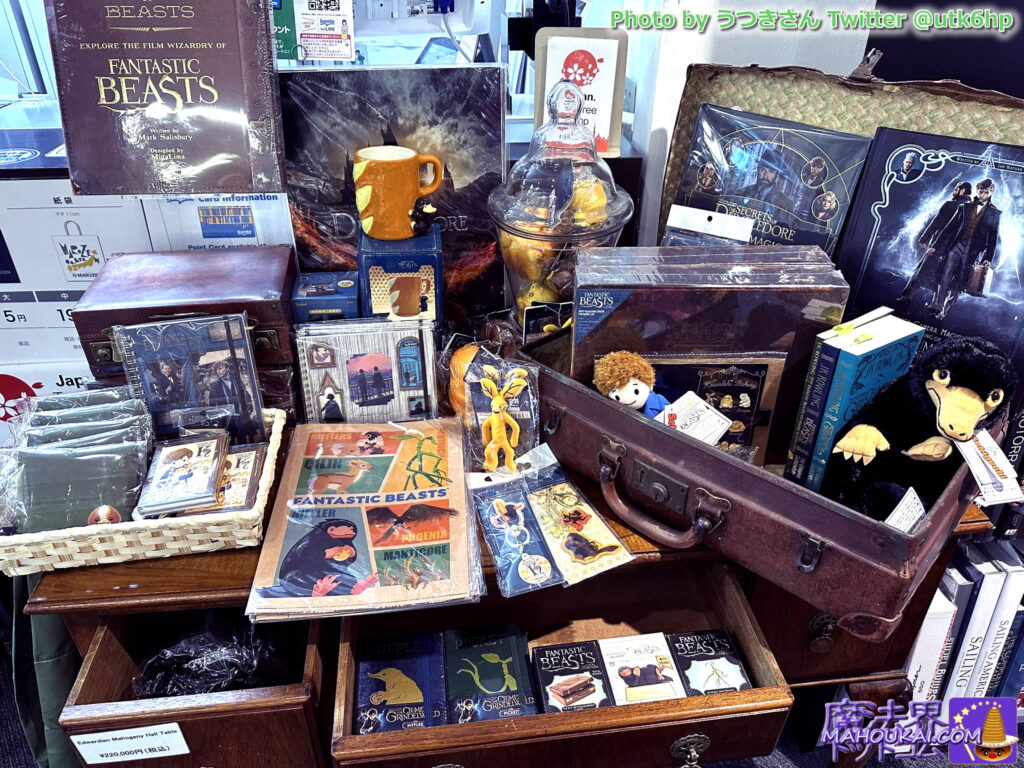 There is also a nice display on a table (the table is also for sale♪) with items related to the Fantastic Beasts film series! Fantabis visual books and screenplays,Niffler the Magical Animal.is in Newt Scamander's magical trunk-like bag. The Scamander doll is also with him, which is cute.â
It's a fun exhibition where you have to look closely to see what's inside. There is a magical creature, Pan Squeeze, who is inspired by Jacob's bread (even in a glass jar!), and a baby niffler eco-bag. ), baby niffler eco-bags and other fun things to look for.
A large display of Hogwarts trick books on one wall of the pillar!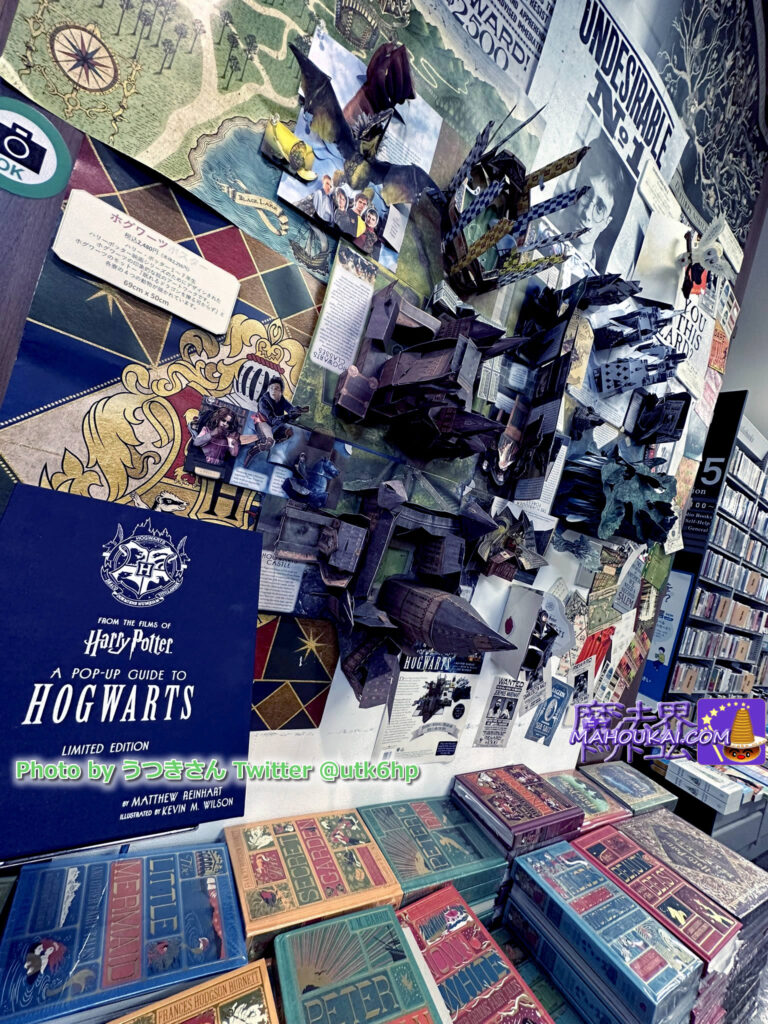 The walls are covered with 'Harry Potter A Pop Up Guide to Hogwarts', with plenty to see, including Hogwarts Castle and the Quidditch arena! It's a pop-up book, so you can enjoy the same developments as in the exhibition at home.â
Other posters on the walls display posters from Mina Lima's Harry Potter series. Flat books are in non-Harry Potter books,House of Minarima.A series of fairy tale illustrated books from the These English-language books feature familiar Japanese stories such as Peter Pan and The Little Mermaid, along with illustrations by Minarima. At the back right.The Magic of Minarima, a Harry Potter book by Minarima.Â
â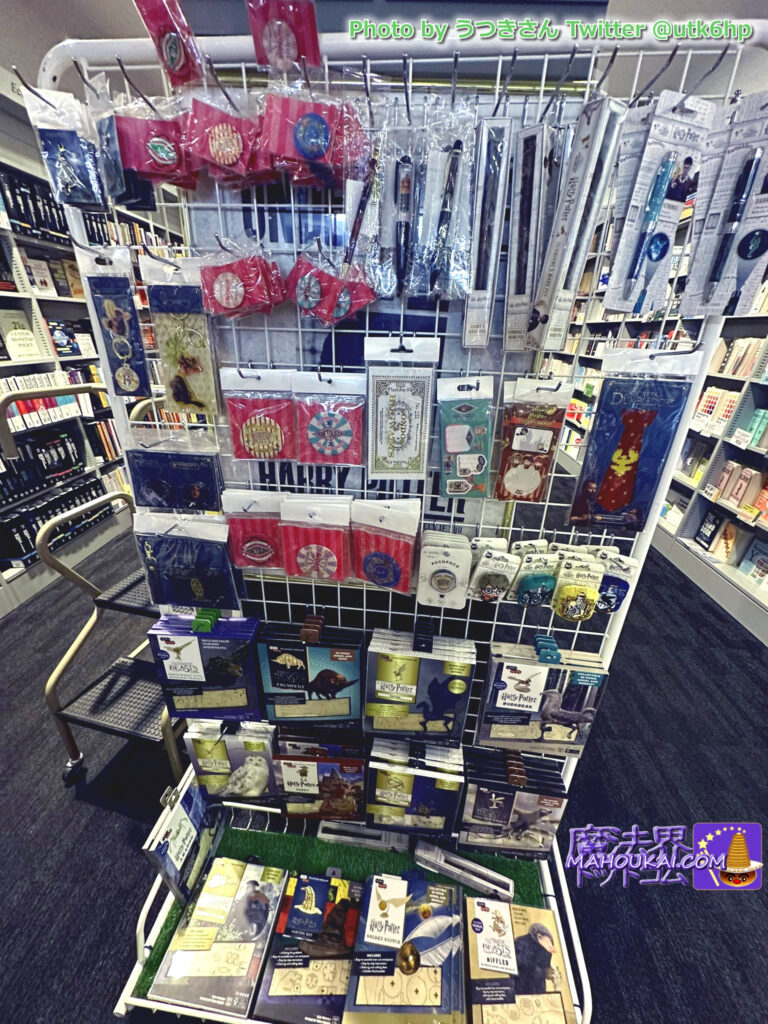 Harriotta & Fantabi mini-goods, Newt Scamander's boot, Headmaster Dumbledore's memory vials, etc.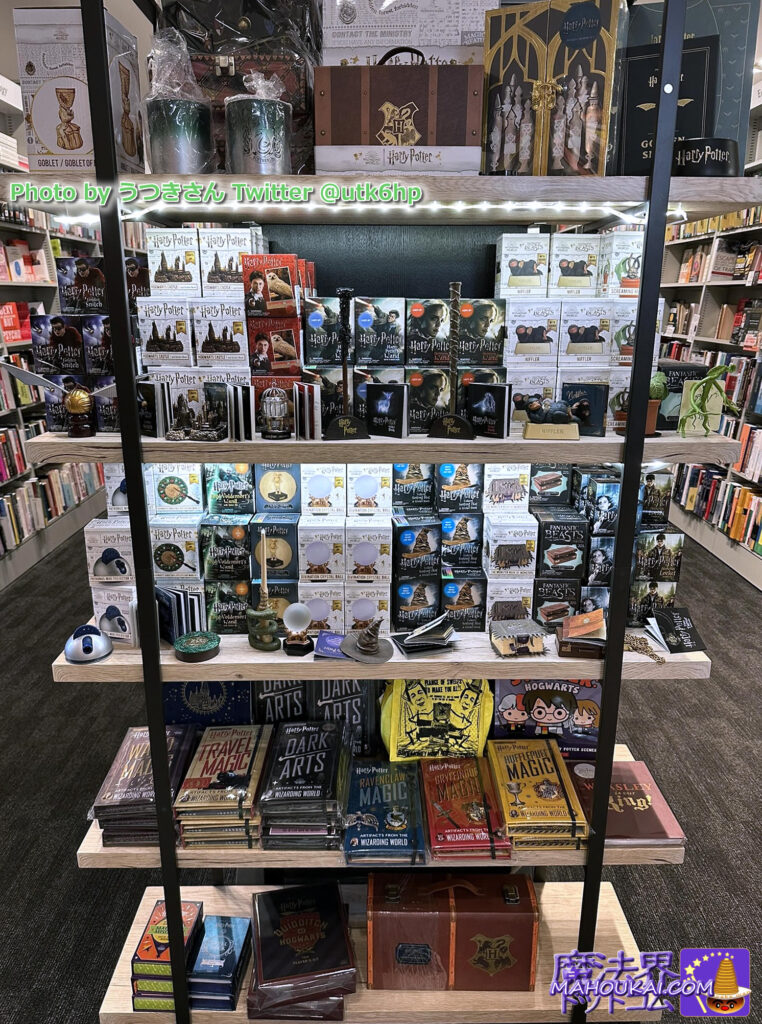 Another shelf is full of small Harry Potter and Fantastic Beasts merchandise! The top and bottom shelves are really full of fun stuff to look at, including unusual medium-sized trunk-type items, as well as goods inspired by Headmaster Dumbledore's memory vial cabinet! (≧▽≦)
There are too many items to introduce, but if you are interested, please visit Maruzen once at Oazo, which is right next to Tokyo Station on foot.
What we have introduced today is not all the goods available at Maruzen. You will be able to see more goods & books there.
Visit report] Postscript â Warner 100th anniversary collaboration â Warner 100th anniversary collaboration goods also on display and for sale â
Maruzen Marunouchi Main Store, 4th Floor, Western Books Corner.
ハリポタ&ファンタビ&ミナリマのグッズがますますアイテム増加して営業中♪
For more information 👉.https://t.co/n6RCOj6mQX
It's like a fun treasure hunt for Harriotta goodies 🤩.
📷 @utk6hp Thank you, Mr. â# Maruzen for foreign books # Harriotta. # Fantabi. # Minarima https://t.co/sHxQsTWxn5 pic.twitter.com/Id7zU1ggTE

- MAHOUKAI.COM wizardingworld.com Super Commentary Guide to Harry Potter & Fantabi (@mahoukaicom) 24 March, 2023