The Potacolle, or 'Harry Potter Best Goods Collection', is coming, as is the 'Weathered World Best Goods Collection'!
The first one in 2018 will be held in Yokohama, Kanagawa Prefecture.
The magical world will appear in Yokohama for '10 days'!
If you want to go, show up at the B2 floor of Marui Yokohama.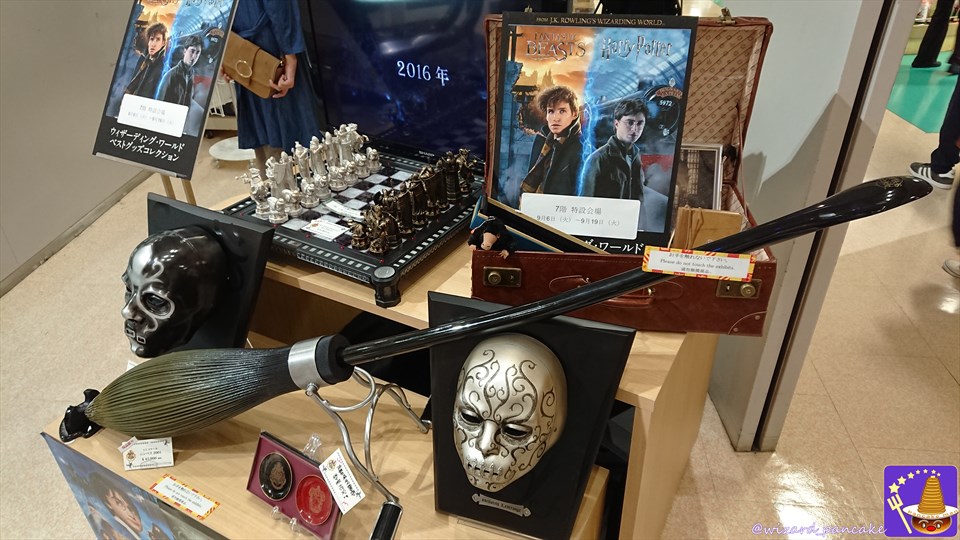 Name of event: Weeding World Best Goods Collection
(formerly known as the Harry Potter Best Goods Collection).
Period: 30 Mar (Fri) - 9 Apr (Mon), 2018.
Opening hours: 10:30-20:30.
 *Last day on 9 Apr until 19:00.
Location: Marui City Yokohama, B2F event space
Address: 2-19-12 Takashima, Nishi-ku, Yokohama, Kanagawa 220-0011, Japan
Nearest station: JR lines/subway/Tokyu Yokohama Station (approx. 5 mins walk)

Get information by following the official Twitter feed♪
Potacolle official Twitter >.
@hp_bgc
The following tweets are from the Kyoto event.
What a stuffed Bowtruckle from Steiff!
That's - it's quite a big one!
It's quite powerful (laughs).
It's the first time it's been in Kyoto, so please come and see it☆.
(36,000 yen without tax) pic.twitter.com/GSD73i8cOd

- Harry Potter Best Goods Collection (@hp_bgc) 6 September 2017.

No way, an oversized and overpriced Bowtruckle 'plush' is available on the WWW.
Is he a grown-up picket? (Laughter)
Newt's boots come in two types, large and small.
The small size can also be carried diagonally!
They are both pretty solid, so be sure to take them with you on your travels!
(Small size: 15,000 yen (tax incl.)
Large size 25,000 yen (incl. tax))# Harriotta.# Fantabi. pic.twitter.com/i2Lph6onxA

- Harry Potter Best Goods Collection (@hp_bgc) 6 September 2017.

Fans of Fantabulous Newt will be very excited about "The Magic Trunk".
A successful spell could get you into Newt's room! (; "Holy shit!")
Follow the official account to get tweets about goods on display.
The type and number of goods is not yet known, but we can expect a lot from Potacore.
There is also a Minarima stall in Tokyo.
On 22 March, there will be an advance ticket sale and kick-off event for Fantabi 2 at Shinjuku Piccadilly, w
It is the selfishness of the Wizard Pancake Man that he wanted the Potacolle to start on 20 March if possible (laughs).
We will announce details of MINARIMA's stall as soon as they are available.
<Previous Potacolle Report...
[Special section] Bulletin 03: Harry Potter Best Goods Collection 2014 Namba Marui (Osaka/Namba) 30 Sep-26 Oct.
I went to the HARRIPOTA Goods Collection as soon as possible! Gryffindor crest wall art and Hogwarts Express signage.
To the second potacollege! Hogwarts crest and Slytherin crest wall art! The Mirror of the Mizo! etc 7/18 New arrivals!
Potacolle♪ Ravenclaw hairpiece & Hufflepuff cups are wonderfully beautiful♪ (Noble Collection).
Potacolle♪ Ravenclaw hair ornament purchase report (Noble Collection): about 20,000 Japanese yen.