I'm happy to report a limited time announcement...Universal Studios Japan (USJ) Harry Potter AreaNews on the rental of dressing gowns at. (Historical information from 2016.)
ホグワーツ魔法術学校のハリー・ポッターが所属していた寮の制服ローブのレンタルが始まったのじゃ♪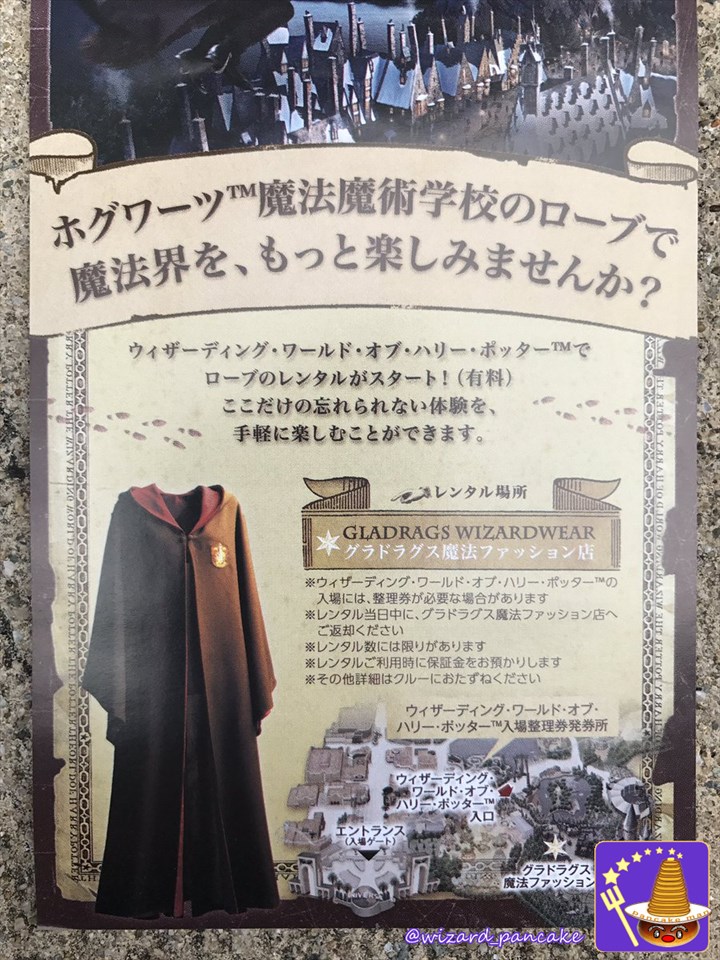 'Why not enjoy the wizarding world and more with Hogwarts School of Witchcraft and Wizardry dressing gowns?'
Robe hire is now available at the Wizarding World of Harry Potter! (at an additional cost) It's an easy way to enjoy this unique and unforgettable experience.
The rental trial offer of Gryffindor dressing gowns began with the claim that.
Robe rental fee: ¥6,500 (including ¥3,000 deposit)|USJ Harry Potter Area
Rental period: 1 day.
Rental shops:Gladrags Magical Fashion Store, Hogsmeade Village. Shop location (map available).
Target dressing gowns: Gryffindor dormitories only.
Testing period: 16-22 Oct 2016 (Sat).
The deposit is money that is returned upon return, so the actual rental fee is ¥ 3500.
Must be returned by the end of the day of borrowing
Gladrags Magical Fashion Store is located in the Harripota area.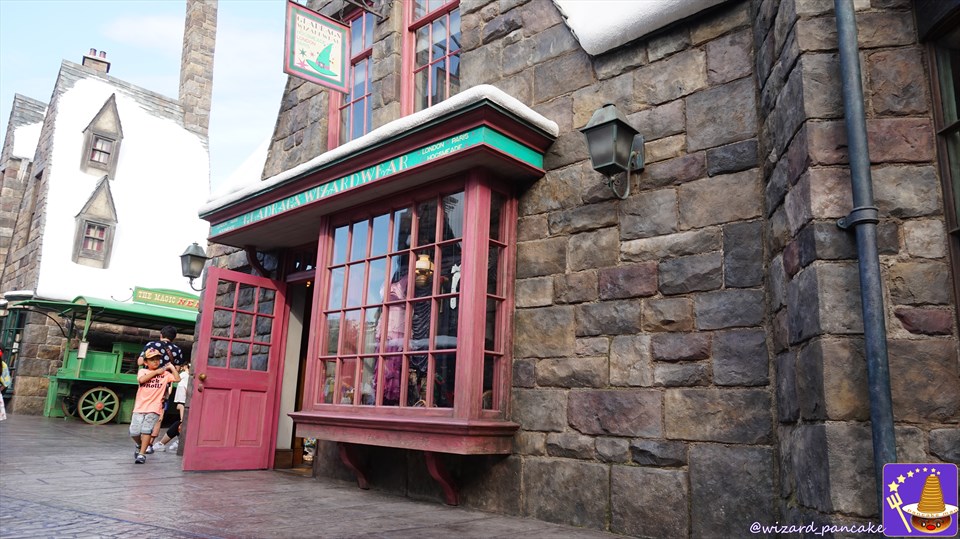 I think it's a good idea to be able to rent a robe, because currently the only way to buy (or sell) a dressing gown is to buy one. I think it's a good idea to be able to rent robes, because I think there are a lot of students who can't come to USJ very often but would like to wear a dressing gown.
This is news on the Harry Potter robe rental that was piloted in 2016; USJ has not offered a robe rental service since the pilot.
Also, as of August 2023, USJ andWarner Bros Studio Tour TokyoBut no institutions offer the official Harry Potter film dressing gowns for hire.
Reference] USJ official Harry Potter robe sales outlets (USJ).
Beverly Hills Gifts (outside Harriotta area: under entrance canopy). 
Relocation: California Confectionery - (outside the Harriotta area: under the entrance canopy).
Universal Studios Store (outside the Harriotta area: under the entrance canopy).
(Harriotta Corner closed)
USJ Online Shop
Not always available depending on the time of year and availability.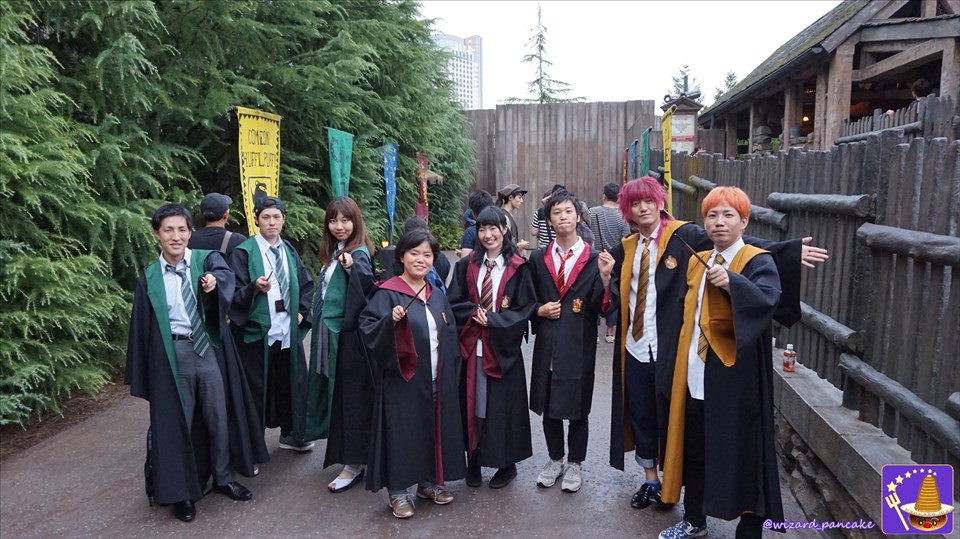 The number of rental robes seems to be limited in this test, so it may be difficult, but I imagine that if half, or even one third, of the Muggles visiting the wizarding world were to wear their own dressing gowns or rental dressing gowns, they would be able to feel the Harry Potter world even more! It would make for a world of fun, I'm sure... (laughs) Just eight of us getting together would create such an atmosphere... (laughs) Those of you who can't afford to buy one, but would like to explore Hogwarts and Hogsmeade in official dressing gowns, this is your chance to rent one... (laughs) Perhaps once you've put one on, you'll want one of your own... (laughs) (Laughs.) And last but not least, Pancake Man Dumbledore will not be held responsible for your desire to buy a robe of your own:Wizard, Mr Jotaku. Acknowledged.
USJ HARRIPOTA New Information] Robe rentals have started at the Gladrags Magical Fashion Store in the HARRIPOTA area from 16th. The fee is 6,500 yen (actually 3,500 yen) including a 3,000 yen deposit. As it is a trial, it is only available for Gryffindor until the 22nd. They have not decided on the future development. pic.twitter.com/dsF2QbbvXO

- Jo Taku™ (@jo_taku150) 16 Oct 2016.
Tweets by Jotaku.
The schedule for attending the Wizarding World & Hogwarts in Harriotta fancy dress and recruiting friends is 'Yurubo'.page for more information!
1-1.Death Eater Attack! Night in Hogsmeade begins with a battle of the Death Eaters vs. the village wizards! (New USJ Hallipota Halloween show)
1-2.Death Eater Attack Report #2 Â Recommendations for places to see & numbered tickets.
2.Halloween Feast experience report.
3.1.Halloween Dessert Feast experience report.
4.1.About Magical Trick or Treat
5.1.Pumpkin pasties & pumpkin bread â
Hallipota news release, 'Death Eater Attack' and other Halloween content. [HARRIPOTA NR] Death Eaters will appear in Hogsmeade Village during the 2016 Halloween season! (USJ Wizarding World)
From 2018 - reopened as a changing room open 365 days a year!
Universal Studios Japan The Wizarding World of Harry Potter at USJ 'Wizarding World of Harry Potter' guidebook-like summary page.
USJ Spots with partial rental of Harry Potter robes.
USJ Spots without Harry Potter robe hire.