Dec 2016.Harry Potter Area at Universal Studios Japan (USJ).to be in the film for the first time in a long time.New replica Harriotta merchandise.I did! Potteries can enjoy their favourite butterbeer! (I'm not a potter.)
(Note: Taste is a matter of personal preference.)
New Butterbeer mug-shaped glasses are now available!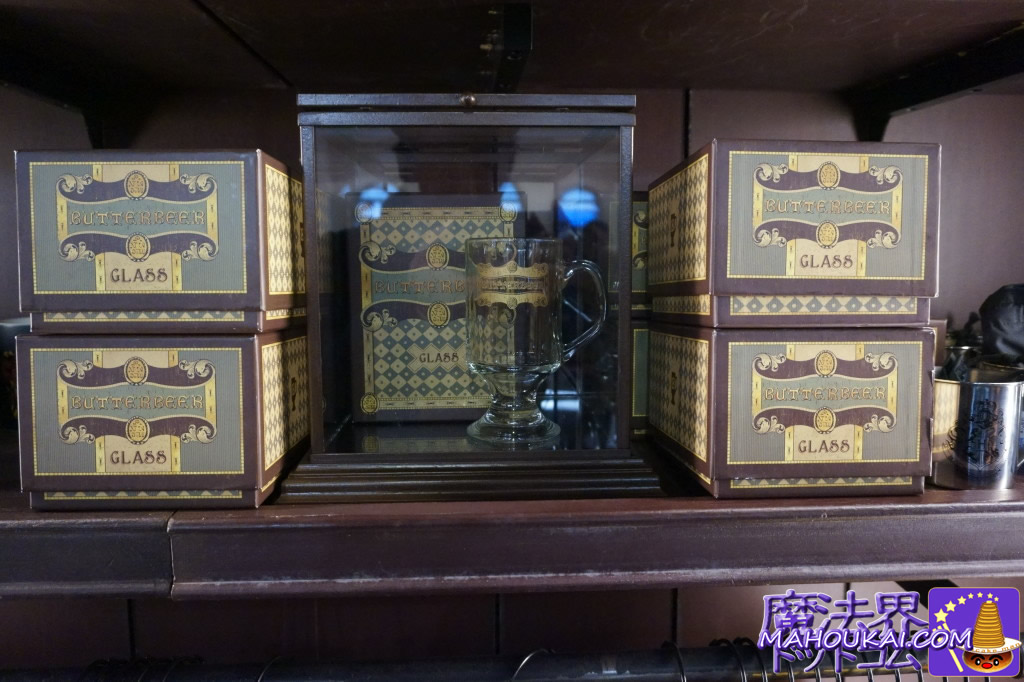 Product name: BUTTER BEER GLASS
(as of April 2021).
Scenes from the film.
'Harry Potter the movie and the Half-Blood Prince.Harry, Ron and Hermione go off to the Three Broomsticks in The Three Broomsticks. Butterbeer appears in a slightly clogged mug made of glass. This is just the scene where Professor Slughorn talks to Harry and spills Butterbeer on Hermione. If you don't remember it, please review the DVD or BD... The glass has been commercialised with the same design as the mug Hermione held in her hand!
Universal Studios Japan (USJ) Sales Shop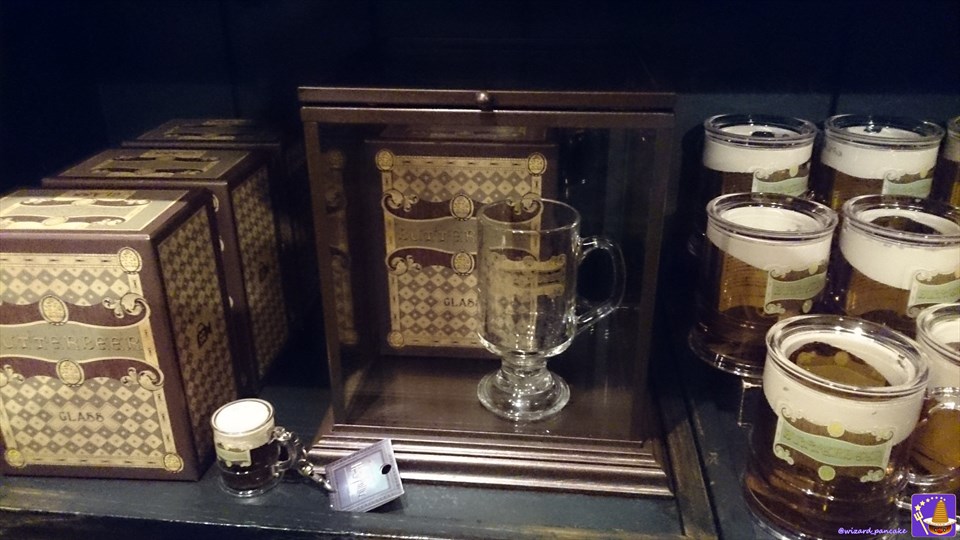 Filch shops.Then,A wide range of butterbeer goods!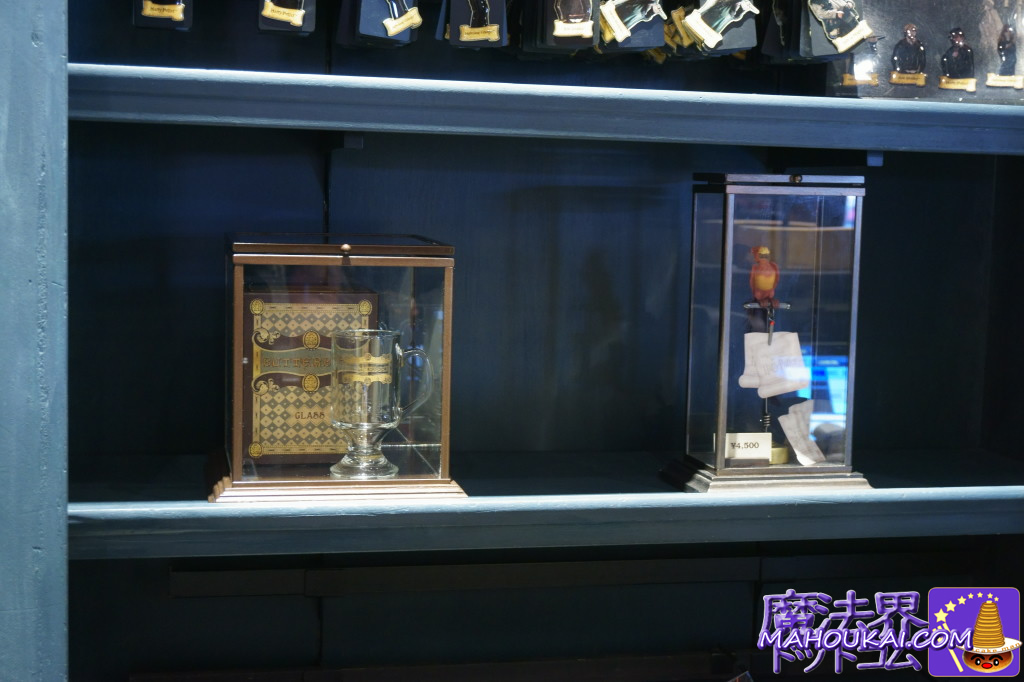 In 2016, they were displayed alongside the Phoenix (phoenix) behind the counter.
I bought a box at first sight... ♪
Don't tell me you wondered whether to buy two (laughs).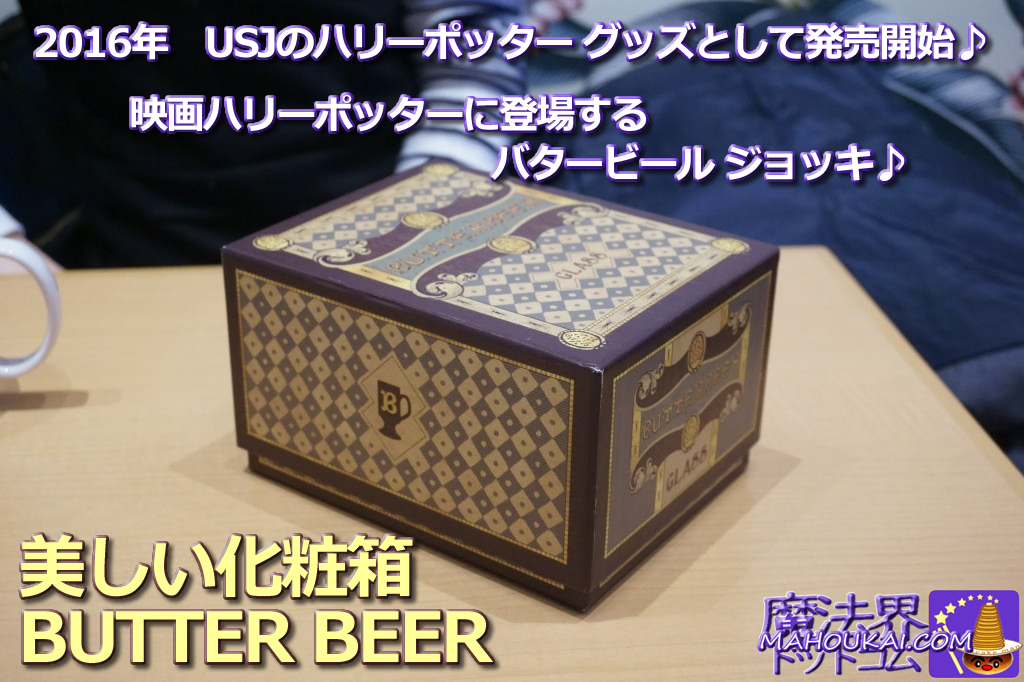 Eat pancakesTime (Eggs 'n Things).The opening ceremony was held with "Yuririn the Witch", who couldn't wait for the
Open the beautiful cosmetic box.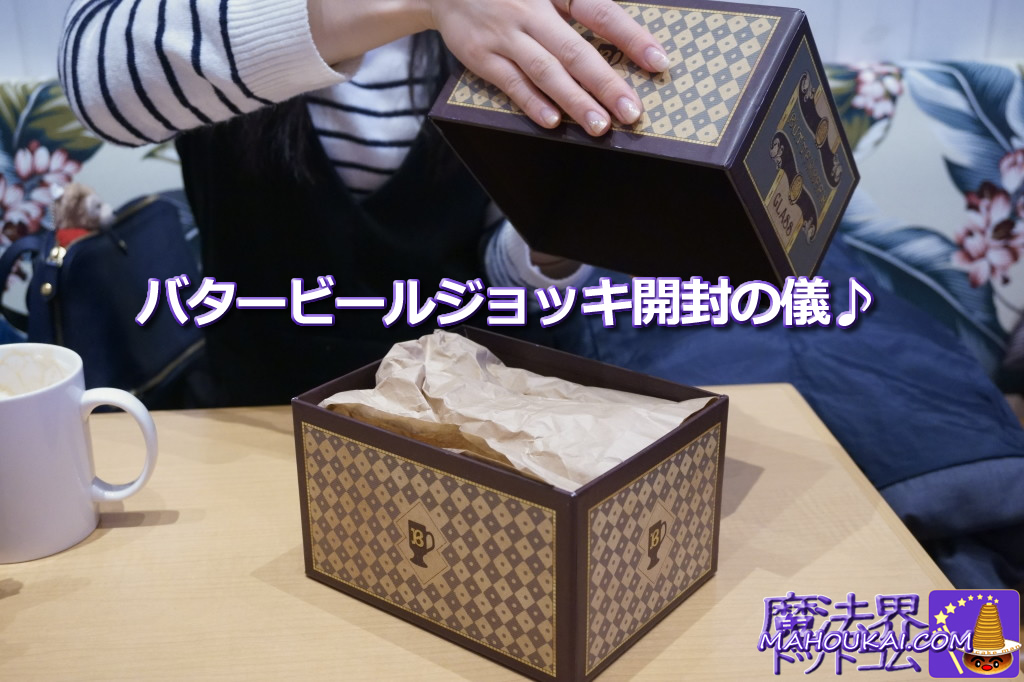 Housed in a paper box. The box itself is also a common design for Butterbeer goods, with a chic, pretty design and colour scheme... so nice that the box alone could be sold...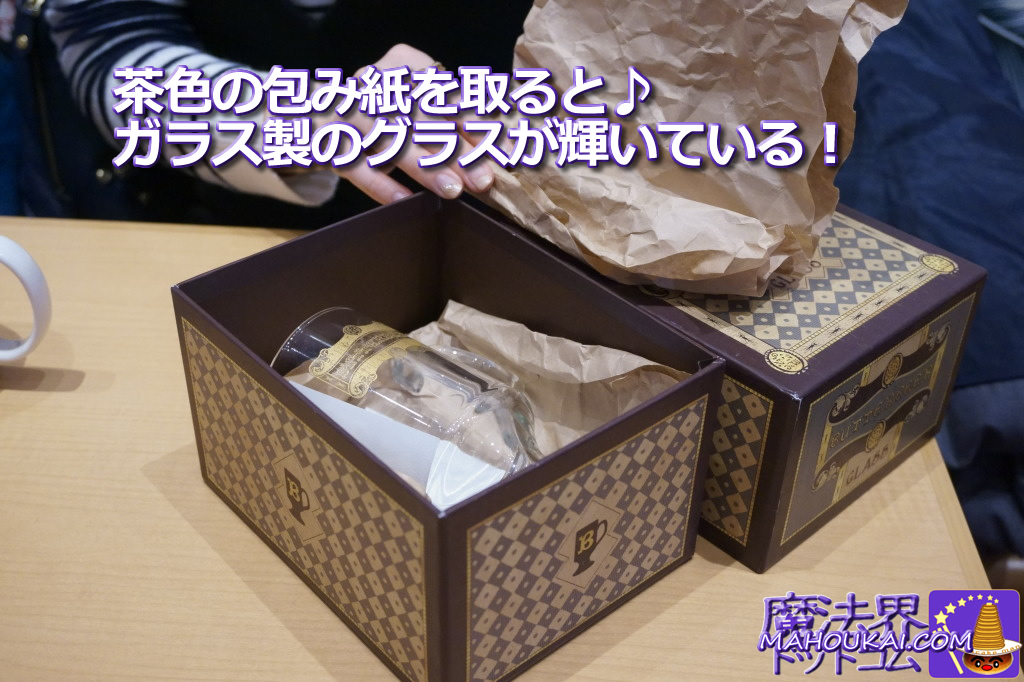 Open it, peel off the wrapping paper and a clear glass glass appears! The guise of a luxury product is exciting to take out... ヾ(≧▽≦)ヾ.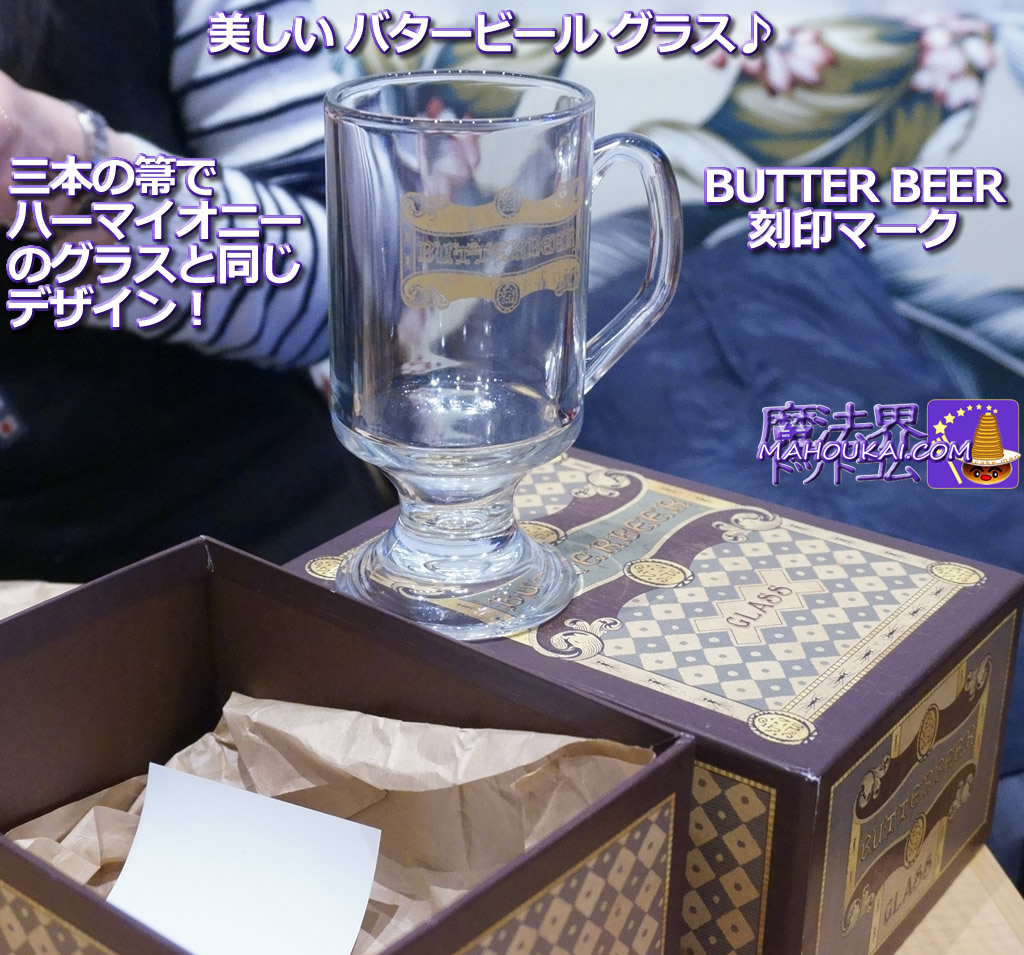 Then..! I took out the Butterbeer glass... It's Beauty For! ヾ(≧▽≦)ヾ(≧▽≦)ヾ, what a wonderful item you have commercialised!
Size and weight of Butterbeer mug (glass)
Diameter: (OD) 7 cm (ID) 6.5 cm
Height: (Total length) 14 cm.
Weight: moderately heavy and comfortable to hold w
It looks like it's been used up for years'.BUTTER BEERThe engraved logo in 'The' is worn out and has an atmospheric finish! We think it is a very satisfying item. Incidentally, there is no engraved logo on the PROP (film prop) of the mug that appears in the film, so it is an original design as a piece of merchandise.
I would definitely like to try this with butterbeer!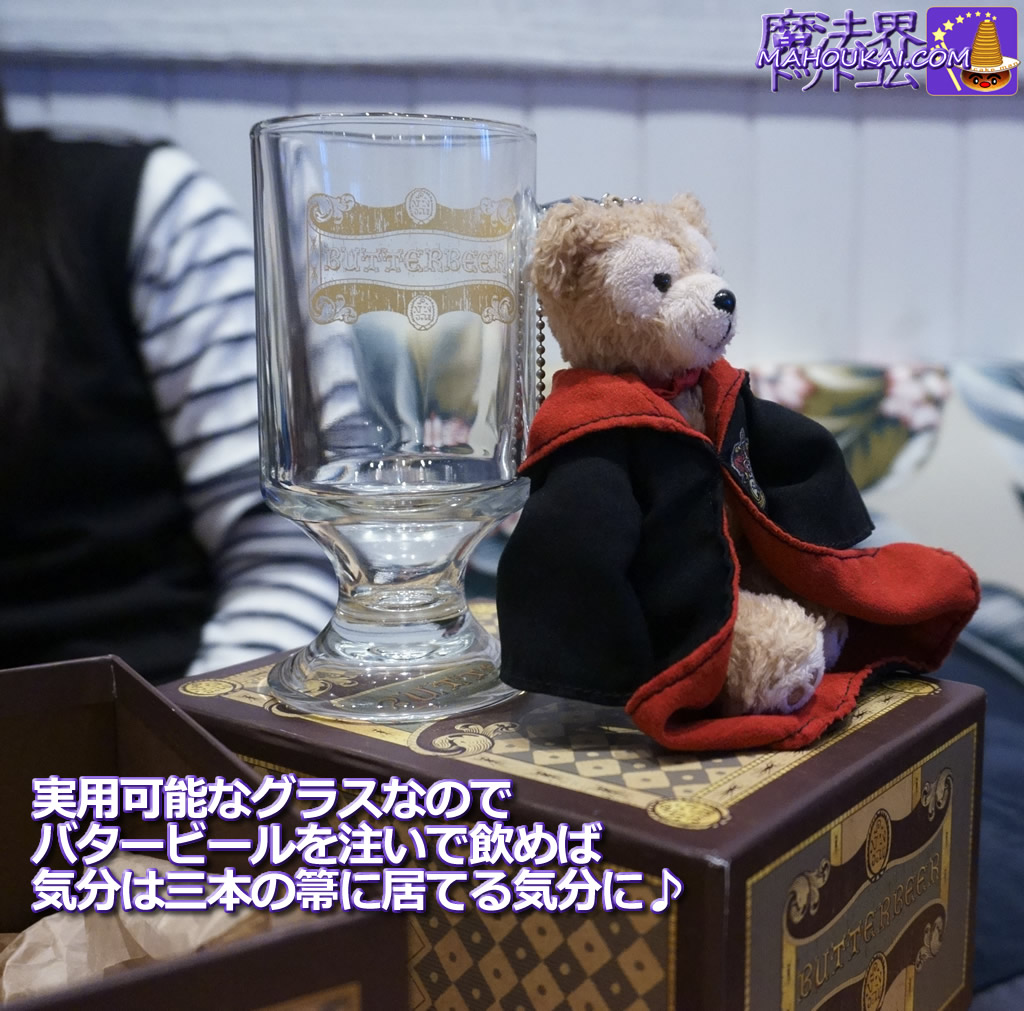 As a souvenir item, it's a good accent because without the logo, it's hard to tell what the glass is for drinking or even if it's a Harriotta item... This glass is a practical item and can be used to hold an actual drink...
化粧箱とグラスと一緒に飾るのもオススメ♪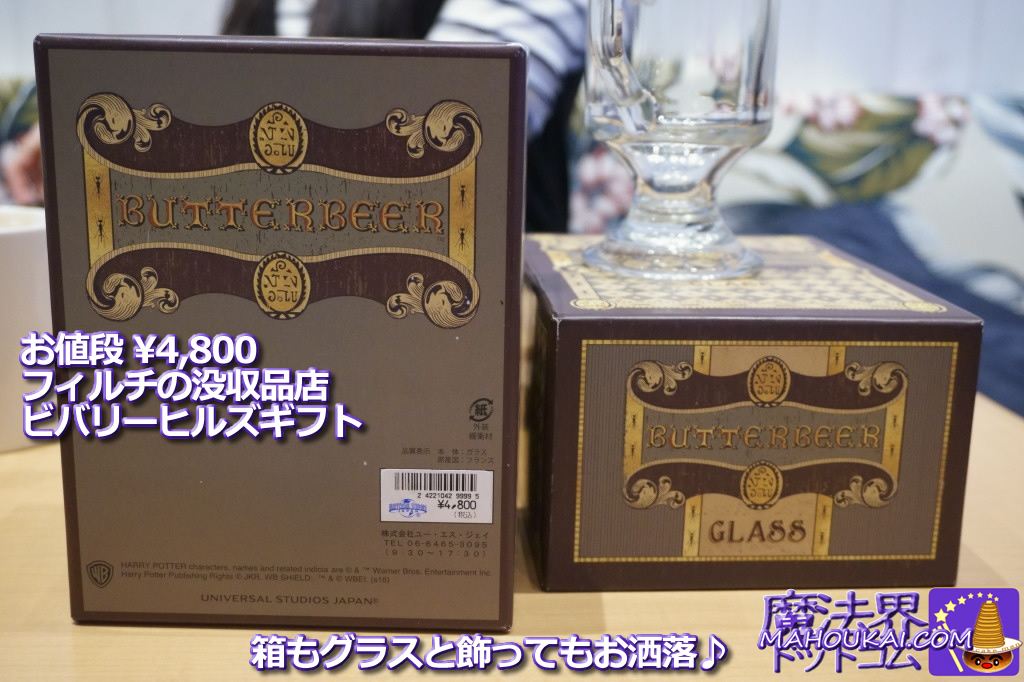 if possiblethree brooms-ist (used after a noun indicating someone's occupation, pursuits, disposition, etc.)Hog's HeadIn,butterbeerI'd like to drink Butterbeer in this glass (laughs). It would be difficult in terms of satellite to take it with you and have it poured yourself, so if possible, I'm sure it would be very popular if you offered a service at the Three Broomsticks where they would pour you Butterbeer if you bought this glass! (USJ merchandise manager, please consider this (≥▽≦) and please commercialise more PROP replicas!)
It's a bit pricey, but if you're a Harry Potter fan, you'll definitely want to get your hands on this gem... It's also stylish to put it in a showcase and display it without using it, like the displays at USJ.Â