Good evening! Pancake Man, Dumbledore.
Here's a report on USJ Halloween costumes... ♪
We've been playing with Harriotta costumes on a very hot day, over 30 degrees Celsius.
Fun in fancy dress = people laugh at you. Surprise. The power of the reaction of people being happy has the magic power to blow away the heat (laughs).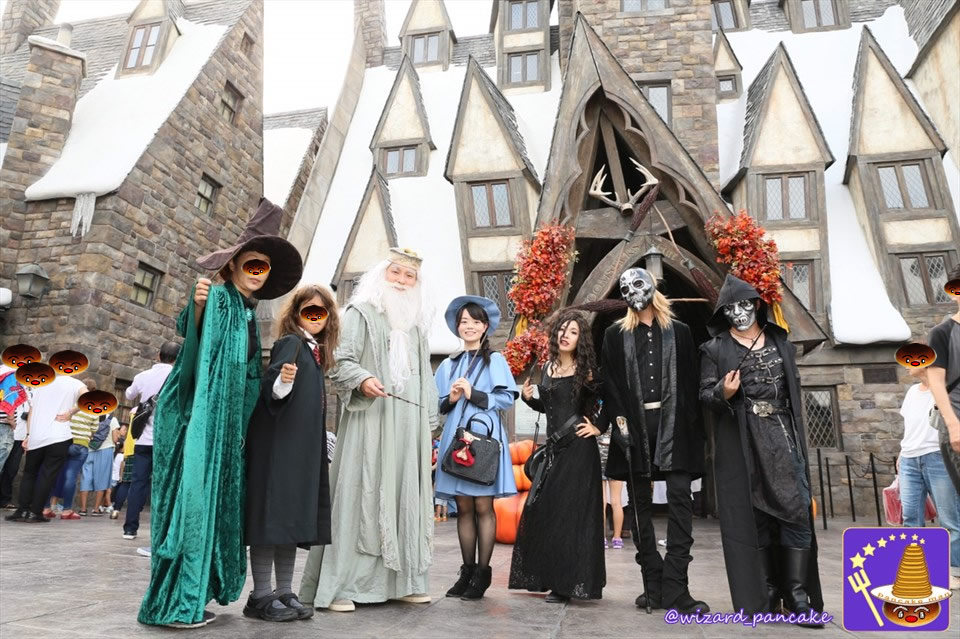 Since the start of the Halloween period, the HARRIPOTA area has been extremely crowded and numbered tickets are required for all but morning entry. So, as soon as you enter USJHaripota Area numbered tickets.I went to get a w
We hung out at Unibrand for a while, then went to Eggs 'n Things to fill our bellies.Â
Only to Pancake Man Dumbledore, lol.
'Yuririn', a fancy dress from Beauxbatons.
Death Eaters (Ms Oasis).
Pancake Man Dumbledore (I).
Bellatrix (Ms Kikyo).
Young Lucius Malfoy (wing yan).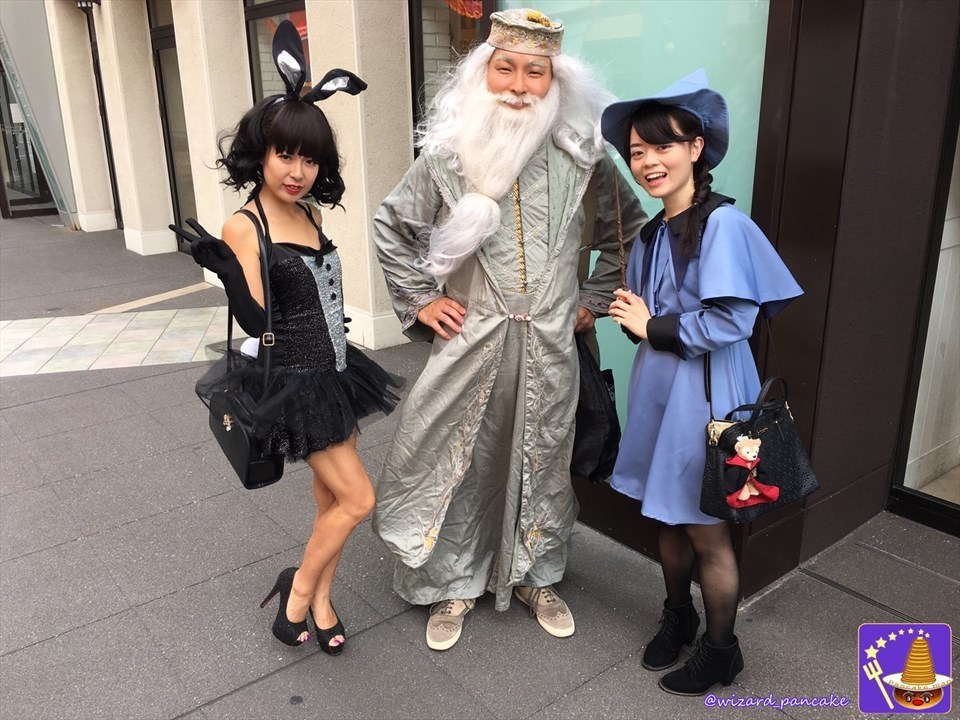 I had the September pancakes and eggs Benedict!
Caramel honey pancakes with baked bananas ¥1,450
Club Cake Benedict with Honey Aurora Sauce ¥1,550

After much agonising over the menu to see what to eat.
↓arrow (mark or symbol)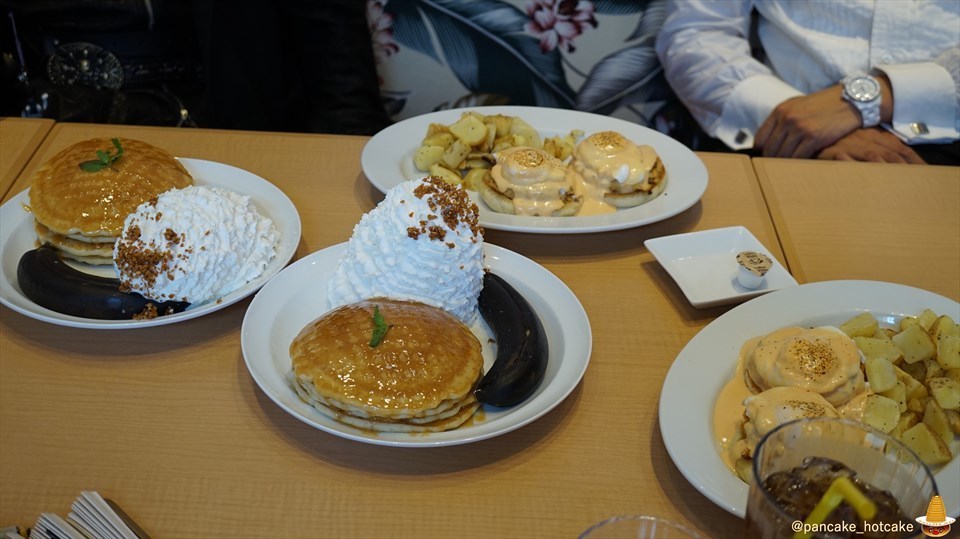 The five of us ordered the same pancakes and eggs Benedict for two so we wouldn't fight, lol.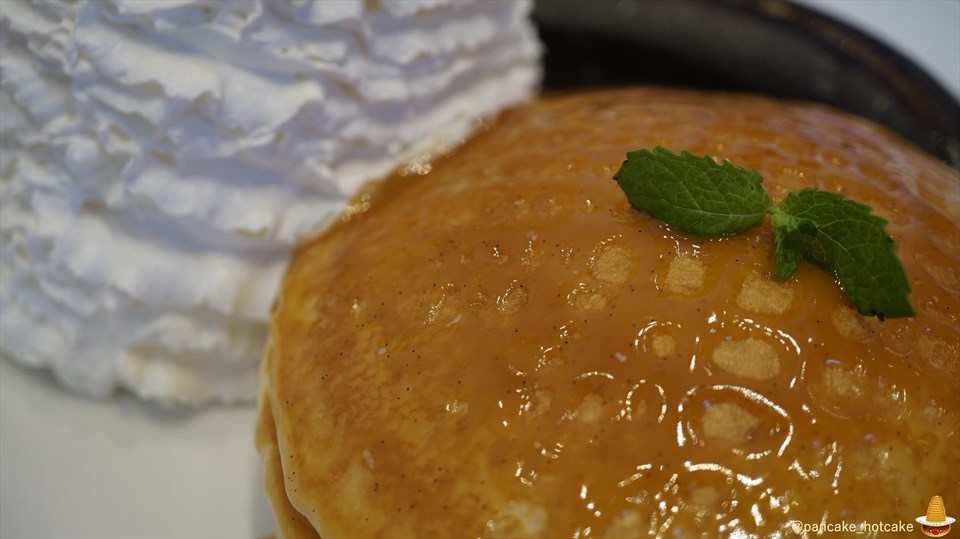 Everyone loves pancakes, especially me.
No, you don't have to worry about that, guys.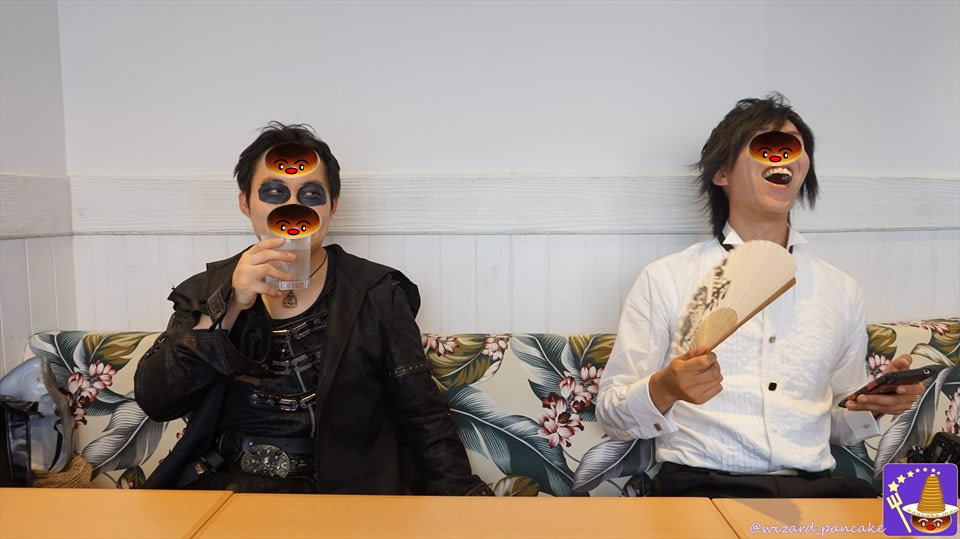 Death Eaters unmasked as... pandas? Mad Max's ●●? (laughs)
There was also a story about a
Note: Some images have been processed at the discretion of the Pancake Man. w
The pancakes had a homemade caramel honey sauce that went well with the sweet Eggson's pancake batter.
It was delicious (≥▽≦)no.
ハリポタ エリアでは私たちがホグワーツへ登校するのを知ったあの親子が来ていた♪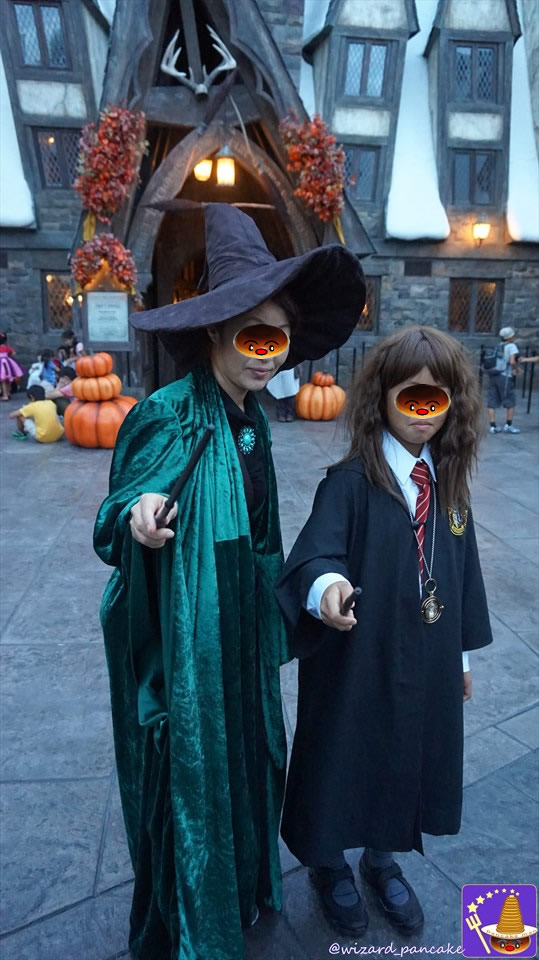 We're already familiar with 'Professor McGonagall' and 'Little Hermione' on the blog.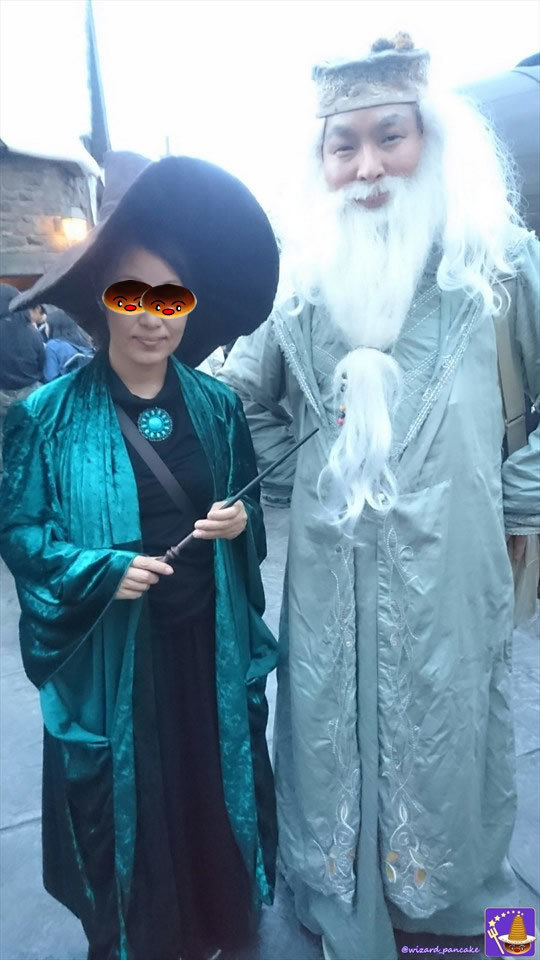 Dumbledore and Minerva... quite a nice group of people dressed up as Harriotta, aren't they? (laughs)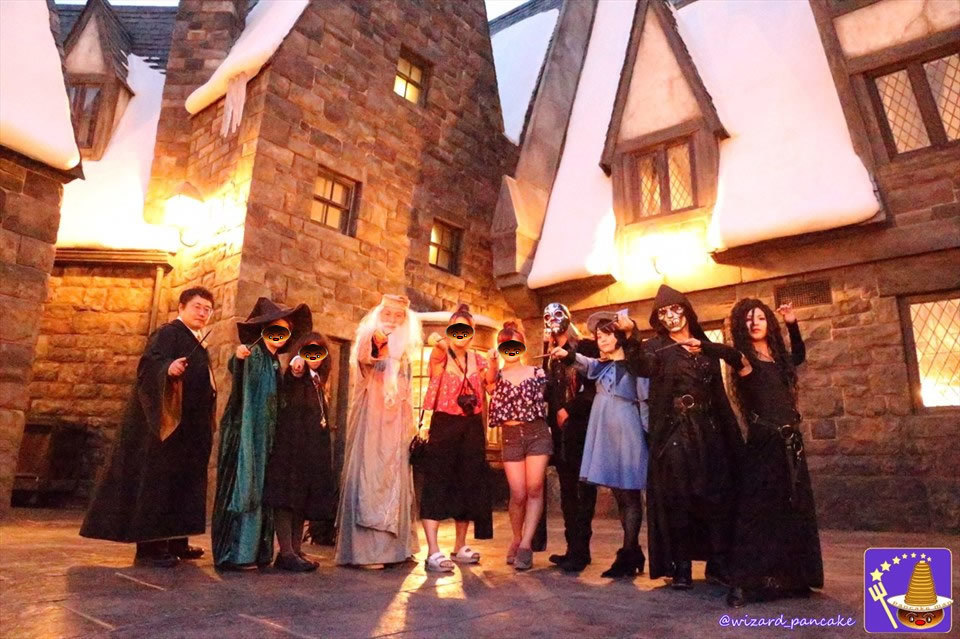 Photography:NORI (@Vch10v123Kj).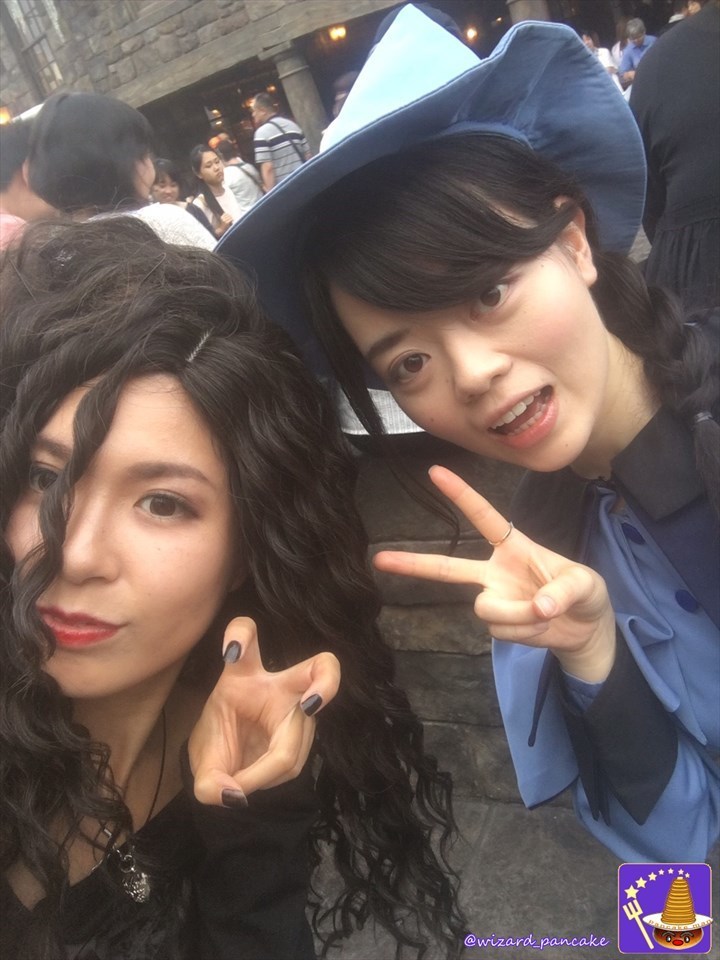 Bella & Beauxbatons students who are good friends
Apart from the fancy dress, today's missions are as follows.
'Halloween Feast.Eat the 'â
'Death Eater Attack.Enjoying the 'â
So, I visited the Three Broomsticks as soon as I could.
As a result of the large number of people, the order was split into two groups
The group that asked for 'Halloween Feast' and...Halloween Dessert Feast.The W was divided into groups that asked for a 'W'.
Pancake Man Dumbledore was last seen inHalloween Dessert Feast.I ate 'Halloween Feast' because I've already experienced it by eating 'Halloween Feast'.â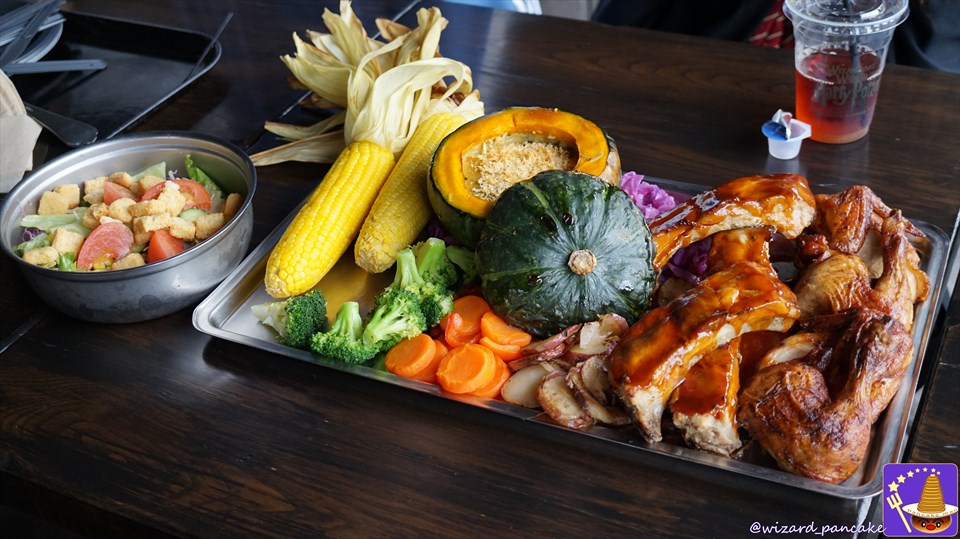 Quite tasty... I liked your pumpkin au gratin...
Halloween Feast is something you should try not once, not twice, but three times.
See separate report on taste, etc.Â
 A group photo of the Three Broomsticks.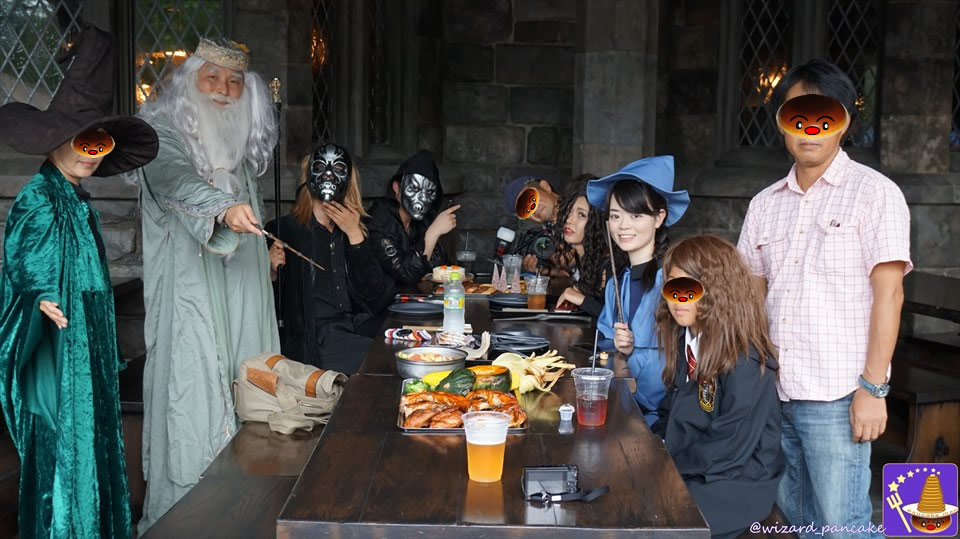 魔法界の料理とハリポタ仮装の姿で一緒に撮影するととてもポッタリアンな世界に浸れることこの上ない♪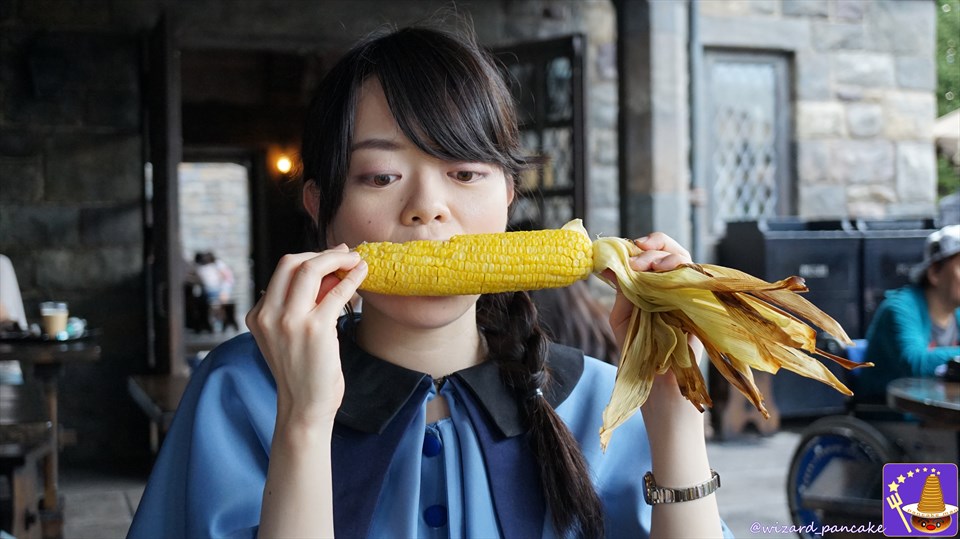 The way Yuririn ate the maize was brilliant (laughs).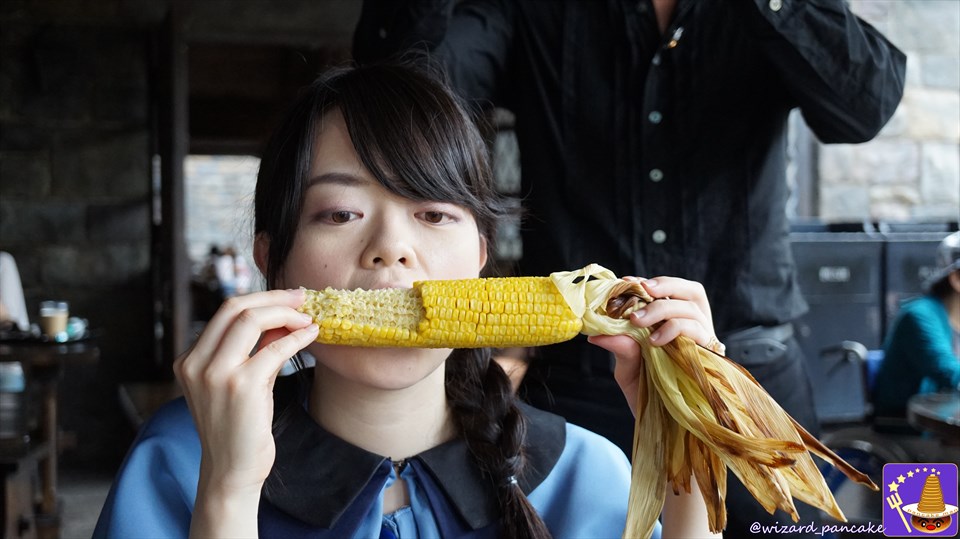 This way of eating may become fashionable, too.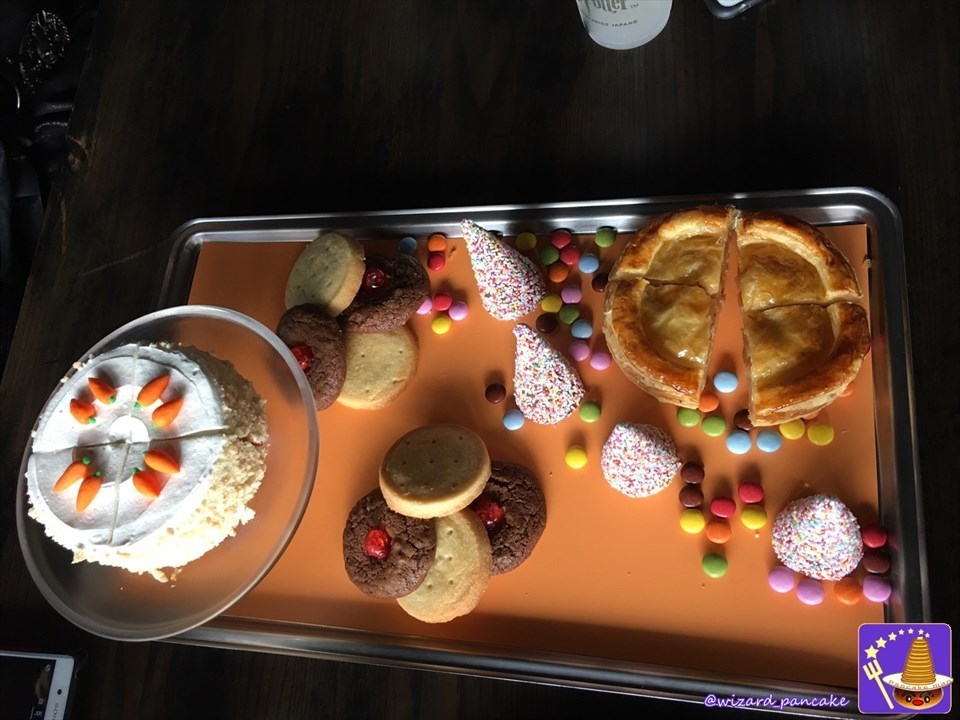 Groups that ate Halloween Dessert Feast.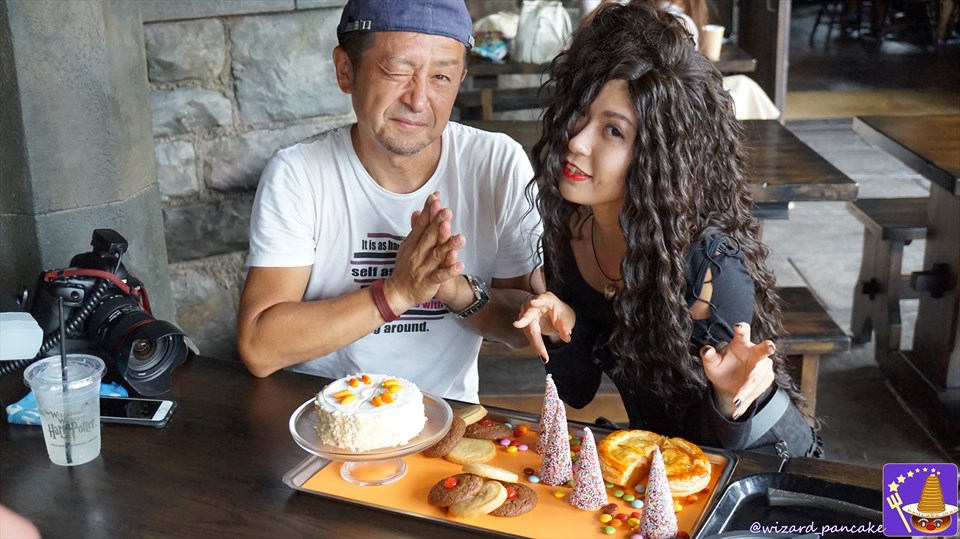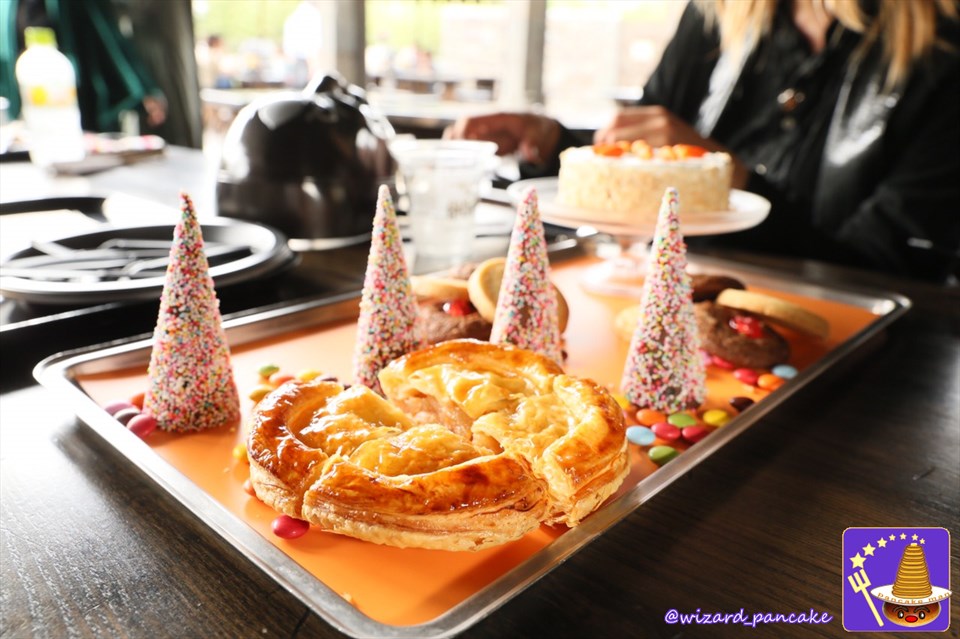 Nori's photographs are truly beautiful.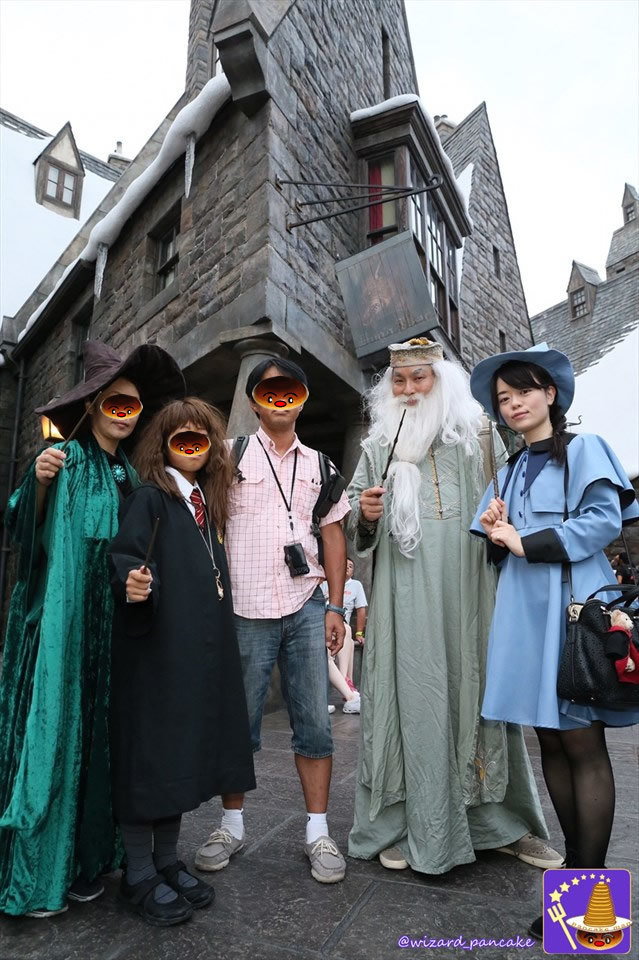 This Muggle, Professor McGonagall, and Hermione are father and son.Â
You must be a wonderful, enviable family to be able to have fun with your parents and children in fancy dress.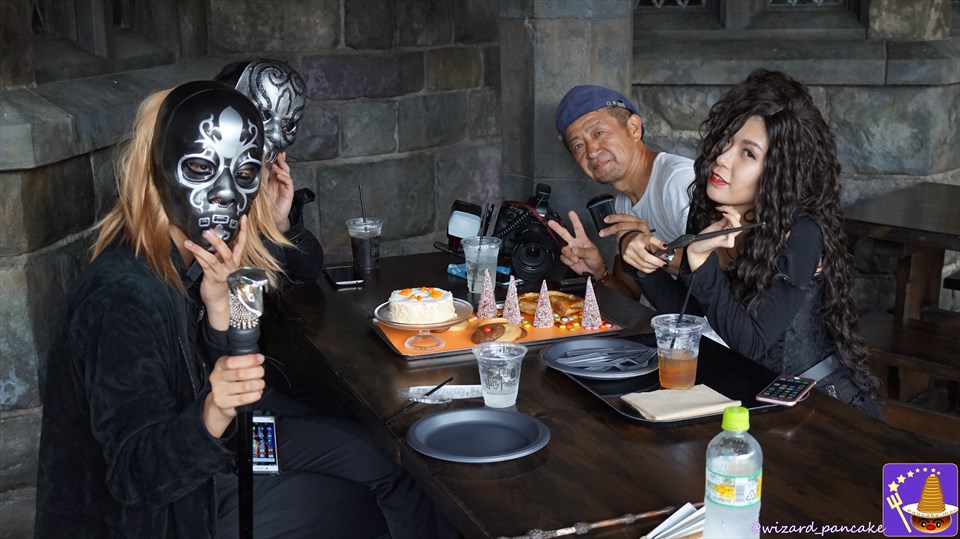 Today I was able to witness the moment when the number of Death Eaters actually increased by one (laughs).
*I think you mean your fellow Death Eaters in disguise.
youngLucius Malfoy gets a Death Eater mask.Since we have done so, we have made a decision.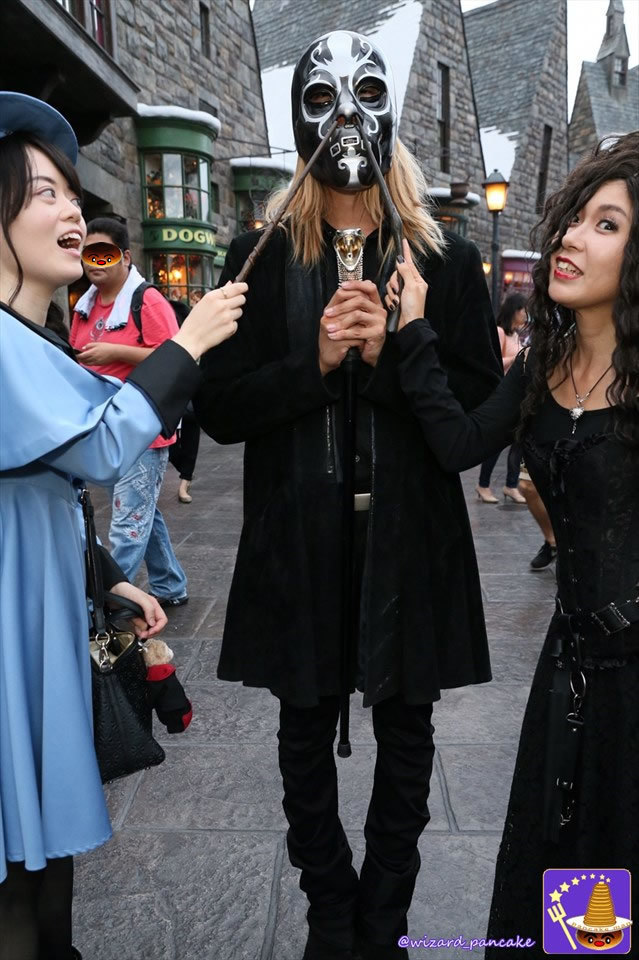 Death Eaters Mischievous Beauxbatons students and Miss Bella playing pranks on Lucius, who is wearing a mask (laughs).
So Minerva, Death Eaters and Dumbledore also imitated him (laughs).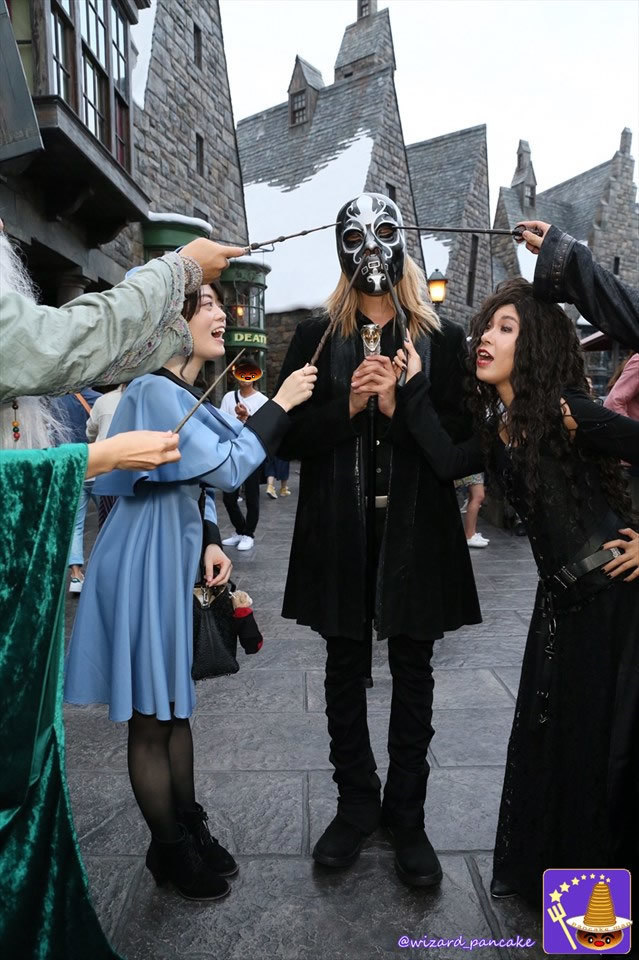 And suddenly, the not-so-cool Death Eater Lucius is introduced! (The Polish Polish.)
Now I'm sorry for the Dark camp fans and Lucius fans, so let me also introduce you to the Lucius Death Eater, which is kind of cool (laughs).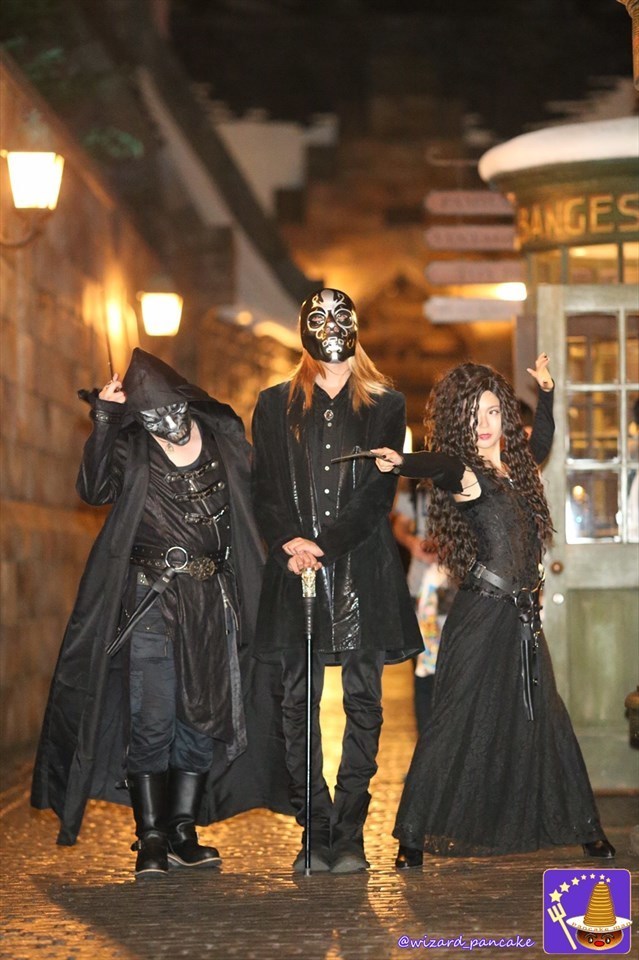 Mistress Bellatrix & Lucius (Death Eaters) & Death Eaters
The back alleys of Hogsmeade Village and the three of them looked great together under the cover of night.
Mistress Bella & the two Death Eaters are a spectacular picture.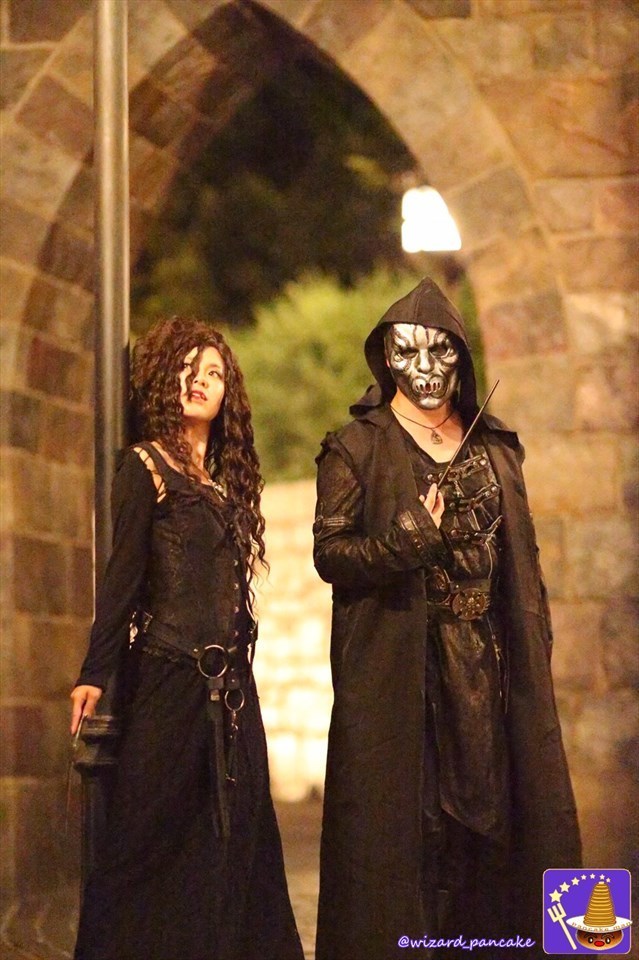 ベラトリックス&桔梗殿のファンへのサービスショット♪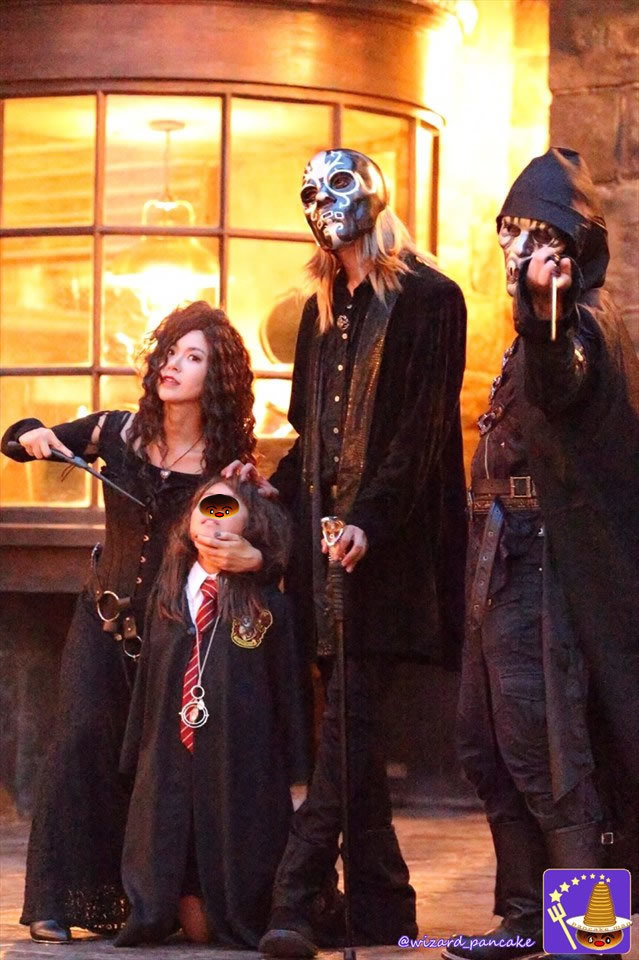 Hermione is captured by the Dark Three.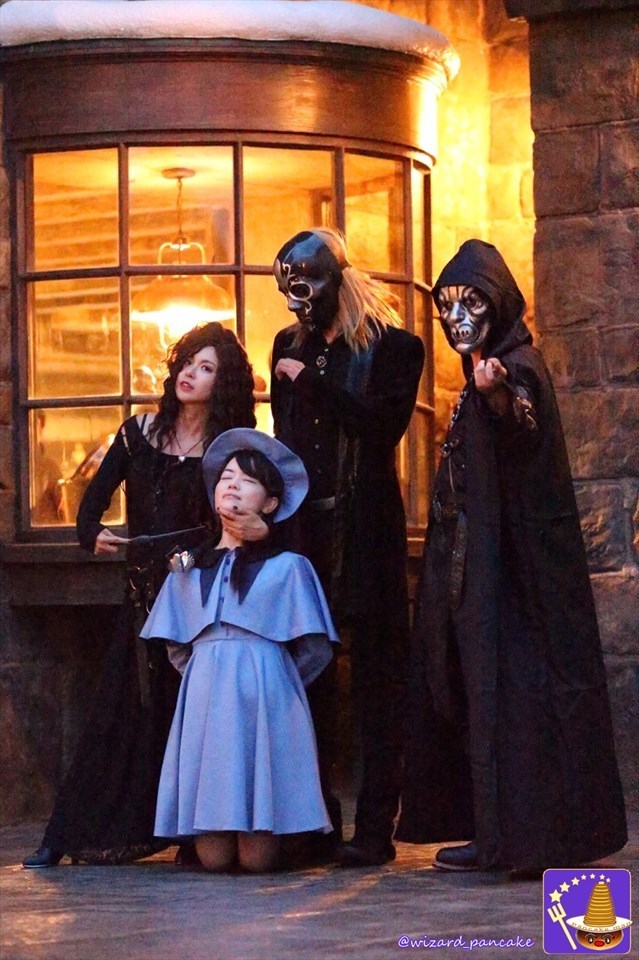 The same was also caught by the Beauxbatons live Yuririn.
This one's the Death Eaters of the USJ, the Death Eaters of the Death Eaters Attack.

What do you think? The motivation of your fellow masqueraders is as great as that of the professionals!
No, professional Death Eaters are just as lovely as you are.


Waiting for the second objective, 'Death Eater Attack'.Keiki @pana99nicoalso joined the group.
This was a lucky encounter, because he's seen the show and knows it well.
With Cake-san escorting us to the viewing points, we were able to enjoy the Death Eater attack to the fullest (laughs).
 I was happy to see about four shows in different places.
The story is that when the Death Eaters pulled out of the door of Hogsmeade Village after the Death Eater attack, they looked at our Death Eaters and reacted.
(See separate report on the Death Eater attack on this occasion.
The group enjoyed the wizarding world to the full.
After leaving Hogsmeade Village, we enjoyed the Muggle world of the park, a world full of zombies, and unibrows.
It was dark and many Muggles were surprised to see us and the Death Eaters.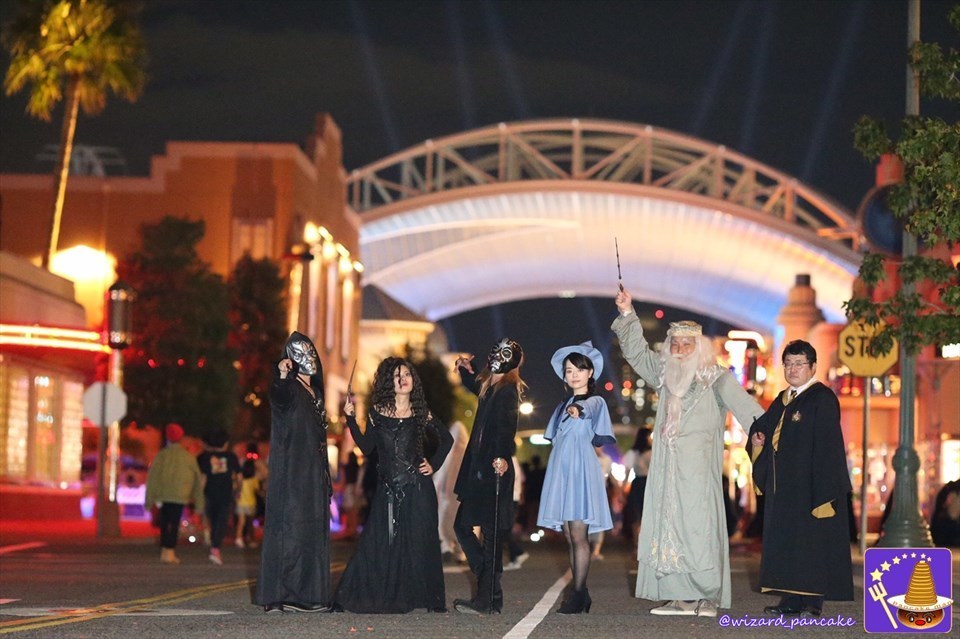 This is one before we left USJ... ♪ It's almost time to close.
It was another day of great fun with fellow Harriotta lovers (laughs).
I would like to thank everyone I met and all the USJ crew for the members who were with me.
USJ Halloween has only just begun, so if you want to join in the fun, feel free to come dressed as Harry Potter.
I can vouch for the fact that it's great fun to hang out with fellow Harripotters.
Finally, I give you the Pancake Man Dumbledore Mistake Question of this day 17 September and the previous one on 11 September.
Anyone who can tell me what the difference is, blog comment or...twitterPlease come to the Polish Polish newspaper.
One of the purchases I tweeted the other day that I got from the wizarding world was this Death Eater mask.Â
Details will be reported in a separate report!
 Photos not taken by Nori were taken by Kikyo, Pancake Man, Yuririn, etc.Â
The schedule for attending the Wizarding World & Hogwarts in Harriotta fancy dress and recruiting friends is 'Yurubo'.page for more information!
1-1.Death Eater Attack! Night in Hogsmeade begins with a battle of the Death Eaters vs. the village wizards! (New USJ Hallipota Halloween show)

1-2.Death Eater Attack Report #2 Â Recommendations for places to see & numbered tickets.
2.Halloween Feast experience report.
3.1.Halloween Dessert Feast experience report.
4.1.About Magical Trick or Treat
Hallipota news release, 'Death Eater Attack' and other Halloween content.
[HARRIPOTA NR] Death Eaters will appear in Hogsmeade Village during the 2016 Halloween season! (USJ Wizarding World)